Your trial store is an online test store that can be set up to test-run products, services, and marketing strategies before rolling them out on a larger scale. The purpose of creating a trial store with Shoplazza is to gather feedback and data from customers and determine if your new product or strategy is successful and worth investing in.
If you haven't signed up already, you may head over to Shoplazza   and sign up for a 7-day free trial with a fully functioning store before officially launching a business. Shoplazza will ask for your email address, contact information, and a name for your store that can be changed later in the Shoplazza Admin once you are logged in and ready to explore more. After you have successfully finished the set up process, you will be redirected to the Shoplazza Admin with every aspect of store functions you need to personalize an online store.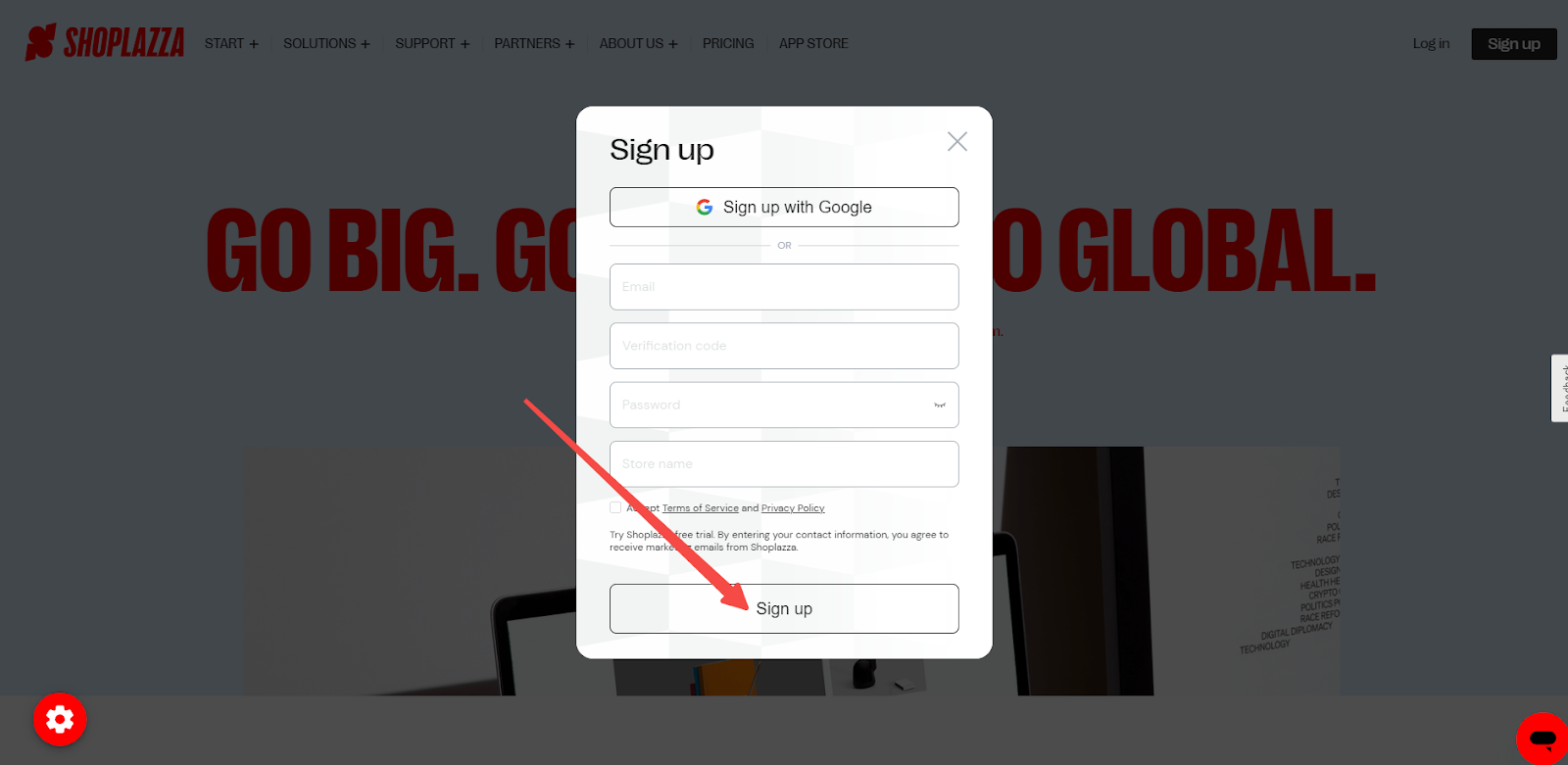 Note
Credit card information is not necessary until you upgrade to any appropriate plan.
First login
Once you've completed the sign up process, you will be taken to your store's dashboard page. On the page, you will see a check points list of next steps to complete your store from scratch and get it up and running.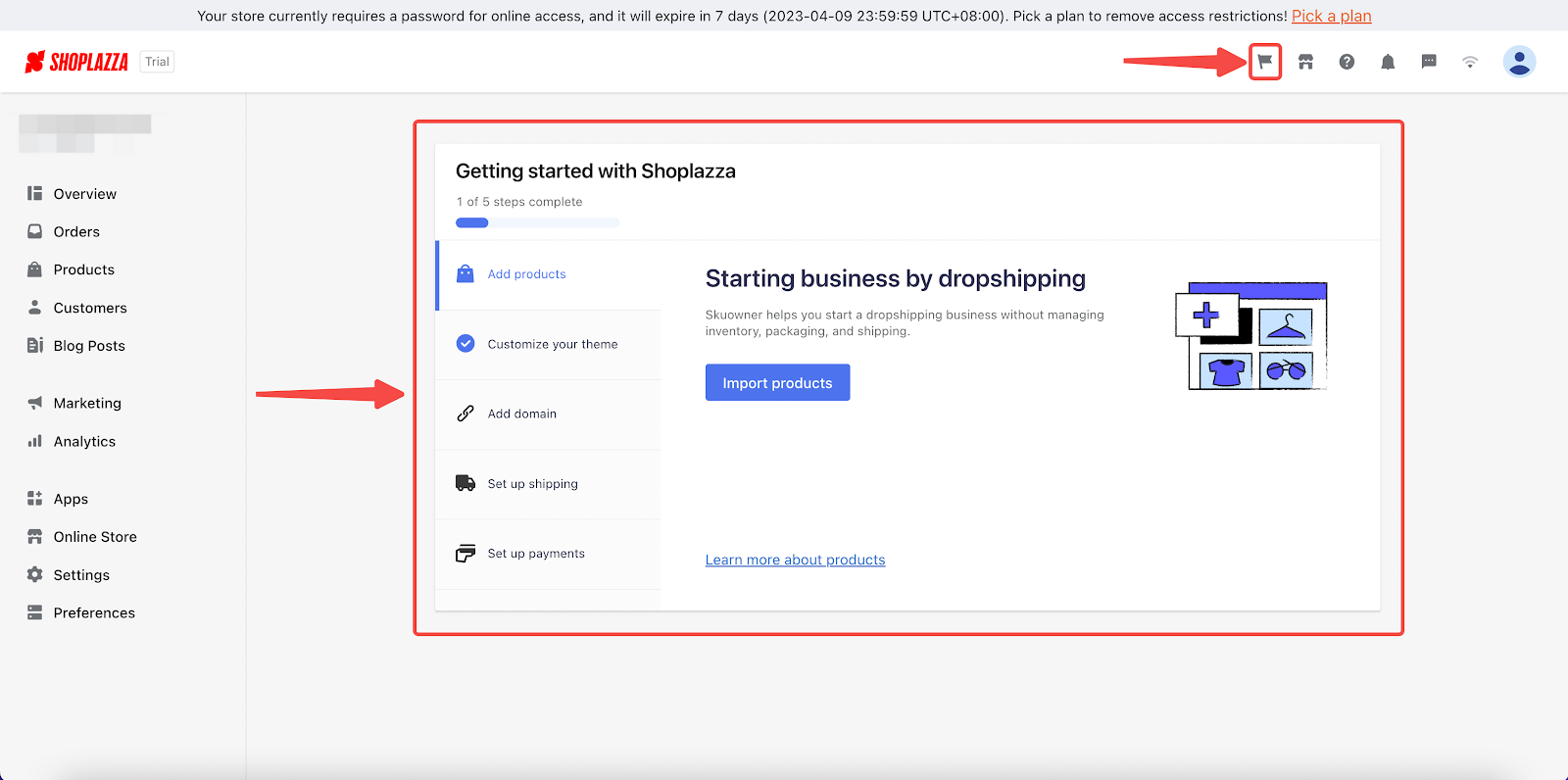 Adding sample products
Since the goal of this tutorial is to help you understand what you need to get a store up and running quickly. We suggest you first add some sample products that can be later used to simulate and experience customer checkout flow with Bogus gateway.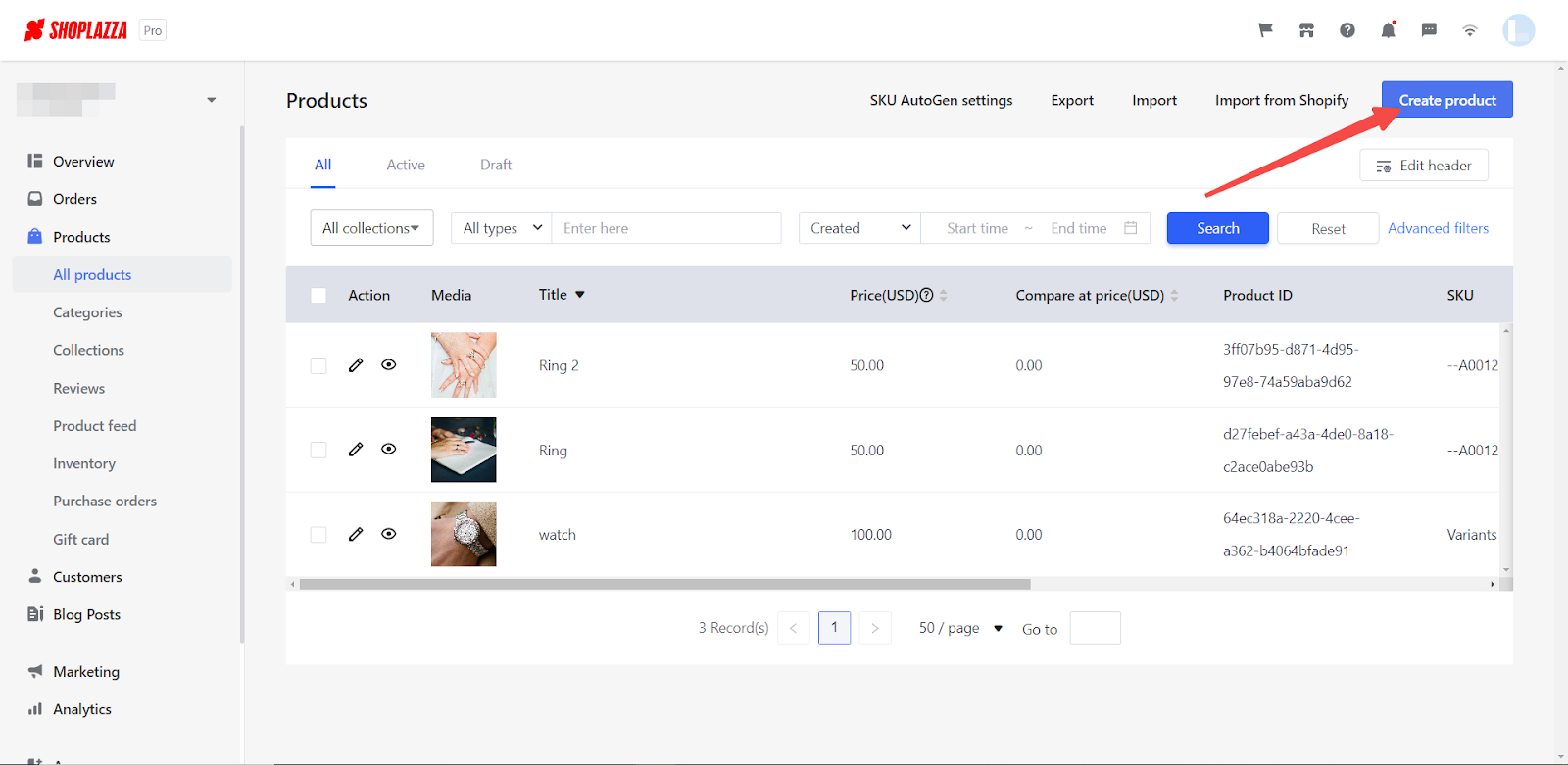 Customizing your theme
Customizing your Shoplazza theme is an essential step in building a successful online store. Your theme is the foundation of your store's design and functionality, and it can greatly impact your customers' shopping experience.
Our help center guides on Store themes have covered some of the most widely used themes by successful merchants across Shoplazza and topics such as how to Edit your themes and Sections and block within the themes you choose to develop your webpages on.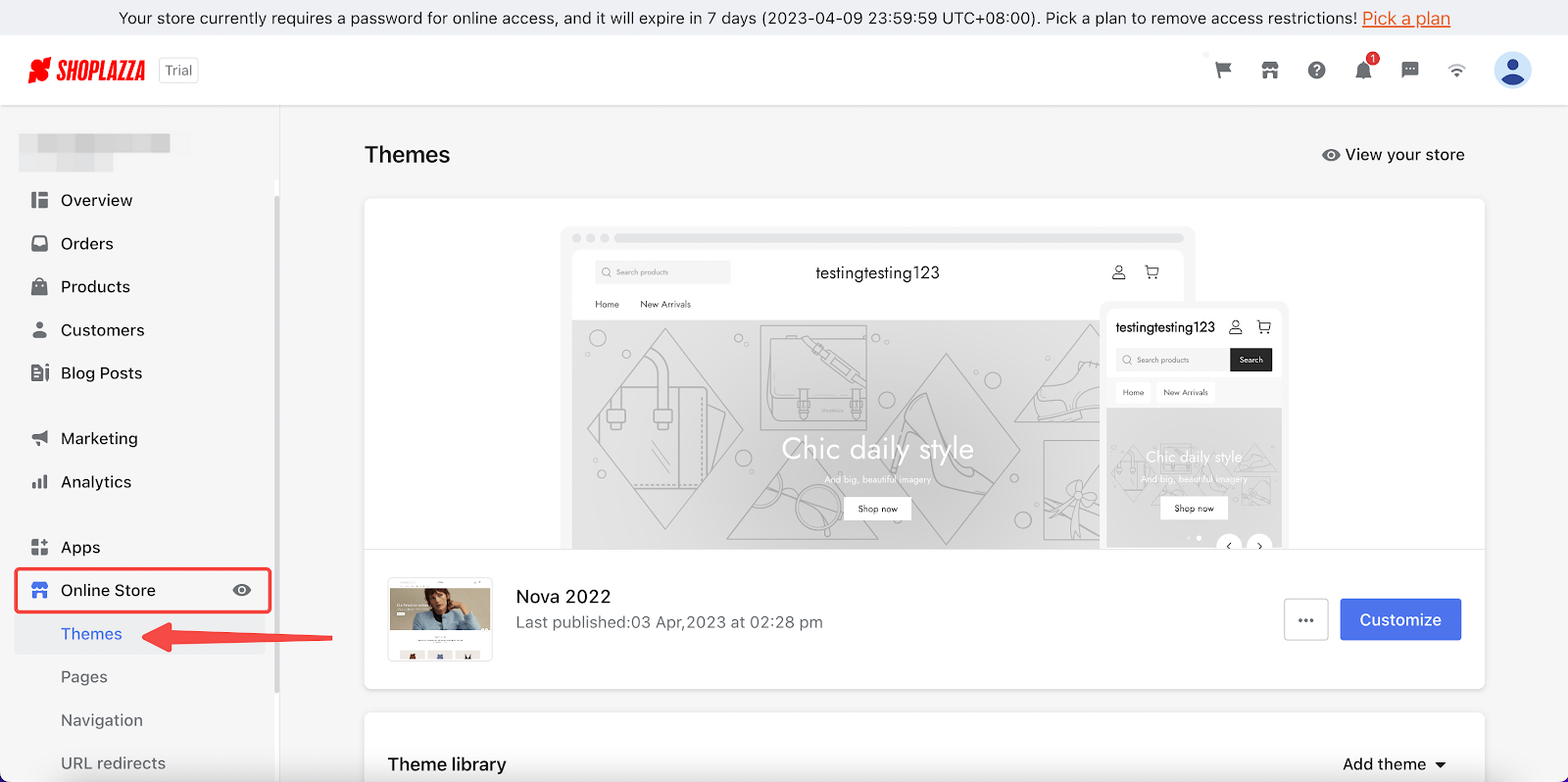 Connecting your store to personal domains
When you use a third-party platform, your website may not rank as high in search engine results pages (SERPs) because the platform's domain is more prominent than your store's individual page. However, when you have your own domain, you can optimize your website's content and structure to improve your chances of ranking higher in SERPs.
having a personal domain can also help you establish a stronger brand identity. When customers see your domain name, they will associate it with your brand and remember it more easily. This can help improve brand recognition and customer loyalty over time.
Your store is granted with a Shoplazza hosted domain in the store name you signed up with. You can identify and review this information in your Shoplazza Admin > Settings > Domains > Connect existing domains.
More in-depth tutorials on personalizing your domains can be found here.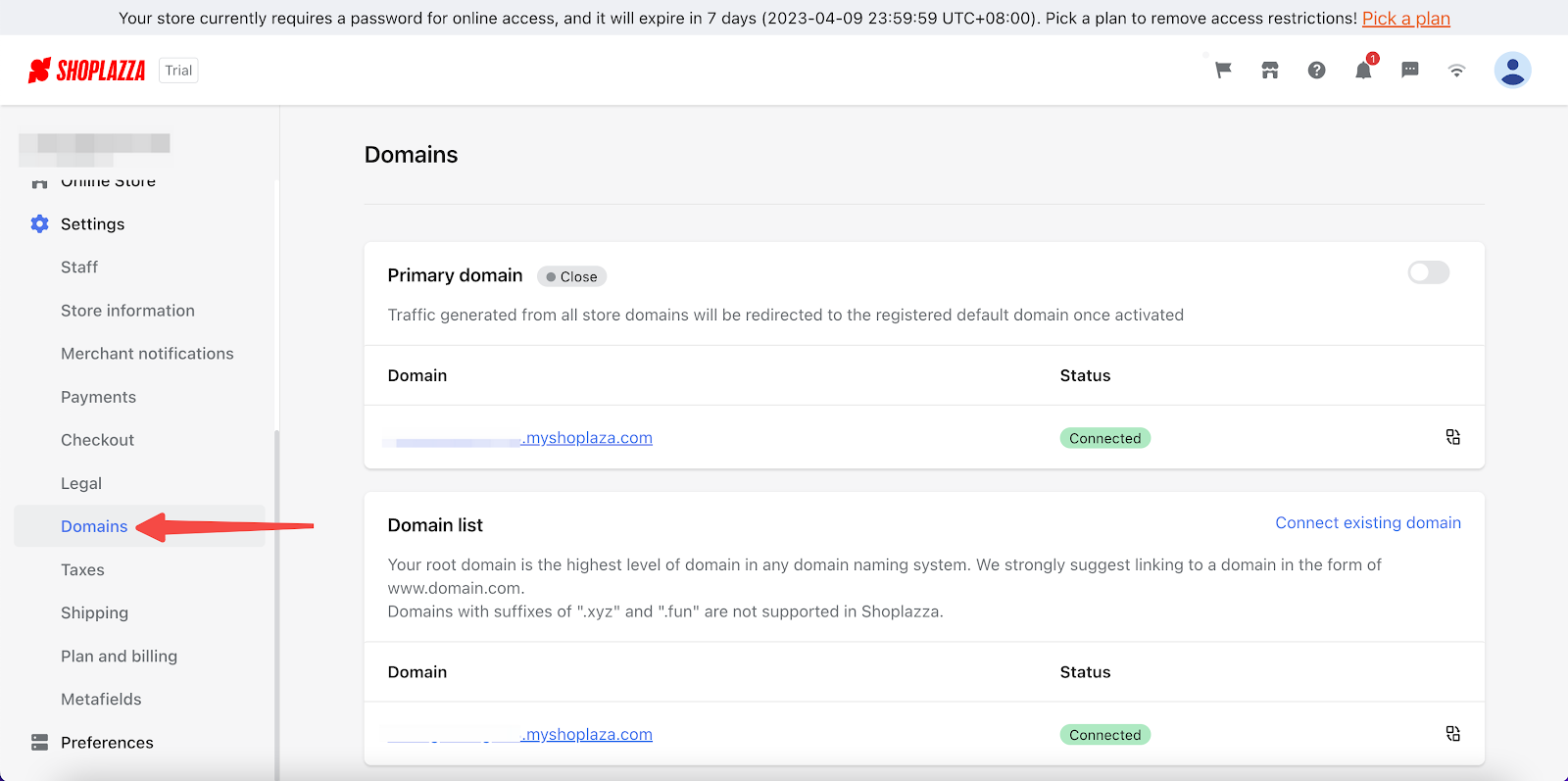 Managing your shipping profile
A shipping profile is a collection of settings and preferences related to how you can ship products to customers. Your Shoplazza shipping profiles usually include details such as shipping methods, shipping carriers, shipping speeds, packaging preferences, shipping zones, and shipping rates.
By creating shipping profiles, you can save time and ensure consistency in your shipping practices and offering customers a more transparent and reliable shipping experience by providing accurate shipping costs and delivery estimates.
Shipping profiles are commonly used by online marketplaces and e-commerce platforms to help sellers streamline shipping processes and offer competitive shipping options to fulfill customer's needs.
To keep things simple, we recommend you enable your shipping options by creating a general shipping profile or a custom shipping profile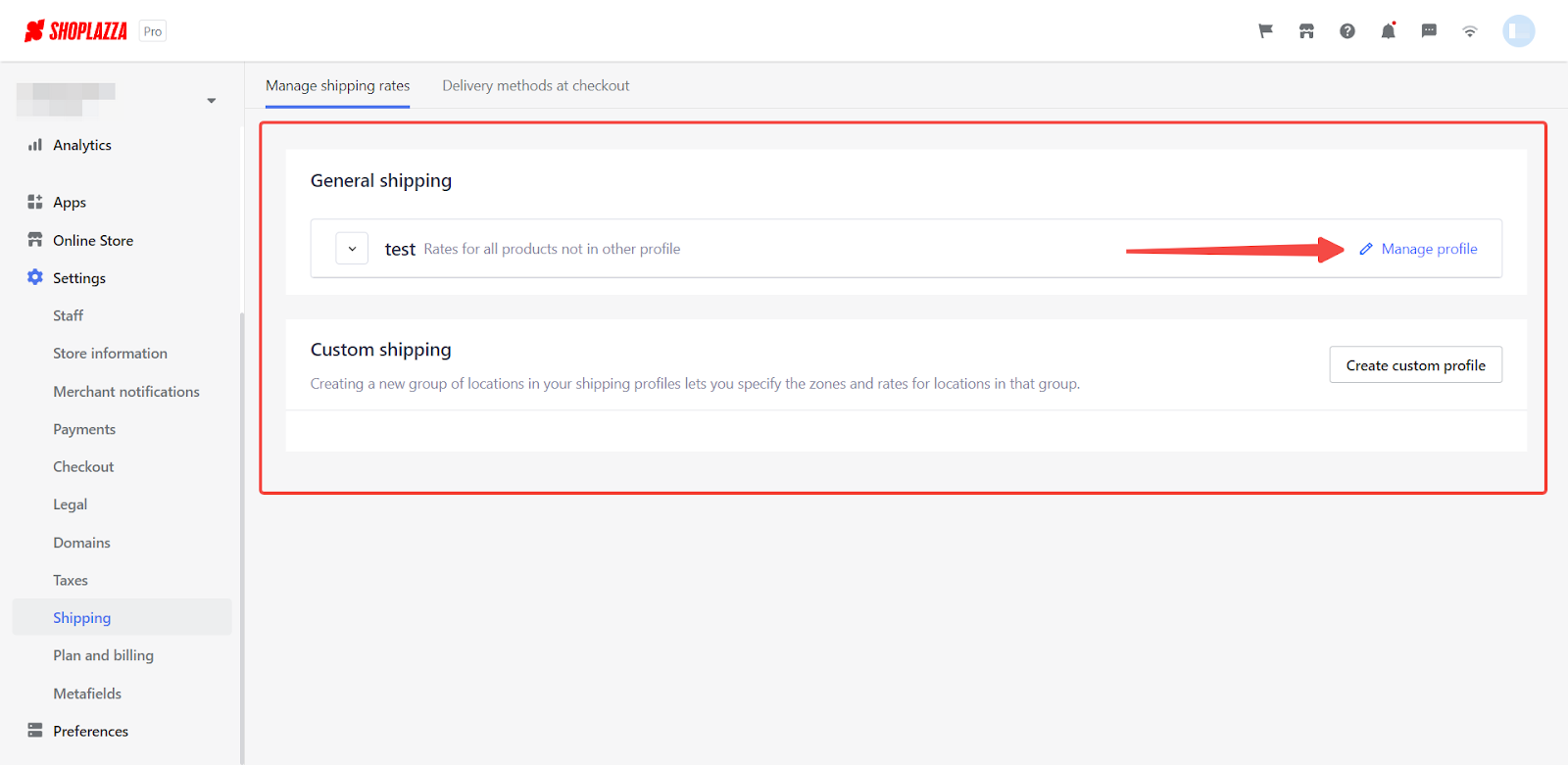 Setting up payment information
Your payment information is necessary to accept payments from customers for the products or services they purchase from your Shoplazza store. Without a way to accept payments, you won't be able to make sales.
When customers see that you have multiple secure payment options available on your Shoplazza store, it builds trust and credibility with your brand. It also provides customers with confidence that their payment information will be handled securely and processed safely.
When you have a variety of payment methods set up, it streamlines the order processing and fulfillment process. You won't have to manually process payments, which can save you time and improve the efficiency of your business operations.
Here is a document that will help you understand the most widely accepted payment method and brainstorming ideas on what payment method you may choose to match your current marketplace and store location.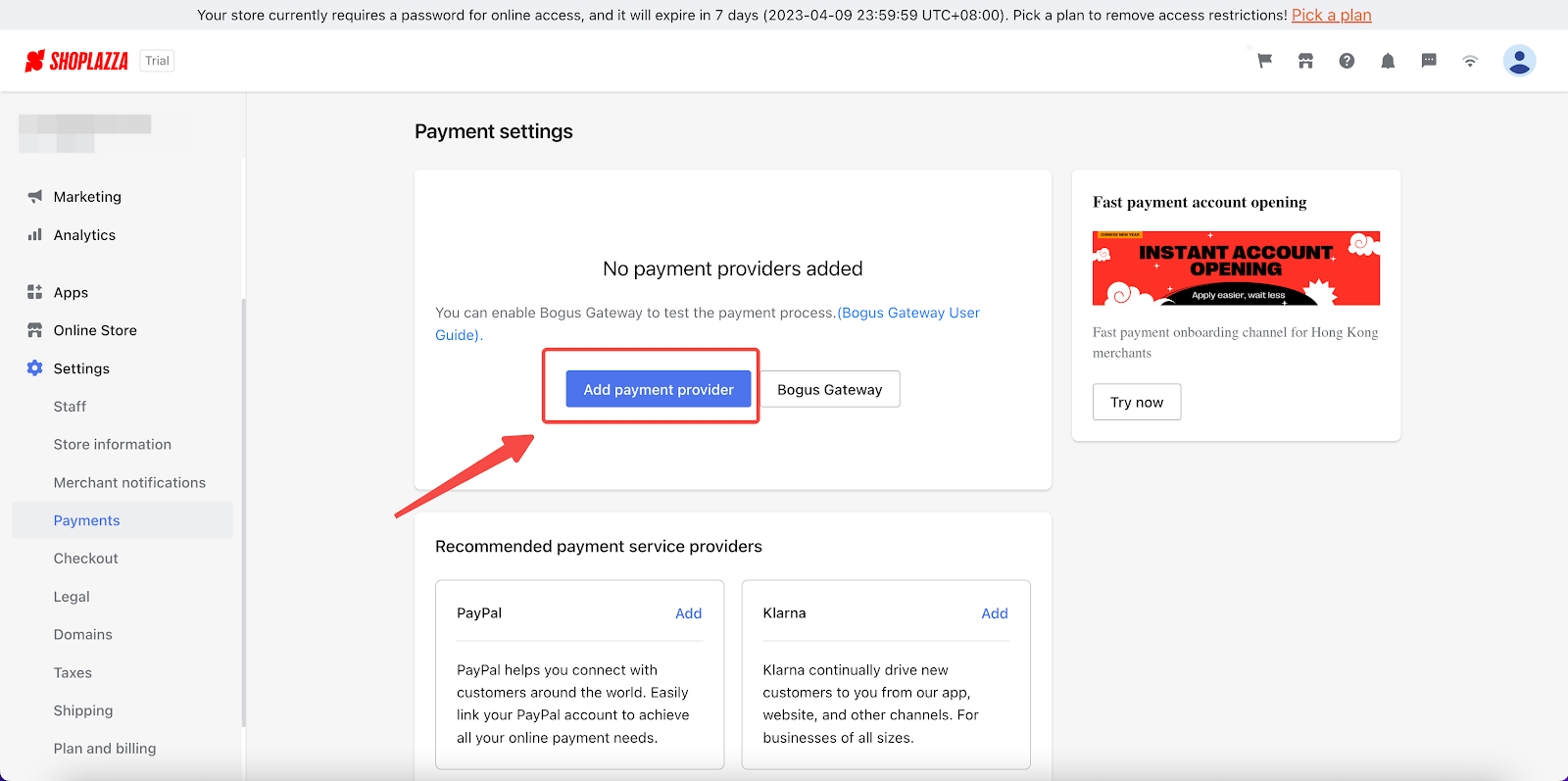 Note
It is a good idea to run tests through Bogus gateway to simulate the checkout process, error handling, and transaction status notifications without risking real money or creating real transactions. This allows you to ensure that your integration with the payment gateway is working properly before deploying your website or payment processing system to production.
Cancelling a trial store
You can experience the trial store to the full extent and there is no action needed to cancel a trial store. Your trial store will automatically expire after the 7-day trial period.
Your trial store is password protected and it will only allow visitors to access by entering the password generated from your Shoplazza Admin > Store information.
Linking your credit/debit card information and subscribing to any plan will remove all restrictions applied.