Your domain name is the gateway pass to accept customers' visits to your store. A good domain name can help you better advertise and establish your brand image.
After purchasing a domain name from a third-party provider (Such as Google Domains, GoDaddy, or 1&1 IONOS), you will need to connect your domain name to your shoplazza store. By verifying your purchased domain name with Shoplazza, you are pointing the purchased domain to your store so customers can visit your store from a customized URL address.
Purchasing your own domain
Owning your domain provides a unique and memorable web address for your store that customers can easily remember and access. This can help build your brand and improve your search engine rankings. Owning your own domain gives you more control over your online presence and allows you to customize your website and email addresses to match your brand.
There are several places where you can purchase a domain, known as domain registrars. Some popular domain registrars on the internet include GoDaddy  , Cloudflare  , and Hover  .
Connecting a third-party domain to Shoplazza
You may have more than one domain besides the default one that you would like to apply to your store if you have purchased a custom domain from third-party providers.
1. Your domain settings can be managed from your Shoplazza Admin > Settings > Domains. Click Connect existing domain to add a new domain address.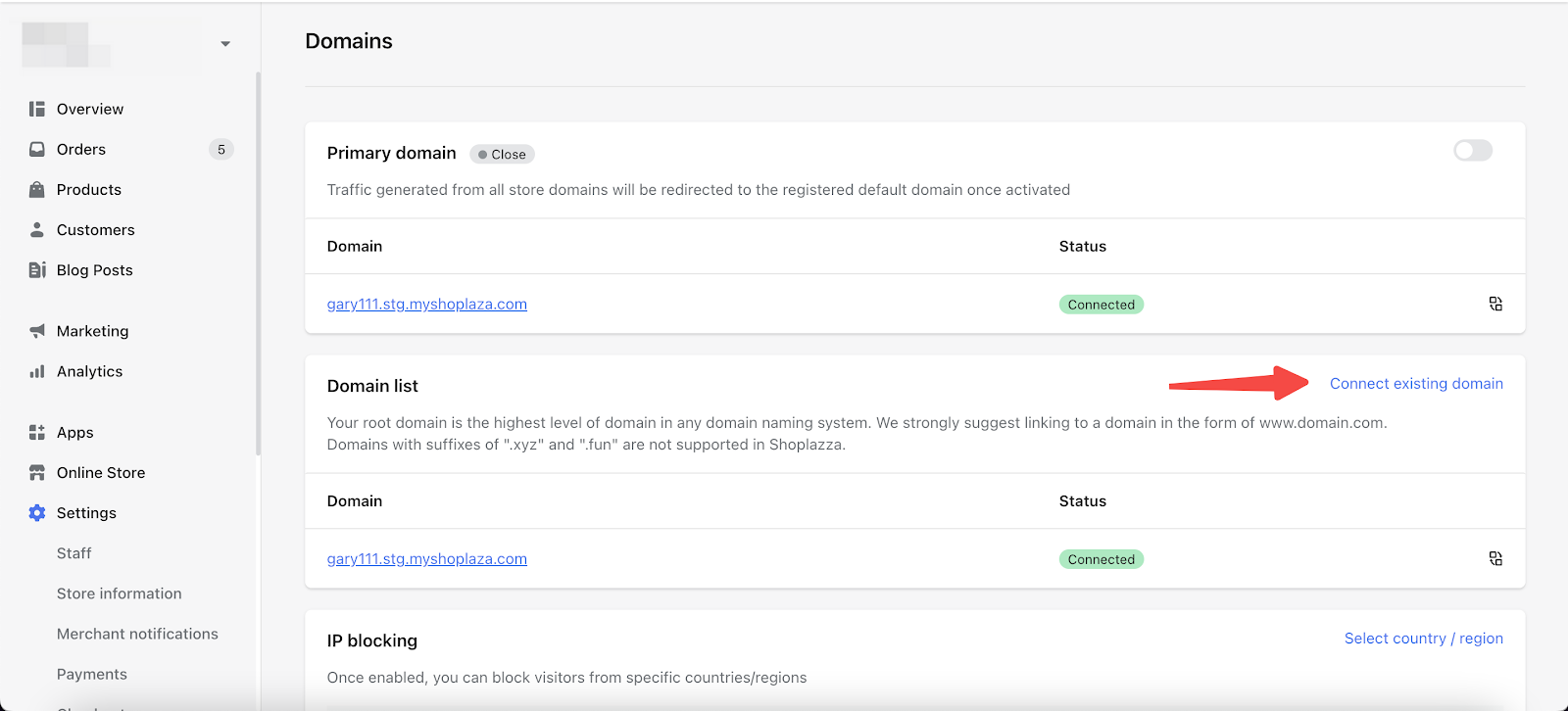 2. Enter your purchased domain at the search bar and click Next to proceed.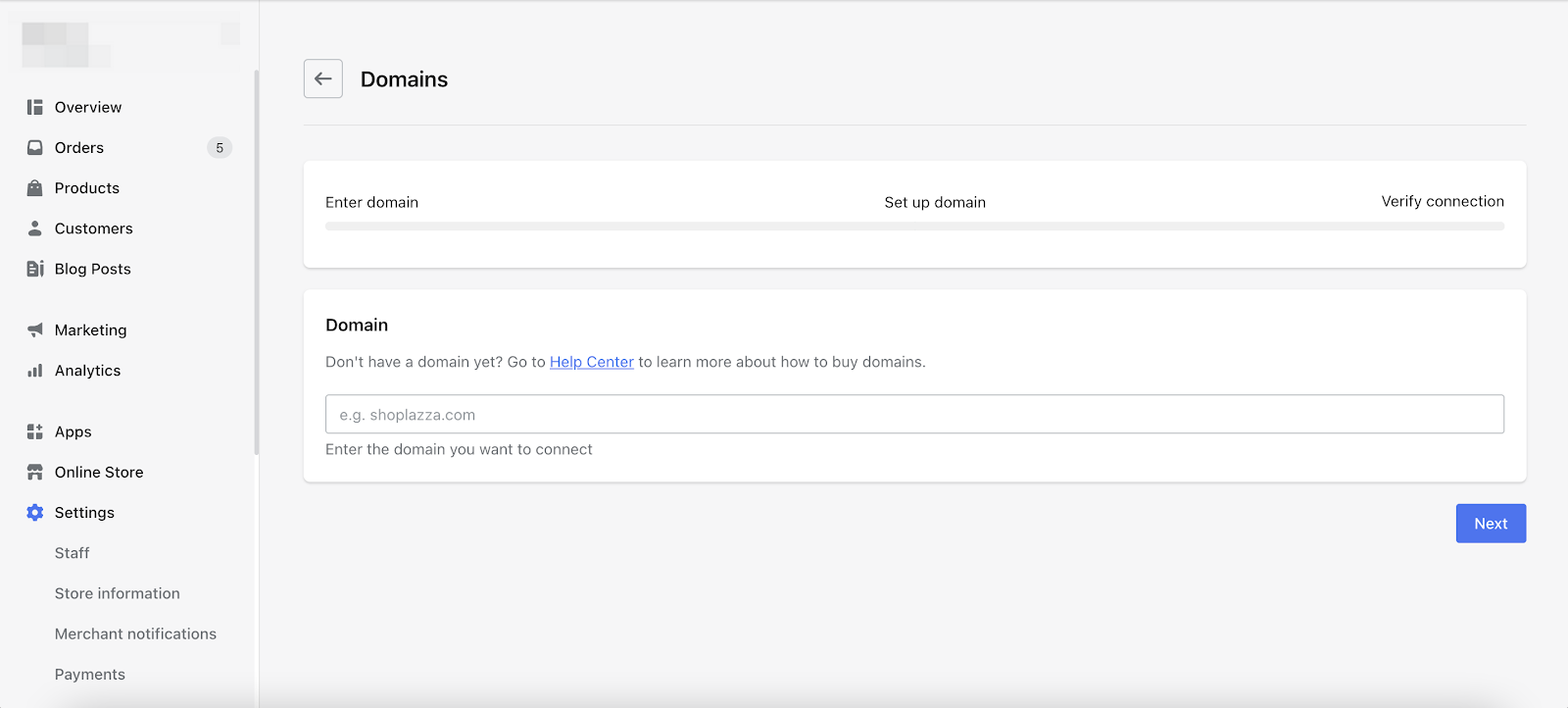 Note
Domain with .xyz .fun suffixes are unsupported types on Shoplazza.
3. Refer to the given DNS record feedback and modify your domain information accordingly at your domain name provider. We have listed some sample demonstration tutorials for your reference below: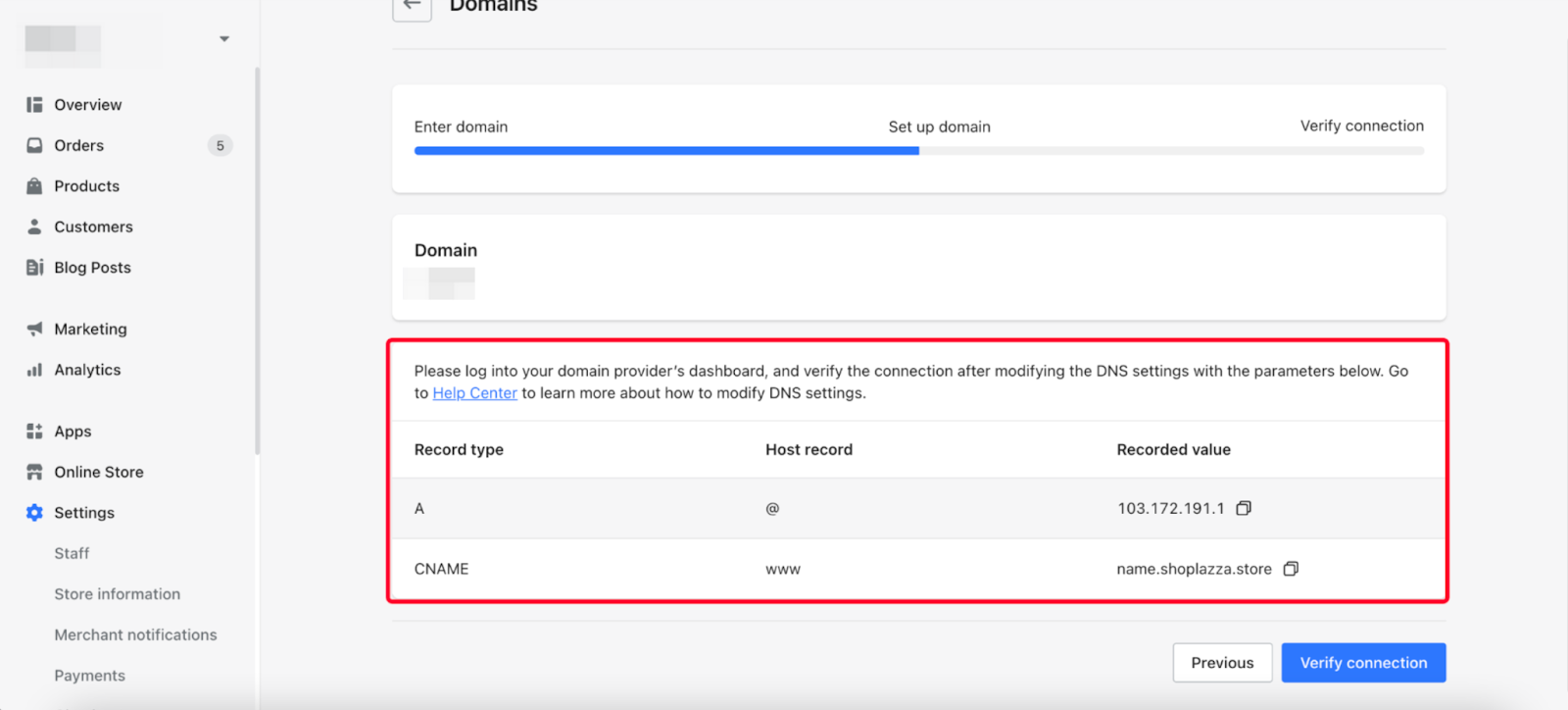 4. Go back to your Shoplazza Admin to complete the verification process by clicking the Verify connection button.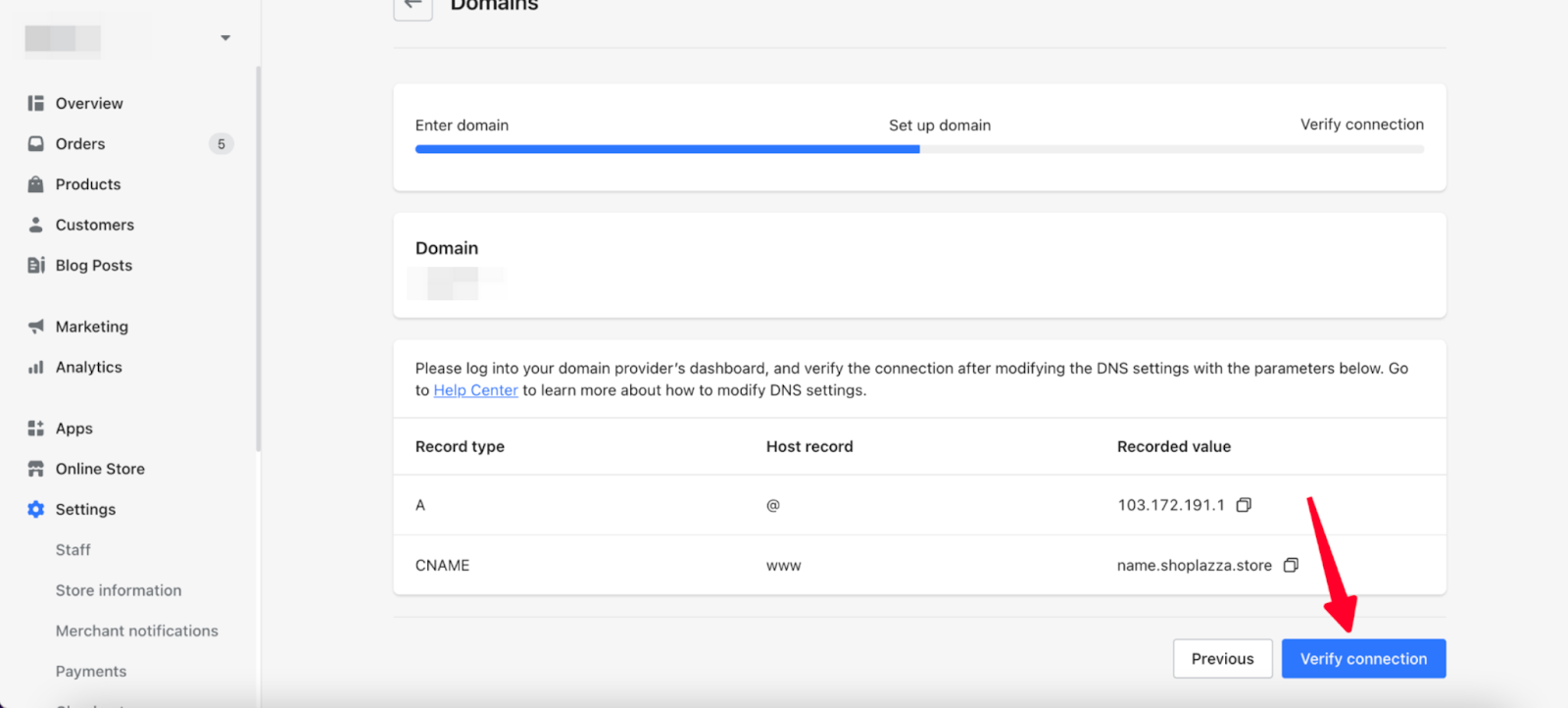 Once a successful connection has been established, the image below will appear: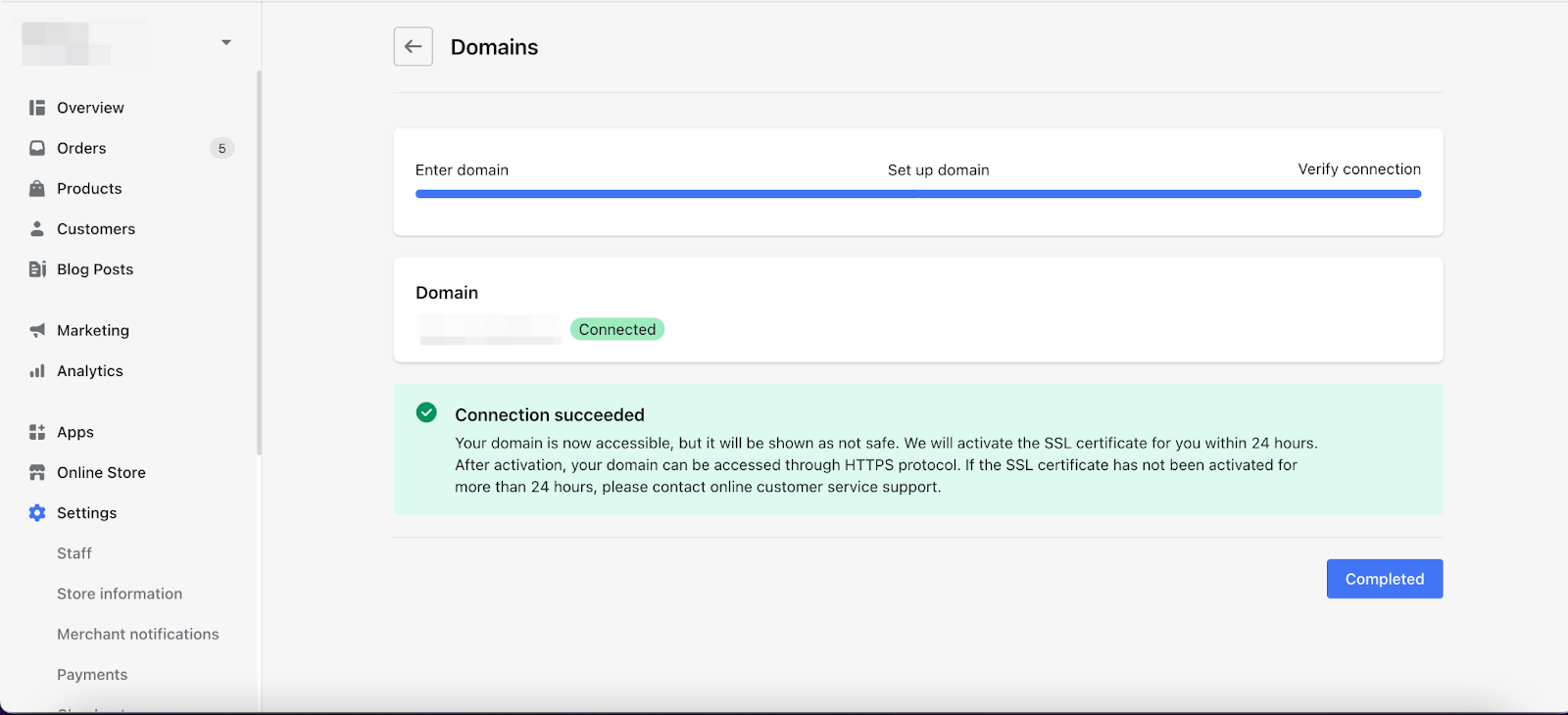 5. An A record and CNAME are both types of DNS (Domain Name System) records used to associate your domain name with your Shoplazza store.
To fix failed verifications, please go through the listed error details and adjust your A record and CNAME accordingly from your domain provider.
Your A Record is a DNS record that maps a domain name to the IP address of the server hosting the website. It is a way of telling the internet which IP address is associated with a domain name.
Your CNAME is a DNS record that maps your domain name to the Shoplazza domain. For example, if your shoplazza store is hosted on both "yourstorename.com" and "www.yourstorename.com". You can use a CNAME record to associate one to another so that your customers can access your webpages using either domain name.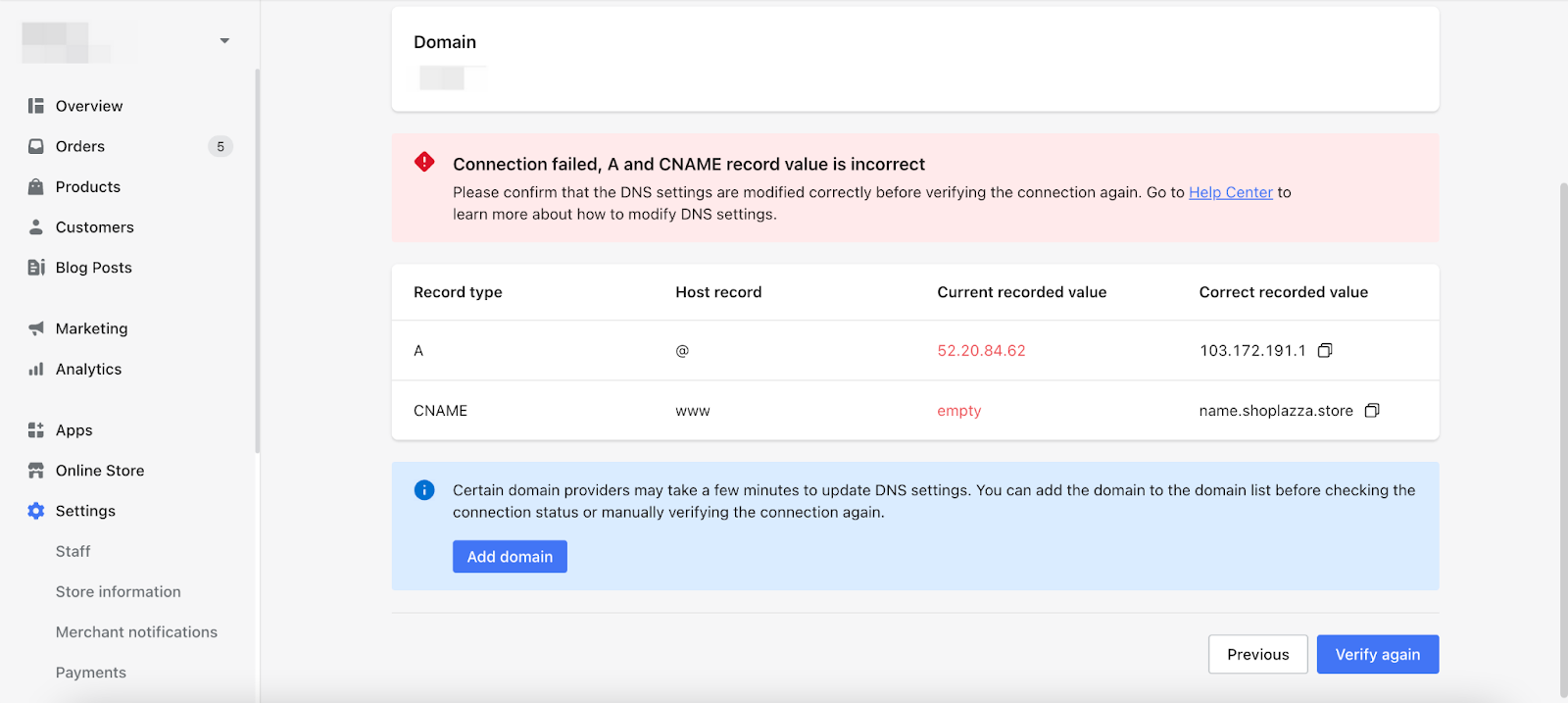 Note
Any domain name change can take up 48 hours to become effective. If it's not connected after 48 hours, please ask your domain provider for help.
Your domain providers might have different expected times of completion when it comes to verifying domains. You may add your creating record by clicking Add domain to queue up for automatic verifications if you feel that your information is accurate and free of errors. This information will be updated to your domain list in Shoplazza Admin > Settings > Domains once the connection has been established.