Making a shift in the style of your business means you now understand more about what drives your store to success. Before you arrive at a conclusion, you need to carefully assess your specific requirements as a merchant. Identifying as areas of weaknessess, and uncover opportunities for improvement.
Additionally, conducting market research can provide valuable insights into your customers' evolving needs and expectations. By following these steps, you'll be better equipped to select the best solution for your business, one that will help you achieve your goals and drive long-term success.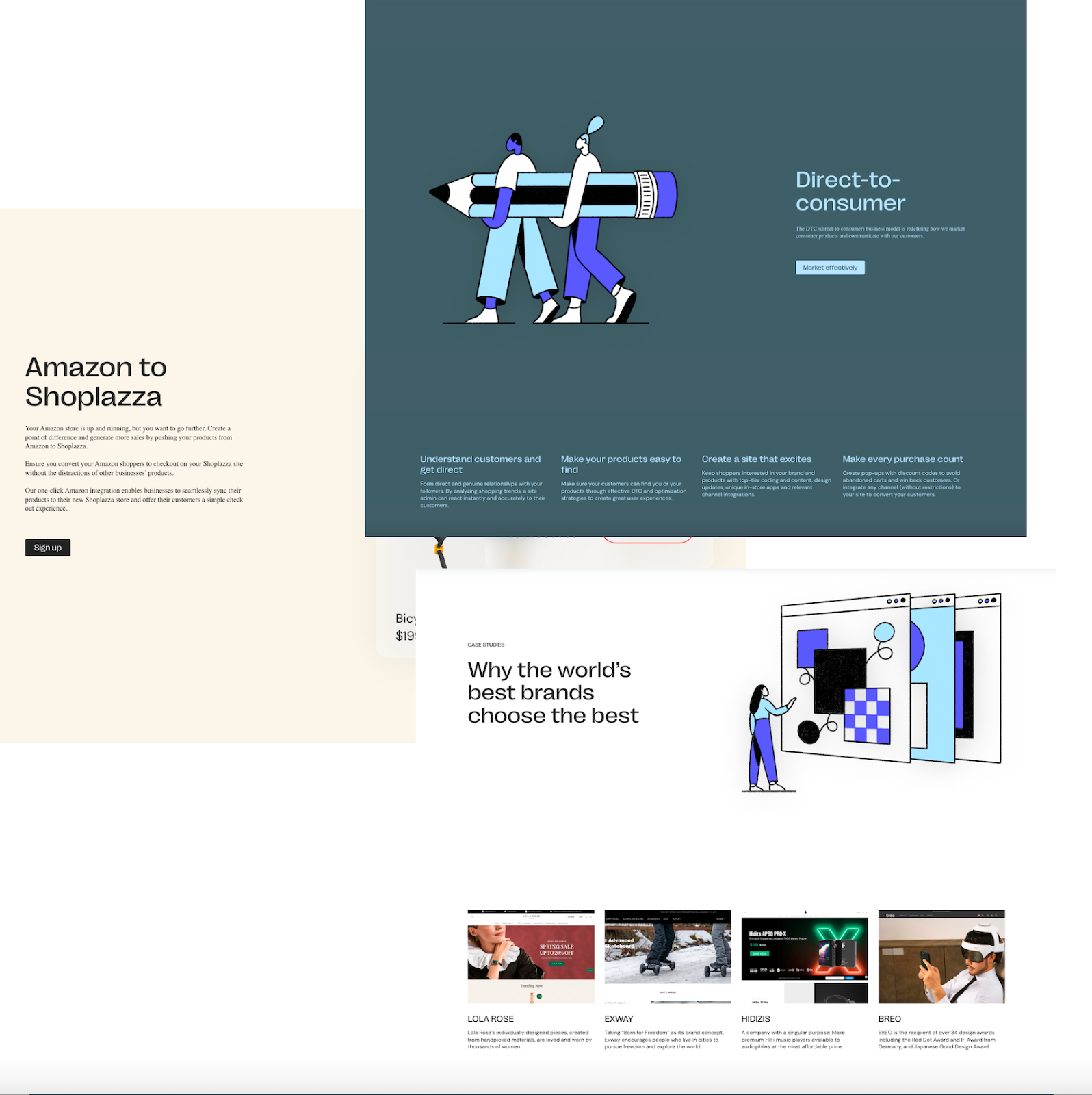 Common Scenarios
When you choose Shoplazza as your e-commerce platform, you can generally benefit from a lower rate of operating cost depending on the size of your business and what subscription plan you choose. With Shoplazza's robust and user-friendly Admin interface, you can streamline your operations and focus on growing your business without worrying about the technical aspects of ecommerce.
Below are two common scenarios when merchants choose to migrate from another platform to Shoplazza:
Changing the hosting service provider without switching to a different domain name.
Migrating a store entirely from another service provider to Shoplazza with a new domain name
Changing your hosting service provider
Your decision to migrate to a new e-commerce store should never be taken lightly. However, there are several reasons why we are entrusted with the task of delivering top-notch store building services:
If your current ecommerce platform doesn't support all the features you need to run your business, it may be time to migrate to a more robust platform like Shoplazza. For example, Shoplazza offers more payment options that serve your local audience, customizable checkout pages, and integrations with third-party apps to help you streamline your operations.
A clunky or confusing user experience immediately turns away your clients. With Shoplazza, you can take advantage of our versatile, elegant, and minimalistically designed theme free of charge. If you haven't had a chance to explore the theme editor, see this doc to learn more about editing your theme.
Before you begin
Relocating your store to a new domain or switching to a different hosting service can have a significant impact on your search engine ranking, potentially jeopardizing the hard-earned visibility of your online business. However, with proper planning and adherence to best practices, it is possible to minimize or even negate any adverse effects that may arise. Taking the time to prepare for the move, implementing a solid redirect strategy, updating your sitemap , and submitting your new URLs to search engines are all important steps to ensure a smooth transition without losing valuable search engine ranking.
Backing up your information
Protecting your data is a critical aspect of any store migration. Before making any significant changes to your website, ensure that you have backed up your order, customer, product data, and website content to avoid any loss of crucial information. Most ecommerce platforms offer an export function that enables you to store this data in a database file or archive, which can come in handy during the migration process.
Confirming your requirements
By taking proactive steps such as building a trial store to test for any functionality or design limitations and thoroughly studying available documentation and support in our help center , you can set yourself up for success and confidently move forward with your commitment. Taking the time to ask questions and conduct due diligence can provide valuable insights and ultimately lead to a more positive outcome.
Create a plan
Relocating an established business to a new platform can be a challenging task. To ensure a smooth transition as well as take into account the time required to develop the new site, transfer data, rigorously test, and launch the new store. By documenting your progress throughout the migration, you'll have greater visibility into the process, enabling you to quickly identify and address any issues that may arise.
Relocating with confidence
Shoplazza boasts various features to make the process of moving your online business from another platform seamless and effortless. For more information on these tools and how they can facilitate your migration, you can visit the Shoplazza website or refer to the help center documents below:
Covering your bases
To make sure your store is ready to take orders, you should review our checklist guides available in the respective order below:
See our store launch guide for a comprehensive walkthrough on getting started with your new Shoplazza store.
Strategies for continuous growth
If you're planning to switch hosting providers, it's essential to keep your old site accessible for as long as possible to minimize downtime during the transition. With Shoplazza, you can work on setting up and configuring your new store in the background while your current store remains up and running. Once you're ready, you can switch the nameservers for your domain to direct visitors to your new Shoplazza store. This ensures a seamless transition and uninterrupted service for your customers.
You might be experiencing lost traffic to your new site after you've made the switch. Below are some keypoints to help you minimize those potentials:
When you switch to a new platform, it's possible that the URL structure of your site will change. This can cause problems for search engines, as they may not be able to find your pages or may index them incorrectly. To avoid this, make sure to set up proper 301 redirects from your old URLs to your new URLs. This will ensure that search engines and users can still find your content.
If you make significant changes to the content on your site when switching platforms, this can also have an impact on your search engine rankings. To avoid this, try to keep the content on your new site as similar as possible to your old site. Make sure to keep your meta titles and descriptions consistent, and use the same keywords and language that you used before.
Downtime during the switch
If your site is down for an extended period of time during the switch, this can cause visitors to become frustrated and look elsewhere for the products or services they need. To avoid this, try to schedule your switch for a time when traffic to your site is low, and make sure to communicate any potential downtime to your visitors in advance.
If you don't thoroughly test your new site before launching it, you may encounter unexpected problems that cause visitors to leave your site. To avoid this, make sure to test your new site thoroughly in a staging environment before launching it. Check all links, forms, and other functionality to make sure everything is working properly.
Promoting your online store
Email your existing clients about the exciting news that you've moved your store! You can start a new blog post, advertise on your social media accounts, create marketing campaigns to incentivize, so your customers will check your new storefront. In addition, the Shoplazza theme editor offers a series of innovative features that would help you with this process. Check out this help center document about sections & blocks that can effectively convert more sales.