Google Merchant Center (GMC) is a platform used by online merchants to list your products on Google Shopping, allowing customers to easily search and compare items from different retailers. However, there are times when a merchant's account can be suspended, and they will need to submit an appeal to have their account reinstated.
There are several reasons why a GMC account may be suspended. The most common reasons include violating Google's policies on prohibited products, misleading or inaccurate information, or poor customer experiences. Regardless of the reason for the suspension, merchants will need to take prompt action to address any issues and submit an appeal to have their account reinstated.
Identifying suspension reasons
The first step in the appeal process is to identify the reason for the suspension. Google will usually provide some information on the reason for the suspension, but it may not always be clear. Merchants should review Google's policies and guidelines to determine which policies they may have violated and take steps to rectify any issues.
GMC diagnostics path: Login to your GMC account and click Products > Diagnostics > Item issues / Feed issues / Account issues.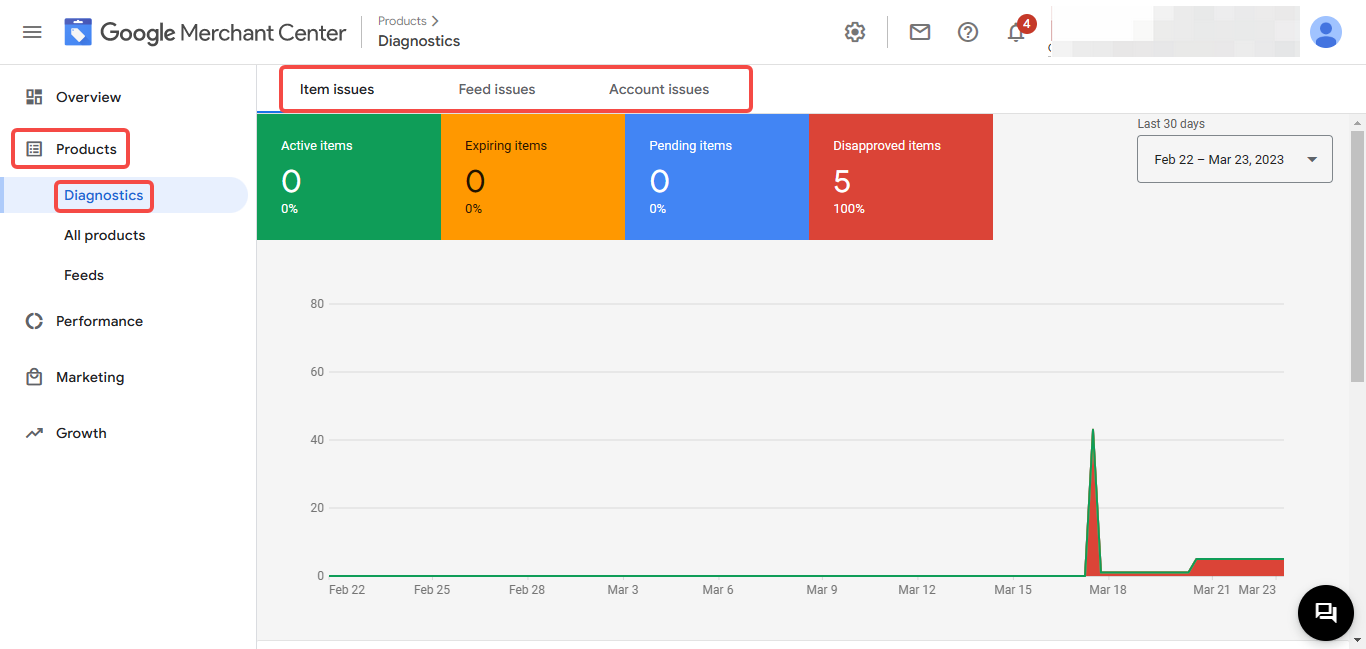 Common reasons for Google Shopping Ads suspension
Shopping Ads policies violations.
Product data quality violations.
To ensure that your store website complies with Google Shopping Ads policies, click here to follow the instructions in this article to prioritize common issues that may occur on your website.
Shopping Ads policies violations
Counterfeit goods
Google prohibits selling or promoting counterfeit products. If a website is determined to be selling counterfeit products, the account will be immediately suspended. In severe cases, the Google Shopping Ads account associated with the GMC account will also be suspended. If a product is determined to be counterfeit, make sure to remove it from your website immediately. Common violations:
Products are described as a knock-off, replica, imitation, clone, faux, fake, mirror image, or similar terms when referring to a brand name to pass themselves off as genuine products.
Non-genuine products mimic brand features in an attempt to pass themselves off as genuine products.
No product details or warranty information are available.
Misrepresentation
Google has no intention of misleading customers by the content promoted in Shopping Ads, and that means being upfront, honest, and providing customers with the information as needed.
Common violations:
Scamming users by concealing or misstating information about the merchant's business, product, or service.
Stealing product descriptions and product images.
Concealing or misstating information about the business or product.
Create multiple GMC accounts to circumvent Google policies.
Make false commitments such as time of delivery.
Descriptions are linked to sensitive words like medicine, pornography, violence, women, obesity, politics, country/region, religion, and local culture.
Products that enable dishonest behavior
Google values honesty and fairness and prohibits the promotion of products designed to enable dishonest behavior.
Examples:
Hacking devices or hacking instructions.
Fake or false documents.
Spyware and technology used for surveillance.
Products that violate local laws and regulations.
User information security
Google shopping ads policies are based on the security of user data.
Common mistakes:
Malicious theft of user payment information in the payment process.
User's full name, Email address, delivery address, phone number, ID number, pension accounts, social security number, tax ID, health insurance number, driver's license number, birthday, or mother's former name, plus any information above mentioned. Also, financial status, political parties, sexual orientation, race or nationality, religion, and other information not used by regulations.
Adult-oriented content
Certain adult-oriented ads and targeted pages are allowed, provided that the ads comply with local laws and regulations, have adult attributes on the product page, and are not targeted at minors. Prohibited Adult Content includes Strip clubs, pornographic movies, sex toys, adult magazines, sex enhancement products, dating sites, and models with sexy poses.
Common mistakes:
Text, image, audio, or video of graphic sexual acts intended to arouse.
Overly exposed model images.
Feed quality violations
Price:
Only products with fixed prices can be sold, and the discount price should be specified separately. Showing different prices in ads and target pages is prohibited.
Image:
The product's main image should be clear, without borders, watermarks, promotional words, and logo elements.
Copyrighted product images copied from other websites are not allowed.
Non-copyrighted images with a clear portrait display are not allowed.
Images containing politically or religiously sensitive content are not allowed.
Overly exposed or pornographic images are not allowed.
Exaggerated depictions or images suspected of being endorsed by other brands (e.g., Amazon Seller) are not allowed.
The use of prominent paid copyright images as materials to generate ad images is not allowed.
Language:
The same language must be used on the Ads and the purchase page. The language on the target page also needs to be compatible with the language of the country/region where the Ads are placed. Advertising in a different language from that of the target page is prohibited.
Shipping cost:
In any period (including the pre-sale period), the logistics information and shipping cost policies set on the website should be consistent with the shipping cost policies of Google Merchant Center. It is forbidden to display a shipping cost range. If you cannot accurately estimate the shipping cost, you may provide an overestimate, but this must be clearly stated in the ads.
Inventory:
Inventory needs to be updated to ensure products are available and able to be shipped to the destination country/region.
Currency:
The currency of the country/region where the advertising has been placed must be the same as the currency of the target page.
Other common mistakes
Contact information:
Google will verify the user's actual address through both machine review and manual inspection, including but not limited to Google Maps and search engine information verification.
Phone number/email/address - include at least two valid numbers.
If the company does not have an international registered entity, please display the local address on the website as shown in the business license. The address should be accurate and verifiable, overseas warehouses excluded.
Address. If you are asked by a third-party company, such as a credit card collection company, to put a designated overseas address on your website, please check with one of the Google marketing strategy experts first.
Phone numbers must include country/area codes.
The display information must be in a text format that can be copied and pasted.
Too much emphasis on international information may be suspected of fraud.
Common mistake: Putting fake US addresses in the Contact Us section to improve site conversion.
Note
If your GMC is suspended and you can't create a new GMC, you may be perceived by Google as evading policy review. If the reason for your GMC suspension has not been addressed, repeatedly creating new GMC is a severe violation of Google policies and will also affect the subsequent appeals.
Request a review
When submitting an appeal, merchants should clearly and concisely explain their actions to correct the issue, along with any relevant documentation. It's important to be transparent and provide as much information as possible to demonstrate that the issue has been resolved. If you have fixed your account issues and would like to request a review, you can Contact GMC customer service through "Contact us " and describe the changes made and attach related links.
If the appeal is successful, the account will be reinstated, and merchants can resume listing their products on Google Shopping. However, if the appeal is rejected, merchants can continue to make changes and submit additional appeals until the issue has been resolved.
Self-check list
GMC Set Up
Product feed
No disapproved product left to review(No disapproved products left which directly relates to account suspension)
Merchant Info - Merchant description
Ensure that the merchant information set up in your GMC is consistent with all merchant information on your website.
Office address is available on Google Maps
An actual reachable phone number.
Customer service email needs to be a branded email address (e.g., hosted domain)
Merchant Info - Website
Use an external domain (not

myshoplazza.com

)
Merchant Info - Brand marketing
Brand color for website or brand have been set.
Square or rectangular brand logo available.
Sales tax
Tax Settings/Taxes are consistent with the tax instructions on the website.
Shipping and returns
GMC shipping setup consistent with those on website.
Country/Region
GMC shipping setup consistent with those on website.
E-commerce
Website
Website loads quickly.
There are no lexical and sentence pattern errors.
No fake reviews.
No imported reviews.
Did not steal images from another website.
Did not steal product description from another website.
Website has certain reviews.
All the plugins on the website work normally.
Not using website for dropshipping.
SSL certificate installed (https)
Website's language consistent with country's language in which the product is launched.
Privacy policy page clearly explains how user browsing data is used on the website.
There are no exaggerated descriptions of brands or products.
Home page and brand
High-quality logo (good design and not blurry)
Both URL and store domain must be valid.
Brand logo displayed on home page.
Product details
No false or misleading description.
Inventory status clearly marked.
No images copied from vendors or other sellers.
No copy of other seller's product description.
Not selling dangerous goods.
Not selling counterfeit or infringing trademark products
Accurate status of goods (new/used.)
Original product title.
Prices are correct.
Policies
Contract Info
Contact information on separate page.
Contact times listed on website.
Contact page lists estimated response time.
All contact information needs to be consistent with the GMC setup/Google Ads setup.
Return & Replacement
Clearly state refund or return process.
Clearly outline the refund/return process for different situations (For example, replacement, change of mind, defective item, damaged, wrong product, never delivered, canceled after order etc.)
A clear timetable for each return or refund situation.
Clearly outline how long it will take to receive a refund after a successful return.
Specify refund method.
Specify the deadline for return (after which products cannot be returned)
Shipping
Indicate shipping cost for each region.
Time of delivery to each location.
Express/postal services used at each delivery point (e.g. UPS, FedEx, DHL, Australia Post)
Package tracking information is clear.
How loss of goods in transit are dealt with.
Payment policies
Checkout page protected by an SSL certificate.
Multiple payment methods are available.
Displays available payment methods at website footer.
No hidden costs.
All discounts advertised on site are available at checkout.
Accurate discount information.
In summary, if a GMC account is suspended, you should take prompt action to identify and address the issue, document the steps taken, and submit a clear and concise appeal to have your account reinstated. By following these steps, you can minimize the disruption to their business and continue to benefit from listing their products on Google Shopping.
You can also click here to learn more about shopping ad policies.
Note
Google typically takes 3-5 business days to review appeals, although it may take longer during peak times. We suggest you avoid submitting multiple appeals, which can delay the process.