Ensuring your product listings comply with Google's advertising guidelines is a key step in successful online marketing. The Product PreCheck feature offers a simplified way to check your product data feeds against these guidelines, helping to streamline the approval process for Google Shopping ads. This tool not only identifies potential approval roadblocks but also provides actionable advice to enhance your product data for optimal performance on Google Shopping. The following guide will walk you through the product precheck process, making it straightforward and effective.
Steps
1. From your Shoplazza admin > Sales channels > Google, switch to the Function tab, and under Campaign Creation, click on Shopping Campaign.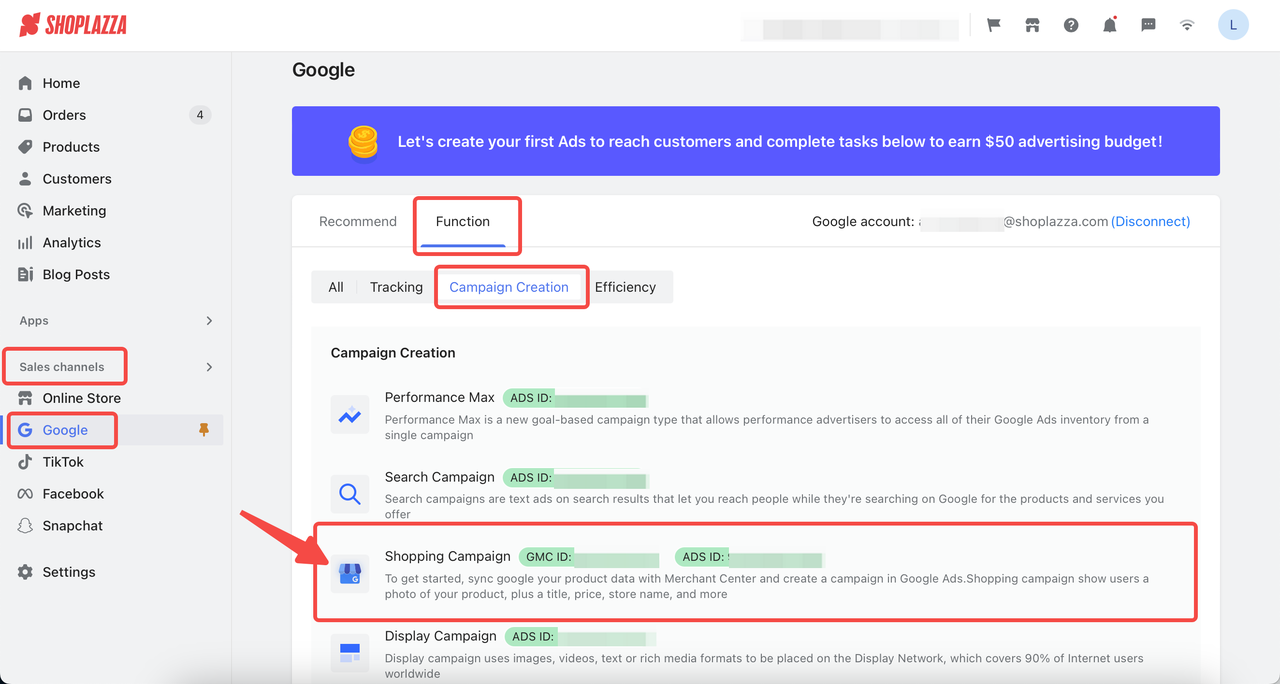 2. On the GMC settings page, click Products > Product Precheck and click Start precheck.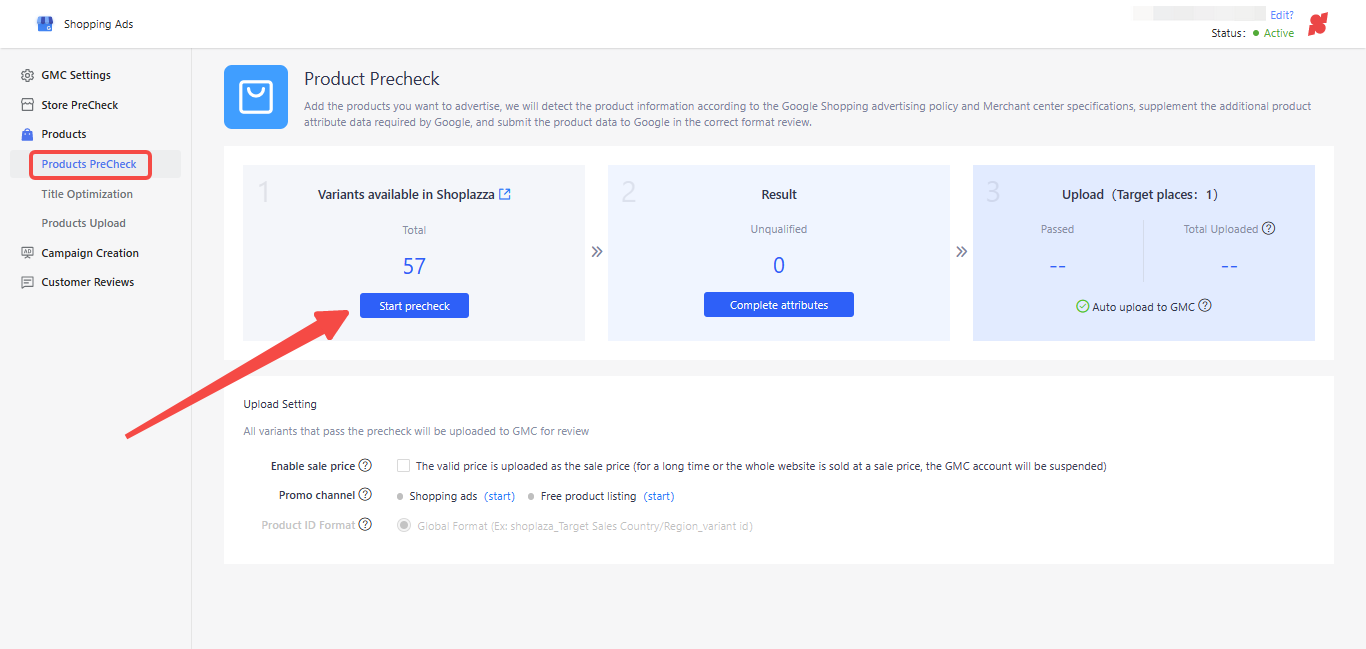 3. Choose the products you wish to advertise. Manually select products or opt to pre-check the first variant of each product. Products can be searched by Title, SPU, and SKU. After selection, click Next.
Note
Batch search is supported by entering multiple values separated by commas.
Opting to sync only the first variant can reduce advertising costs.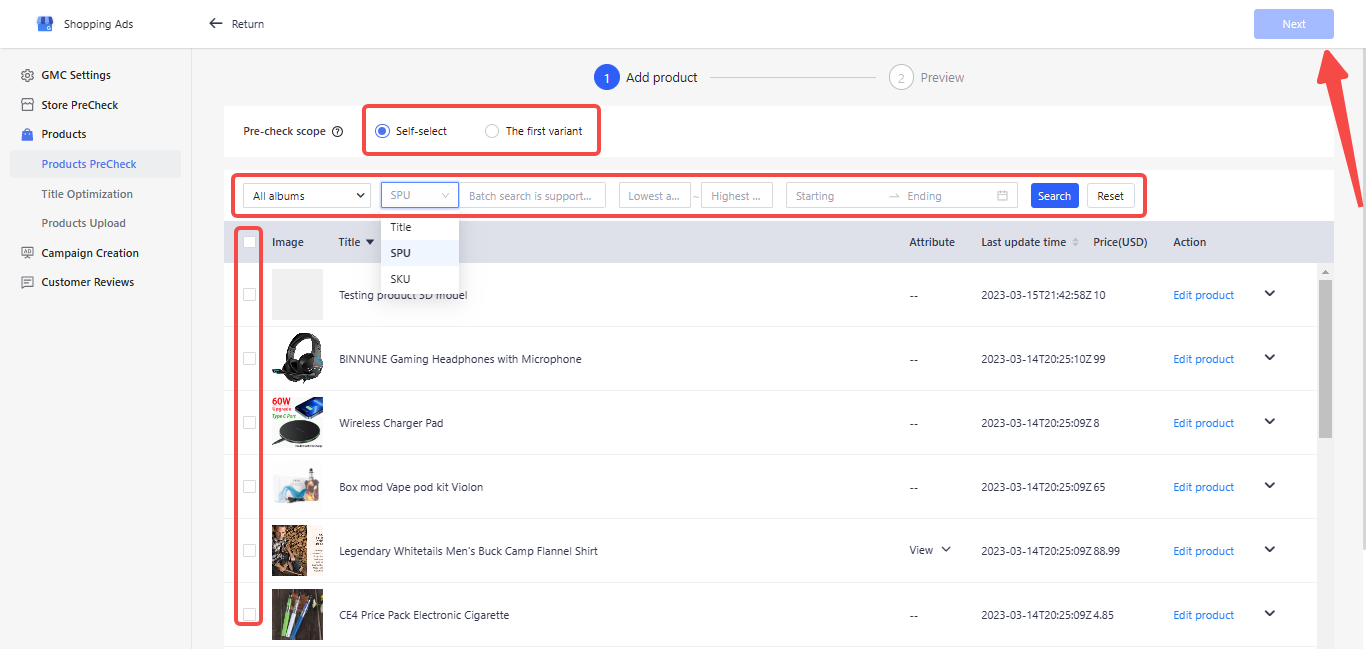 4. Click on Start precheck.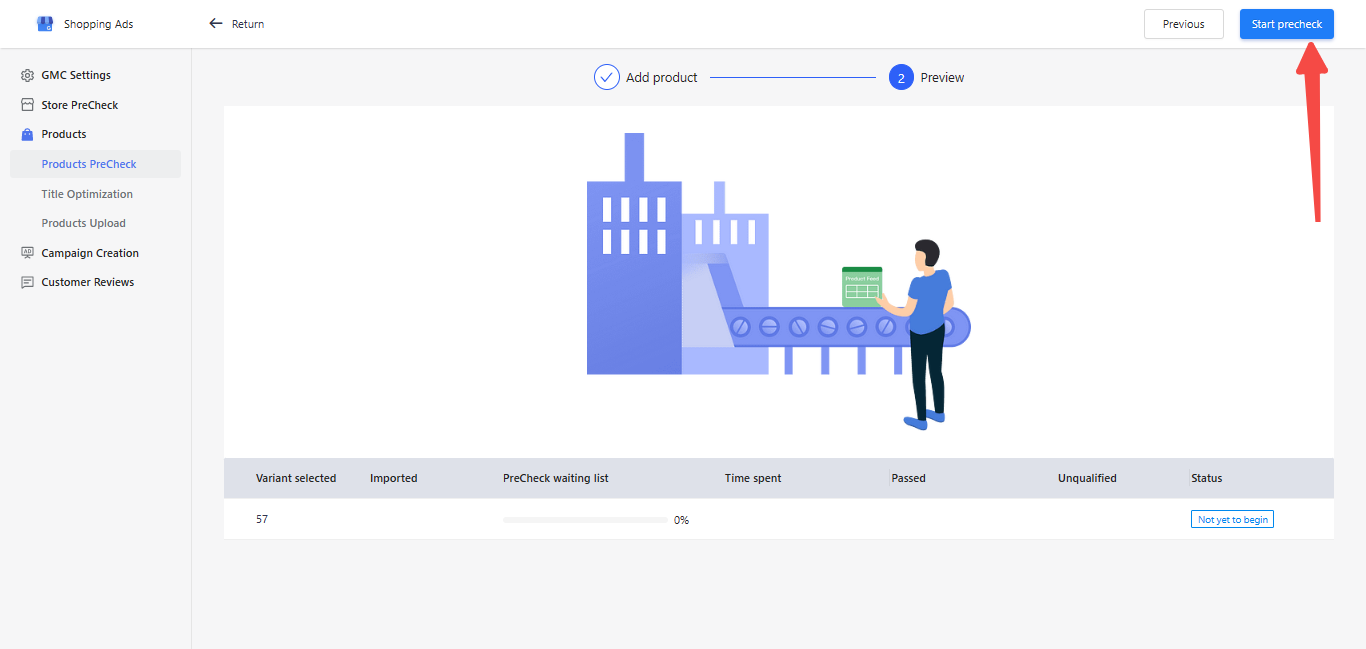 5. The result will be displayed at the bottom of the page, indicating whether the precheck passed or was unsuccessful. Next, click Complete attributes.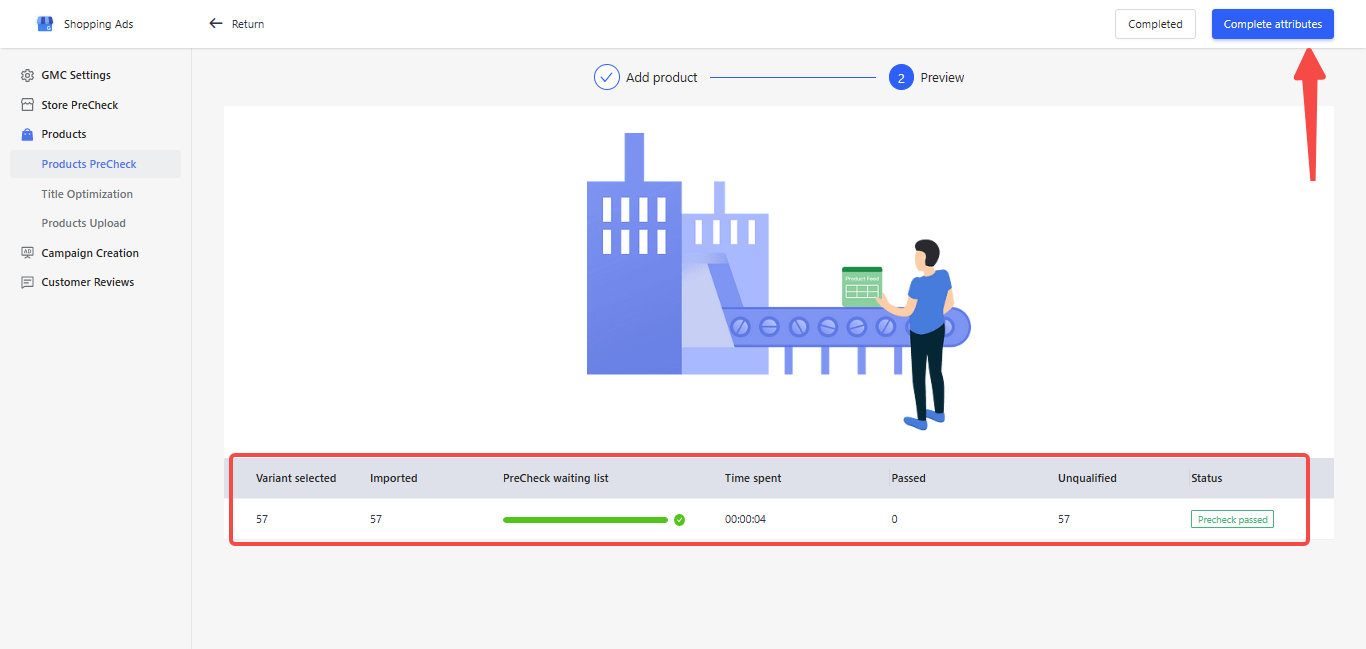 6. If your products miss some attributes, you can improve the missing attributes by selecting the products individually or in bulk. After selecting, click Edit product attributes.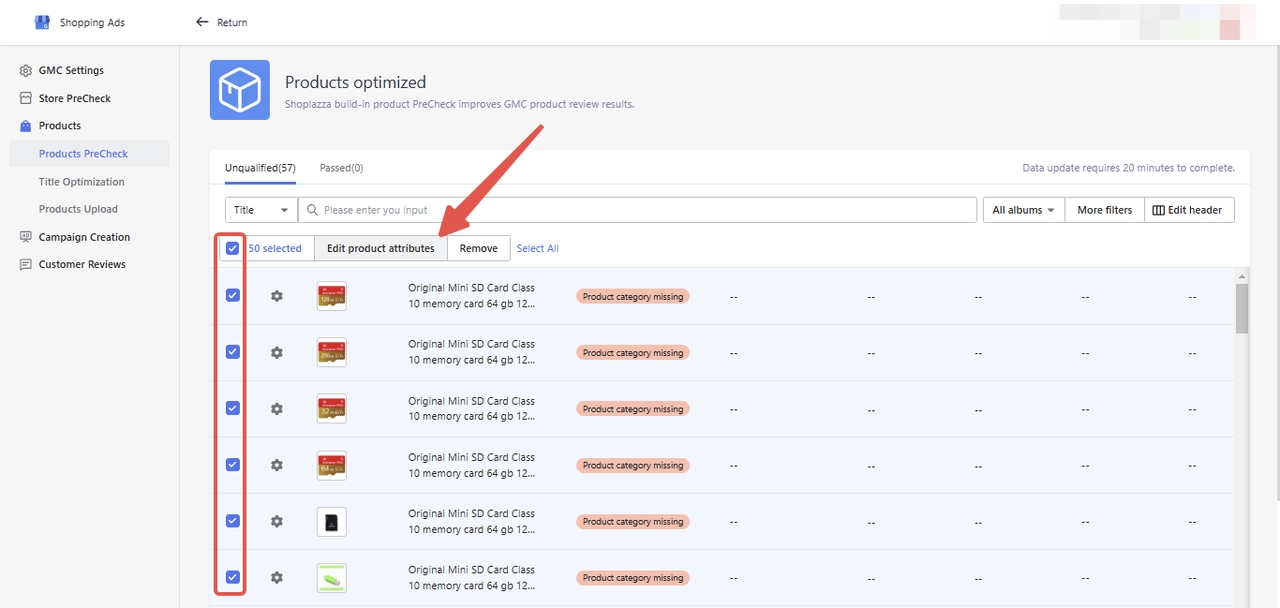 7. This step involves updating various attributes, such as Google product category, gender, age group, condition, product type, adult content, identifiers, brand, MPN, GTIN, color, size, shipping labels, weight, and custom labels. These details are important for categorizing and showcasing your products effectively.
| | |
| --- | --- |
| Google product category | Standard Google product category serves as a product type guide and improves search results of your products. |
| Gender | Specify the gender that your product is intended for. If you provide this information, potential customers can narrow their search by precisely filtering products by gender. |
| Age group | Set the audience for which the product is intended. Using this attribute, your ads can appear in age-filtered results. |
| Condition | Explain to users how the products sold are being used. Google uses this value to refine search results. |
| Product type | Add your custom product categories to product feeds. It may help improve Google Shopping Ads pricing strategies and reporting efficiency. |
| Adult content | If your products contain elements including nudity, sexual implications, or other adult content, please choose this attribute to indicate that these products only intend to sell to adults. You must identify and label the products if you intend to sell to non-limited audience groups. It will help display appropriate content to online shoppers. |
| Identifier exists | Use the identifier_exists attribute to indicate that unique product identifiers (UPIs) aren't available for your product. Unique product identifiers are submitted using the gtin, mpn, and brand attributes. |
| Brand | Indicate the brand name of the product. Branding is used to help identify your products and is displayed to users. |
| Manufacturer Part Number (MPN) | An MPN is used to uniquely identify a specific product among all products made by the same manufacturer. Shoppers may search for MPNs directly, so providing an MPN helps ensure that your products appear in relevant contexts. Shoppers might search specifically for an MPN, so providing the MPN can help ensure that your product is shown in relevant situations. |
| GTIN | Global Trade Item Numbers (GTINs) uniquely identify your product. This specific number helps us make your ad or unpaid listing richer and easier for your customers to find. Products submitted without any unique product identifiers are difficult to classify and may not be eligible for all shopping programs or features. |
| Color | It helps you create filtering conditions for accurate search results. If your product consists of different variants with different colors and styles, you can use this attribute to group your products. |
| Size | Let your users know about the standardized size of your product. When you submit this attribute, your product can appear in results that are filtered by size. The size you submit will also affect how your product variants are shown. |
| Shipping label | Use shipping labels to group products for accurately calculating shipping costs from GMC. Shoppers won't see shipping label groups. |
| Shipping weight | Add the package weight to calculate the shipping cost. Use package weight attribute if applying standard rate plans by shipping carriers. |
| Custom label | You can use custom tags to create specific filters that you can use in Shopping campaigns. These filters can be used to generate reports and bids for product groups. The filtering conditions may help improve reporting efficiency and pricing strategies without displaying them to shoppers. E.g., You can create labels like Seasonal, Sale, and Sold Out Rate. |
| More Product Attrs | You can edit material, images, and unit pricing under this option. |
Note
If missing identifiers are an issue, select Yes under 'Identifier exists' and leave the GTIN field empty.
8. Once you complete the attribute updates, the system will automatically recheck. If all is clear, the Product PreCheck status will update to 'Passed,' allowing you to move forward with your advertising efforts.
Utilizing the Product PreCheck feature in GMC is a proactive step towards ensuring your product listings align with Google's advertising standards. This not only prevents potential disapprovals or suspensions but also positions your products effectively within Google Shopping results. Addressing these details ahead of time, will allow you to focus more on strategic aspects of your online presence and be confident that your products meet the necessary criteria for successful advertising.