Before launching your store, it's important to complete your store information details. This initial step is key to setting up for success. Your personal and store details are accessible in the Store Information tab.
Head over to your Shoplazza Admin > Settings > Store information. This section includes details like your store name, store link, store owner email, finance email, website favicon, customer email, and account language.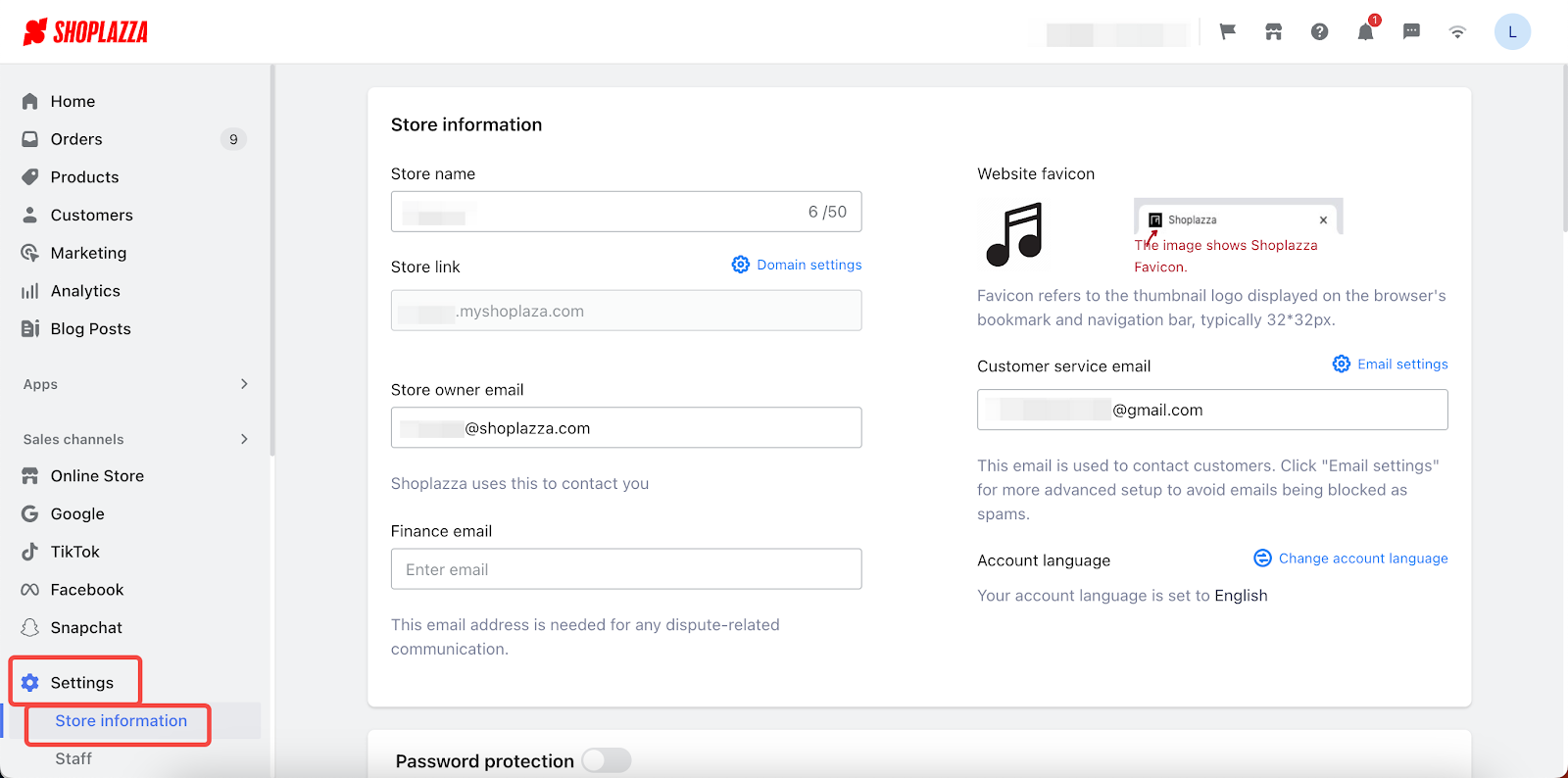 Note
Required fields are marked with asterisks.
Your store owner email is how Shoplazza will contact you.
Store information
1. Website favicon: An icon associated with a URL that is variously displayed. This can be seen in a browser's address bar or next to the site name in a bookmark list.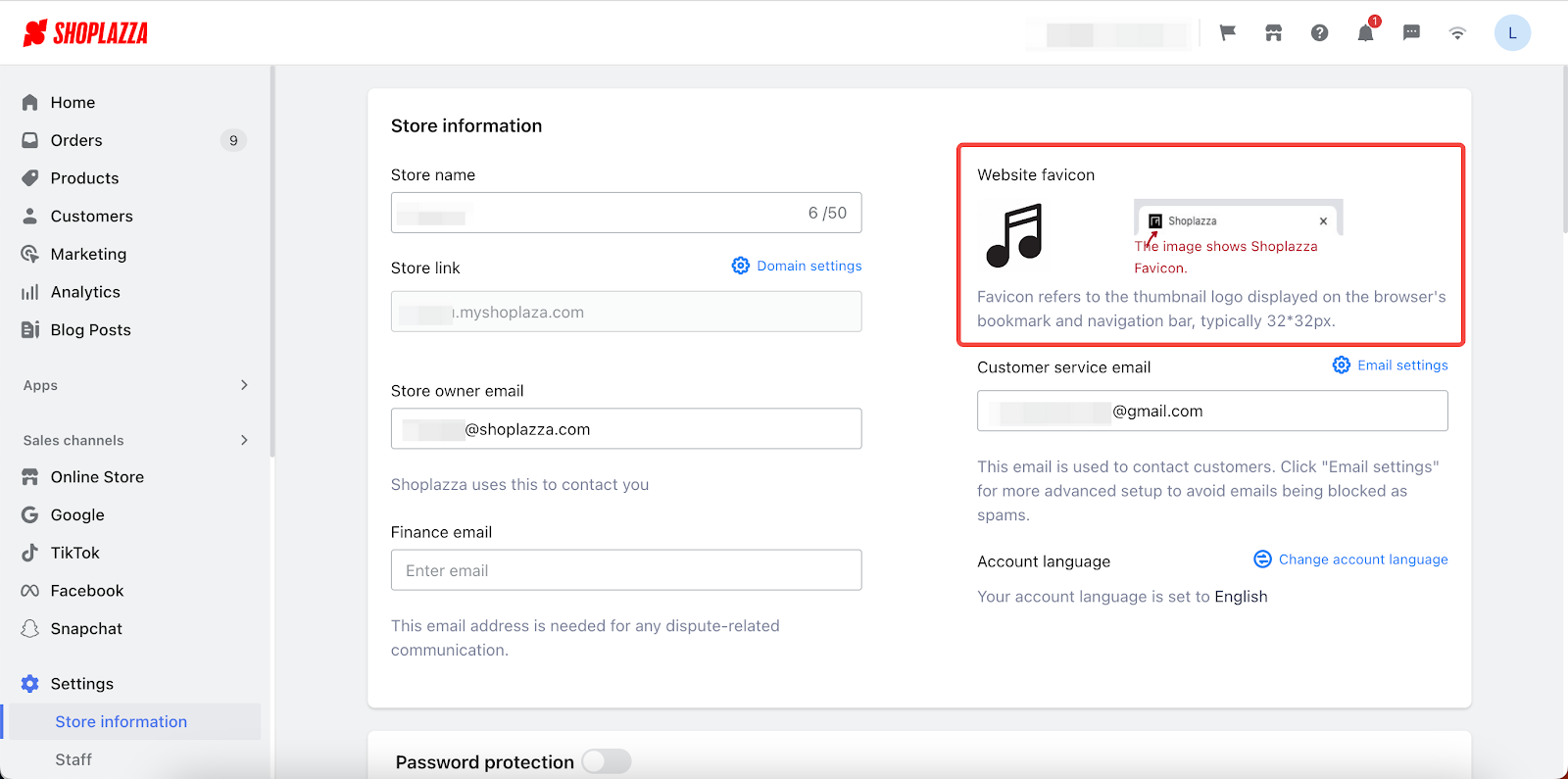 2. Store link: By default, your store is linked to your myshoplaza.com address. If you decide to choose a third-party domain hoster, you can click Domain settings to further complete your domain setup.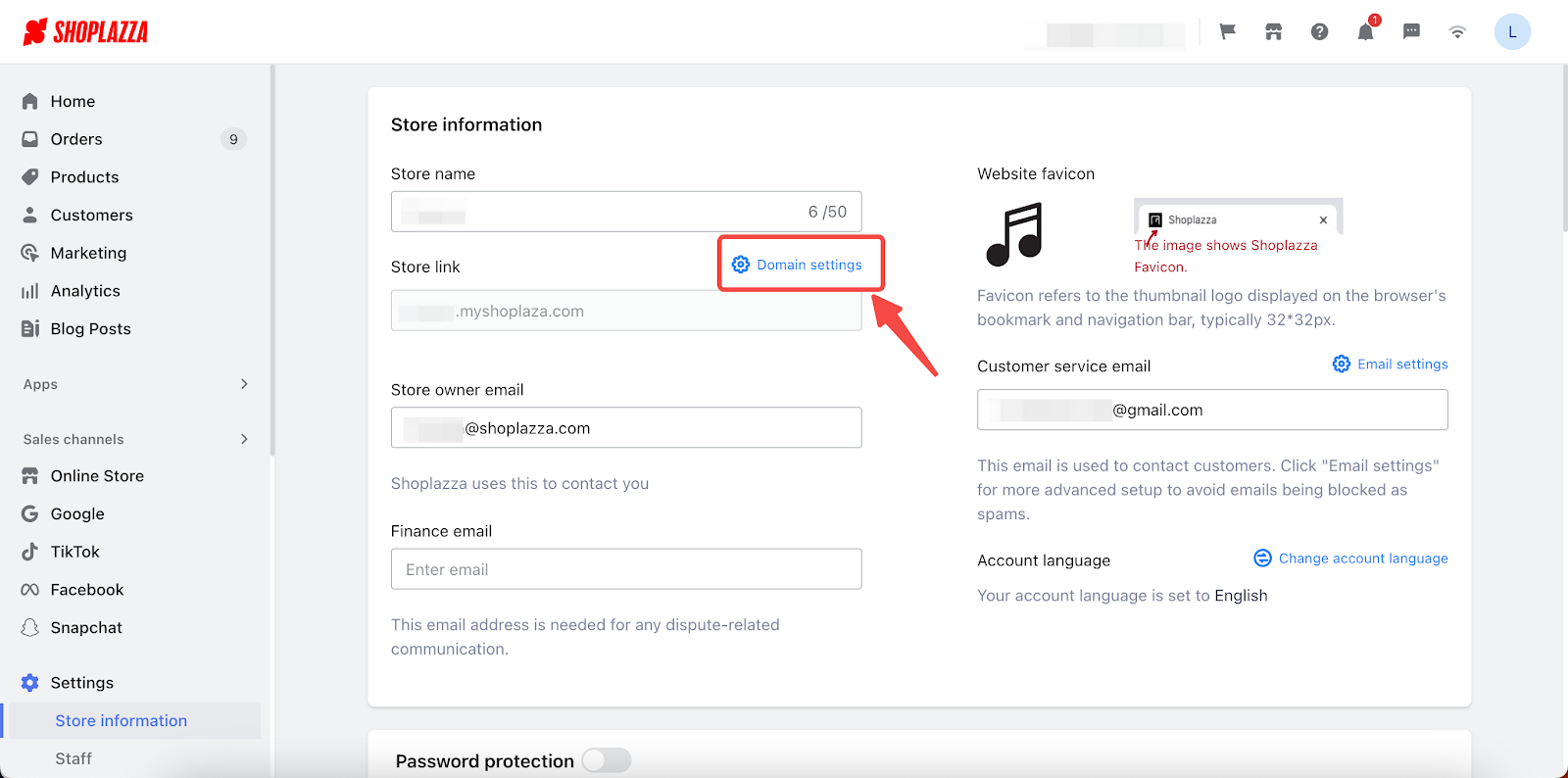 Note
The page will be redirected to domains by clicking Domain settings. Please see Domains to learn more.
3. Advanced mail feature: Clicking on the Email settings button will bring you to Shoplazza's Advanced mail feature page. This will allow you to connect your third-party domain's email hosting system. For example, instead of info@your-store.myshoplaza.com, it would be info@yourstore.com. Using your own store name domain may prevent emails from going to your spam / junk folders. To learn more, please review our help doc here to set up advanced mail features.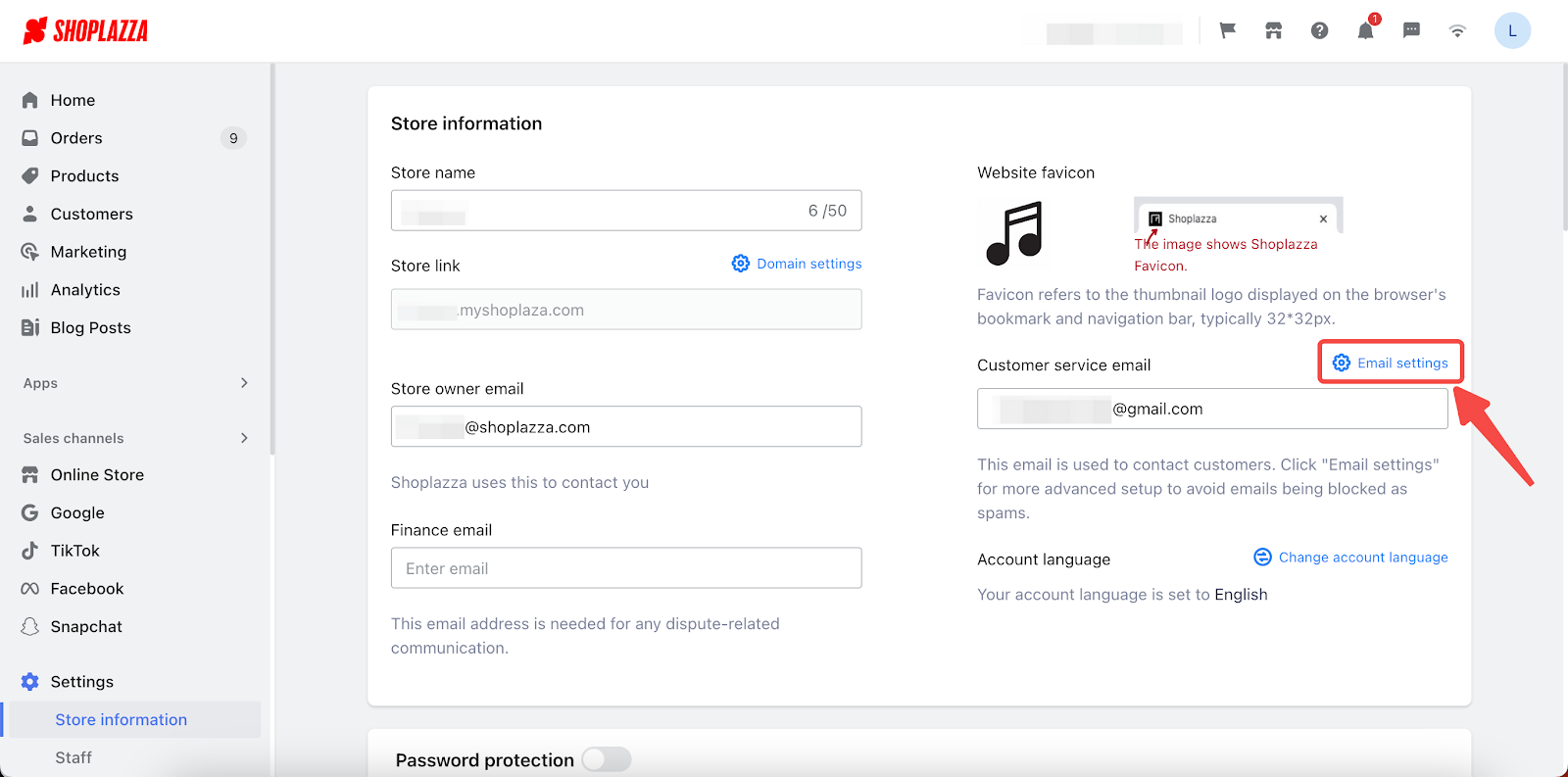 4. Account language:
You can change the language in your admin to your preference by clicking on Change account language.
Select your preferred language from the drop-down menu in Account language.
Note
This setting will only affect the language that appears in the Shoplazza storefront. To change the language that appears to your customers in online stores, please refer to here.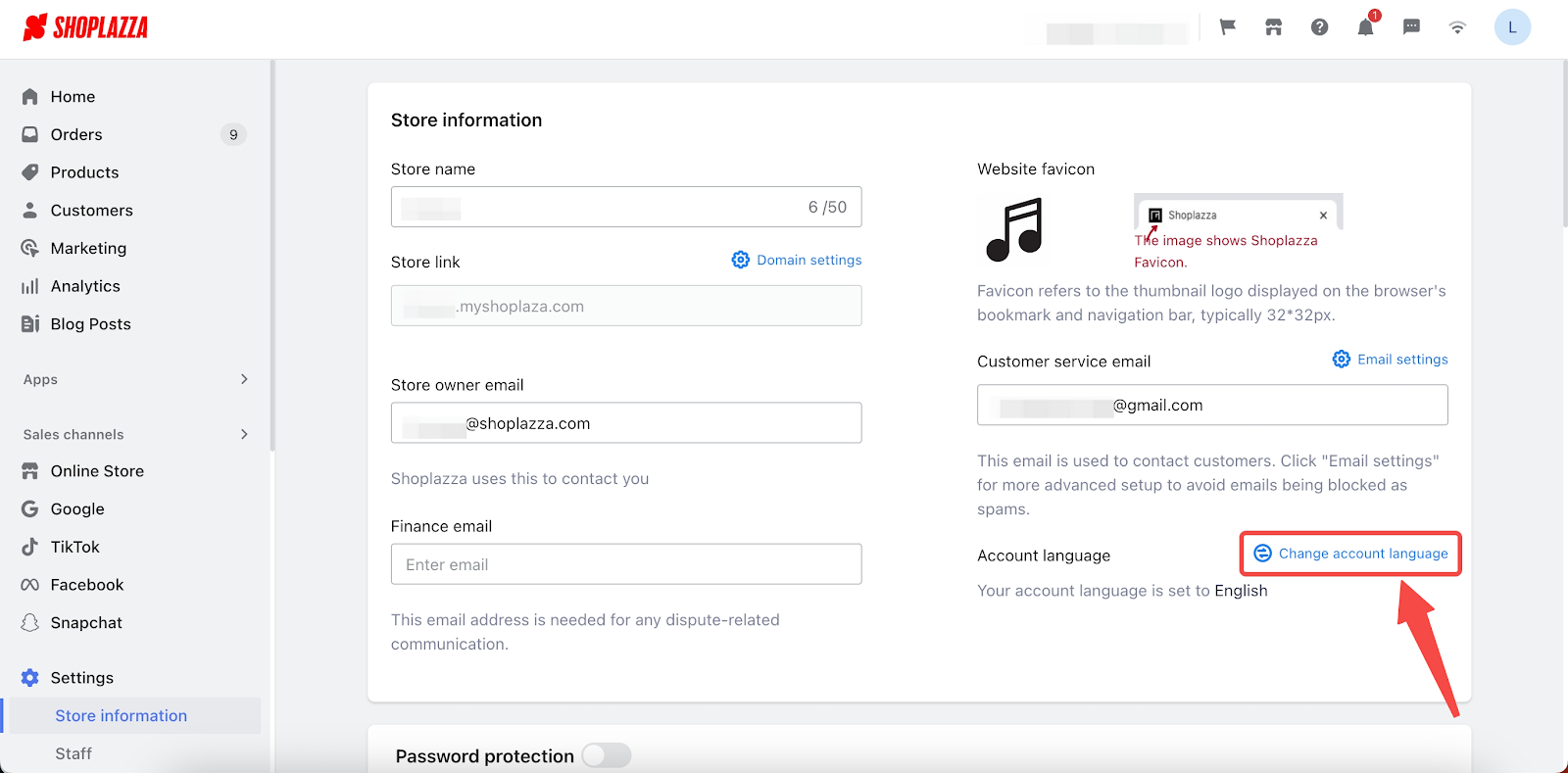 Password protection
This feature allows you to add a password to your storefront. By activating this feature, the storefront will require a password in order to enter the website. The password protection can not be turned off until a billing method is added to your store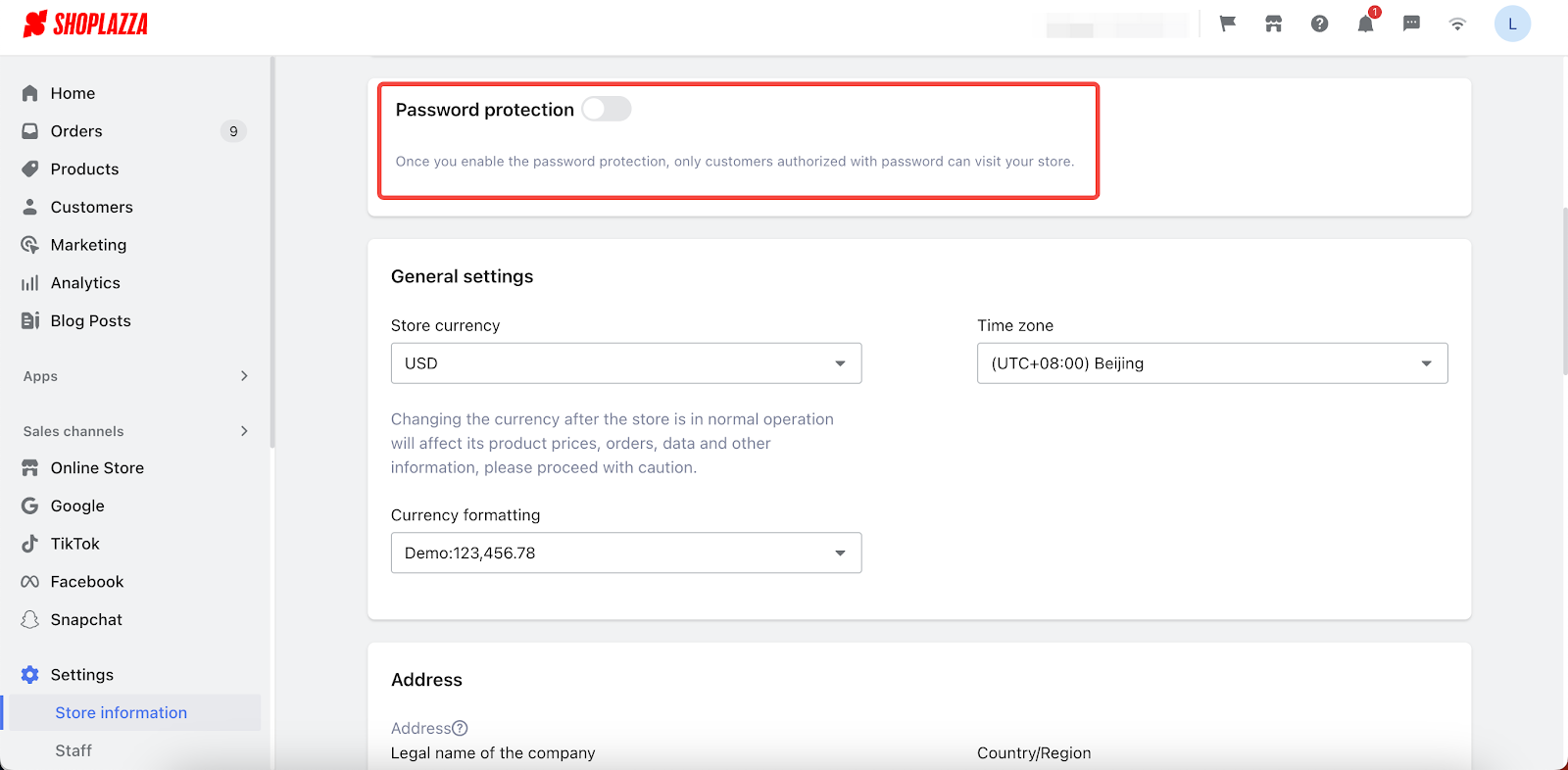 General Settings
1. Store currency: The default currency displayed in your online store as well as the back end.
Note
By changing the default currency, listed product prices in your store will also convert to prices in the selected currency correspondingly.
2. Currency formatting: This changes the way that currencies are shown on your store to make it easier for your customers to read the amounts.
3. Time zone: This affects the time storefront user sees in the Data overview and processing orders.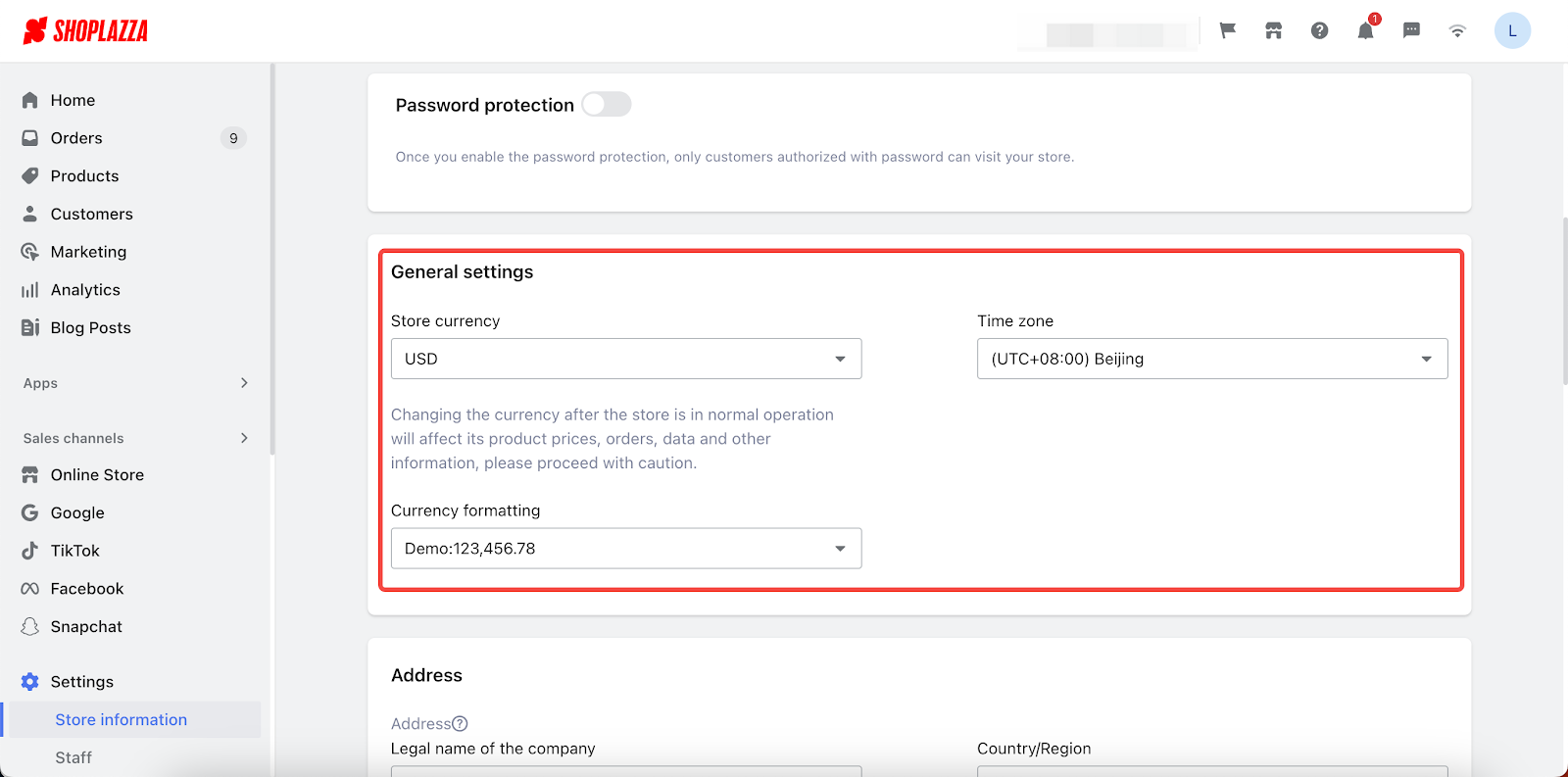 Address
Here you can input your business address. Payment plan bills, agreements, and other documents may be sent via Shoplazza to this address. When a customer decides to return certain purchases, this address will also be included in the return agreement as the default address for returns.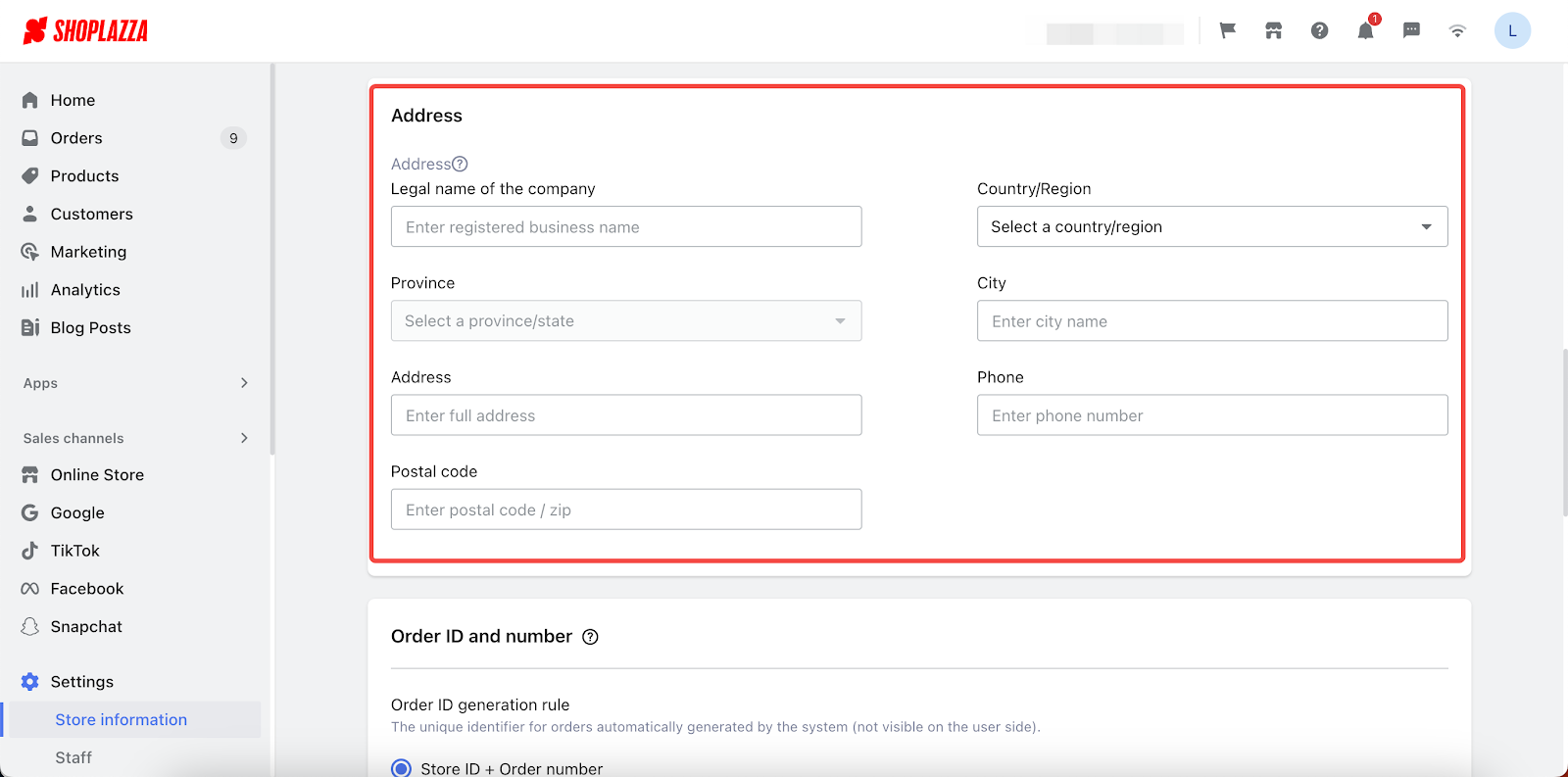 Order ID and number
Customize your own order ID here. This helps with keeping track of your orders.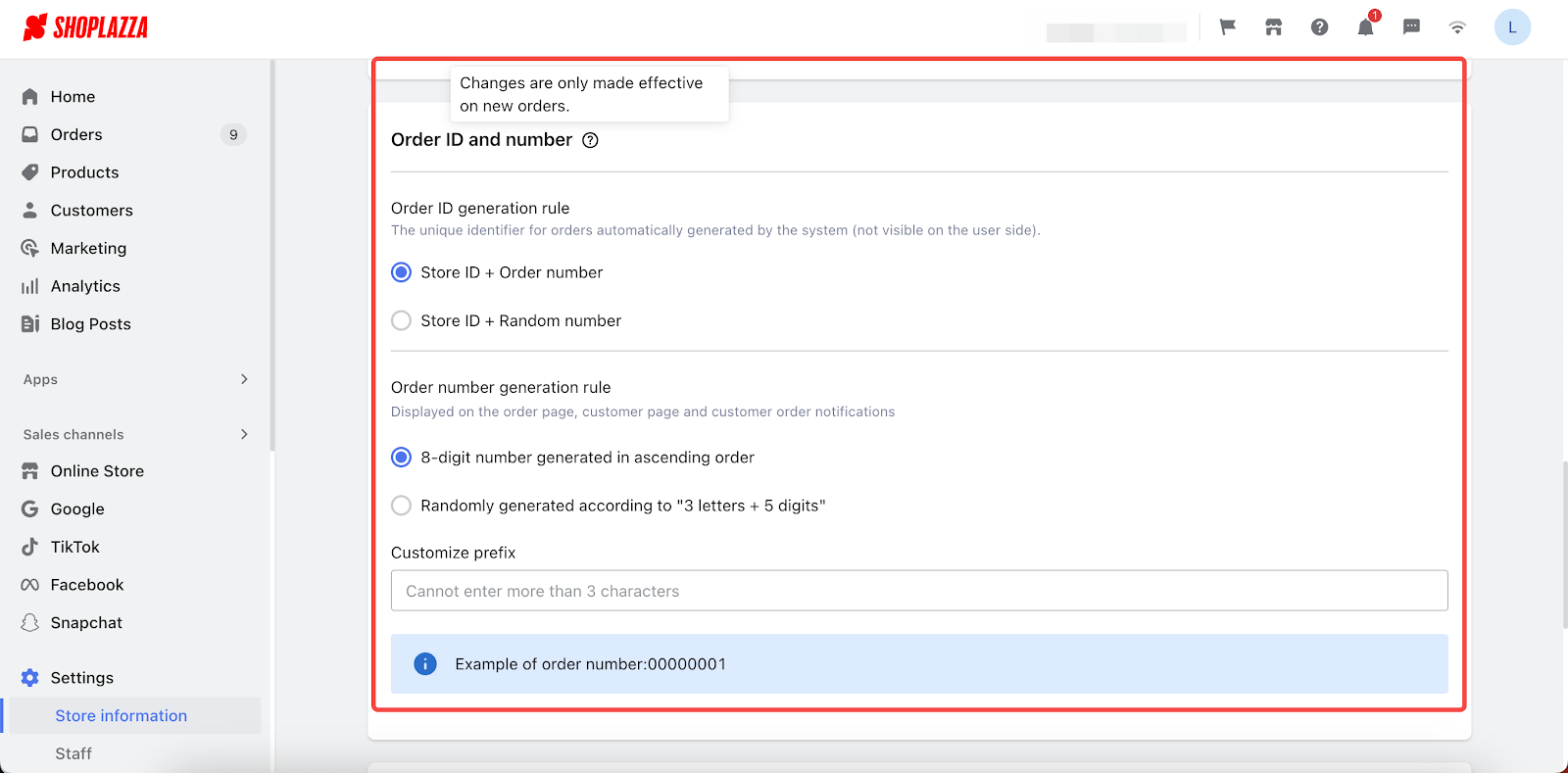 Store Anti crawling
This feature is designed to block unwanted searches that expose vulnerabilities in your store. For example, detecting abnormally high volumes of product views as a sign of non-human activity. It can also monitor activities that try and collect personal data, product pricing, content and images for unauthorized use.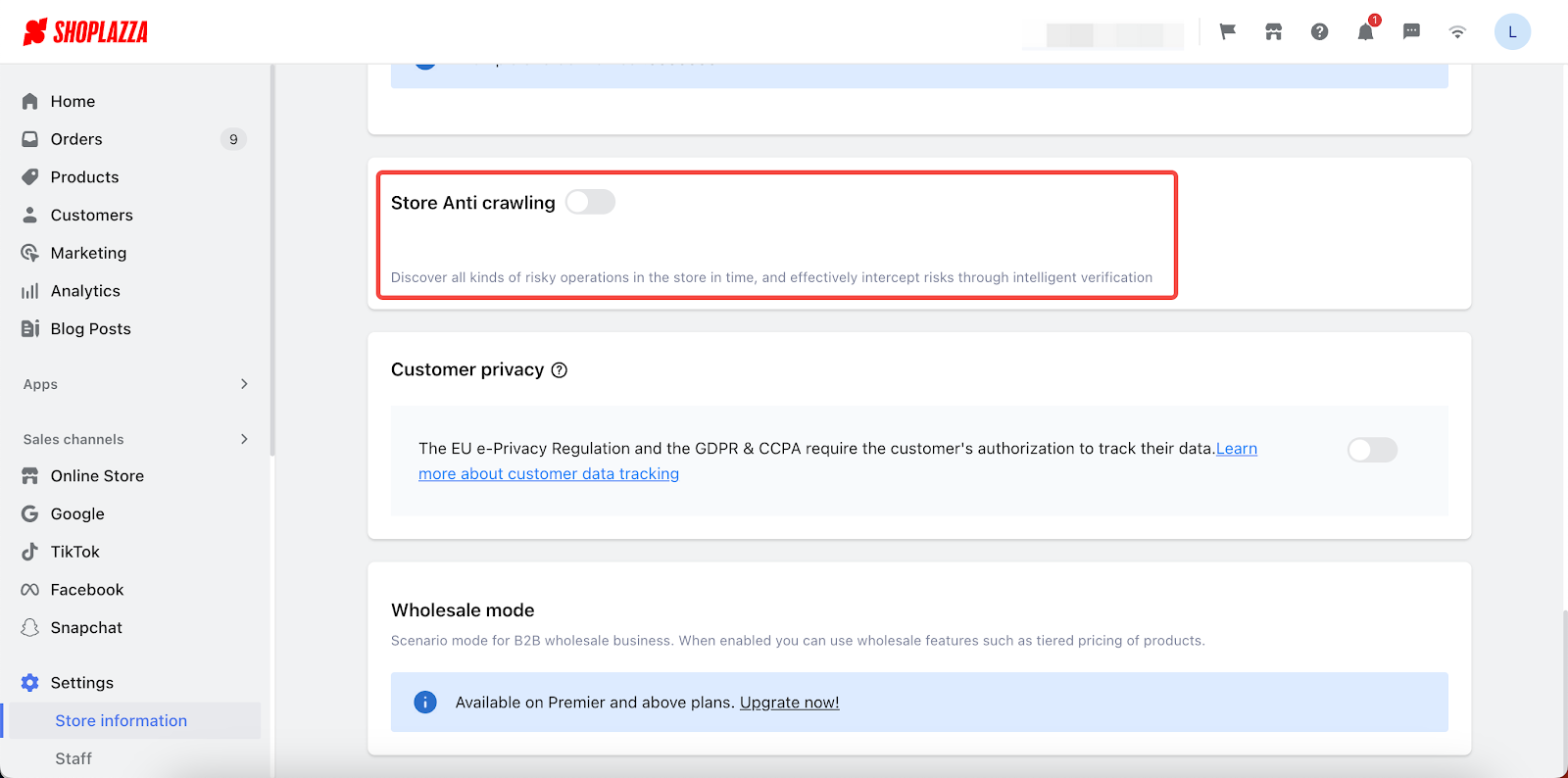 Customer Privacy
Set up a privacy data statement and give your customers control over private data to make your store more compliant with privacy regulations and where your store is operated from.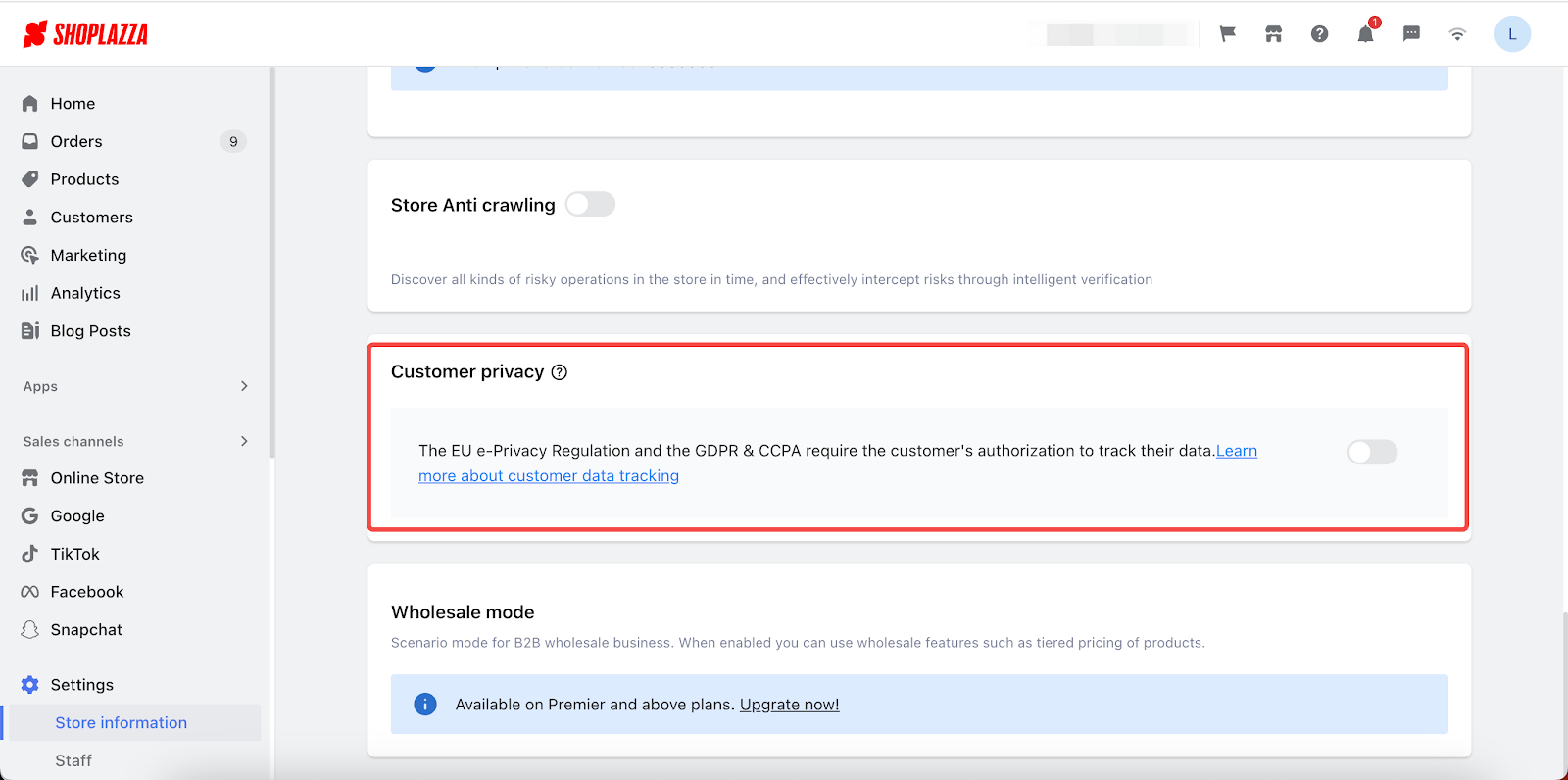 Wholesale mode
If you plan on running a wholesale mode business, you may need more advanced features, for example, tiered pricing for products you sell, to help facilitate your business model.
Note
Wholesale features are only available via Premier and above plans currently.