With Awin's trusted affiliate partners, you can expand your Shoplazza eCommerce business and reach out to your targeted customers. Through Awin's easy-to-use platform, you can manage an affiliate program with clear, consistent labels, layouts and a full reporting suite to monitor your campaigns, optimize performance and reveal powerful insights.
Getting started with Awin
Before you can set up Awin with your Shoplazza store, you'll need the Awin advertiser account to sync up with your Shoplazza store. You can set up the Awin account by following three easy steps:
1. At the first step, you will join the Awin network and Apply via the website link . Once you create the account, then one of the team members from Awin will get in touch with you to get you started with an advertiser account.
2. At Step 2 you can setup the Awin Shoplazza App so that you can sync your advertiser account with your app.
3. At Step 3 you can start growing online sales, report, and measure Awin's simple-to-use platform to track, pay and report on your affiliate partnerships in one simple place.
Cost to join Awin advertiser account
Due to mutual cooperation between Shoplazza and Awin, customers can benefit from the extra perks if they have been referred by Shoplazza. You will have to submit your details and join the network via the 3 easy steps to qualify for this solution.
It's totally Free to join £0 fixed fees for the first month and a low fixed cost of £75 a month thereafter. However, you'll be charged a small Awin network fee for each successful transaction.
Awin' s network fee is 30% of a validated commission. For example - if you choose to pay your partners 5% commission and a website you are partnered with is responsible for a customer purchase of £100 on your site, then that's £5 to the partner and £1.50 to Awin, the total cost of the sale is, therefore, £6.50.
Note
This module applies the Awin tracking code and will not change or affect the layout or look of your website. If you already have a program with Awin, you won't have to install it. For further assistance, please reach out to the Awin support team via your Awin account.
Installing the Awin app
1. From your Shoplazza Admin > go to Apps and then Click on Apps store , Find Awin in the App store and then Add it to your store.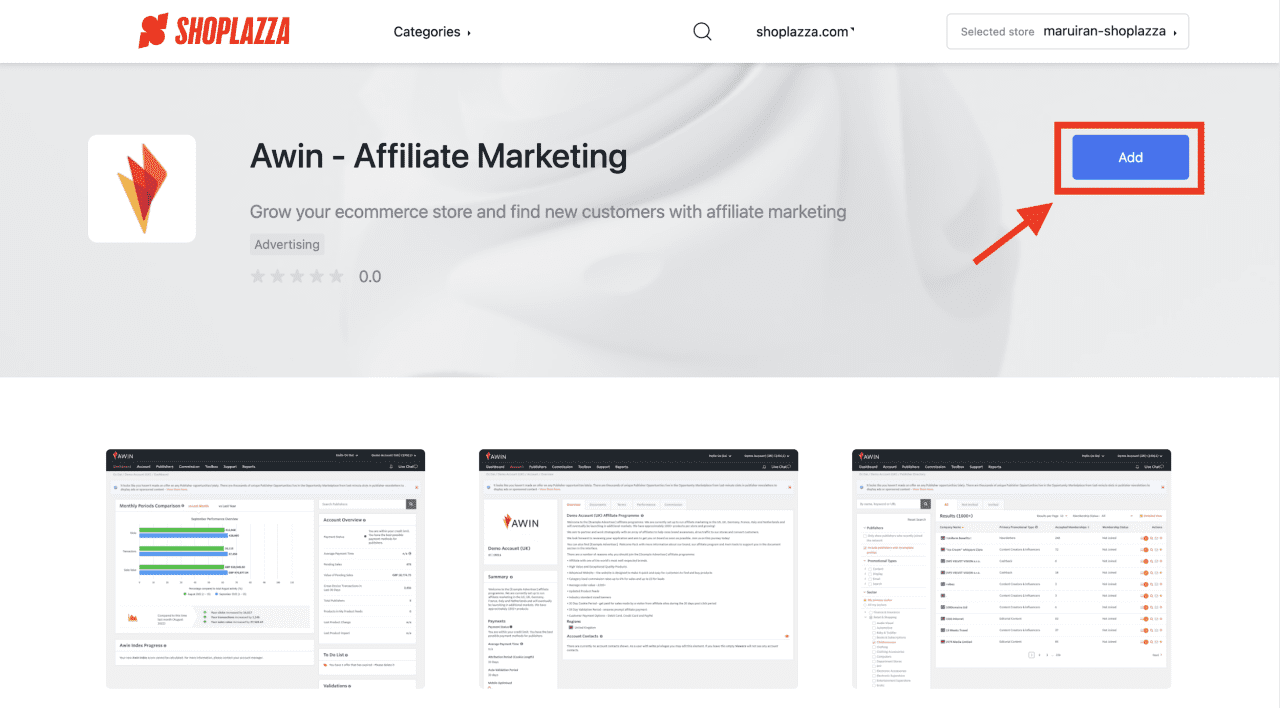 2. Click on Install app. You will be required to insert Awin Account ID in the installation process so your store will then be able to measure sales and attribute them to Publishers.
Note
If you don't have an Awin Advertiser ID, please apply to become an Awin Advertiser

Syncronizing products from Shoplazza to Awin
1. Login to your awin account, click Toolbox on top barand then click My product feeds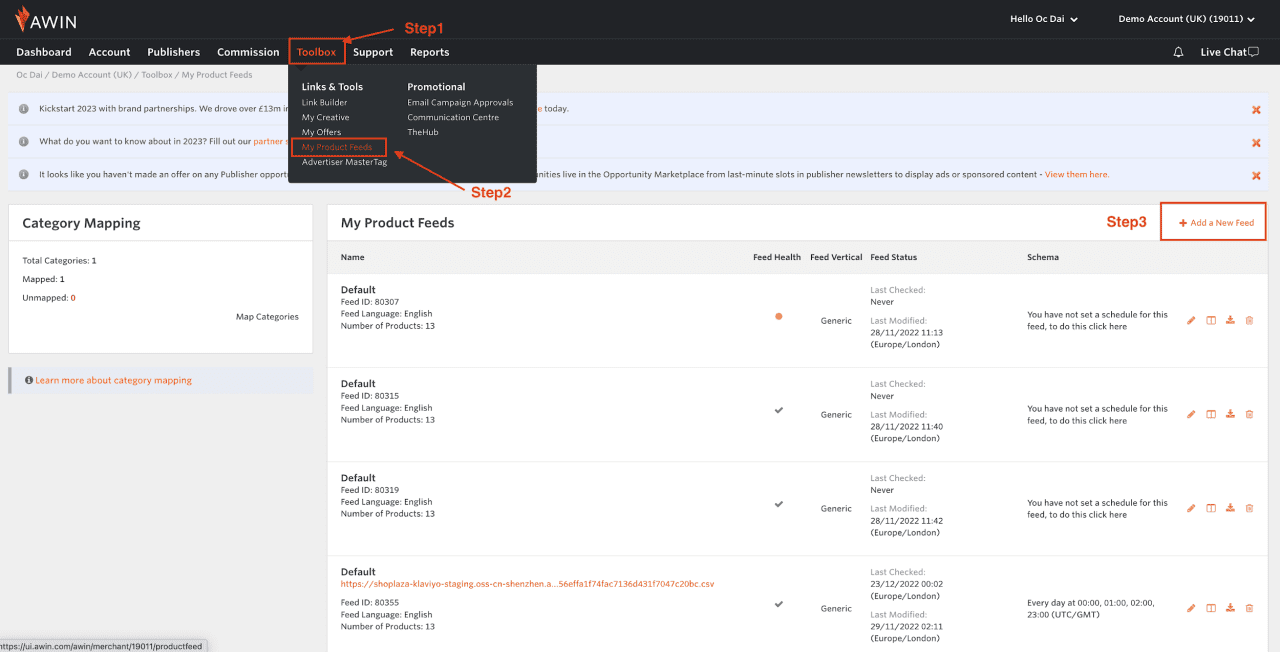 2. Click on Add a New Feed on the My product feeds page.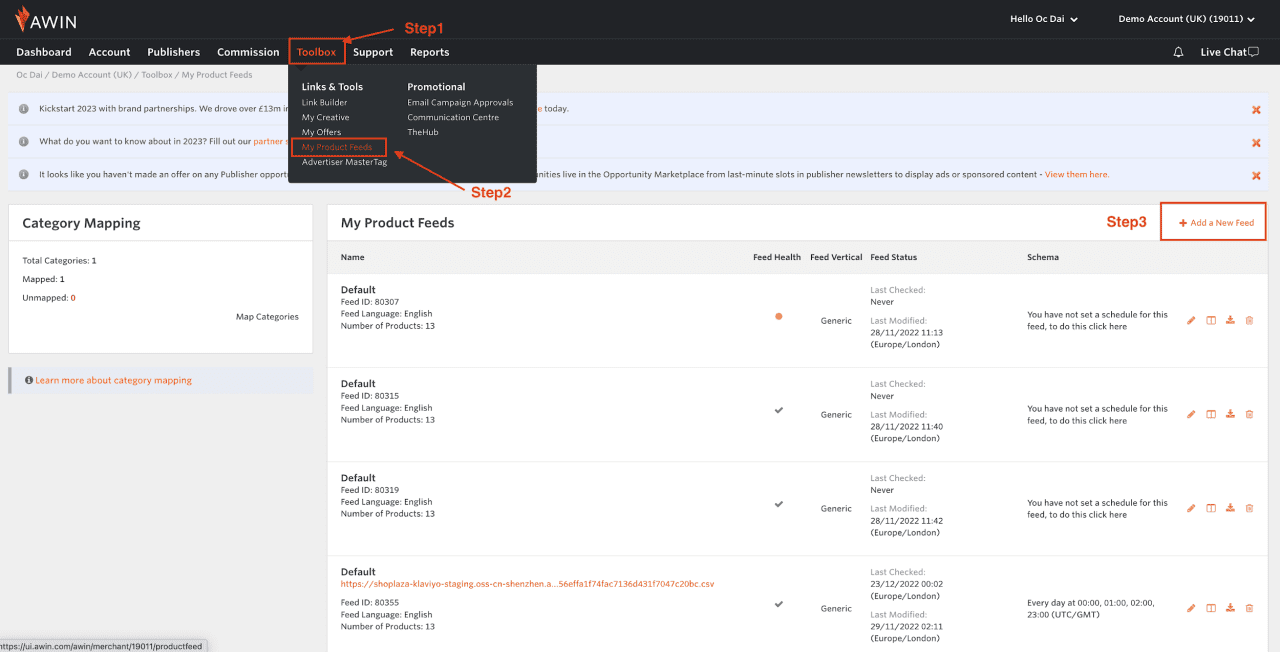 3. On Add a New Feed page, fill in the fields as required
Transfer Method:

HTTPS

File location:

copy it from Shoplazza (Check step.4)

Username:

leave it blank

Password:

leave it blank

XSLT pre-processing:

leave it unchecked

Enable custom commands:

leave it unchecked

File Type:

CSV

First line has headers?:

Checked

Status:

Scheduled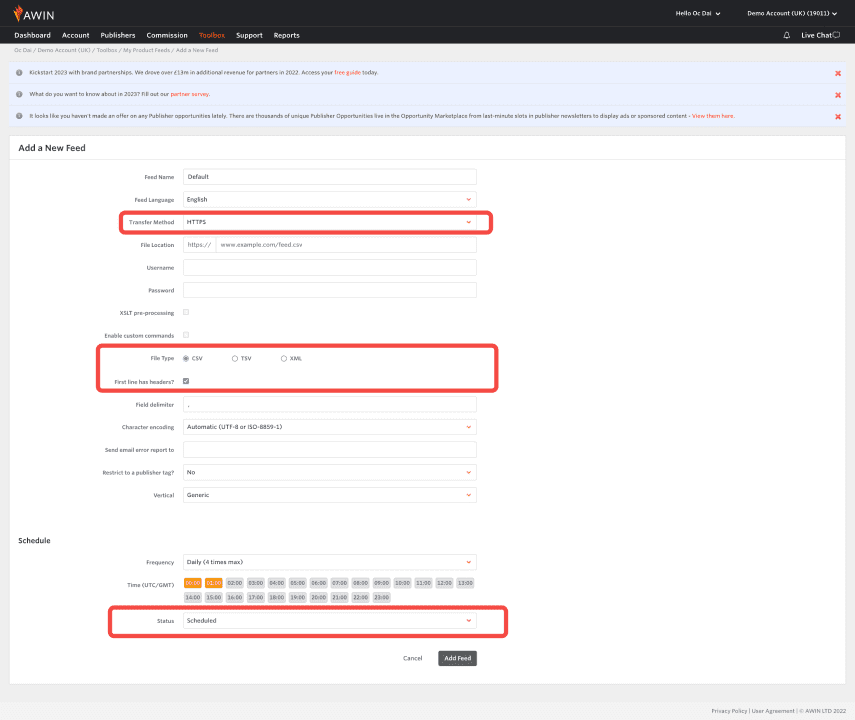 4. After adding feed to the feeds page, head back to Shoplazza Awin setting page and click Generate url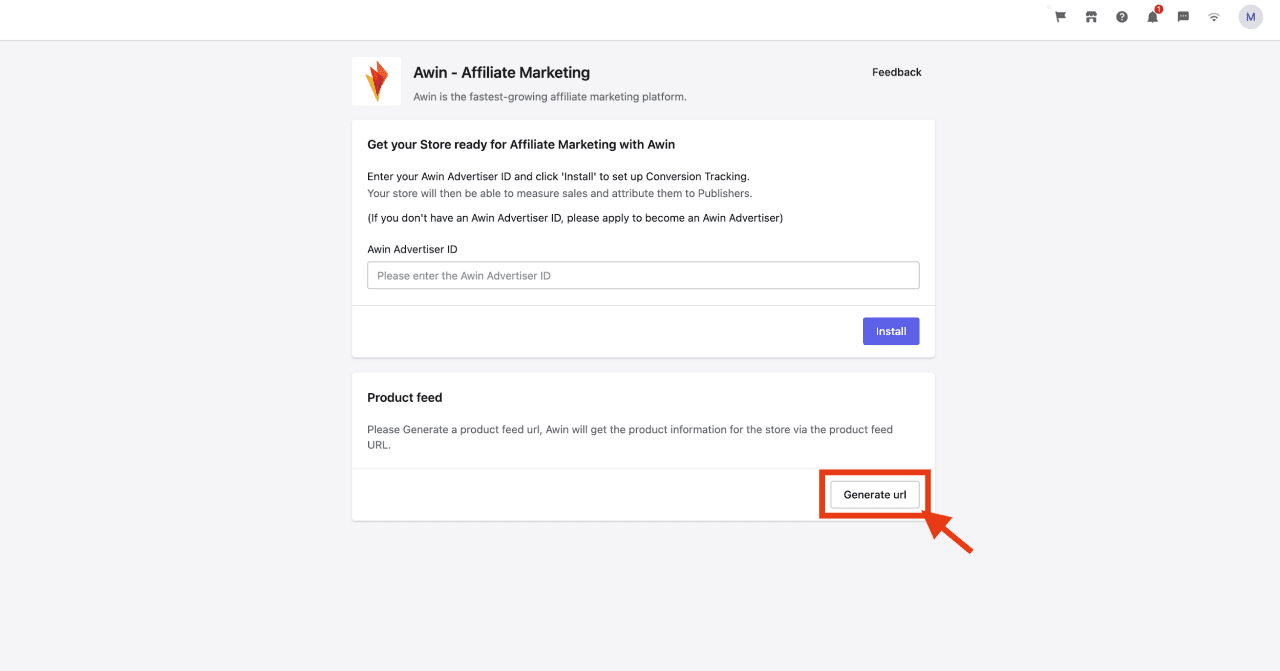 5. Once the url is generated, click Copy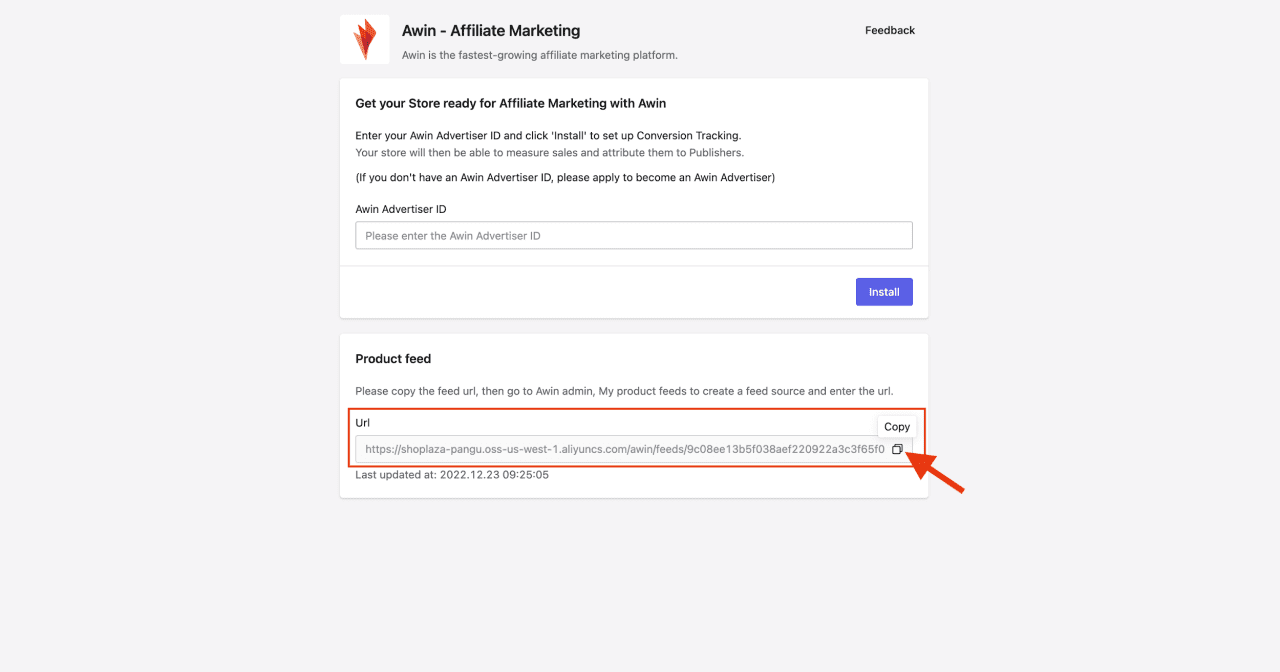 6. Head back to your Awin account and paste it under And paste it under File Location column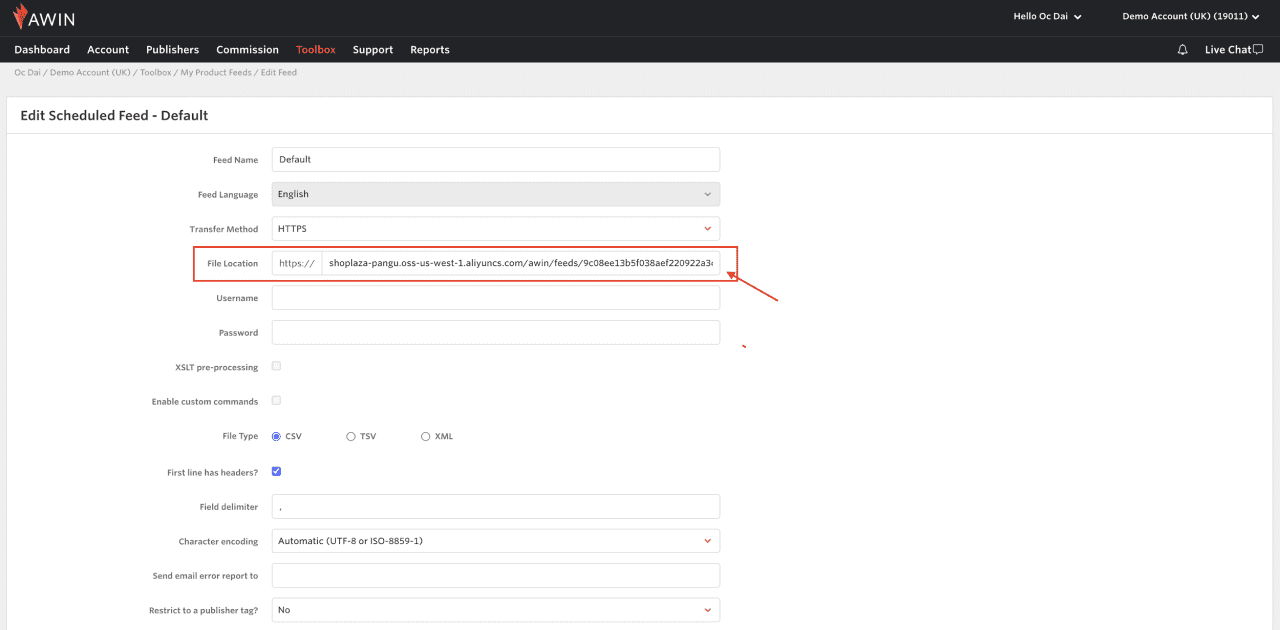 7. Click Save Feed when you're done editing.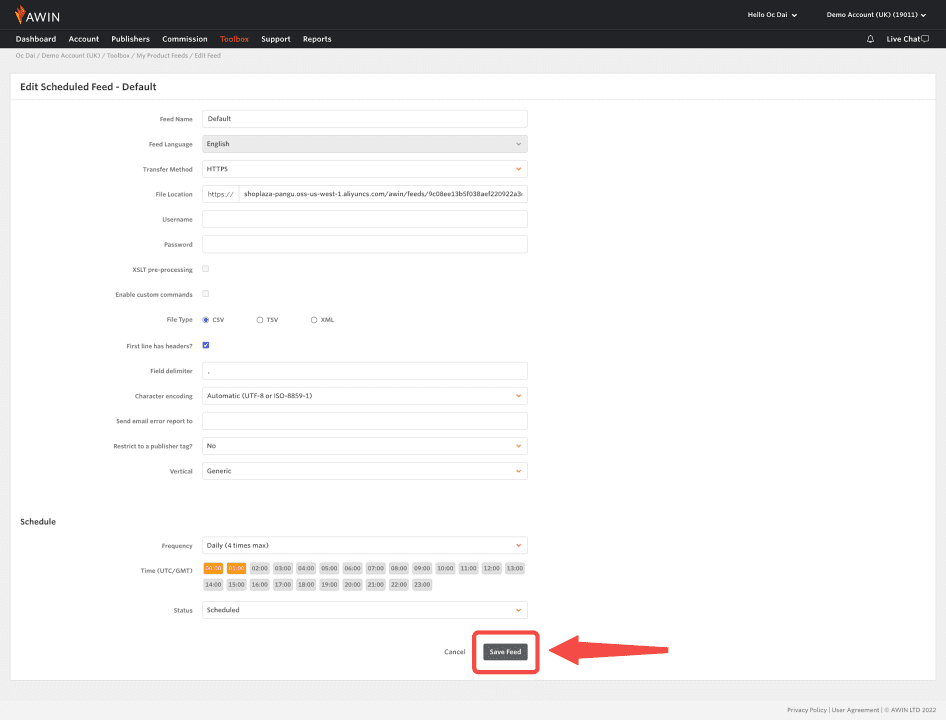 8. Once the Feed is saved, then click Save Mapping & feed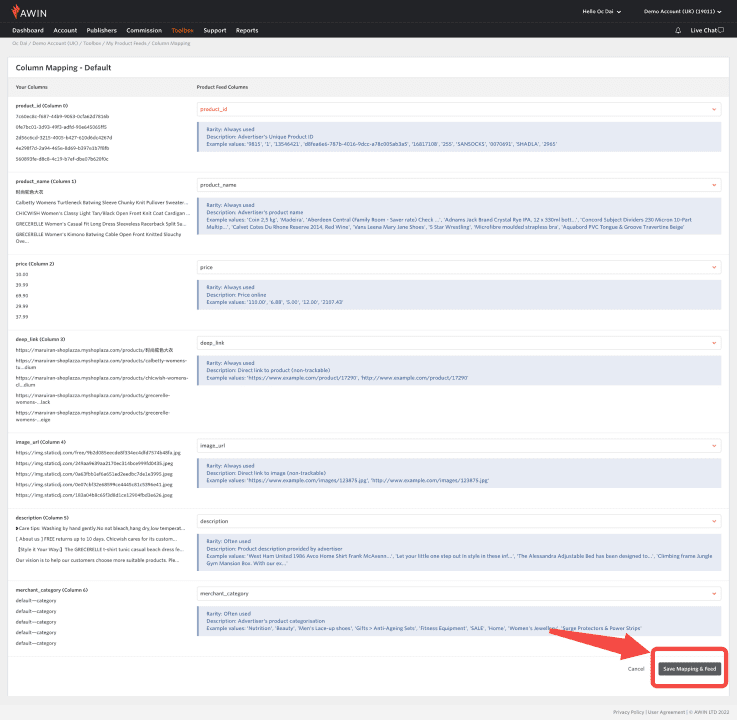 9. Now you should be able to see product feed under My product Feeds list.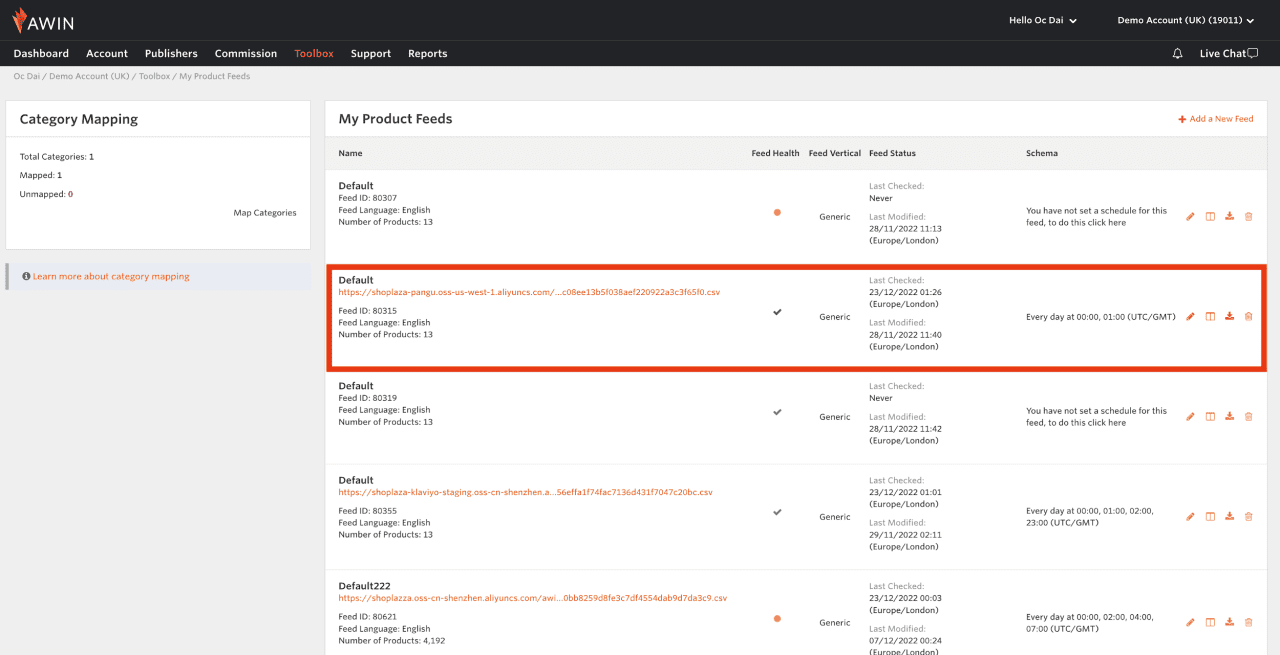 For more information, please check the help document from Awin here .