Urchain Tracking Module
UTM or UTM parameters are URL parameters consisting of 5 variants. The methodology is widely used by e-commerce businesses to effectively track down marketing campaigns across websites. URLs associated with UTMs are identifiable by Google analytics tools and with the data used to populate standard and custom analytics reports.
Here is an example of a URL with 4 distinguished UTM parameters:
https://momokostudio.myshoplaza.com?utm_source=Google&utm_medium=CPC&utm_campaign=BlackFriday&utm_content=600px_banner
There are 5 types of URL parameters (there are 4 highlighted above as an example):
utm_source

: Indicates the origin of the traffic.

utm_medium

: Indicates the type of URL. For example CPC (cost per click) or email.

utm_campaign

: Indicates the type of promotional offer/campaign. For example utm_campaign=BlackFriday

utm_content

: Indicates what page/content a user will be directed to. Such as a banner or text link. It is widely used for A/B testing and content-targeted ads.

utm_term

: indicates the search terms.
UTM consistency is always something that needs to be reminded of. The slightest difference in a UTM code (dashes vs. underscores or capital letters vs. lowercase letters) will result in Google Analytics incorrectly categorizing your tags and you measuring your marketing campaigns and channels with inaccurate data. If you are meticulous when tagging, then Google will be meticulous when tallying.

Shorten your keywords to avoid exposing sensitive information.
Where to find UTM reports
Head over to your

Shoplazza Admin

>

Analytics

>

UTM reports
Note
The data will only display traffic information from users who click on the link.
In the chart below, you can identify the meanings of every indicator in the UTM chart.
| | |
| --- | --- |
| Data indicator | Definition |
| Users | Sum of users who accessed the website from various channels |
| Order volume | Sum of placed orders |
| Conversion rate | the number of visitors to your website or store, divided by the number of those that complete their orders. |
| Turnover | Total revenue from completed orders |
| Average amount per purchase | Total revenue from completed orders divided by the number of completed orders |
| Product page | The number of unique users who clicked on product pages |
| Add-to-cart | The number of unique users who added 1 or more items to the shopping cart |
| Checkout | The number of unique users who initiated a checkout process |
| Average time on site | the average amount of time that visitors spend on a page of your site |
| Depth of Visit | The number of pages viewed on your site during an average visit divided by the total number of visitors |
Modifying UTM report columns
In the dropdown menu, you can reorganize UTM parameters for accurate search results. This helps to identify the overall performance of each of the parameters.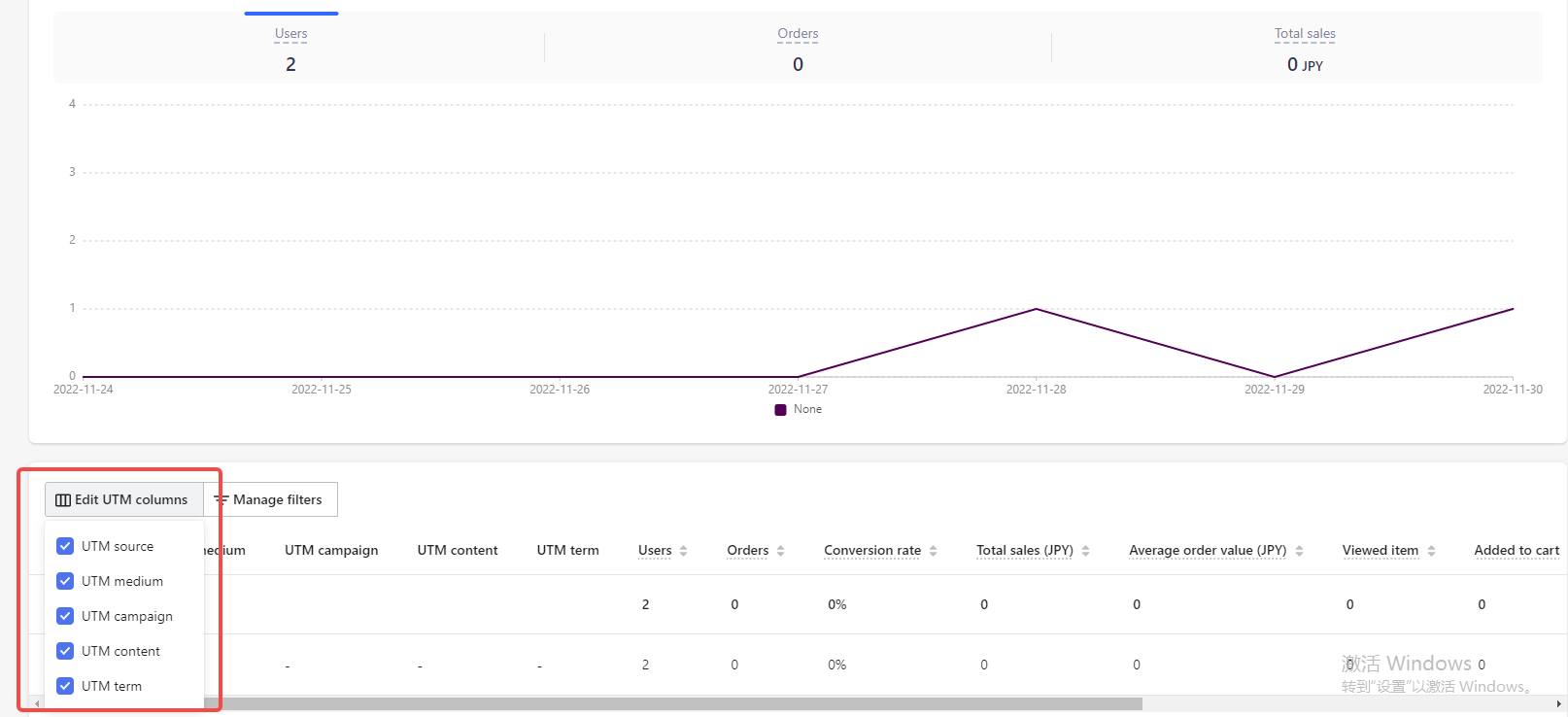 For example: You might be simultaneously running ad campaigns on Facebook and Google. You may uncheck the parameters not needed in this case to have a better understanding between these two platforms.
Filtering UTM parameters
Click Manage Filter criteria > in the pop-up window, select to filter by a single UTM parameter to monitor the performance of individual promotional campaigns via different channels.

For example: You are preparing for the upcoming Thanksgiving event with several ongoing paid campaigns running across multiple platforms. Optimizing search results will provide better insight on certain campaigns. To have a better understanding, you can:
Select

UTMcampaign

from the dropdown menu.

Type in

BlackFriday

to sort UTM parameters containing this field.
Identifying trends
Switch between Viewer/Order volume/Turnover from the top section to view performance by these indicators within the chosen timeframe.
Please note: Indicators in the chart are subject to change if you apply different conditions to Manage filters and Edit UTM columns.