Your navigation menus are central to customer experience and your content strategy. A refined and easy-to-understand navigation can speed up the search process and help your customers locate what they need accurately. Your navigation gives mapped-out directions. The clearer the directions are, the easier it is to reach the destination.
Default menus
In the default Shoplazza theme template, your online store is pre-set with three default navigations :
| | |
| --- | --- |
| Header section | The header section is always displayed in the top margin of your website. The header section is the first thing customers see when they visit your store. It allows customers to identify your business and brand. |
| Footer section | The footer section is your "closing" section residing at the bottom of your store pages. The footer section is often laid out with important information such as your store policies, key contacts, and social media logos. |
| Policies | Your store policy is a set of rules that precisely outline what your customer can expect when making a purchase from you. Organizing your policy menus in an easy-to-find way helps avoid misunderstandings with your customers and keeps them satisfied. |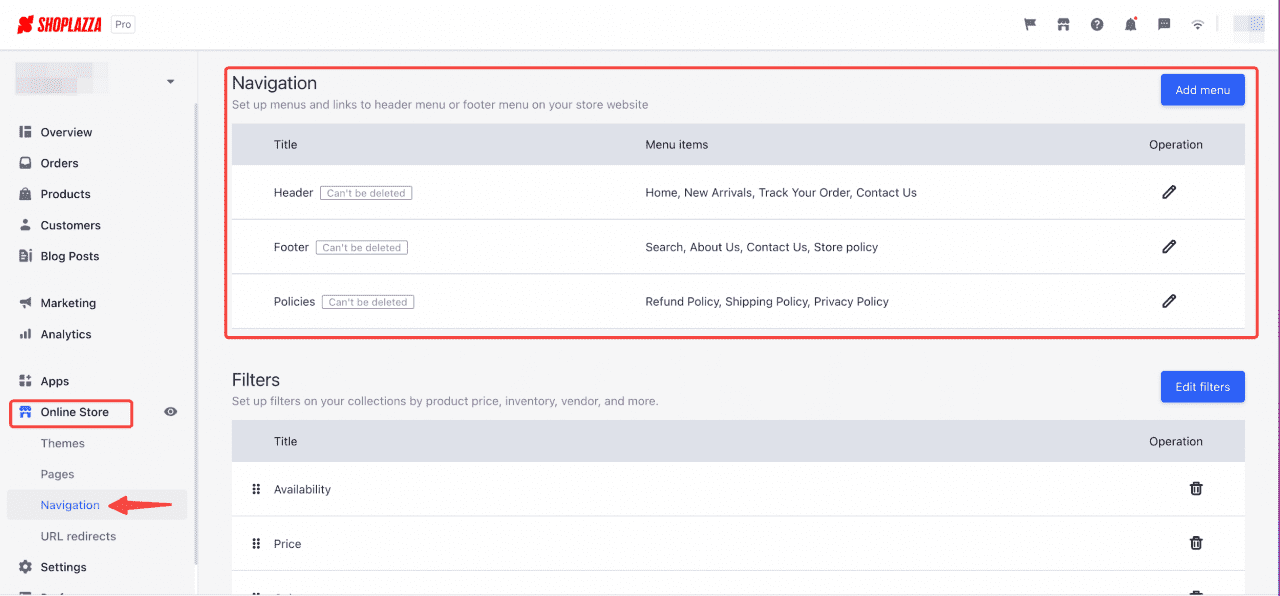 Other menus
Besides the main menus, you also have the option to add new menus to your navigation. Adding other menus can help you facilitate customers' searches and shorten the time they need to browse through your collections. For example, a clothing brand may need to break down the categories of clothes they sell into the below format:
| | |
| --- | --- |
| Shop by category | Top, Shorts, Pants, Jackets, Coats, Jeans, Sweats. |
| Trending now | For rainy days, Winter vibes, the timeless look. |
| What to wear | Summer vacation, Camping, mountain climbing. |
Managing your navigation
1. From your Shoplazza Admin, go to Online Store > Navigation.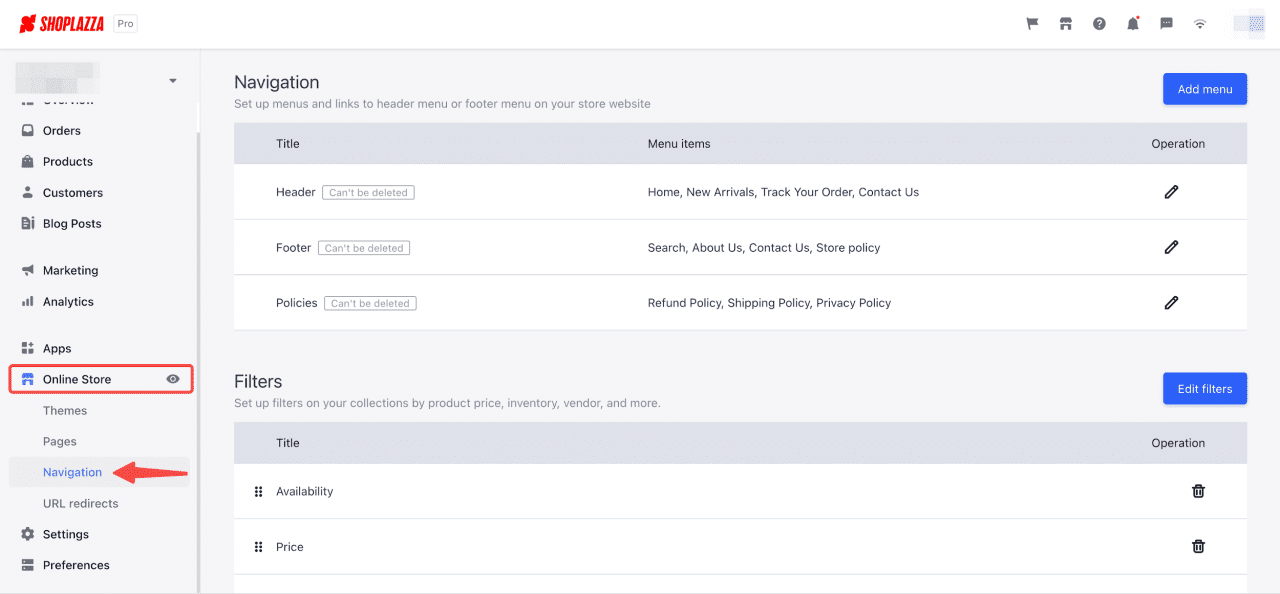 2. Click any default menu to edit your navigation. Here, we will exampify with the Header menu.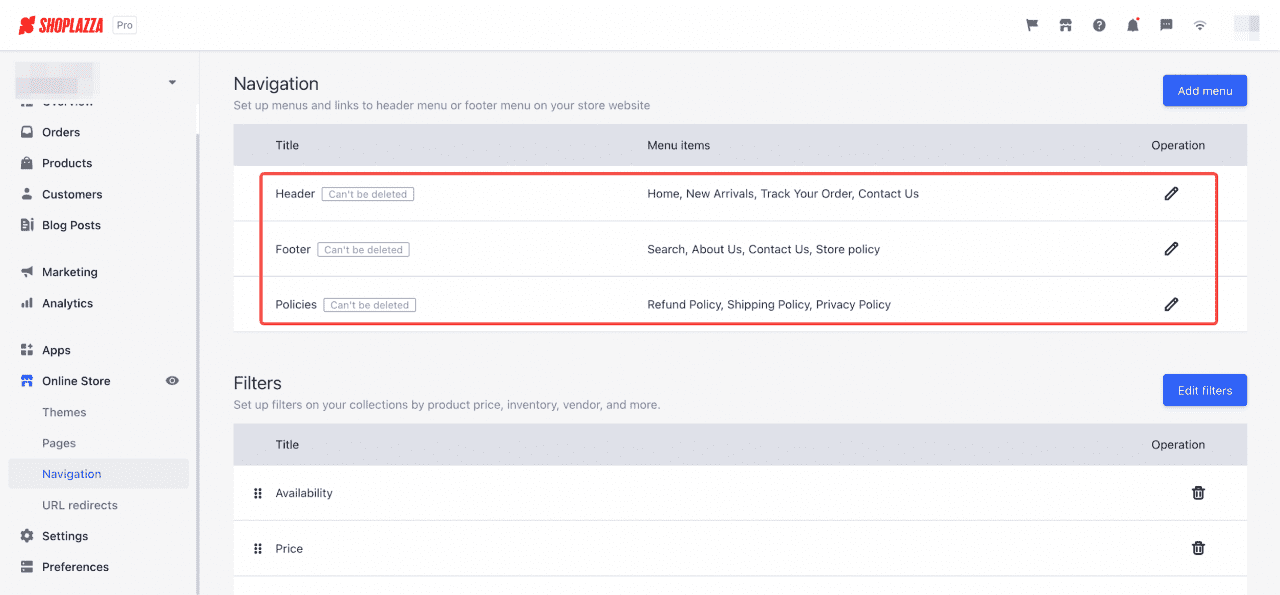 3. Here, you may change the name of this menu for future reference.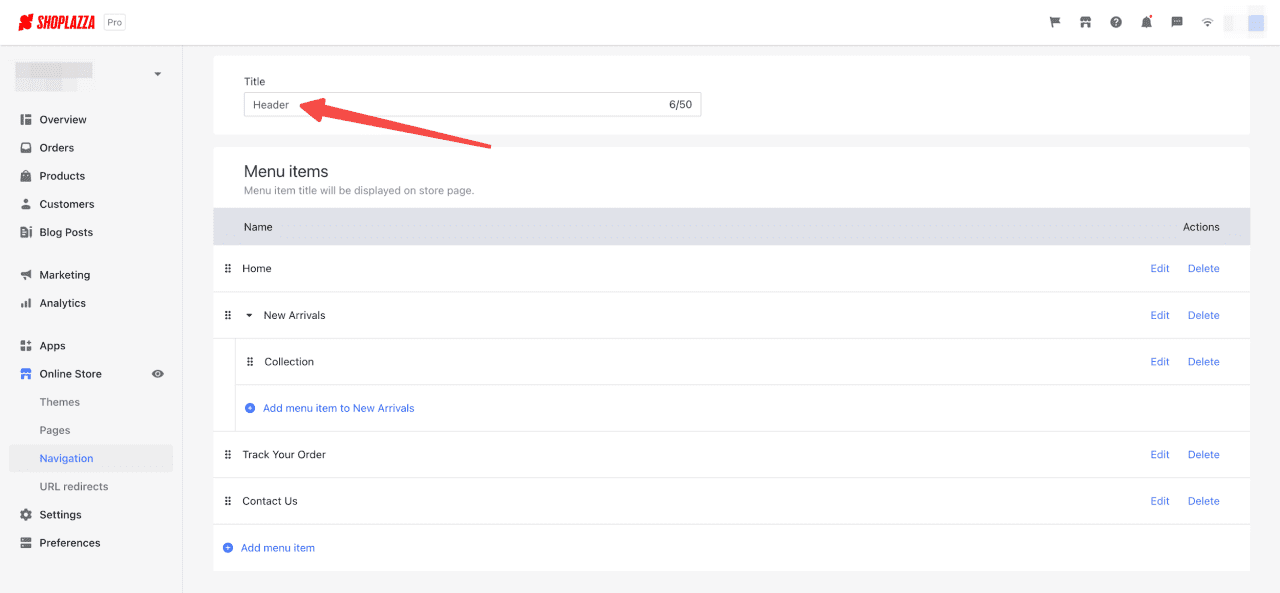 4. The Menu items list is your collapsible and expandable tree of navigation that can be assigned to your online store in the Shoplazza theme editor. Here, use the drag indicator and move each Menu item left or right to create a vertical hierarchy tiered list.
Note
Your menu items list is preset with three levels in the hierarchy by default. For example, if you display a first-tier category as "Home", the second-tier items may include "Collection" and "Spring/Summer 2022" as your third-tier menu item under "Collection".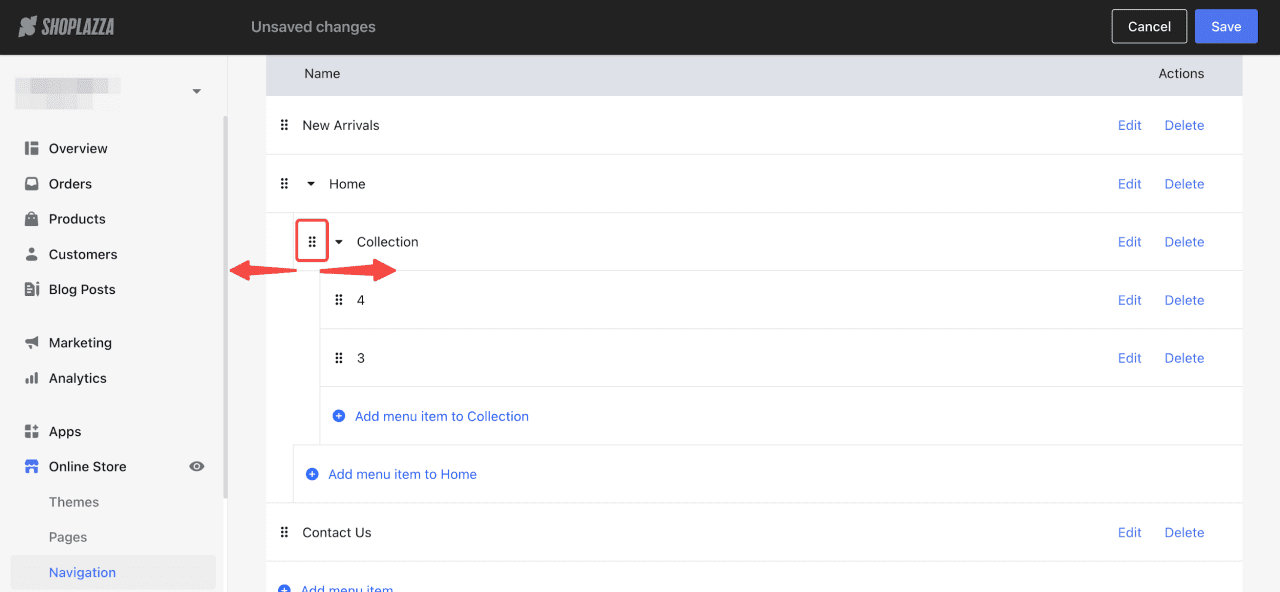 5. Rearrange the order of the menu items with the Drag indicator.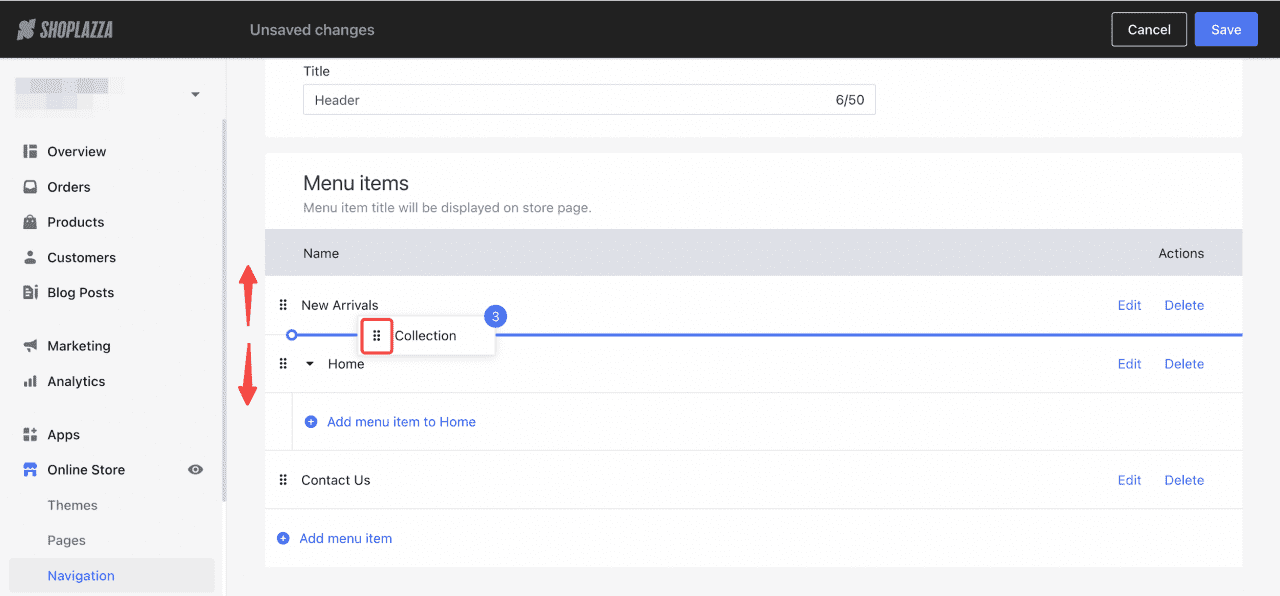 6. Click Add menu item to create and assign a new page to your store navigation.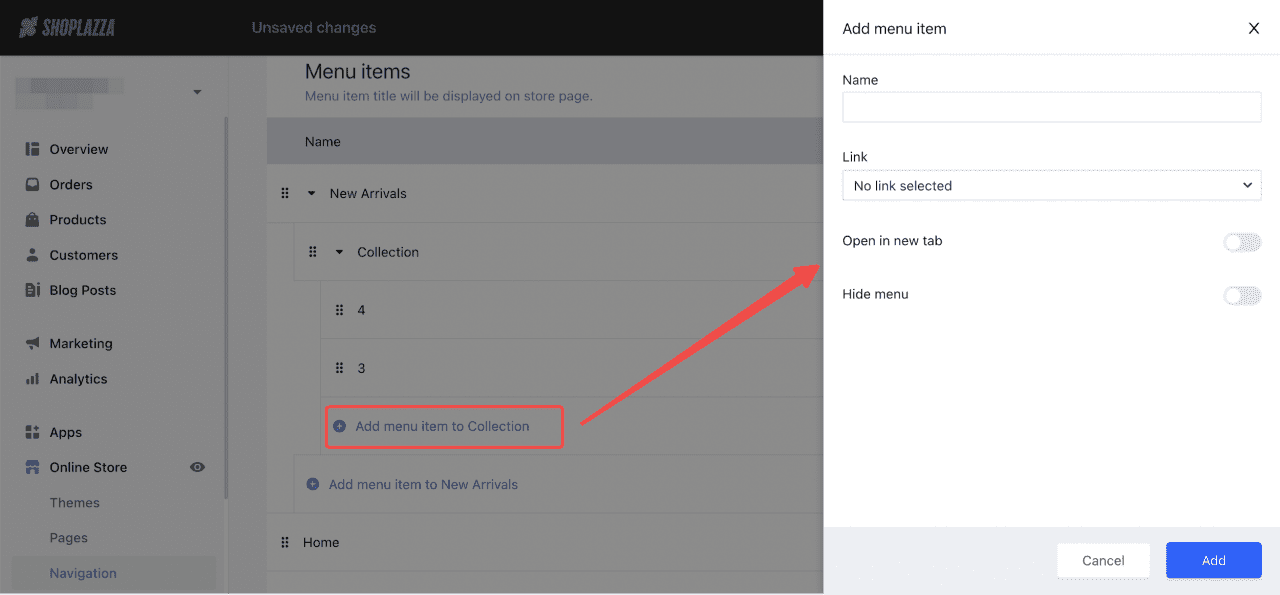 7. Here, you may fill out a name for this menu item. Since we are putting it under "Collection", the name here could be "Spring/Summer 2022" to indicate the object in this case.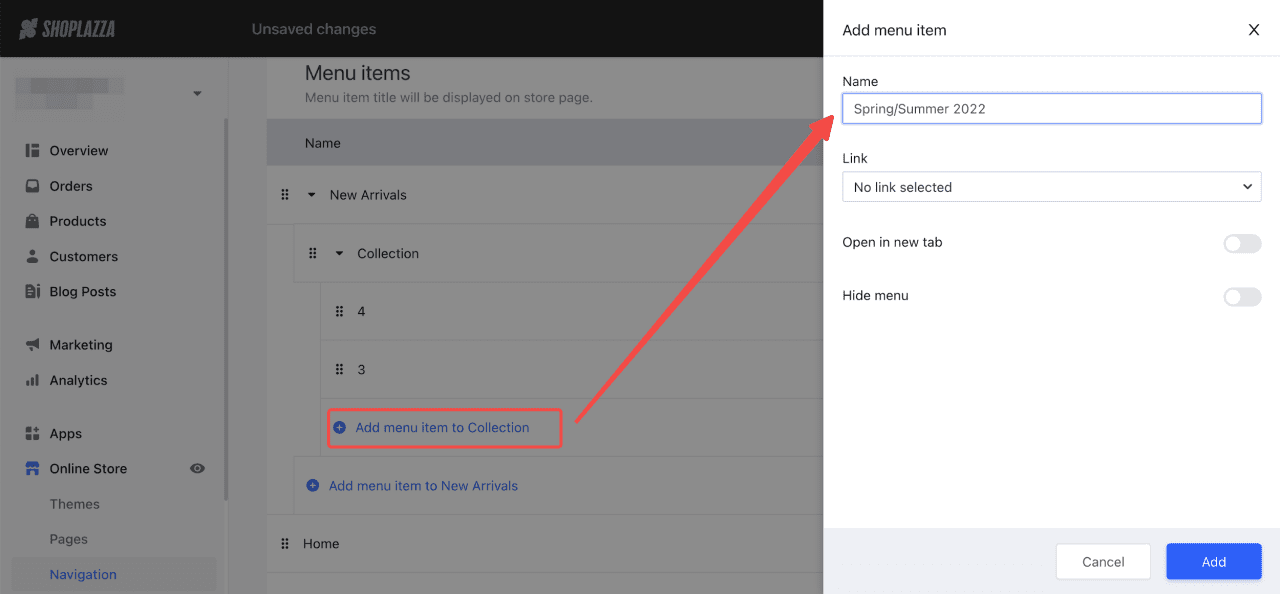 8. Assign a page in the drop-down Link category to direct customers when they click on this menu item. In this case, we can select Collection pages since we are adding a collection.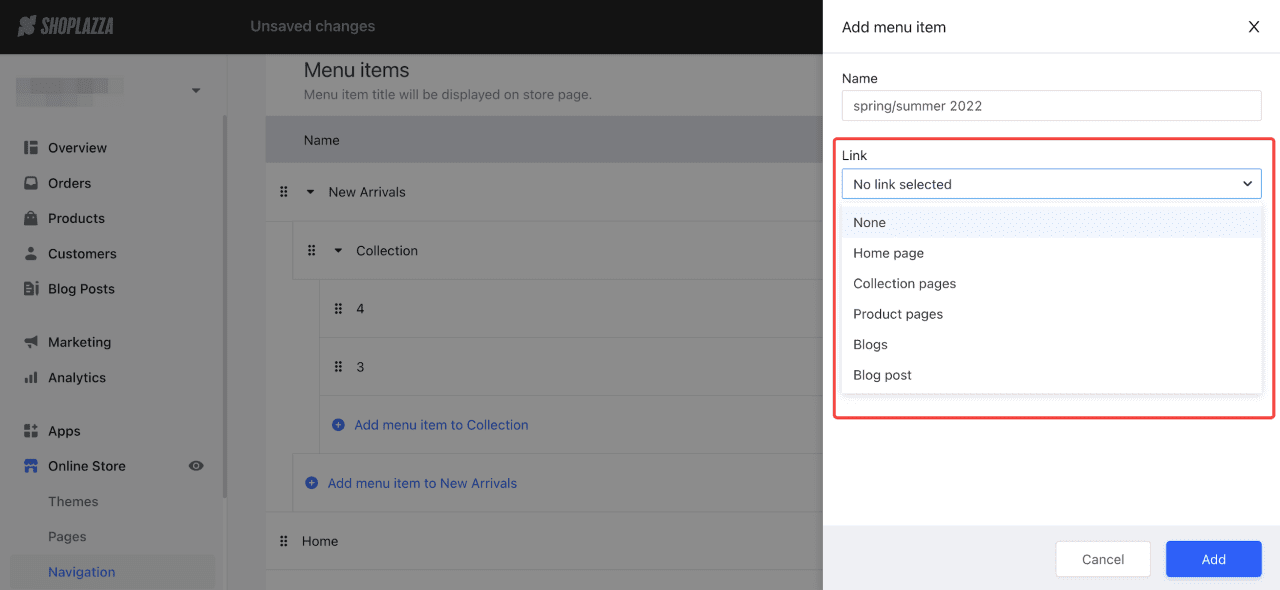 9. You will also be asked to choose from an existing collection from your store if you are assigning collection pages.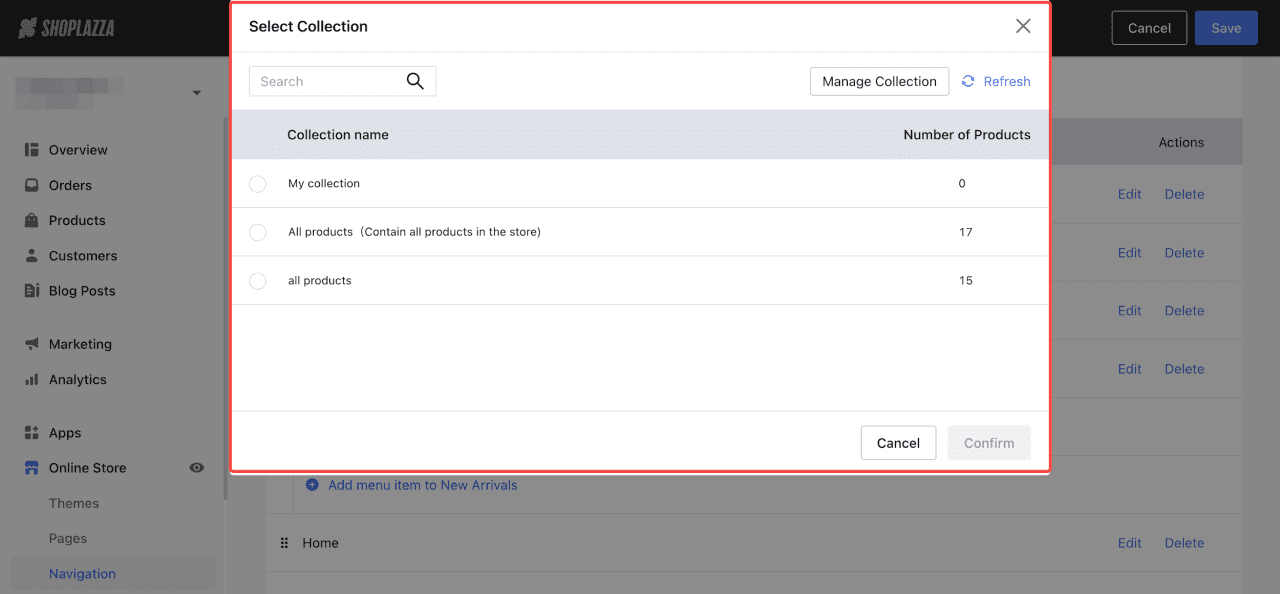 10. Toggle on to open this page in a new tab. Your assigned content will be loaded via the same browser tab while this feature is switched off.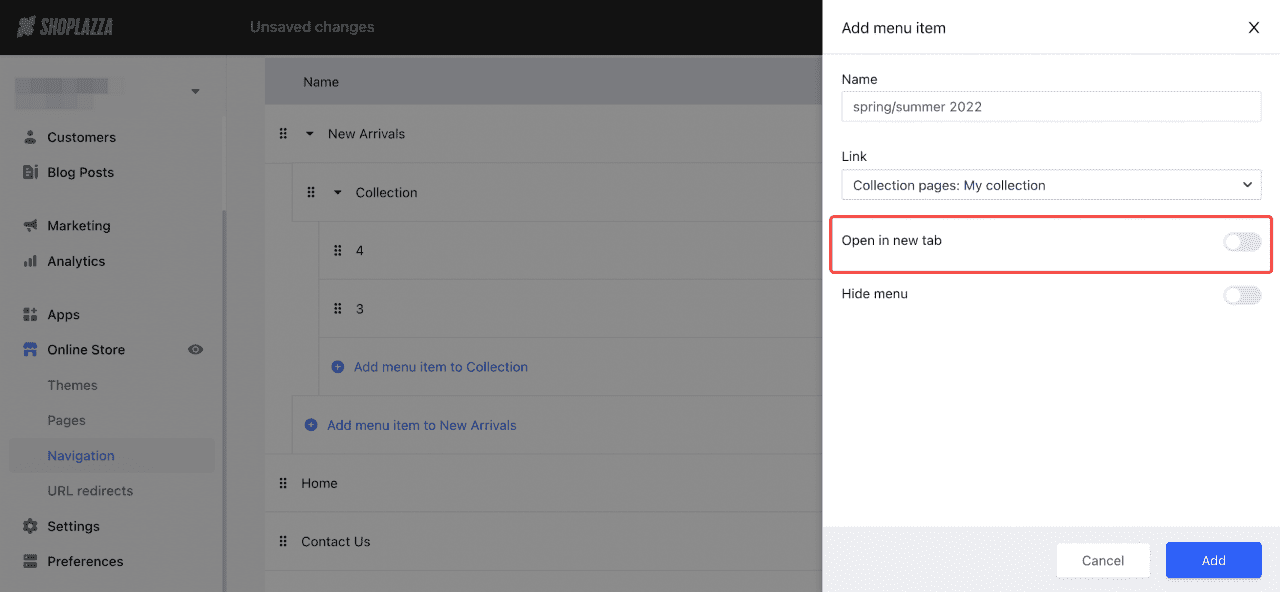 11. Toggle on to hide a menu item and its subordinates in your navigation.
Tips
Remember to save your settings when you finish editing.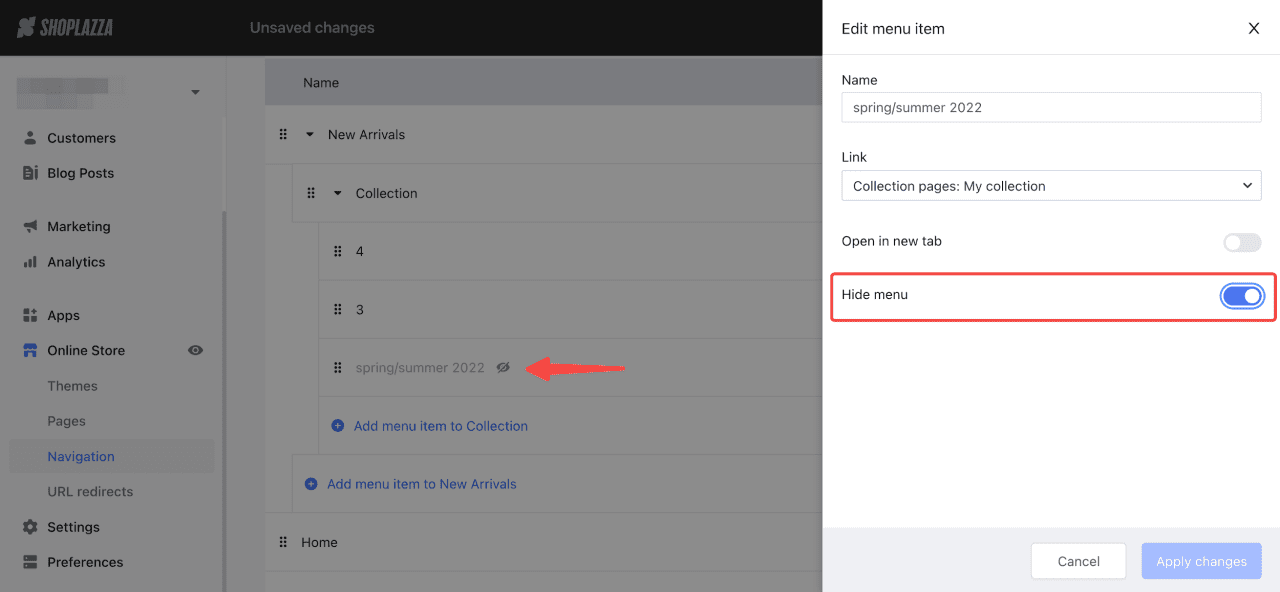 With an accessible navigation menu, your customer can easily find the page they are looking for without having to spend much time going through individual pages. Your navigation does not only provide directions, but it is also a strategic lever to create a better customer experience and potentially drive more sales.
Related topics