Discount codes are personalized codes offered to customers as a buying incentive that reduces an order's price. You can offer your customers an amount off discount or shipping discount on products, collections, or variants in your store. Discount codes can be an effective means for your store to attract and encourage frequent buyers. This article will walk you through the details of creating discount code campaigns.
Steps
1. From your Shoplazza Admin > Marketing > Discount codes, click on Create campaign.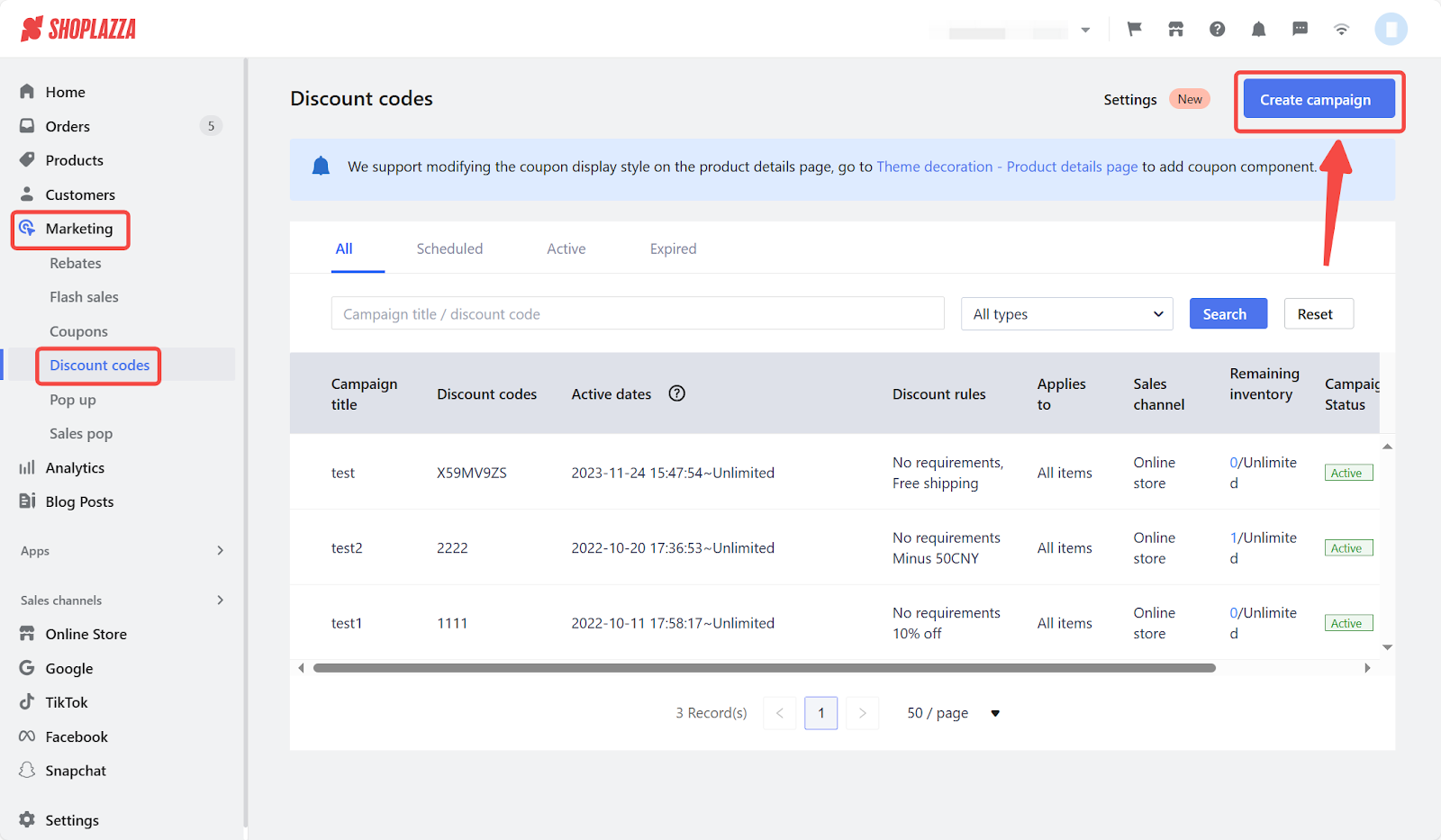 2. Here you will add the following details to create your campaign.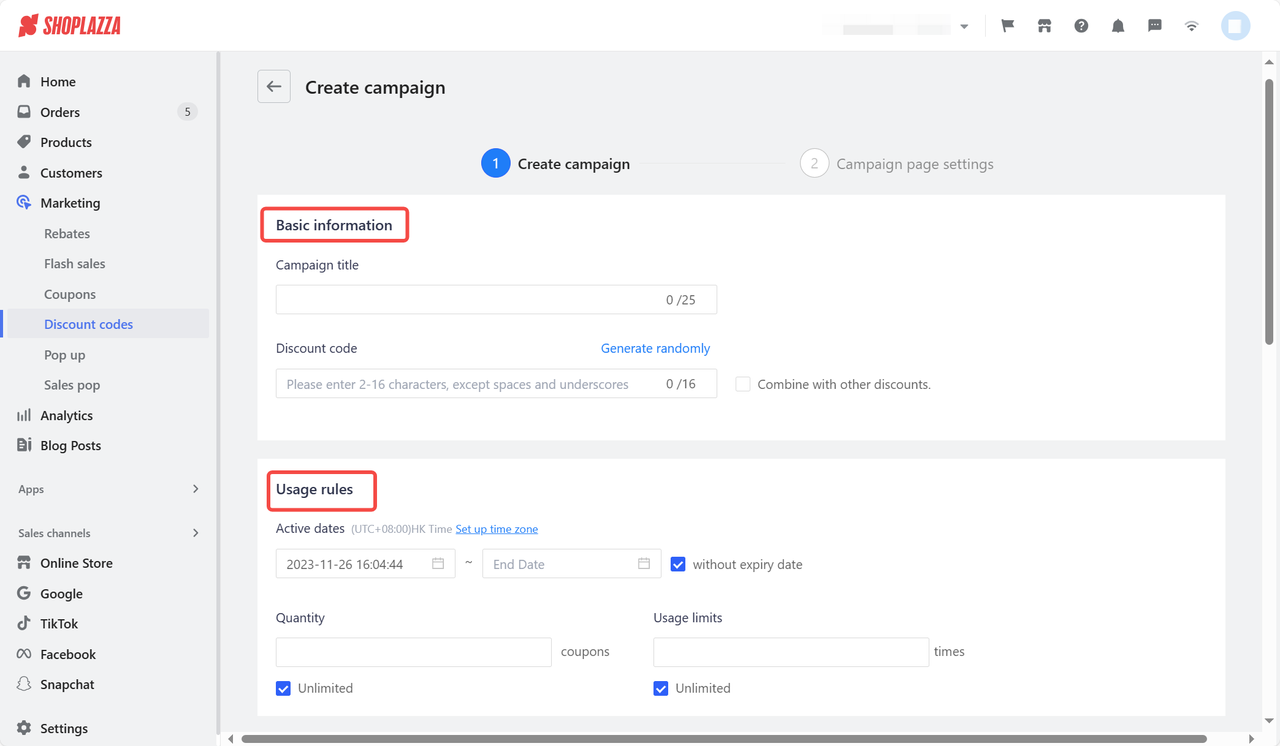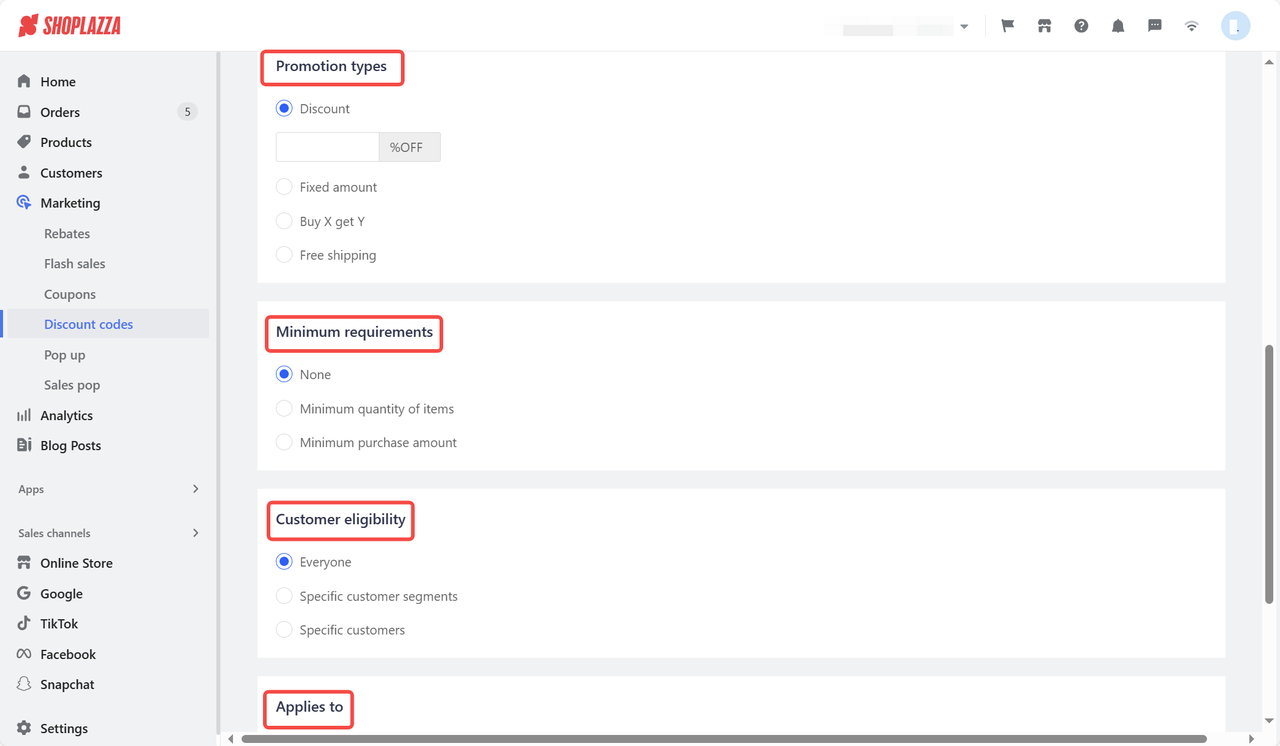 | | |
| --- | --- |
| Basic information | This includes the Campaign title and Discount code. If you don't have specific requirements, the code can be generated randomly. You can also choose to combine the campaign with other discounts. |
| Usage Rules | You can set up the Active dates, Quantity, and Usage limits. This refers to the number of times the discount can be used. |
| Promotion type | The promotion type can be set as a percentage discount, a fixed amount discount, a Buy X get Y discount, or a free shipping discount. |
| Minimum requirements | There are three options for the discount threshold: None, Minimum order quantity, and Minimum purchase amount. Customers can utilize a discount code as long as they make a purchase, even if the conditions are set to "None." If you want to set the condition by quantity or total amount, you must provide a number as the minimum requirement. |
| Applies to | The campaign can be applied to all products, specific products, or collections. If you select specific products, you must choose and add the product to participate in the campaign and save. |
| Sort by | Manage this section to allow customers to sort campaigns by ascending/descending alphabetical order, price, or sales volume. |
| Customer eligibility | The campaign can be applied to a specific segment of customers or to everyone. |
3. After adding campaign details, click Next to complete the campaign page settings.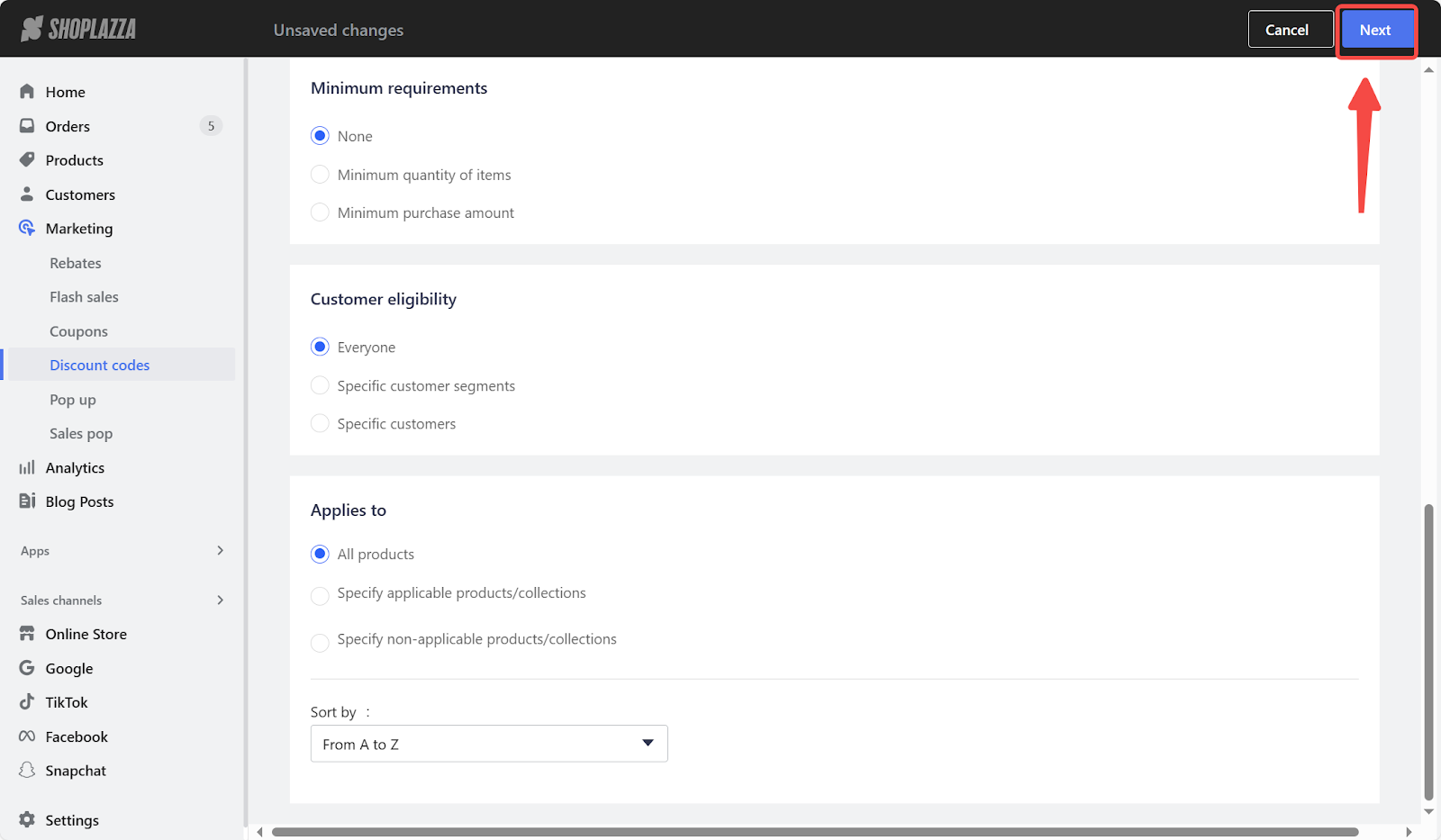 4. Under the campaign page settings, you can choose your campaign banner layout as Full screen or Centered.
Countdown and reminder messages will be displayed under the banner on the activity page.
Choose different colors for each part to make it more attractive.
Change color settings according to your theme.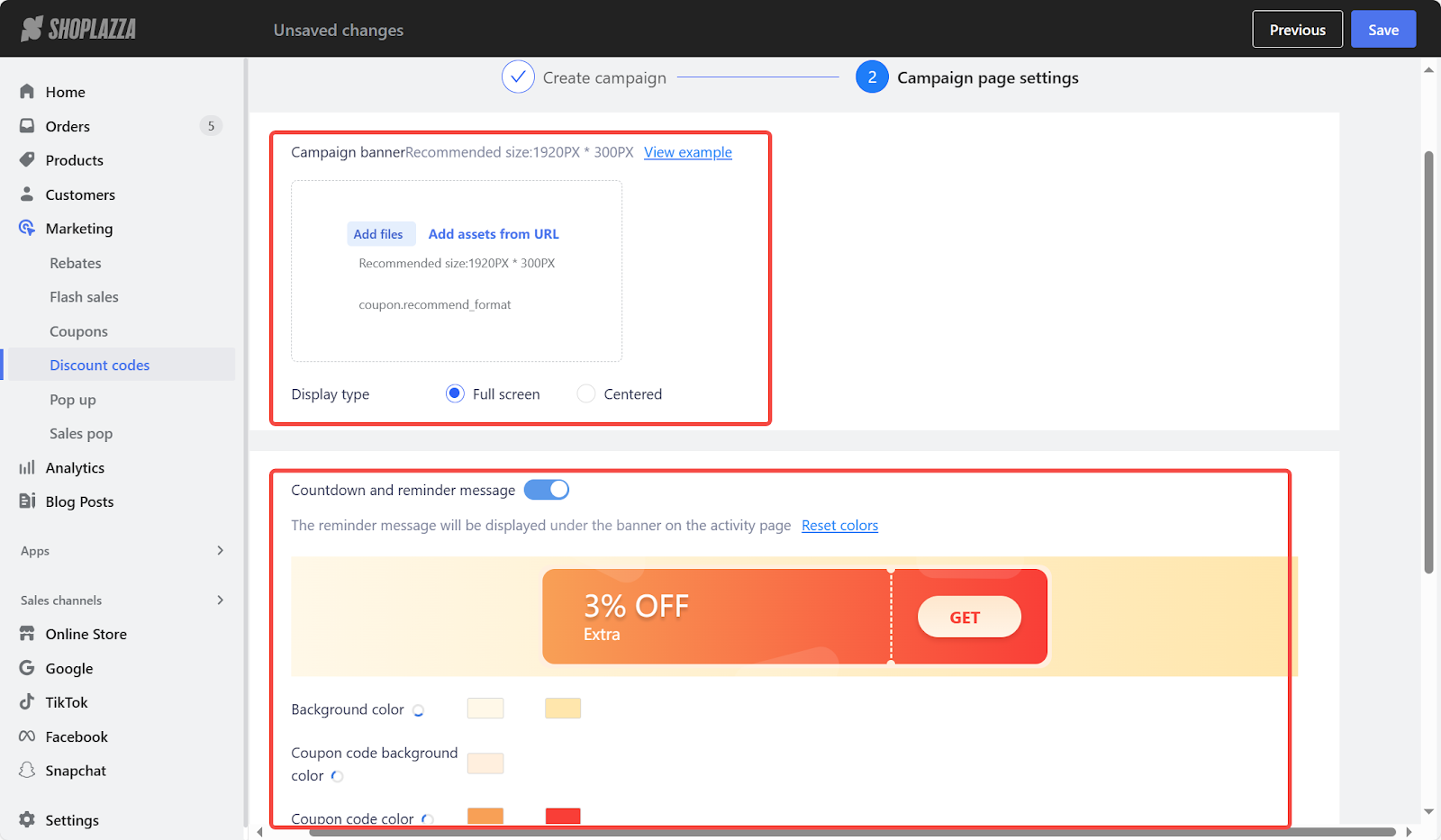 5. Once completed, click Save.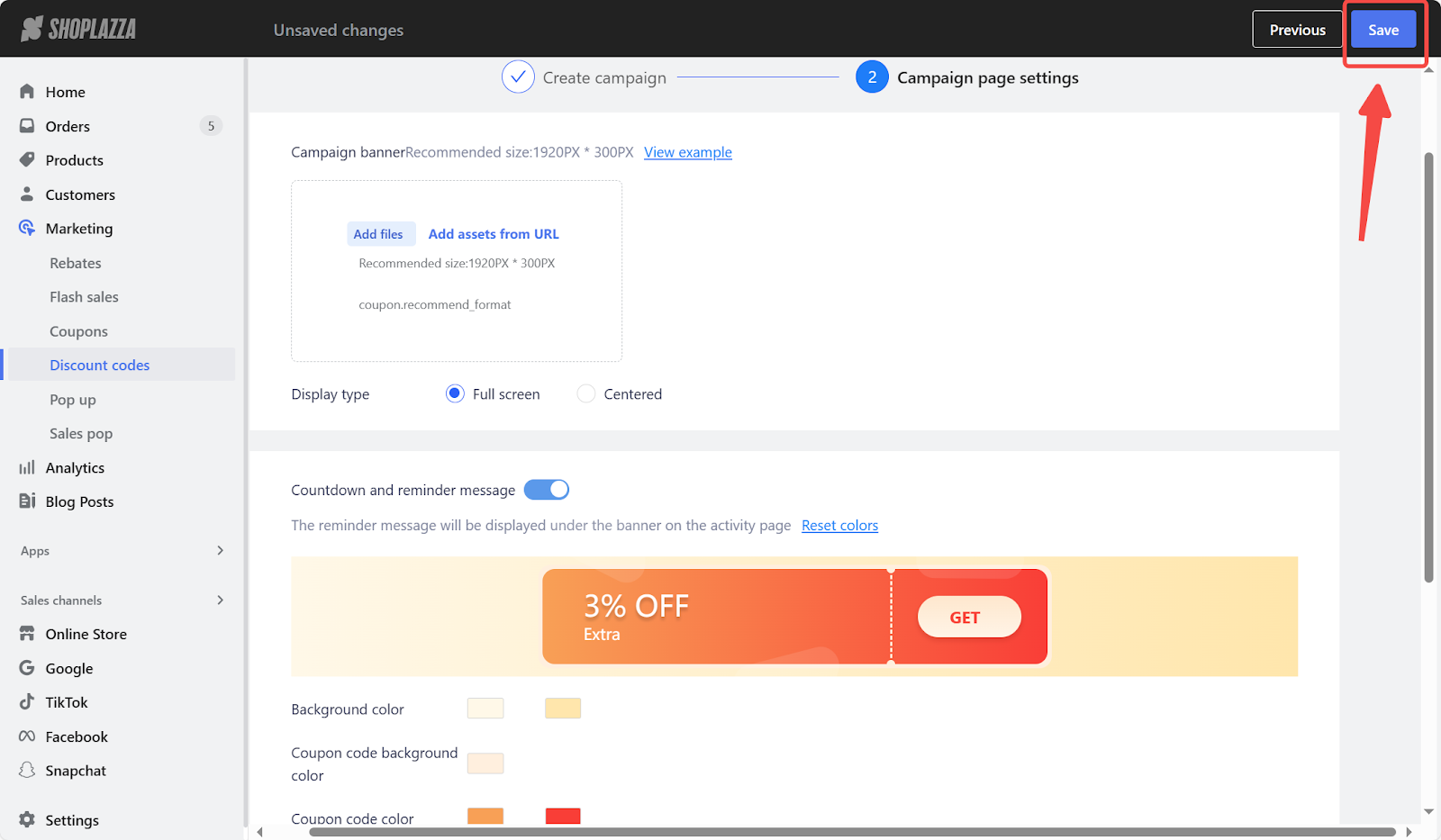 6. Your new campaign should appear on the Discount codes home page where you can preview, edit, or terminate it early.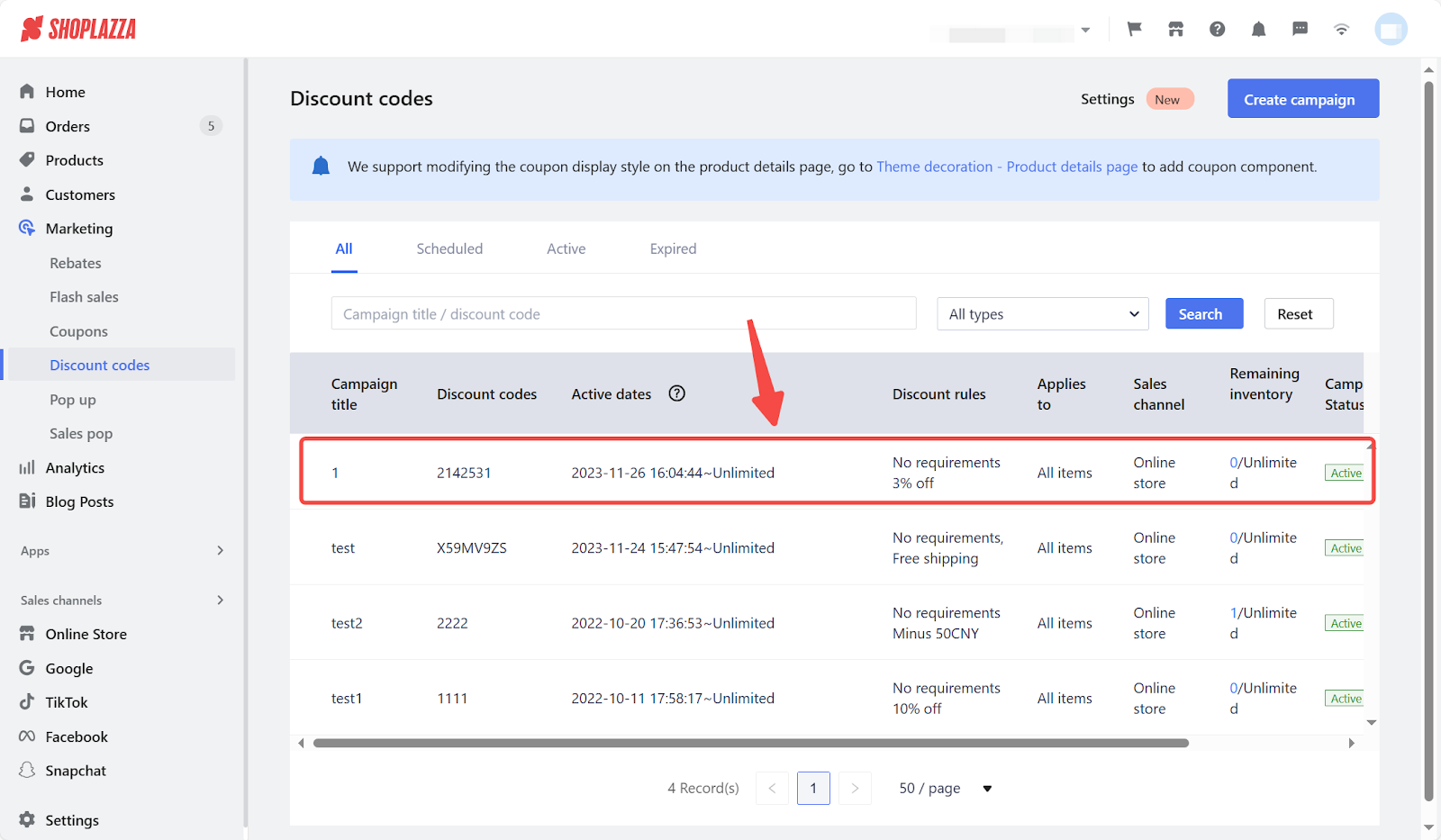 Note
The campaign duration is set based on the time zone of the Shoplazza admin, and the start time can't be earlier than the current time.
By following the above steps, you can easily create a discount code campaign. This will enable you to attract new or repeat customers and increase your overall sales. Furthermore, this strategy also strengthens customer loyalty, reinforcing your brand's value and fueling long-term business growth.