Our reports provide valuable insights into different aspects of your online store, such as sales, website traffic, and customer behavior. This information helps you understand how your store is performing and growing in sales. Reports are powerful tools that keep you in control of your business and help you make smart decisions based on data.
Processing your sales data
To access your reports, simply go to Shoplazza Admin > Analytics > Reports.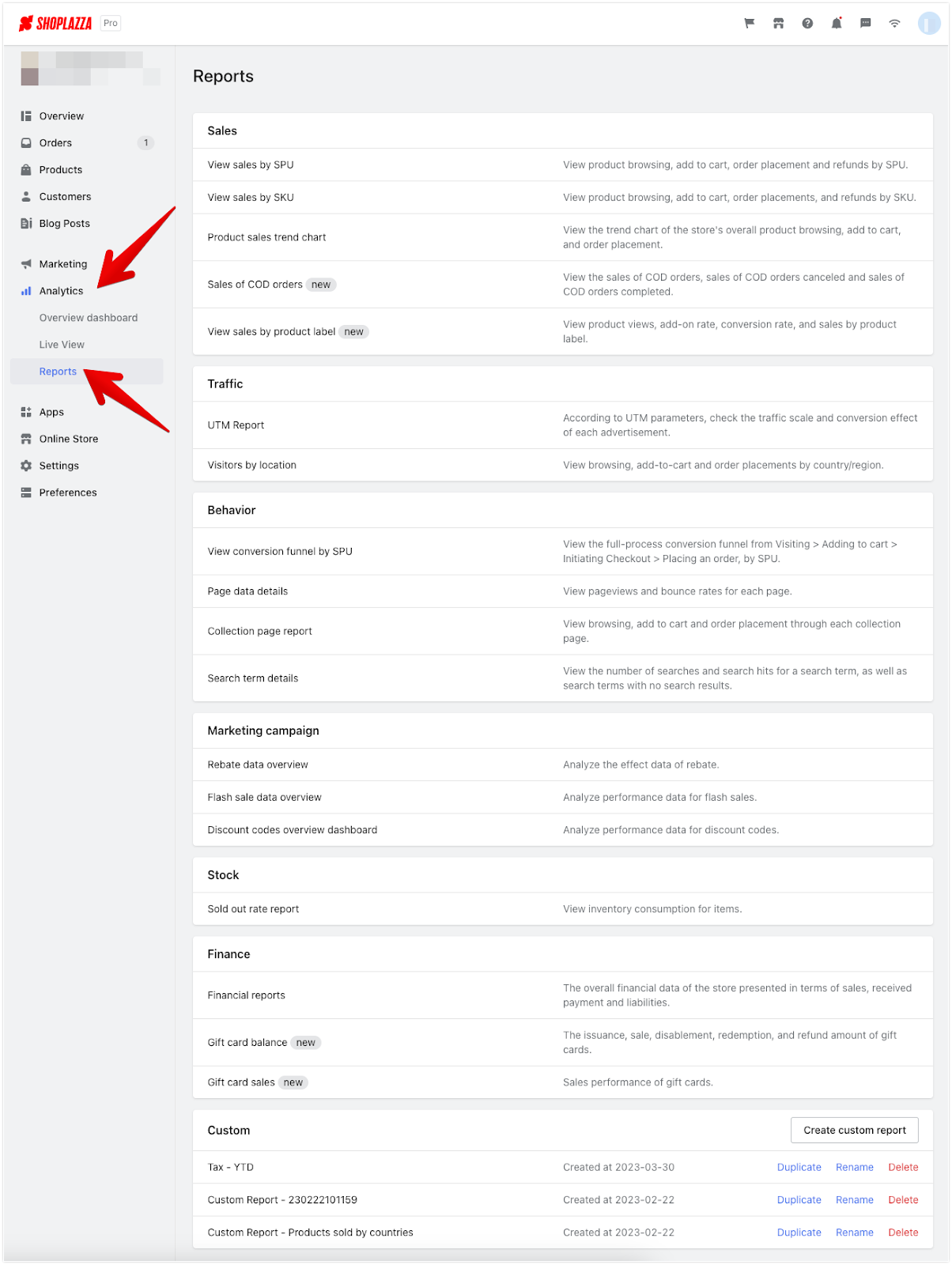 Take a look at the table below to see all the reports you can access:
| | | |
| --- | --- | --- |
| Category | Report Type | Description of Report |
| Sales | View Sales by SPU | Analyze customer interactions with products, including browsing behavior, cart additions, order placements, and refunds, segmented by Stock-keeping Package Unit (SPU). |
| | Sales by SKU | Analyze customer interactions with products, including browsing behavior, cart additions, order placements, and refunds, segmented by Stock-Keeping Unit (SKU). |
| | Product Sales Trend Chart | Examine the trend chart displaying the store's overall product interactions, encompassing browsing activities, additions to the cart, and order placements. |
| | Sales of COD Orders | Review sales of Cash on Delivery orders, including those completed and cancelled. |
| Traffic | UTM Report | Using tracking tags, examine the reach and effectiveness of each ad. |
| | Visitors by Location | Observe browsing, cart actions, and purchases segmented by country or region. |
| Behavior | Conversion Funnel by SPU | Examine the full-process conversion funnel, tracing the customer journey from initial visit, to adding items to the cart, initiating checkout, and finally placing an order, all segmented by Stock-keeping Package Unit (SPU). |
| | Page Data Details | Analyze the number of pageviews and the bounce rates associated with each individual page. |
| | Collection Page Report | Examine customer behavior including browsing activities, additions to the cart, and order placements, all specific to each collection page. |
| | Search Term Details | Analyze the frequency of searches, the success rate for individual search terms, and identify any search terms that are not yielding any results. |
| Marketing Campaign | Rebate Data Overview | Evaluate the impact and effectiveness of rebate campaigns using related data. |
| | Flash Sale Data Overview | Evaluate the performance data associated with flash sales to measure their effectiveness and impact. |
| | Discount Codes Overview Dashboard | Evaluate the effectiveness and usage of discount codes based on related performance data. |
| Stock | Sold Out Rate Report | Examine the rate at which inventory items are being sold out. |
| Finance | Financial Reports | Review the store's comprehensive financial status, including details on sales, payments received, and outstanding liabilities. |
| | Gift Card Balance | Review the details of gift card transactions, including how many are given out, sold, disabled, used, and refunded. |
| | Gift Card Sales | Review the success and revenue generated from the sale of gift cards. |