As a Shoplazza Partner, you can create and manage your Apps with ease. You can monitor app performance and get insights on how to improve the user experience. In this article, we will explore how to manage your app in the Shoplazza Partner Center .
Managing your App settings
1. Login to your Partner account , click Apps on the left panel and choose the App.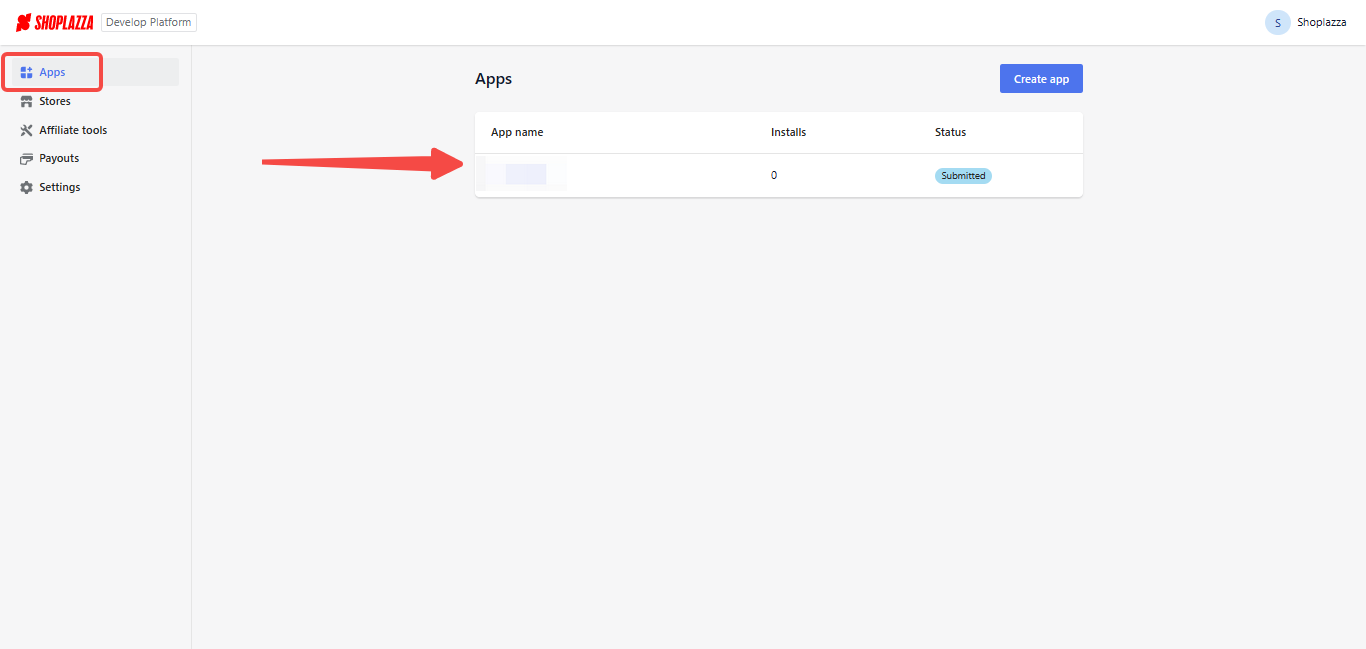 2. Under the App setup, click Setup to manage your App settings.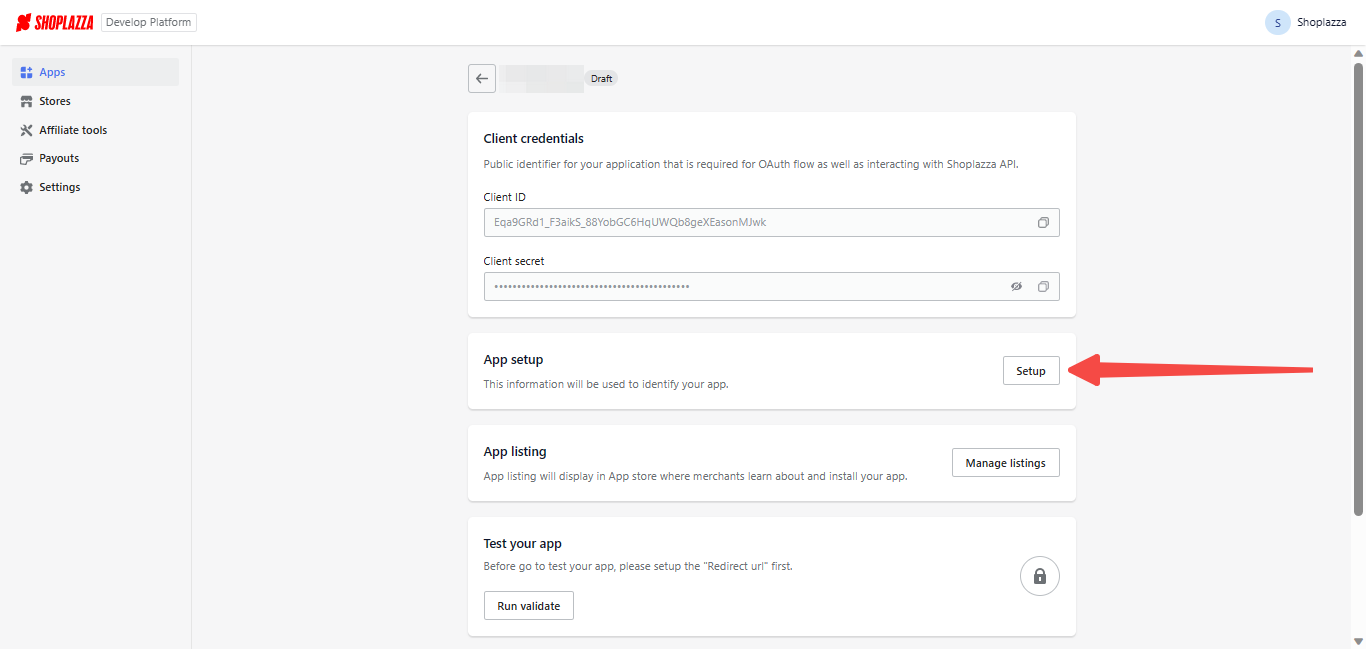 3. Here you can refer to the following app's field table to manage your app field configs.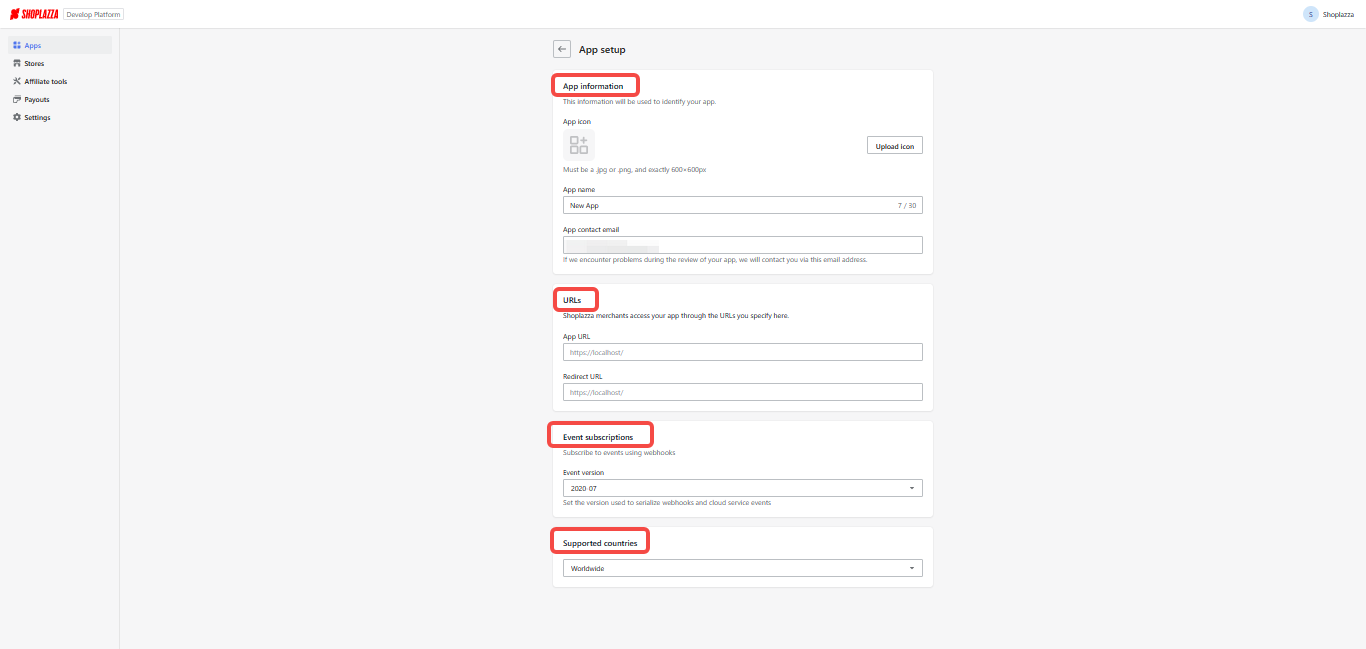 | | | |
| --- | --- | --- |
| Field | Type | Description |
| App Icon | Image | App's icon |
| App Name | String | App's name |
| App contact email | Email Address | Used to receive email notifications, or for Partner Center support to reach you. |
| App URL | URL | Your app's main entrance URL. |
| Redirect URL | URL | Your app's redirect URL is generally used to receive OAuth responses. |
| Event subscriptions | Select | Used to choose an Event version. |
| Supported countries | Select | Select whether your app supports only China (CN) or Worldwide. |
Manage your App listing
To manage your app listings, the App listing will be displayed in the App store where merchants can learn more about the app features and installation.
Add Listing
1. From the Apps setting page, go to App listing > Manage listings.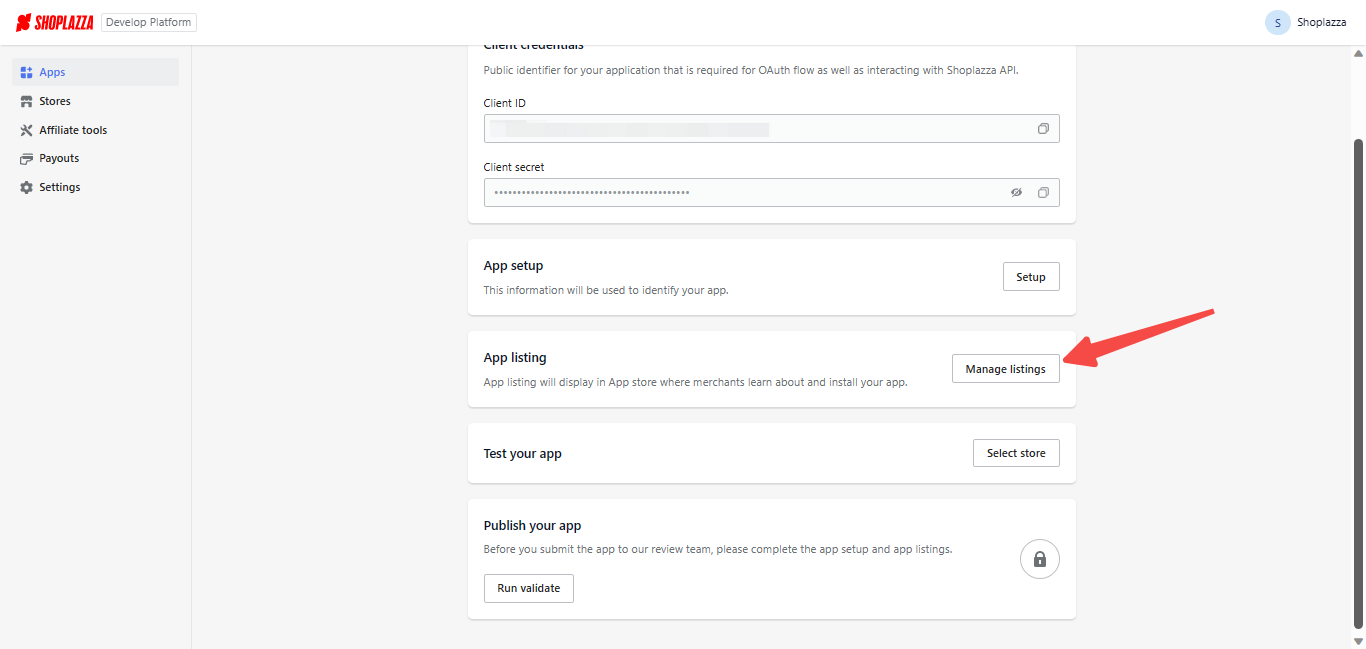 2. Click Start listing to add the required information.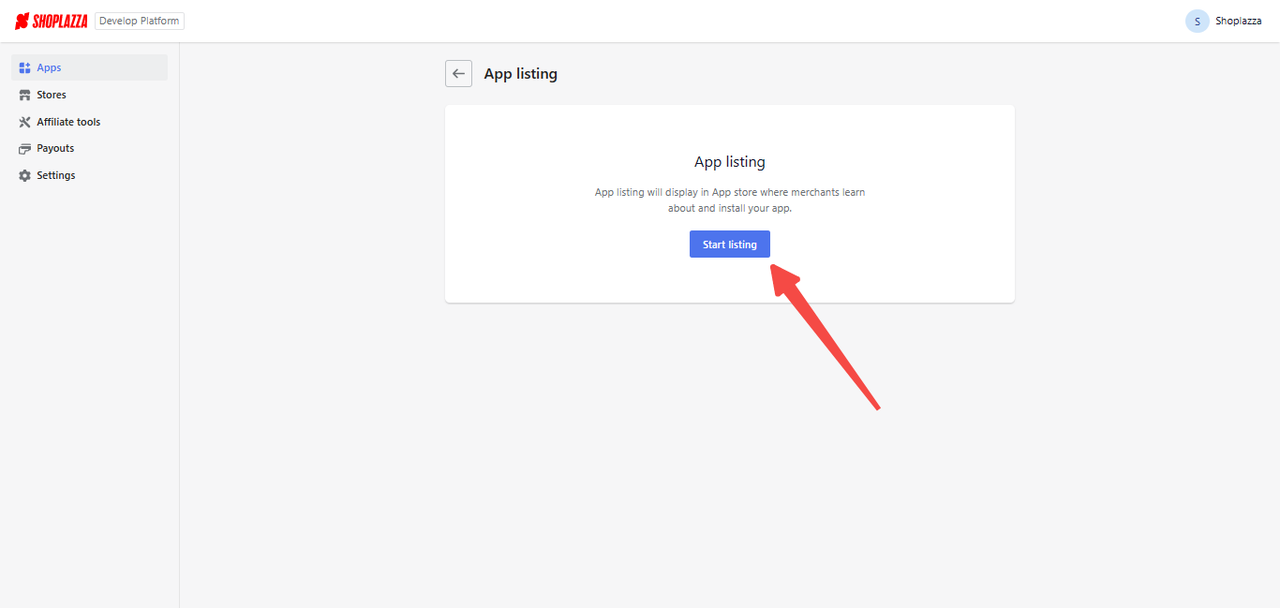 3. On the listing page, you can add Basic App information, Listing content, Pricing details, and Support and resources.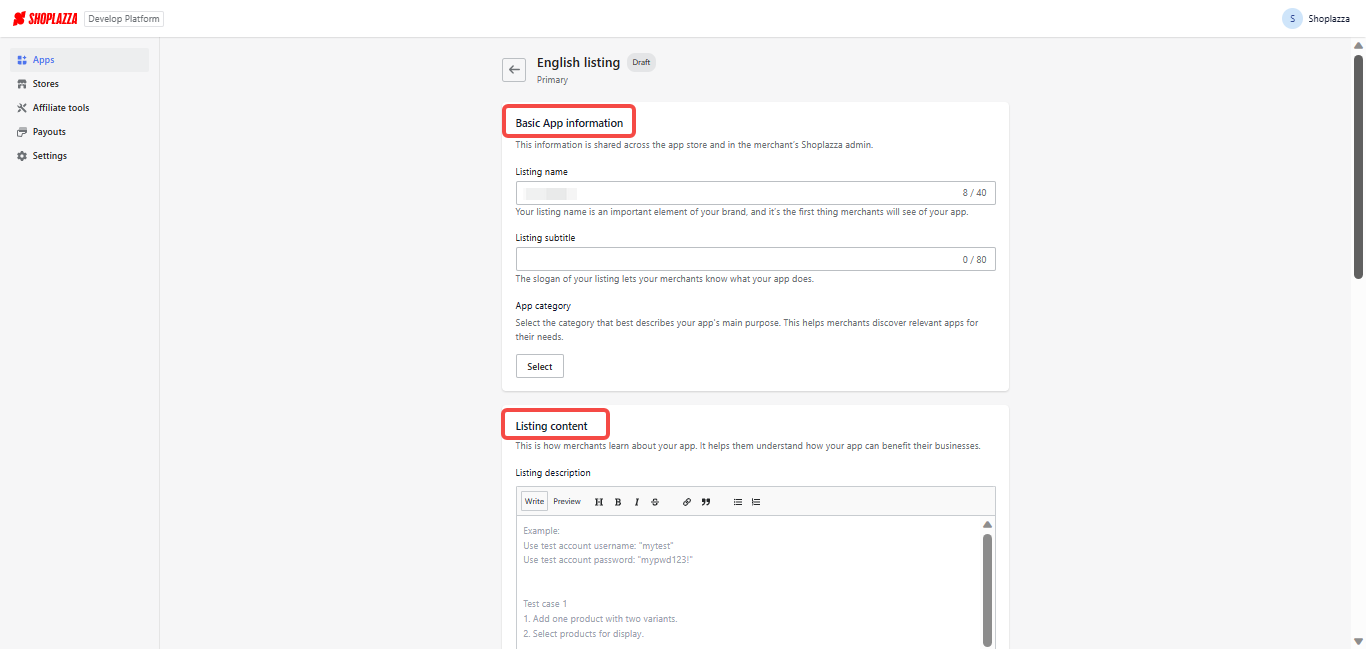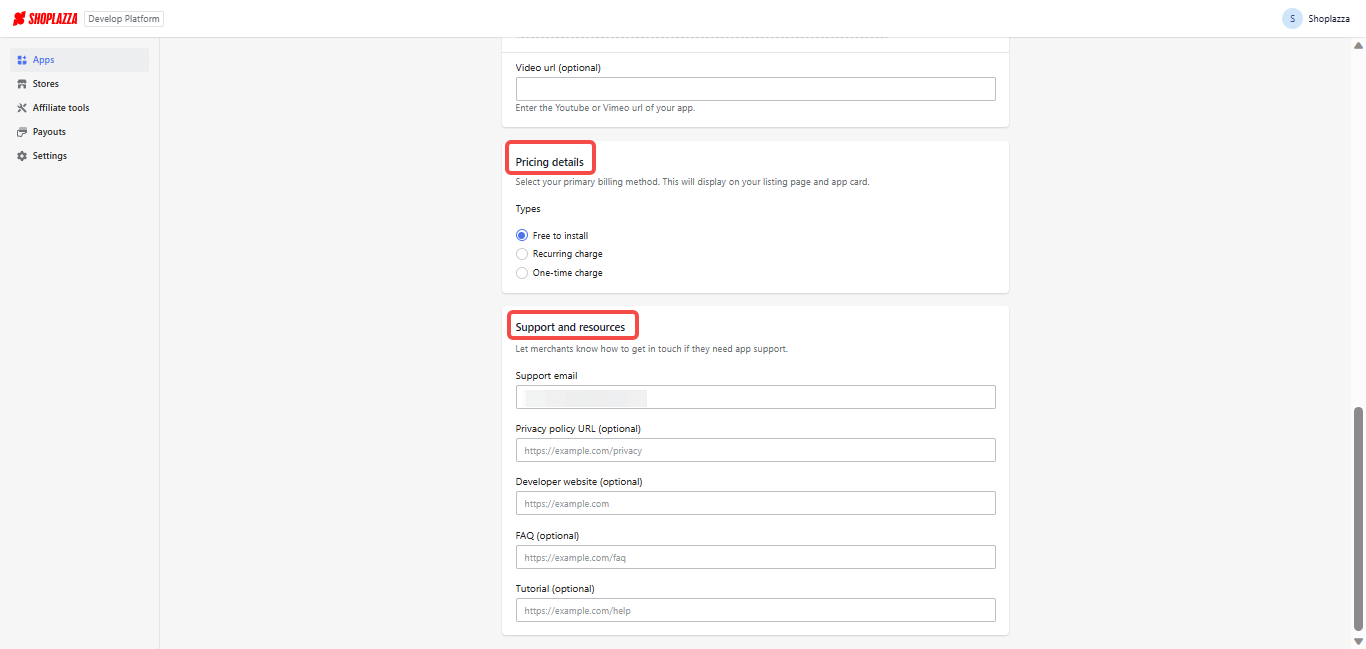 App listings consist of different language packs so that your app can display the right app listing based on the current language environment.
Primary Listing
It is now required that the primary listing should be in English.
Prior to submitting your application, an English listing is mandatory. If you have selected China as one of your supported countries, then you must also create a Chinese listing to ensure better comprehension by the Chinese audience.
Your app's English listing will appear in the "Worldwide" category, while the Chinese listing will be visible in the "Chinese region" category on the app store.
Delete Listing
If you want to remove a listing, you could delete this listing.
Click "Delete" to delete the listing.
Primary listing(English listing) can not be deleted.
Edit Listing
You can refer to the following app's field table to edit or manage your app listings. To find out how to improve your App listing, you can refer to this guide.
Field

Type

Description

App listing Name

String

App listing name to display in app store

of current language pack

App listing subtitle

String

App subtitle name to display in app store

of current language pack

App category

Select

Select which category your app will be displayed under in app store

Listing description

Text

The Detailed description field gives you 2800 characters to tell merchants all about your app.

Features

Image

Upload images to efficiently introduce your app features.

Video url (optional)

Video

A promotional video should promote the core features and functionality of your app and how it interacts with Shoplazza Store.

Pricing details

Mutiple

Set App pricing in listing, so merchants can know about your app's pricing.

Support and resources

Mutiple

The information you enter here helps merchants learn more about your app and contact you with questions or issues.
Pricing
The pricing section lets you clarify app pricing information for merchants.
Pricing details
Select your app's primary billing method. There are three primary billing methods that you can use for your app:

| | |
| --- | --- |
| Free to install | Choose this option if you do not intend to charge the merchant for app installation. |
| Recurring charge | Choose this option if you plan to charge the merchant on a monthly basis (every 30 days) for having the app installed. By selecting this option, you will be able to provide details about the various monthly subscription plans you offer. |
| One-time payment | Choose this option if you will charge the merchant a one-time installation fee. |

Apps with only a free plan
You can have a maximum of one free plan. If your app has only one plan, and that plan is free, it can not be categorized as a recurring charge. If this is the pricing model you have adopted, then choose 'Free to install' as your primary billing method.
Apps with both free and paid plans
If you have more than one plan and one of them is free, select Recurring charge as your primary billing method, then specify one of your plans as Free in the Plan pricing section.
Set up an app subscription plan with recurring charges
To describe how merchants will be charged for using your app:
Specify the duration of the free trial period, after which you will begin to charge for the app. If the free trial period is set to 0 days, the charges will start immediately. While choosing the length of the free trial period, ensure it is long enough (at least 14 days) for the merchant to test your app effectively.
Enter the details of your recurring plans, including whether they are free or charged monthly.
If your app charges the merchant monthly, choose 'Monthly charge' and enter the amount that will be charged per 30-day billing cycle (note that the minimum charge for a monthly plan is $1 USD).
In the 'Plan details' section, give a name to each plan and specify the features it includes (optional). Mention each feature on a separate line without any bullet points or leading characters. The bullet points will be added automatically when the feature list is displayed in the app listing.
You can add a new plan by clicking 'Add plan' or delete an existing plan by clicking 'Delete.'
Plans will be displayed from lowest price to highest price in your app listing, regardless of the order in which you specify the plans.
Supported billing models
The Billing API lets you create different app-billing models based on one-time app purchases or recurring app purchases.
One-time app purchases
With a one-time app purchase, the merchant is charged a single fee that requires approval. Once the payment is made, the app is always available to the merchant. For instance, you can sell an email template app that can be purchased as a one-time payment.
Recurring app purchases
Recurring app charges require continuous payment by the merchant over a period of time or payment based on app usage. Each recurring charge requires approval from the merchant. You can set up a fixed value, a 30-day, or an annual recurring charge, which is suitable for apps that offer an ongoing service to merchants.
Upgrading and Downgrading app
Merchants are only allowed to have one active subscription for your app at any given time. If a merchant chooses to upgrade or downgrade your app, the previous subscription is automatically canceled and replaced with a new one. The new subscription is billed on the same 30-day cycle as the previous one. This also applies if a merchant uninstalls and reinstalls your app.
Upgrading an app
If a merchant decides to upgrade to a more expensive subscription, they will be charged a fee for the remaining days left in the current billing cycle. The fee is calculated by dividing the remaining days in the cycle by the price difference between the plans. For instance, if a merchant has 5 days left in the current billing cycle and wants to upgrade to a plan that costs $20 USD more, they will be charged $3.33 USD (5/30 days * $20 USD).
The merchant will be billed at the new package price starting from the next billing cycle.
Note:
If a merchant upgrades a plan on the last day of a cycle or if the price difference between plans is less than $1 USD, we will not charge the price difference.
This is what the bill looks like: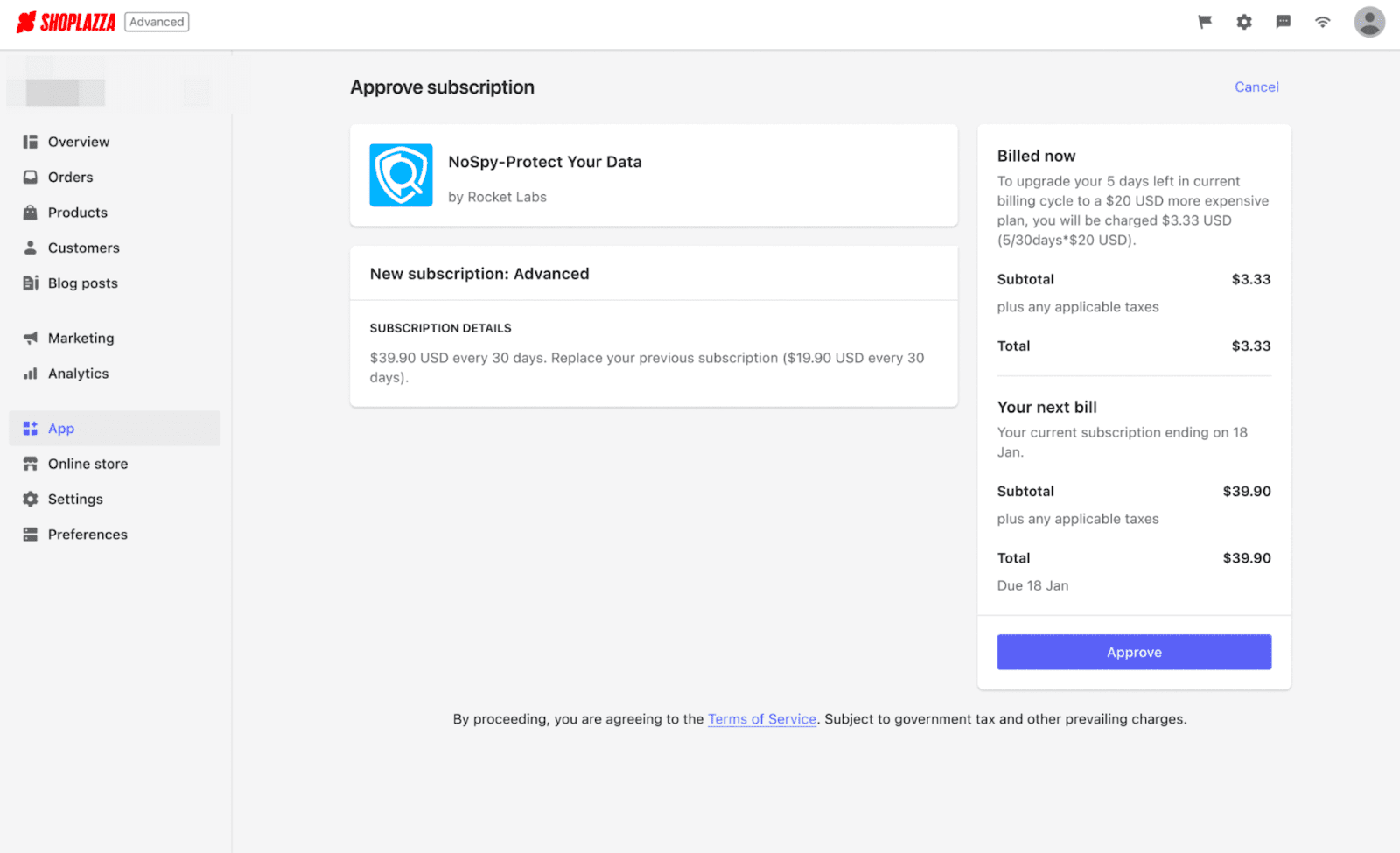 Downgrading an app
When a merchant downgrades to a less expensive subscription, the new subscription will take effect at the beginning of the next cycle.
Free trials
Merchants can try apps for free before deciding to purchase them. The start of the billing cycle for the app is delayed by the number of days set for the free trial. Only merchants who agree to a new subscription are eligible for free trials, and they can not be added to existing subscriptions.
Related Topics