You can add a banner to your store website to inform customers about important information about your business. Banners are also used to remind website visitors about free shipping, discount codes, promo countdowns, and other promotional activities.
Steps
1. From your Shoplazza Admin > Marketing > Pop up > and click Create campaign.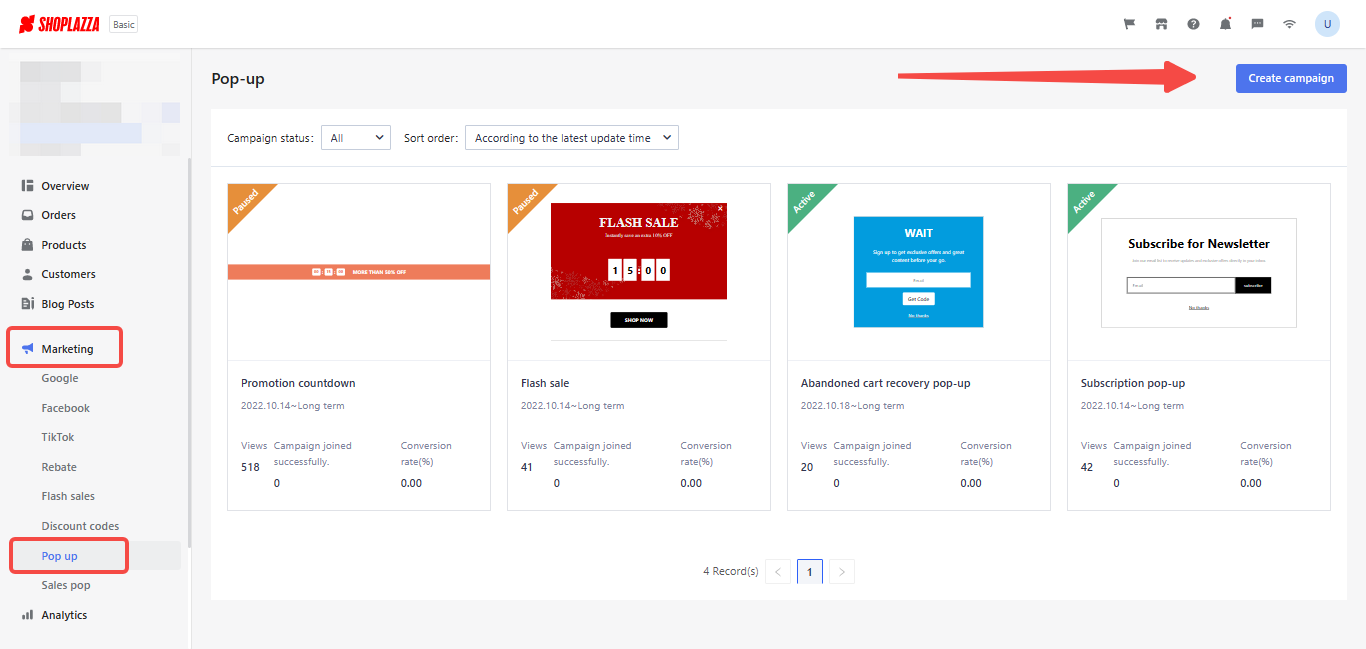 2. Switch to Banner and Select a banner template that you want to use.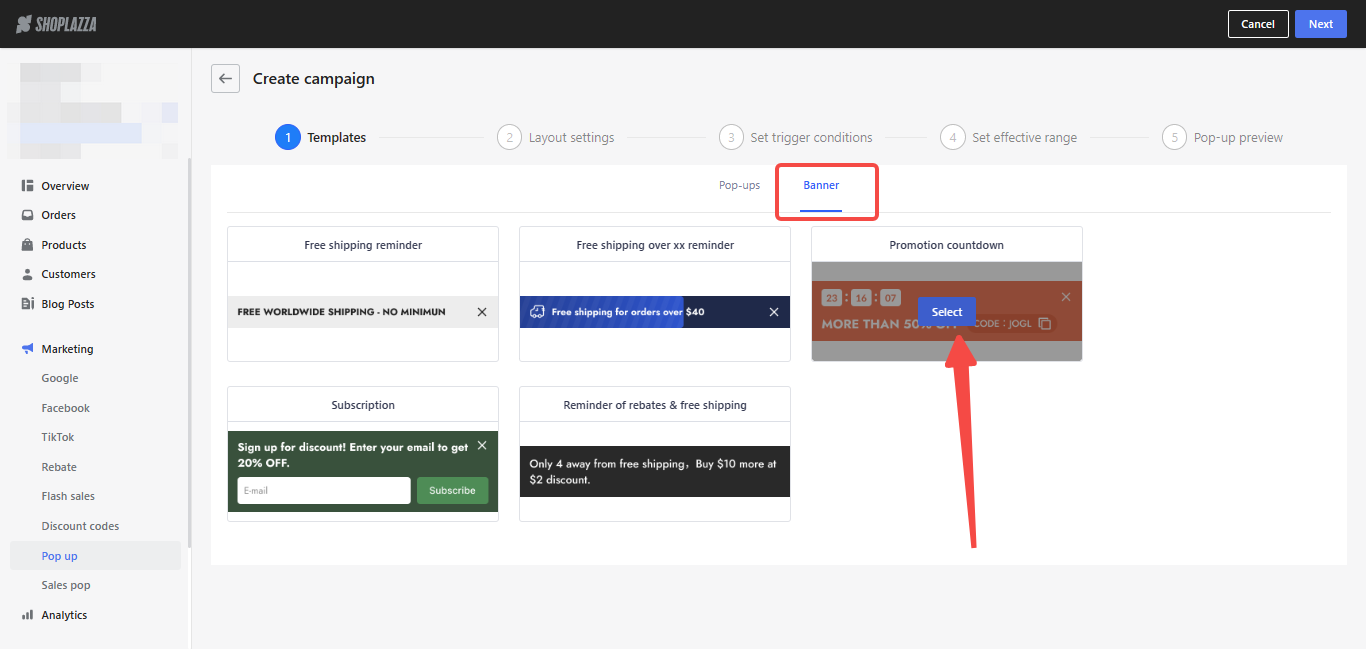 3. On the Layout settings page, you can make the following changes to your banner:
Display settings

You have the option to set displays for Desktop and mobile, Mobile only, or Desktop only.
Banner display can be positioned on top of the page, at the bottom of the page, or below the navigation bar.
You can also choose to fix the display position.

Link

Redirect customers to a custom page you set up by clicking the banner.

Background

You can change the background color or upload a picture on your banner to complement your store's website theme.

Content

Under the content section, you can customize your banner by changing the text type and editing the content.
You can select a discount code and its background color.
Choose the countdown type and the color.
The off button can set the display as Hide.
4. On the Set trigger conditions page, you can complete the following settings:
Display Page

Banner page display can be selected to show All pages (excluding payment and registration pages) or a Specific page. Specific pages can be set by page type (Home, Collection details, Product details, Cart, Flash sale promotion, Coupon code activity, and others) or by page URL. You can add a maximum of 10 URLs, including or equal to the URL of the page. The settings can be generated on both pages simultaneously as an option.

Trigger time

Trigger time can be set as Enter the page, meaning the banner will pop up when the user lands on the page.

After X second

The delay time can be set as Without delay or Delay (time) to pop up and is disabled by default when the trigger timing is Leave the page.

Display frequency

Display frequency can be set as Every single time, just once, times per day, times per week, or Once per month.

Stop conditions

Stop conditions can be set as After pop-up *** times, After closing, and After participating in the campaign.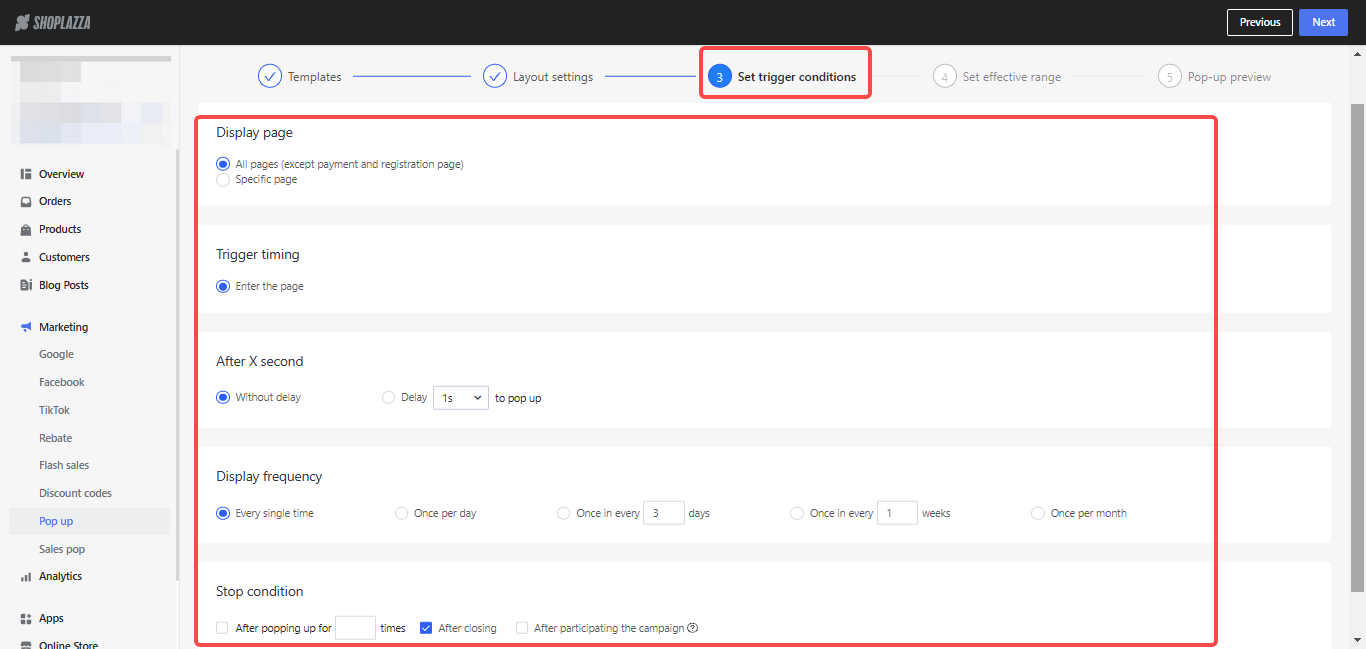 5. Click Next to set up an effective range.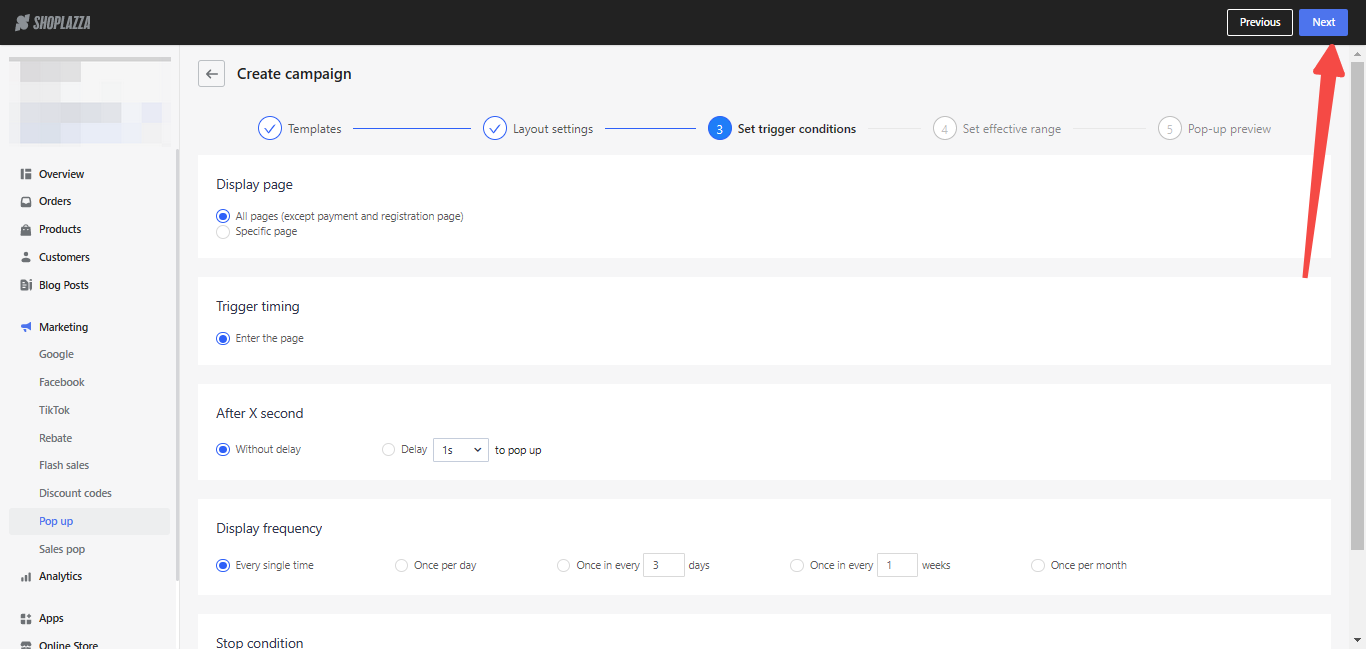 6. Here you can select all customers or click Edit to set your target customers.
Select the Active time for your banner to display. You can also set up the campaign for the long term.
The campaign title is only used for the admin page and will not be displayed to users.
Click Next to preview the Pop-up banner.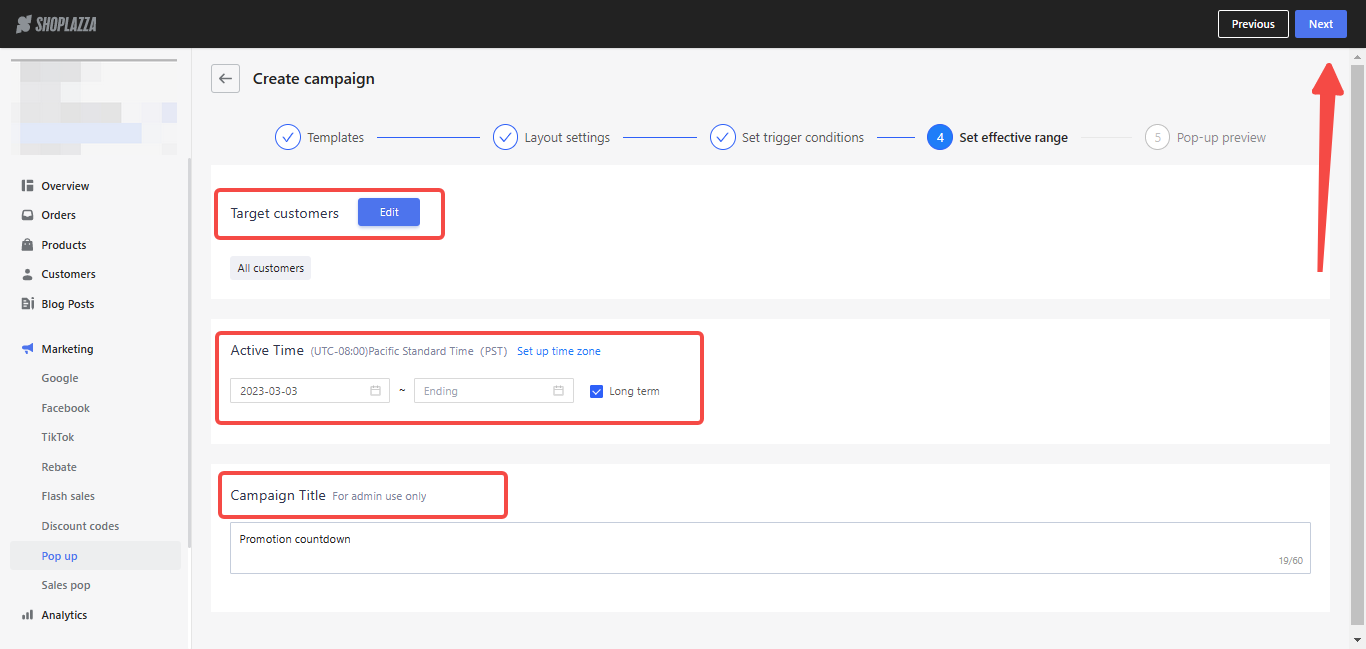 7. After previewing, click Save to complete the banner creation.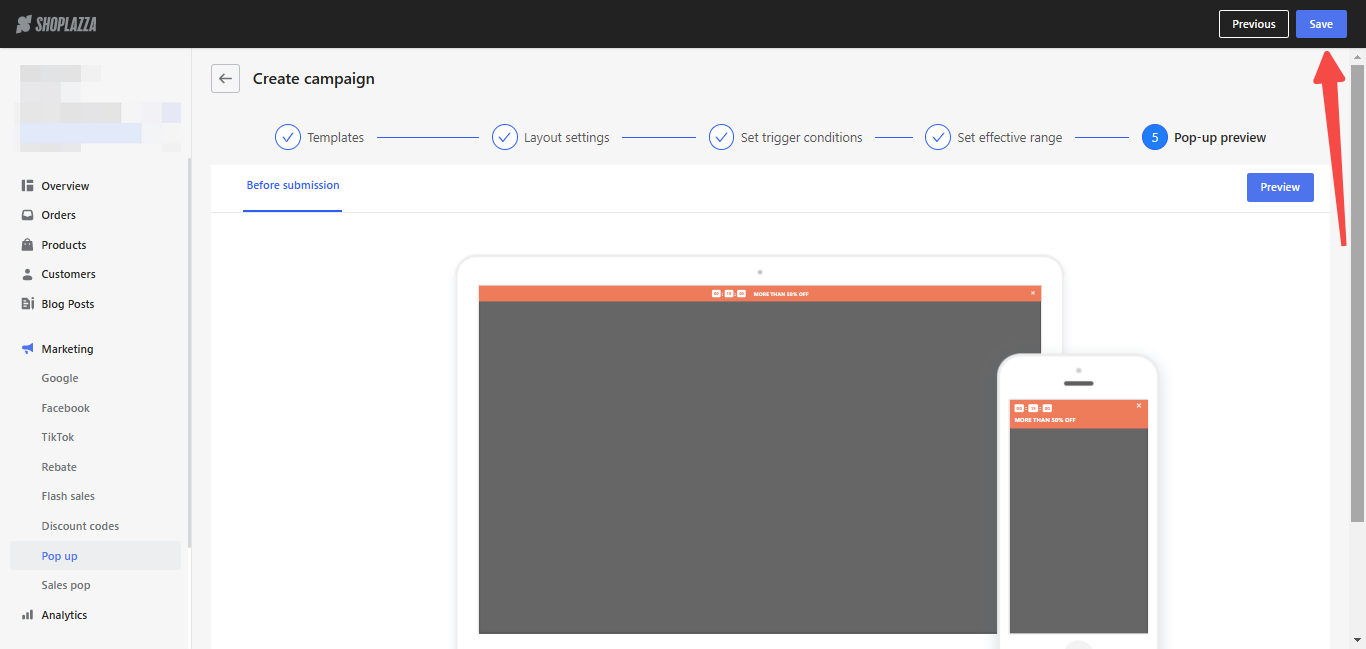 8. On the Pop-up main page, you will be able to see the performance of your Banner campaign.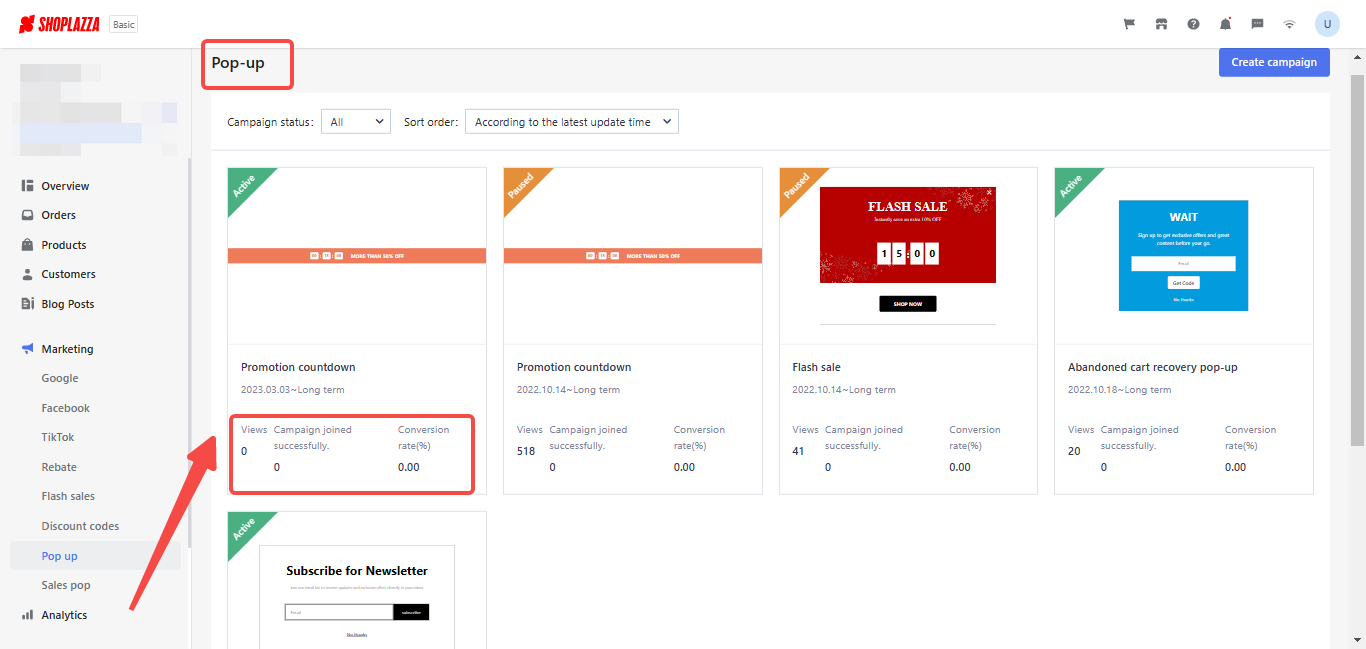 Congratulation! After creating Banner pop-ups, you can promote products and encourage visitors to make a purchase. With high conversion rates, Banner pop-ups can effectively convert visitors into customers.
Related Topics