The Card Advanced Setting feature is designed to help you set up rules for managing credit card transactions on your online store. These settings aim to address common payment issues such as declined transactions, payment timeouts, and authorization failures. By setting up these rules, you can minimize these issues, capture more sales opportunities, and improve overall customer satisfaction.
Adding routing rules
1. From your Shoplazza admin > Settings > Payments, click on Card Advanced Settings.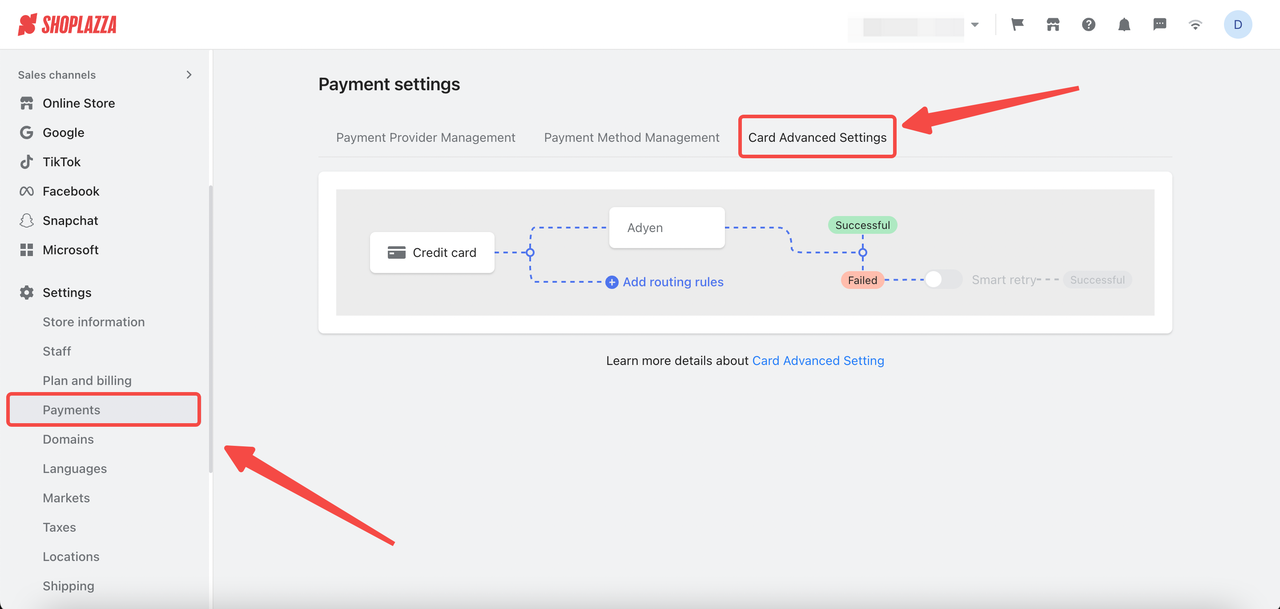 2. Use the card payment routing feature to direct card payments to different payment channels. To begin setting this up, click on Add routing rules.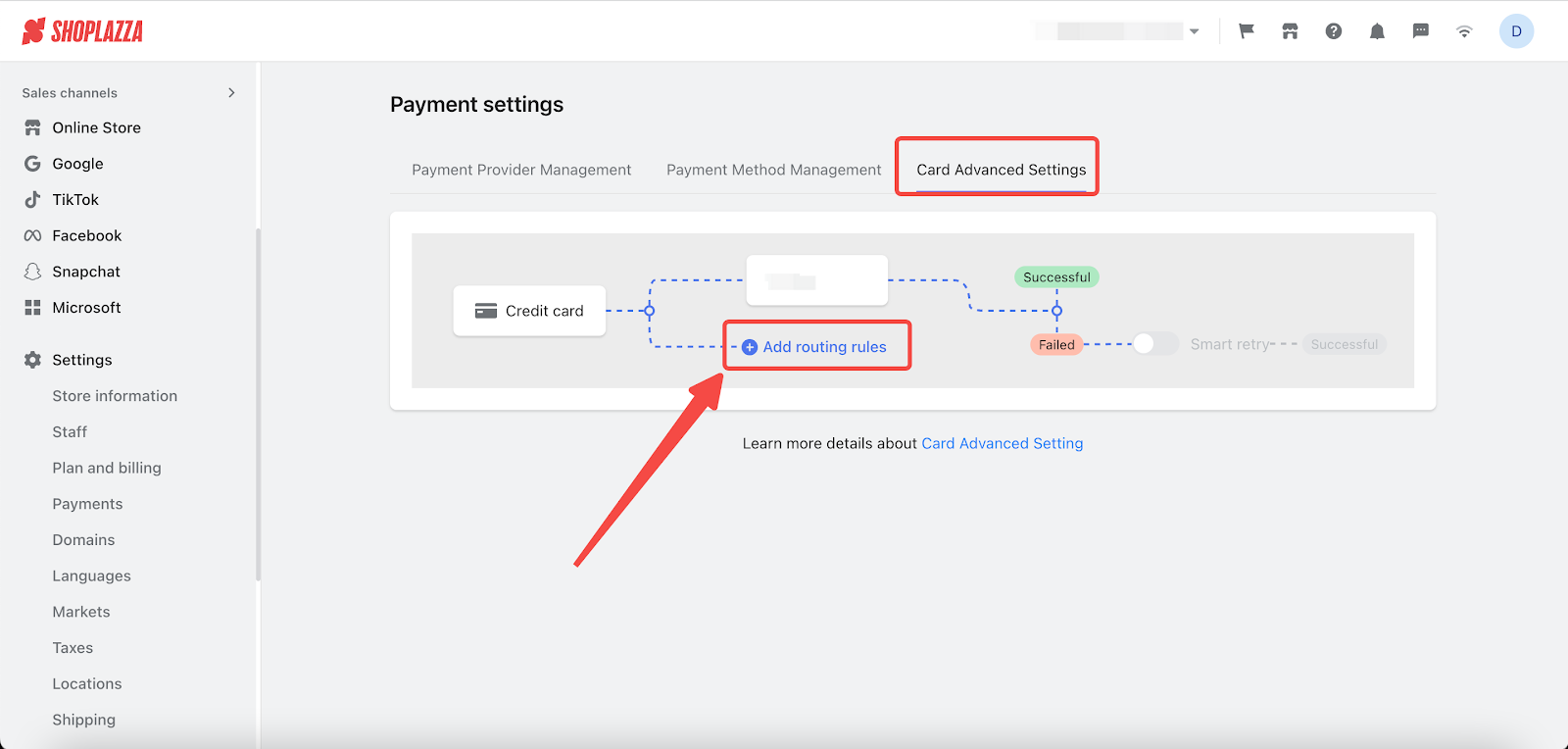 3. Pick the channel you want to use and set the percentage for how payments should be divided. Click on the Next step button to proceed.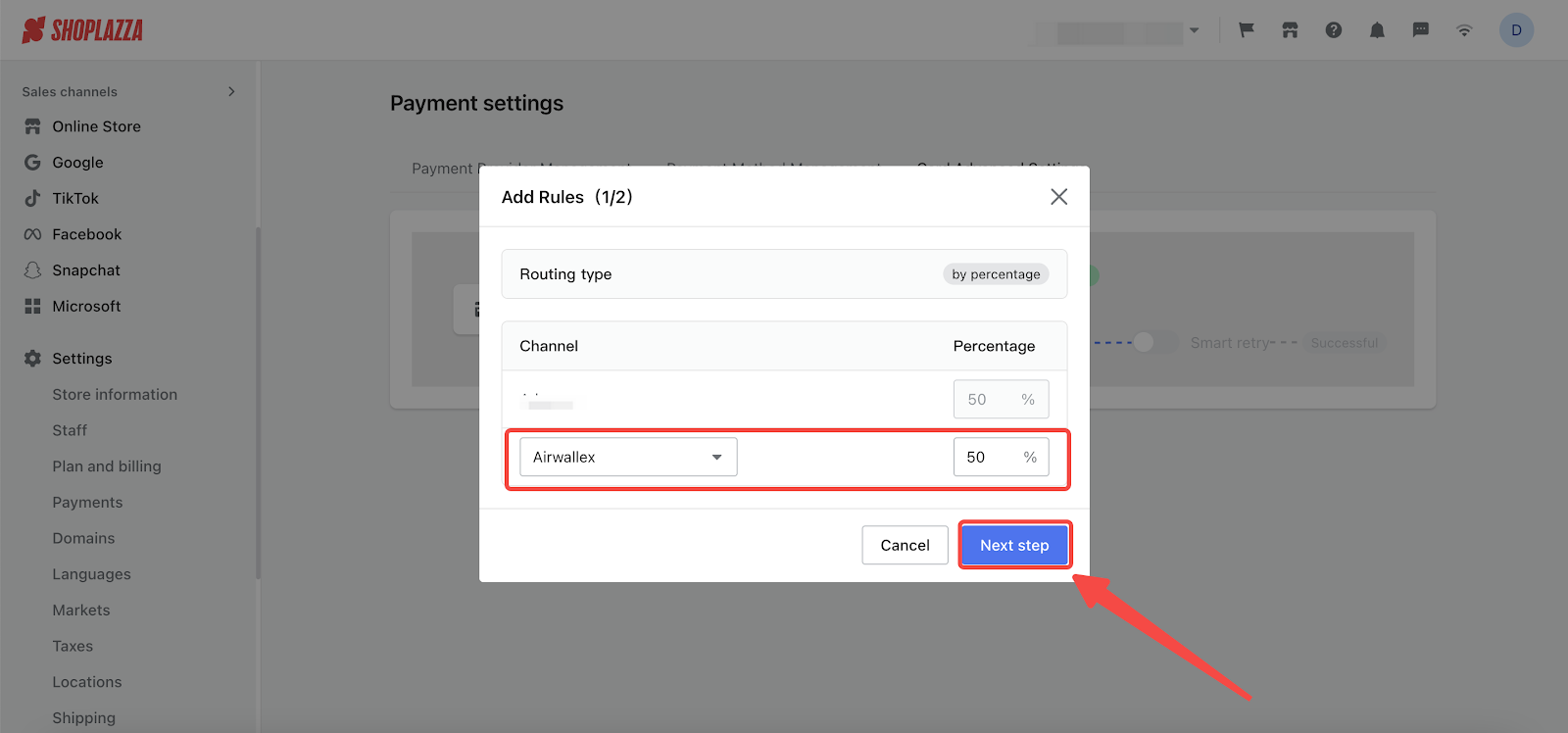 Note
The system works by dividing payments based on the percentages you set for each channel. It's important to use percentages to indicate how much of the payment traffic should go to each channel. Currently, you can set up to two channels, and we're planning to add more options in the future.
4. Add the account details for your chosen channel. Once done, click Finish.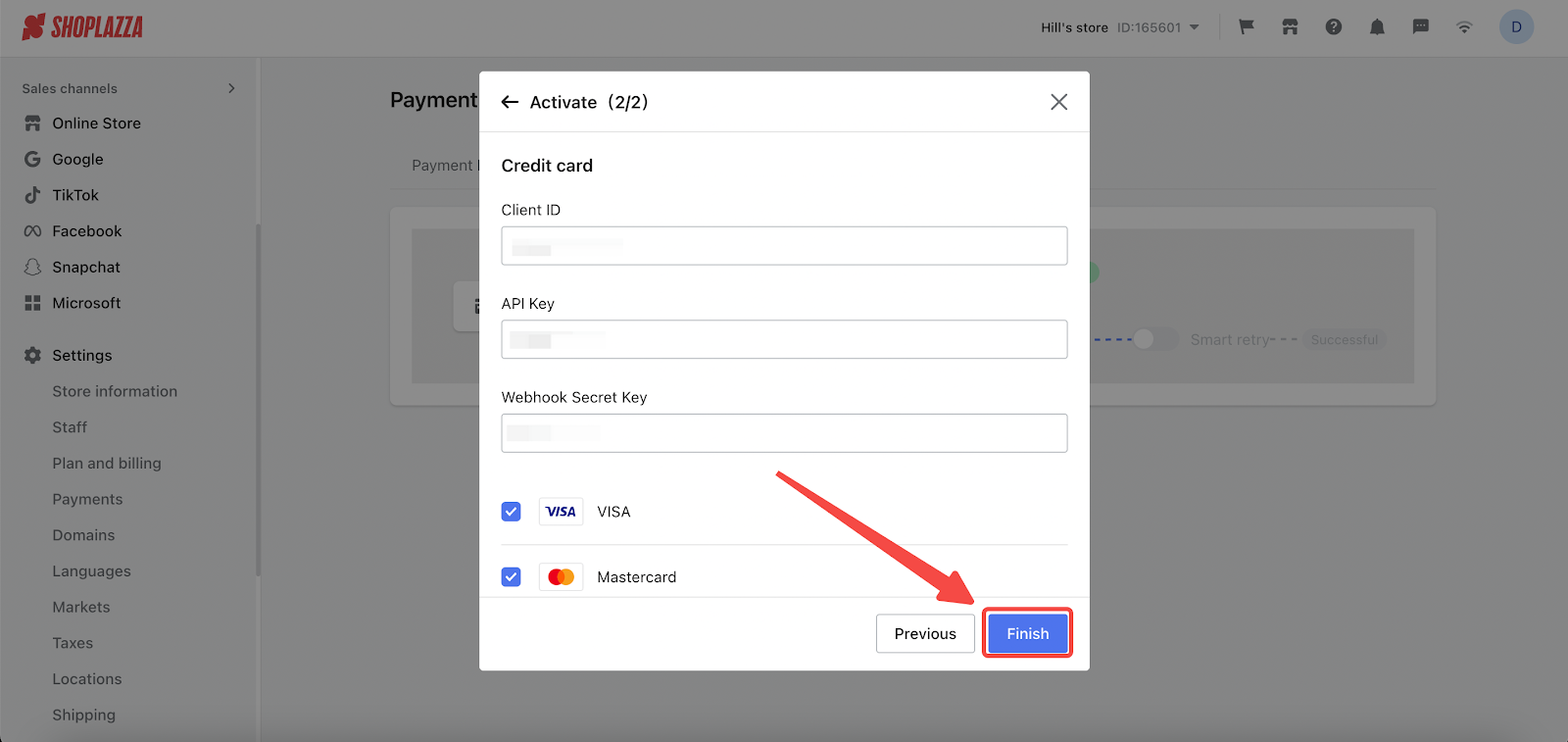 Note
After the setup, card payments will be processed through multiple channels based on your settings. There might be slight variations initially due to algorithm calculations, but these will become more accurate as more transactions are processed.
5. When your customers go through the checkout process, they will see only a single credit card payment option. This routing feature will not affect their checkout experience.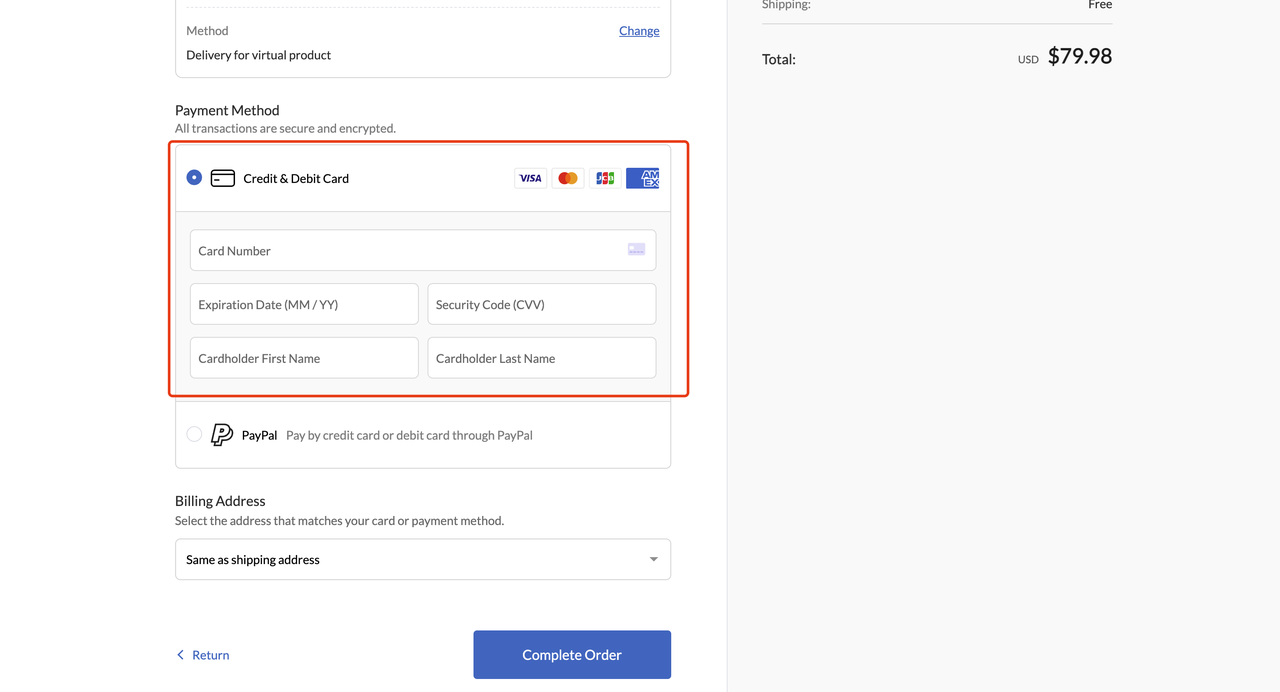 Managing Smart retry for failed payments
Smart retry improves your payment process by automatically trying failed card transactions again. This feature minimizes payment disruptions and increases your chances of successful transactions.
Activating Smart retry
1. Payment methods requirement: Make sure to have at least two payment methods that support the retry function.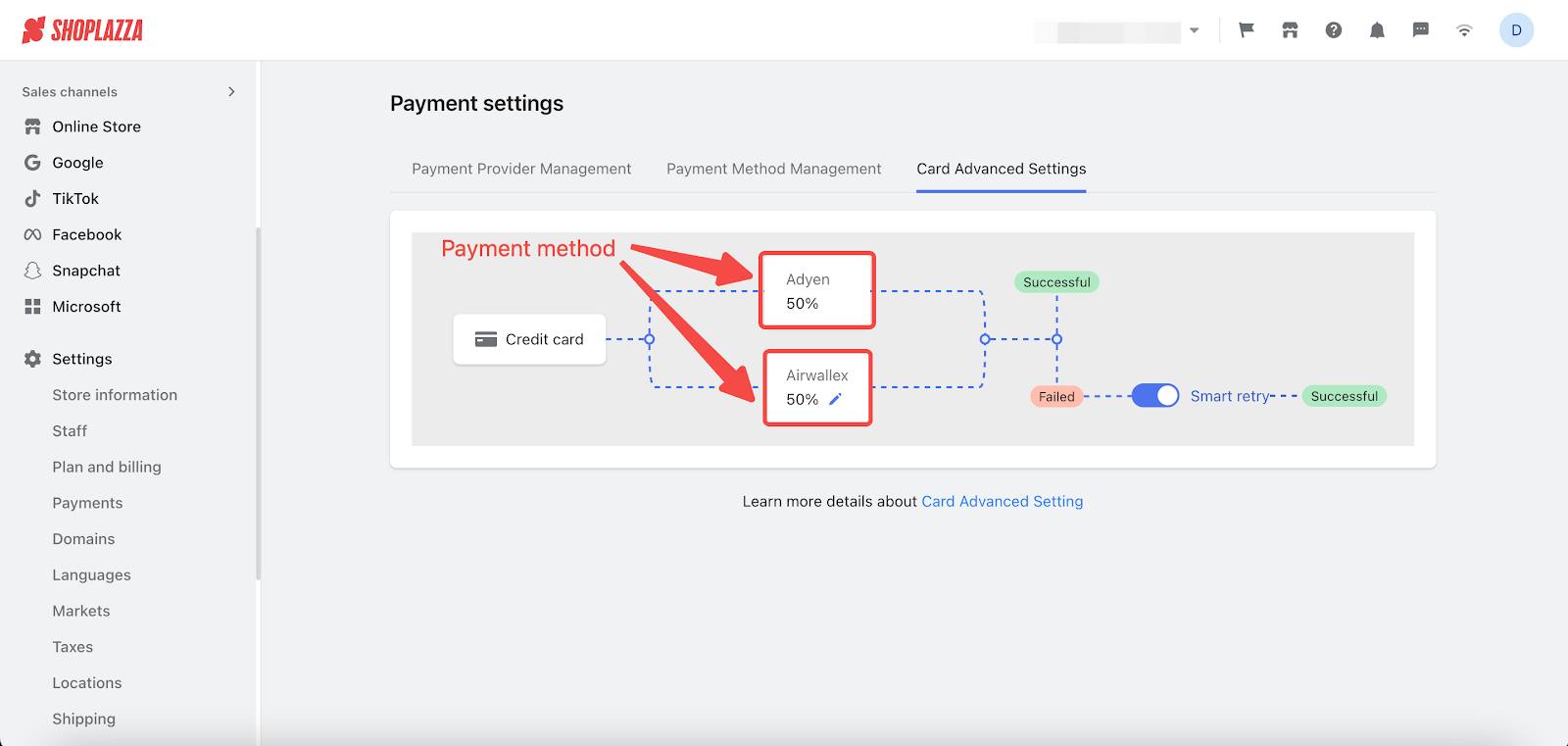 2. Select your current provider: Ensure you have a retry provider that's currently available.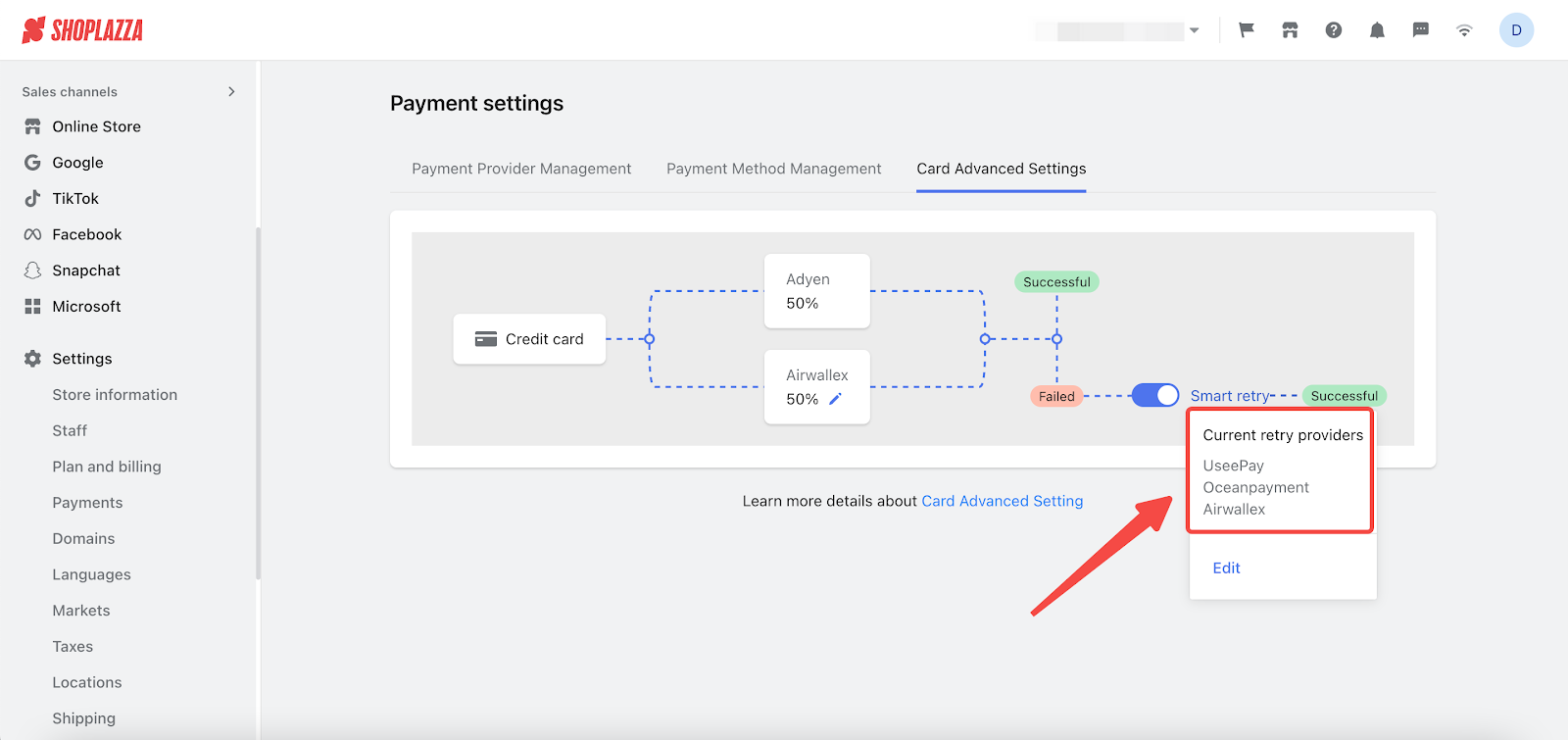 3. Enable Smart retry: To turn it on, click the Smart retry button on the Card Advanced Settings page.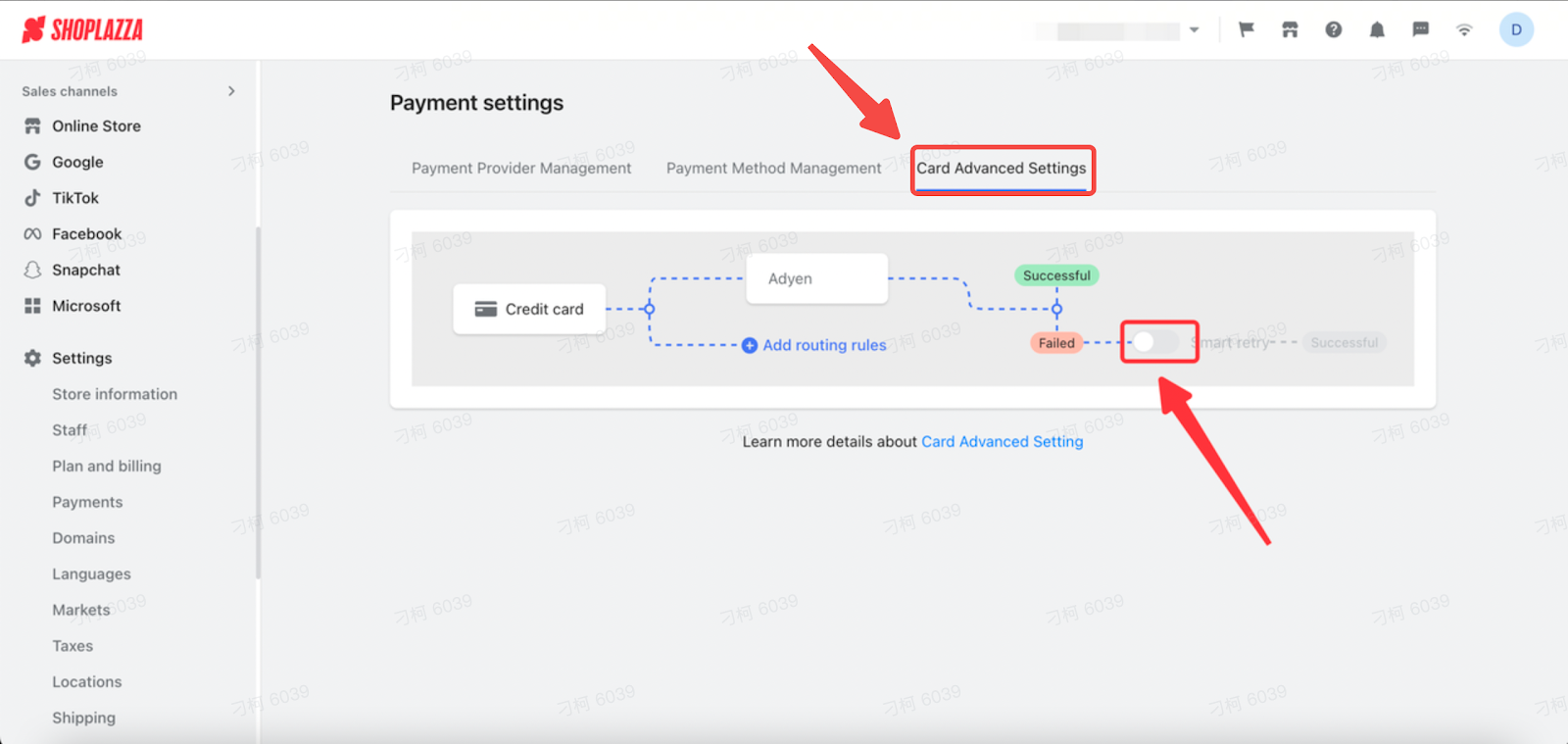 Adding more Smart retry providers
1. If Feature Is Off: If you try to enable Smart retry and it's not activated, you'll receive a message saying your current card processor doesn't support this feature. Click Close, and a pop-up will suggest adding a new provider.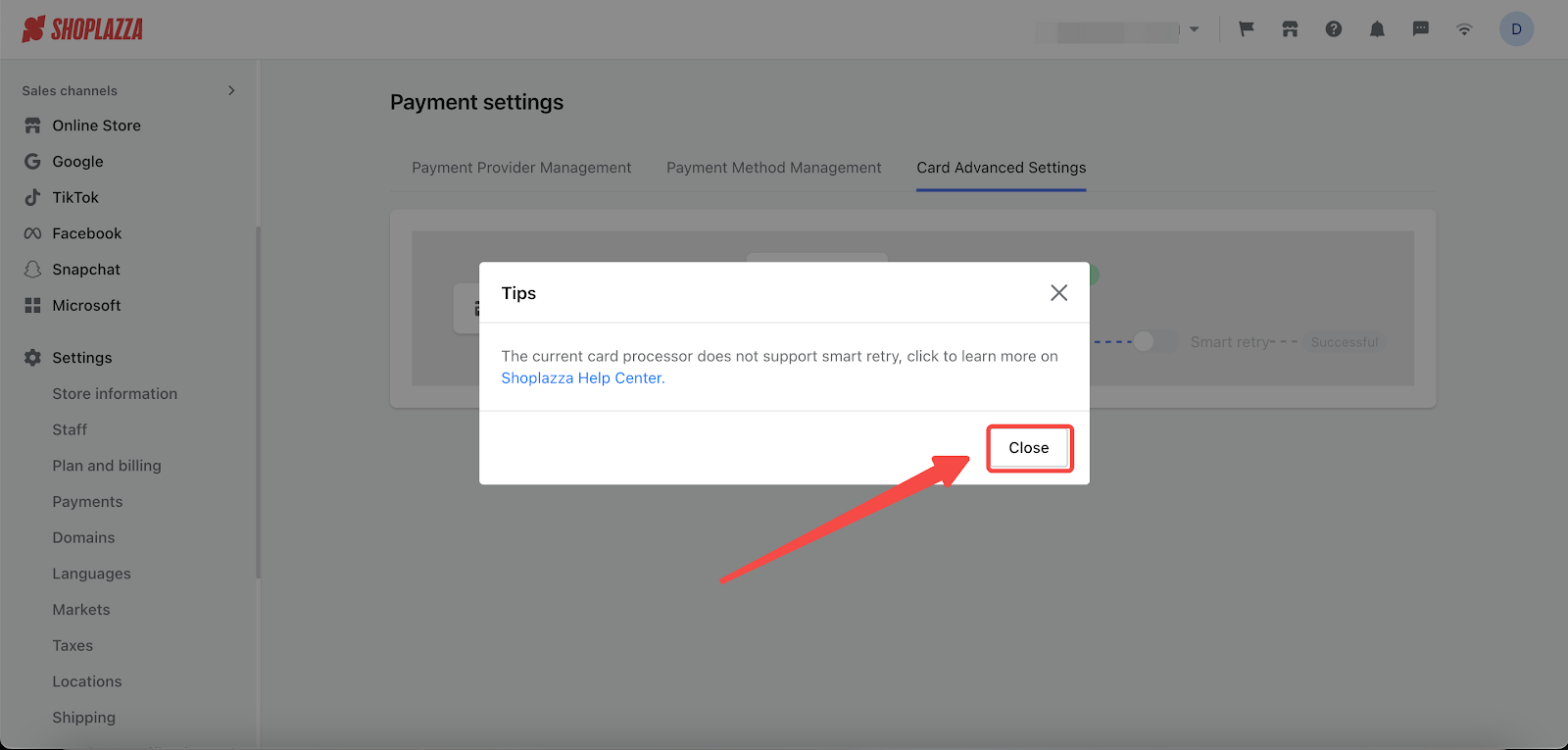 2. Add Providers: After activation, if you wish to add more providers, click the Edit button in the pop-up window.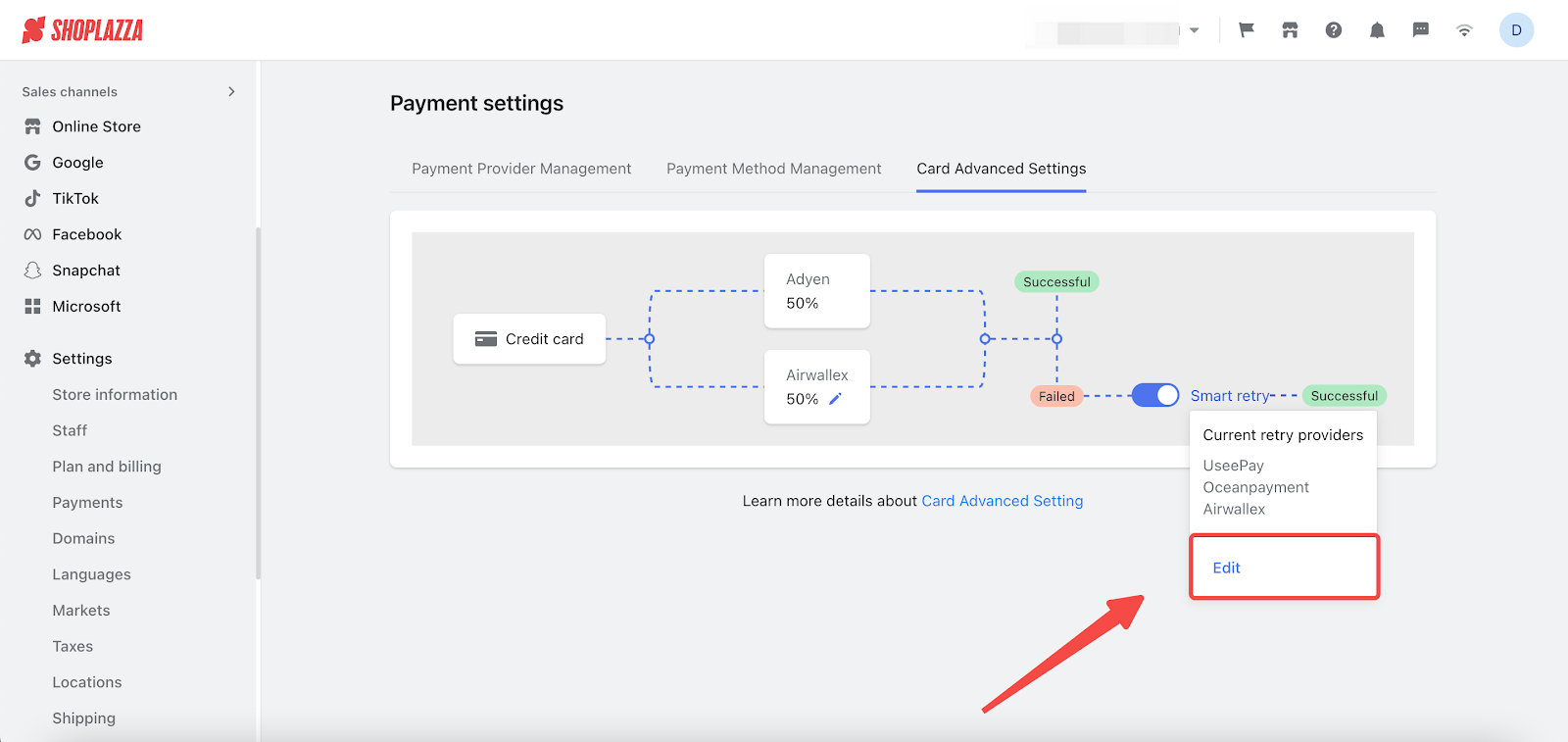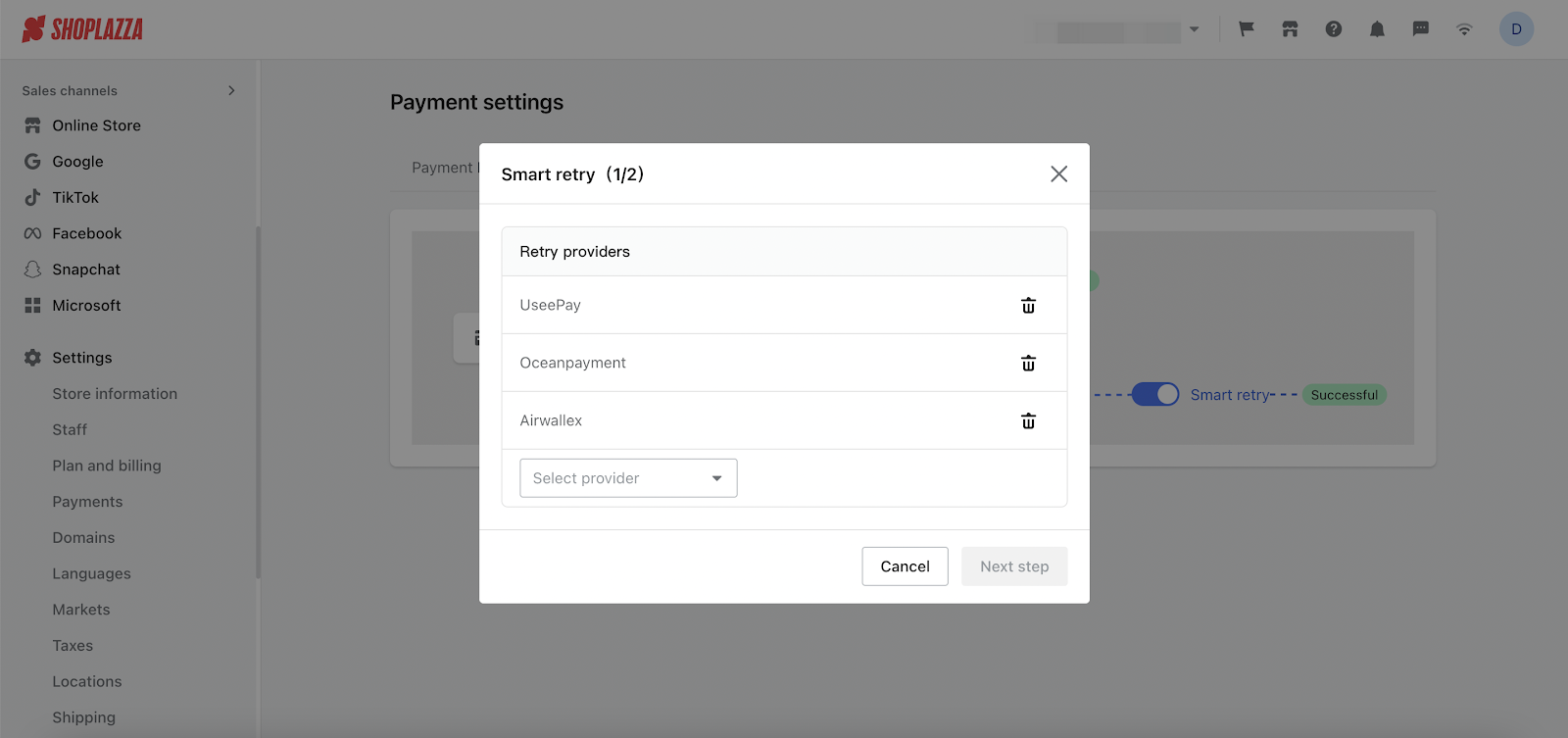 Removing Smart retry channels
1. Deleting a Channel: To delete a channel from the retry list, click the Trash Can icon. Once you do this, the channel won't be used for retries anymore.