Analyzing the geographic locations of your website visitors can provide useful information about your customer base, including their demographic characteristics, interests, and purchasing behaviors. Tracking your visitors by location makes analyzing your store conversion much more easier.
Tracking visitors by location
1. Accessing your location-based reports from your Shoplazza Admin > Analytics > Reports > Traffic > Visitors by Location to better understand and analyze traffic by region.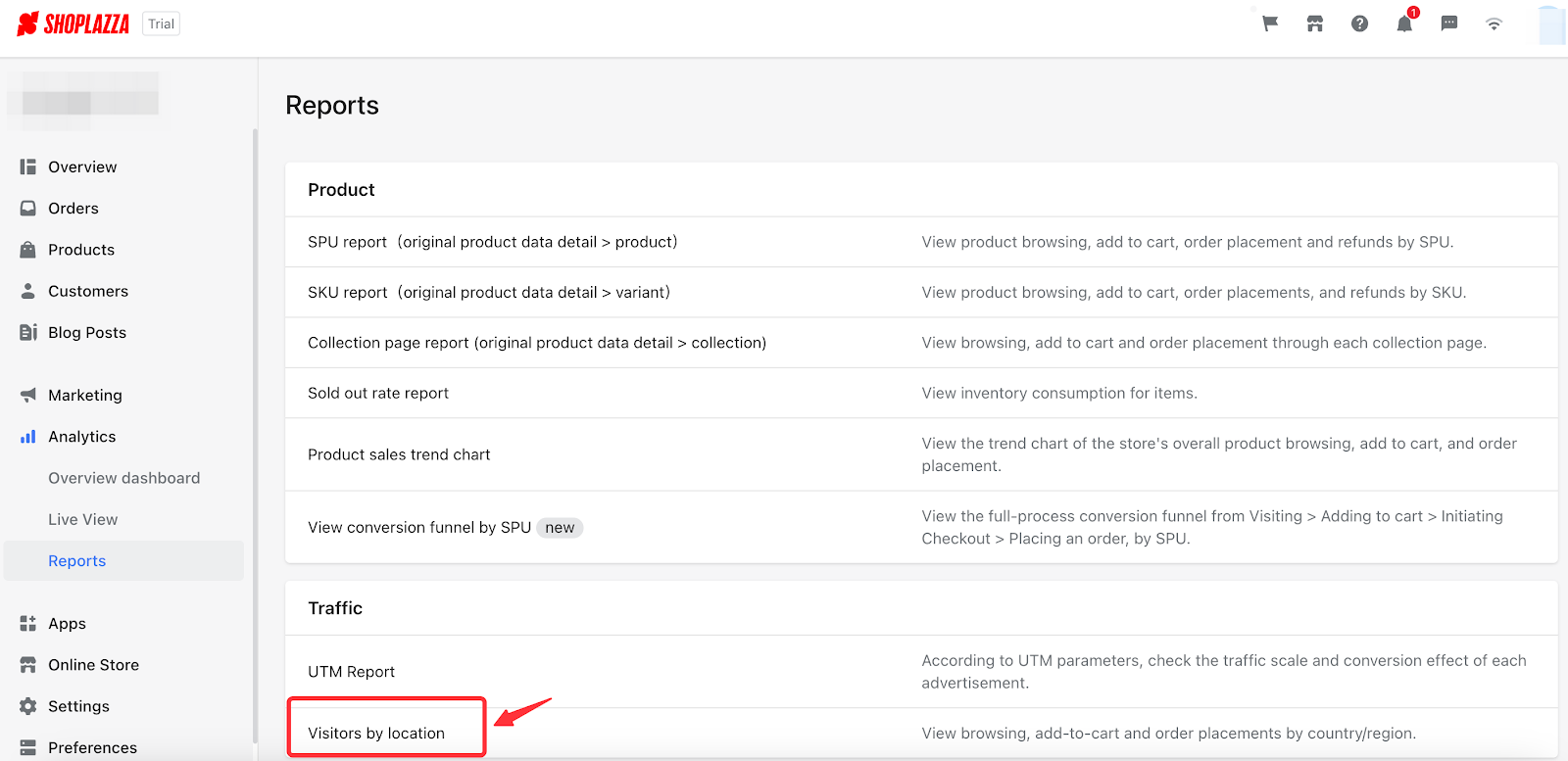 Narrowing down your visitor's locations
1. Click on the State/Province button to illustrate your customer location report under the state/province level.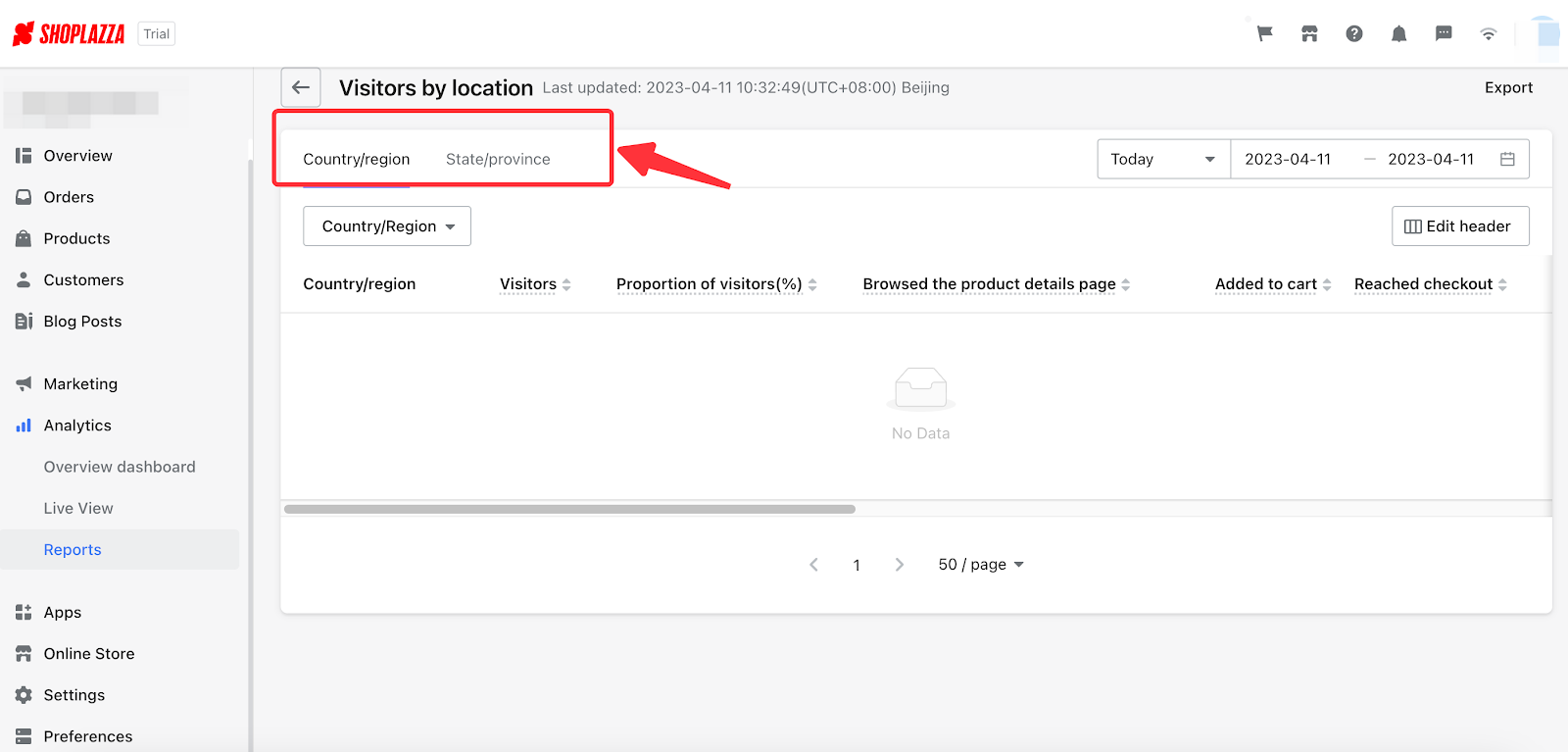 Choosing a specific country/region
1. Type a specific country in the search box to create a location report.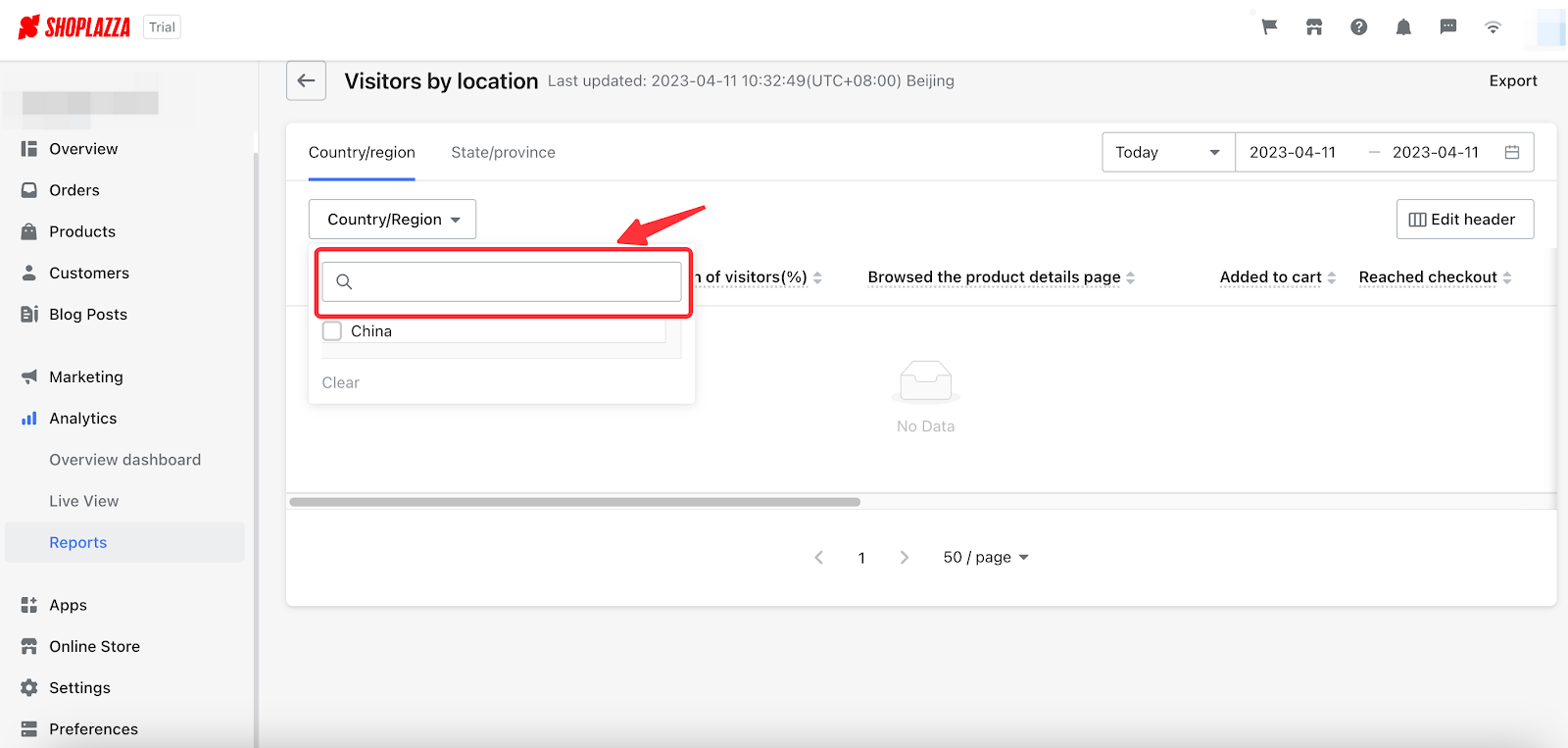 Note
You can only view data from countries/regions with recorded customer traffic.
Viewing your charts
1. Click on the arrows beside the headers to sort your search results by ascending or descending orders in the chart.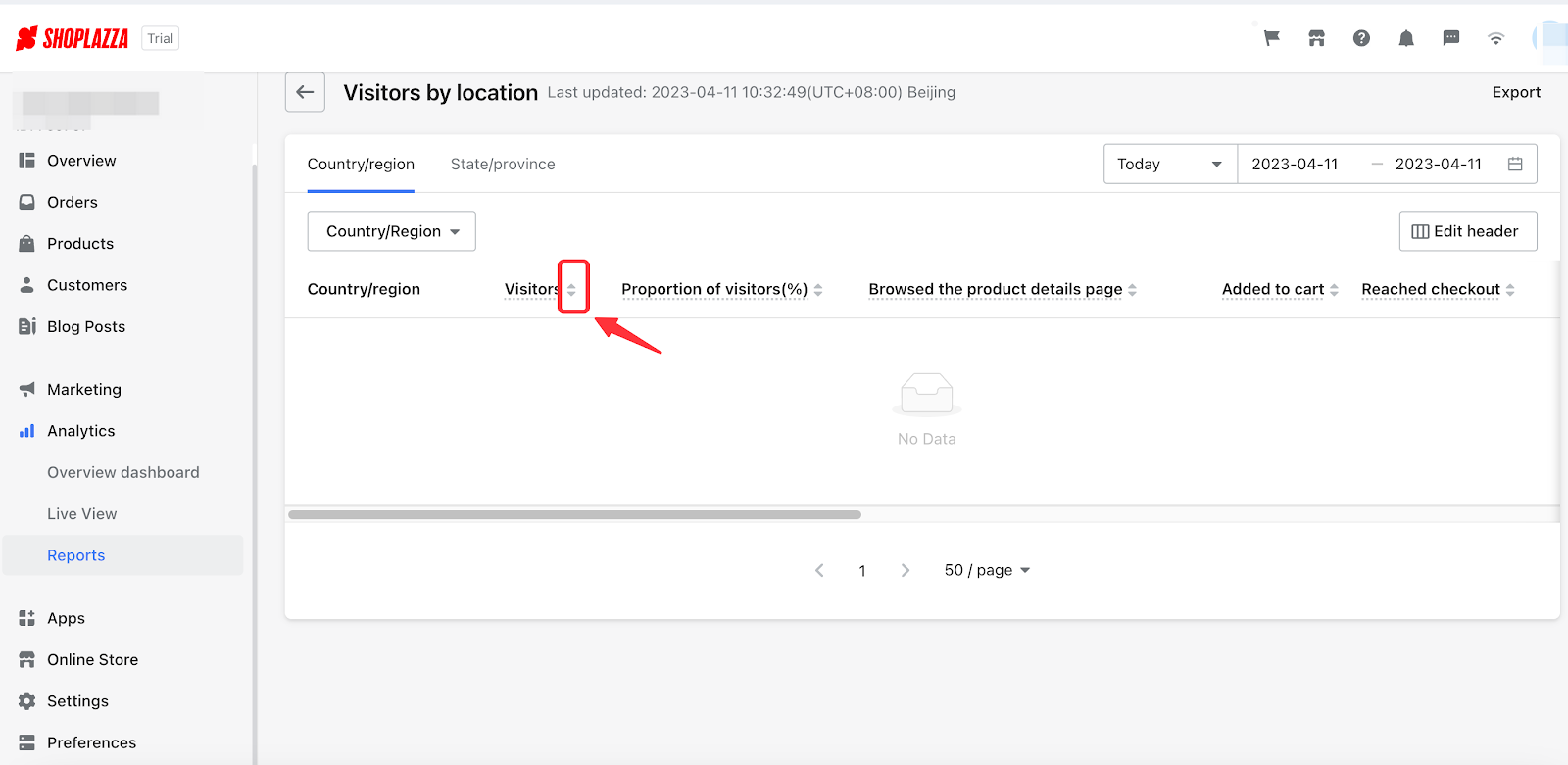 Editing the headers
1. Customize your list of indicators by clicking Edit header.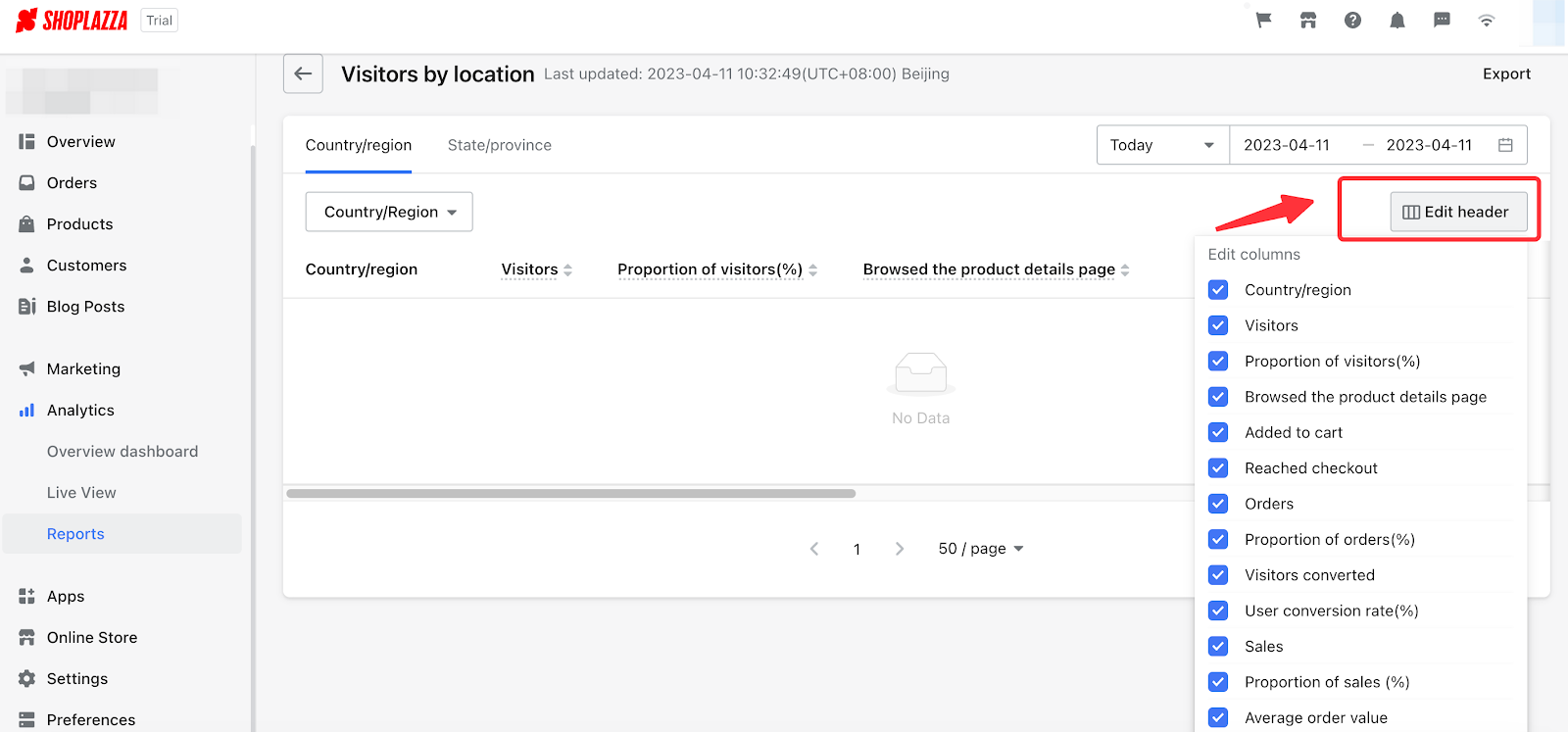 Exporting visitor reports
1. Use the Export button on top to save a copy of your visitor report.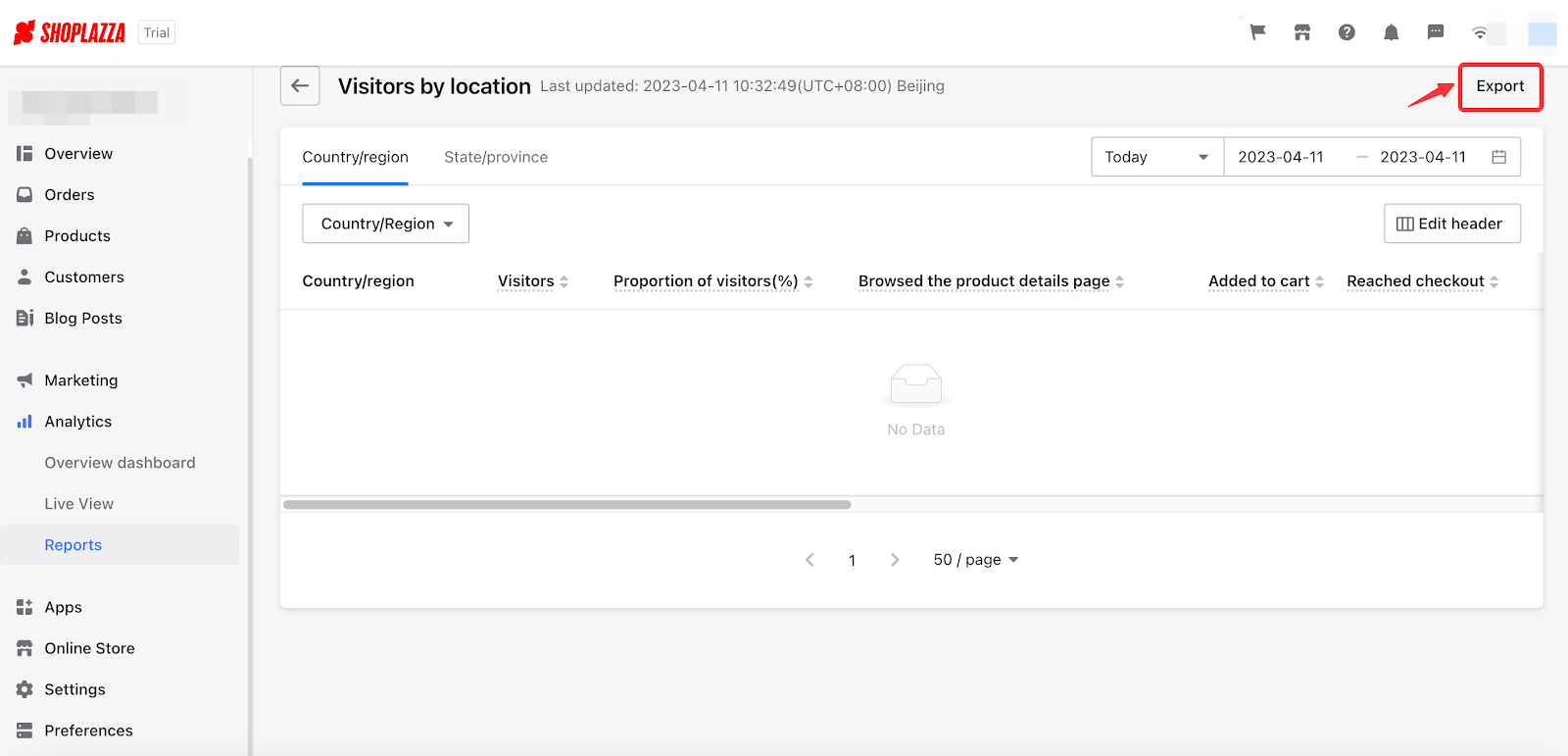 In the chart below, you can identify the meanings of every indicator in your visitor's report:
Indicators
Definitions
Country/Region

Locations of your potential customers.

Monitoring such indicators will make it much easier to make marketing plans for a specific place.

Visitors

Number of website visitors from a specific country/region.

By selecting a time-frame indicator for more than a day, your reports will automatically add up the number of visitors within the selected time period.

Note: one visitor from a unique IP address is only counted once, even if they click through the site multiple times within 24 hours.

Proportion of Visitors
Number of visitors from one place / total visitors.
Browsed the Product Details Page
Number of visitors from one country/region viewing your product details.
Added to Cart
Number of visitors from one country/region adding your products into their shopping carts.
Reached checkout
Number of visitors reaching the checkout page.
Orders
Number of orders placed.
Proportion of Orders
The percentage of orders placed from a specific country/region compared to the total amount of orders.
Conversion Rate
Number of orders / Number of visitors.
Sales
Total sales from one country/region.
Proportion of Sales
Percentage of sales volume from a specific country/region compared to the total sales volume.
Average Order Value
The average amount of money customers spend on each order.
Understanding the location of your website visitors can help you tailor your marketing efforts. For instance, you can run targeted campaigns to specific regions or adjust your ad copy to resonate better with people from certain areas.