Enhance your online store's appeal and drive sales with the Countdown promotion section. This feature is a dynamic tool that creates urgency, nudging shoppers to act fast and seize limited-time offers.
This feature is good to use when:
You want to promote sales in previous collections and deadstock.
You want to raise awareness of individual products or a collection that has just been published.
This article will walk you through adding a Countdown promotion section to your store theme.
Adding a Countdown promotion section
1. From your Shoplazza Admin > Online store > Themes, click Customize next to the target theme.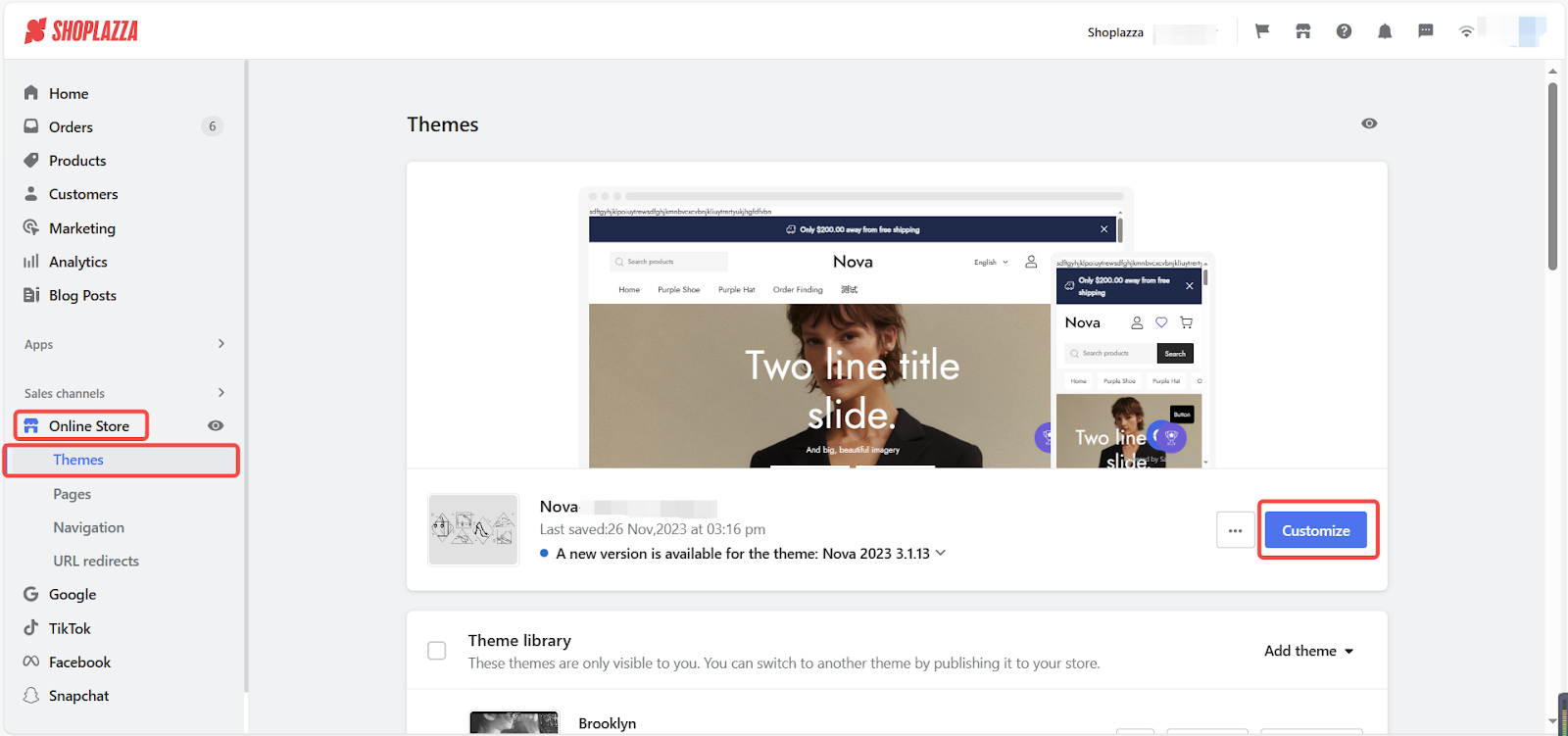 2. Click Add section to see more available sections for this theme.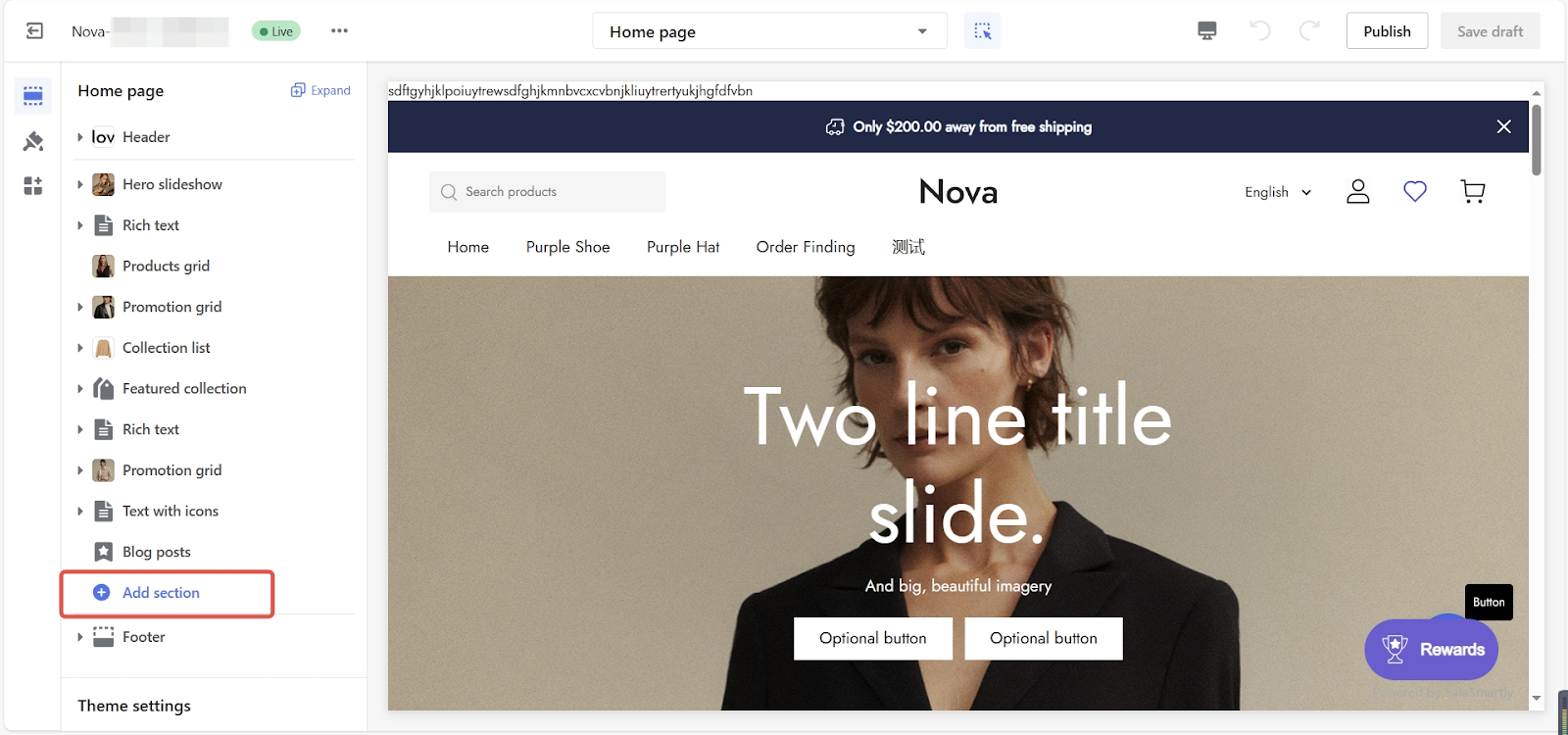 3. In Additional sections, click Show more to find the Countdown promotion block.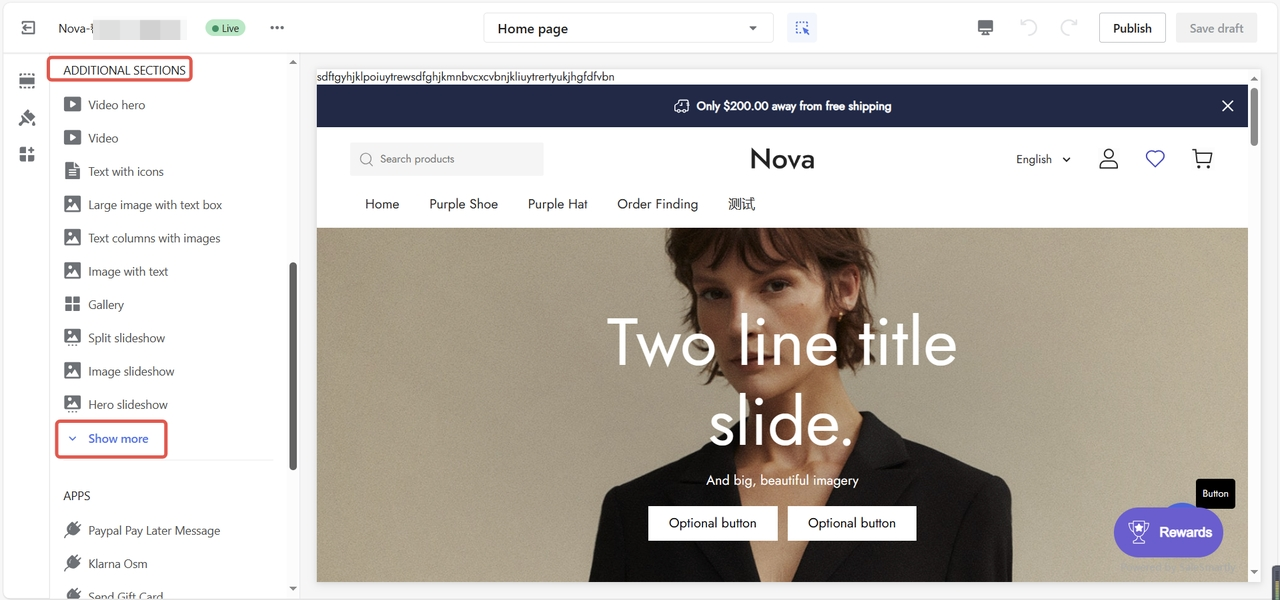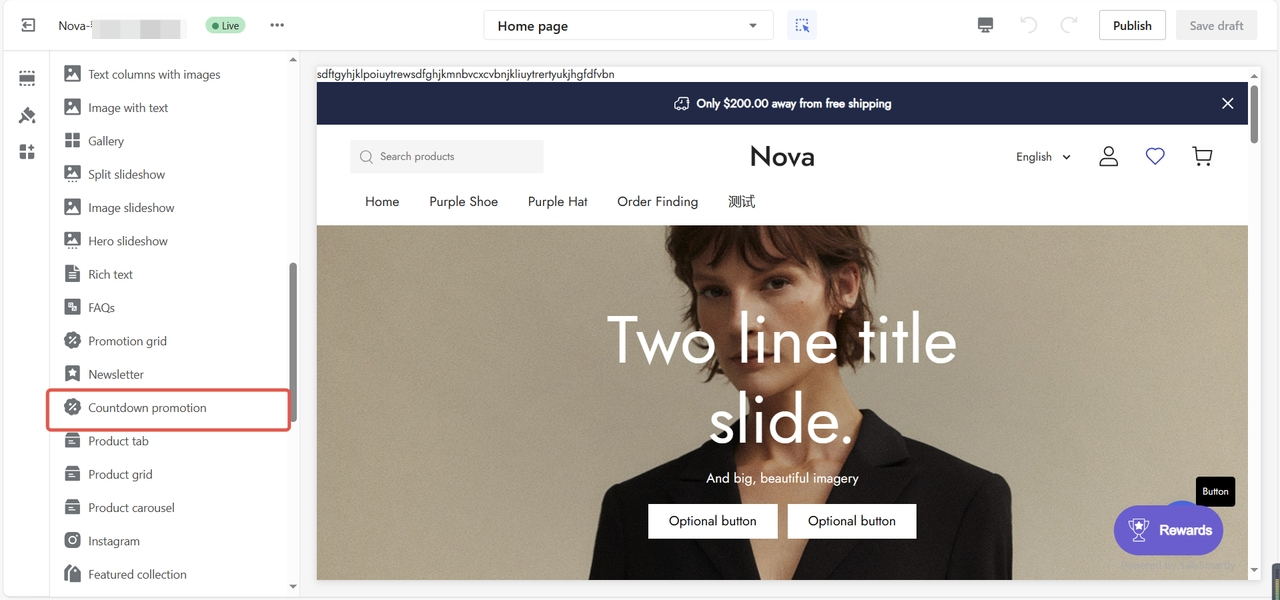 Promoting a collection or a product
After adding the Countdown promotion section, clicking on the title will allow you to manage the products you'd like to show. Here you have the option of selecting a current collection or choosing one of your products.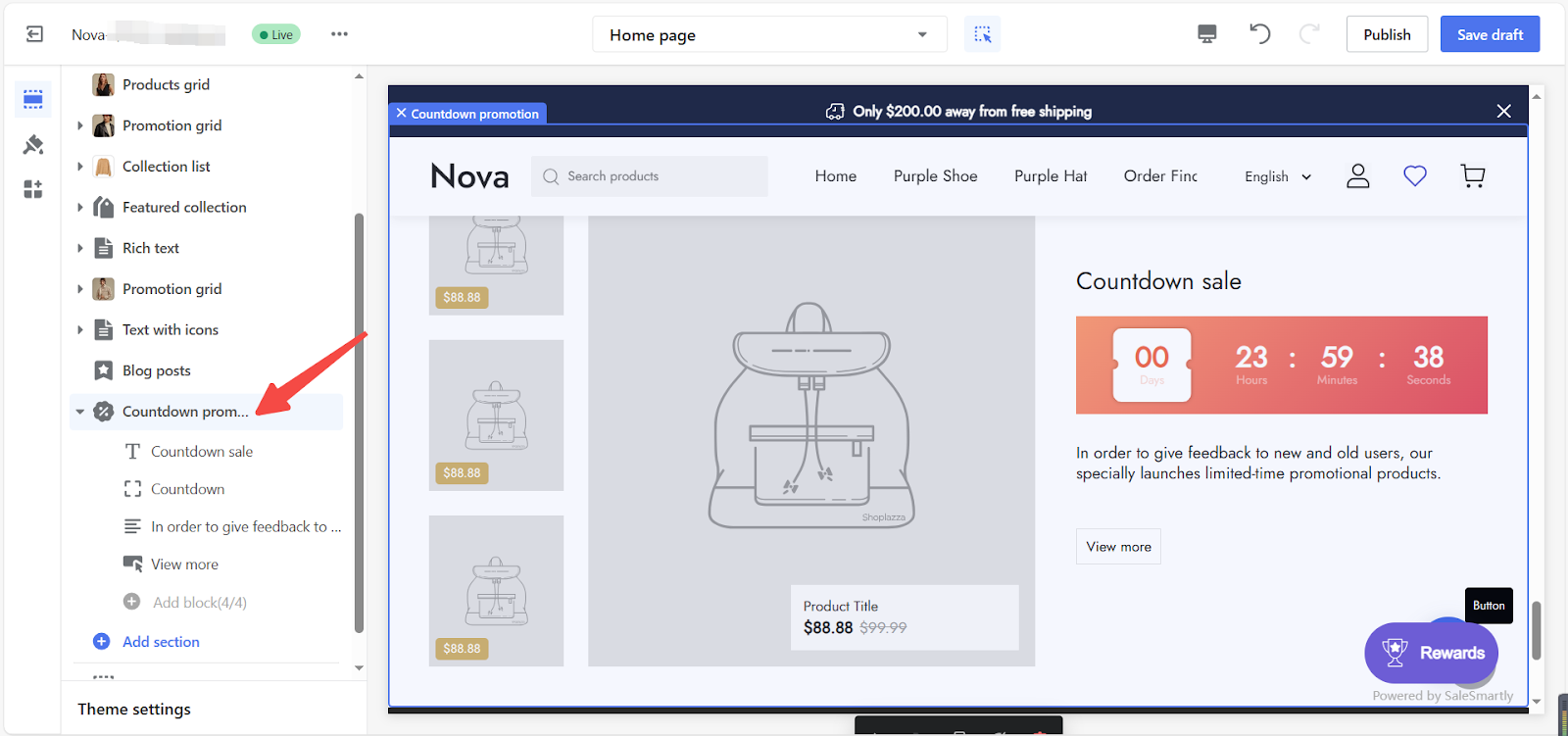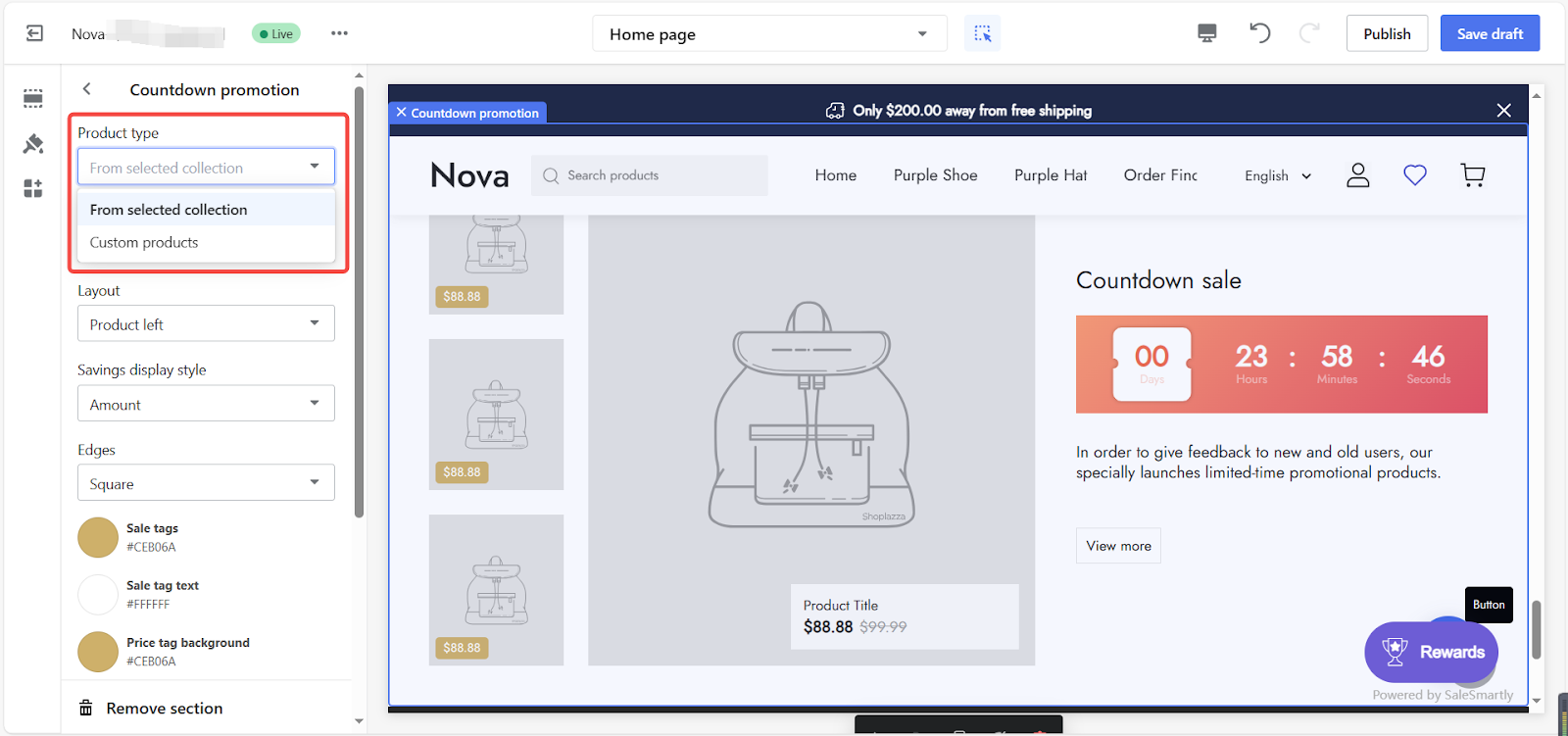 Adding a collection
If you would like to select to include an entire collection, please refer to the steps below:
1. Click Select collection to assign a collection.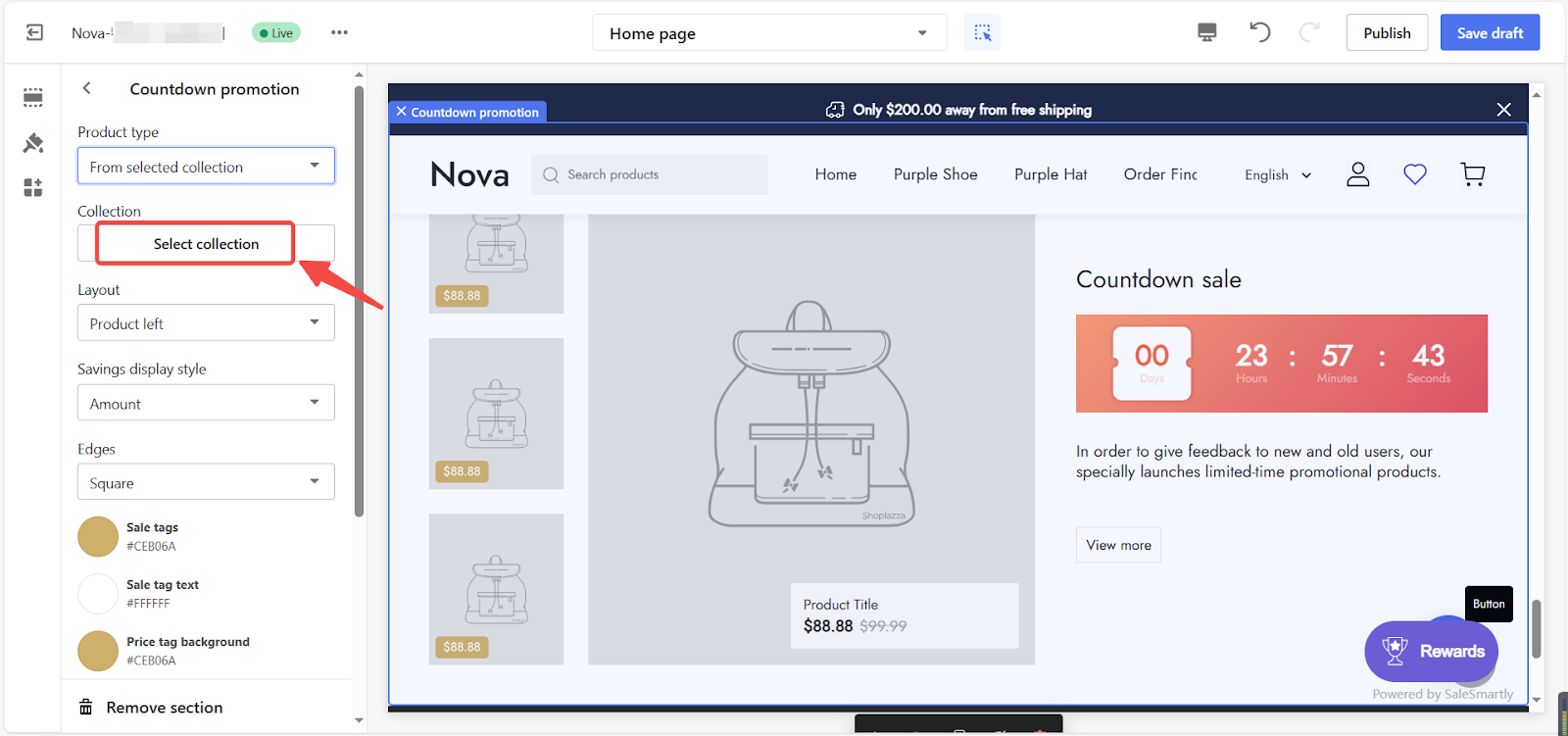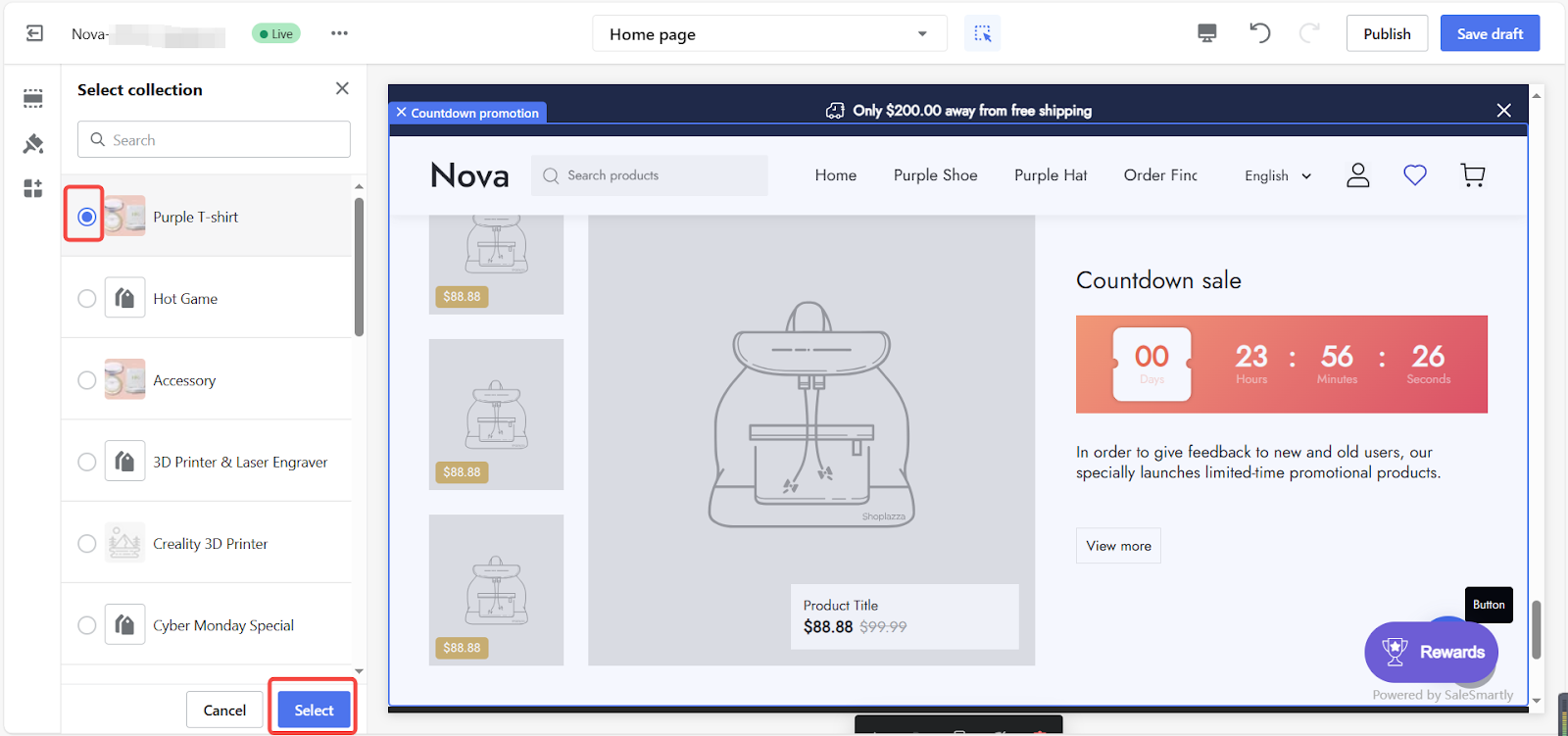 Adding an individual product
If you would like to customize individual products, please refer to the steps below:
1. Click Select product to assign products in each category.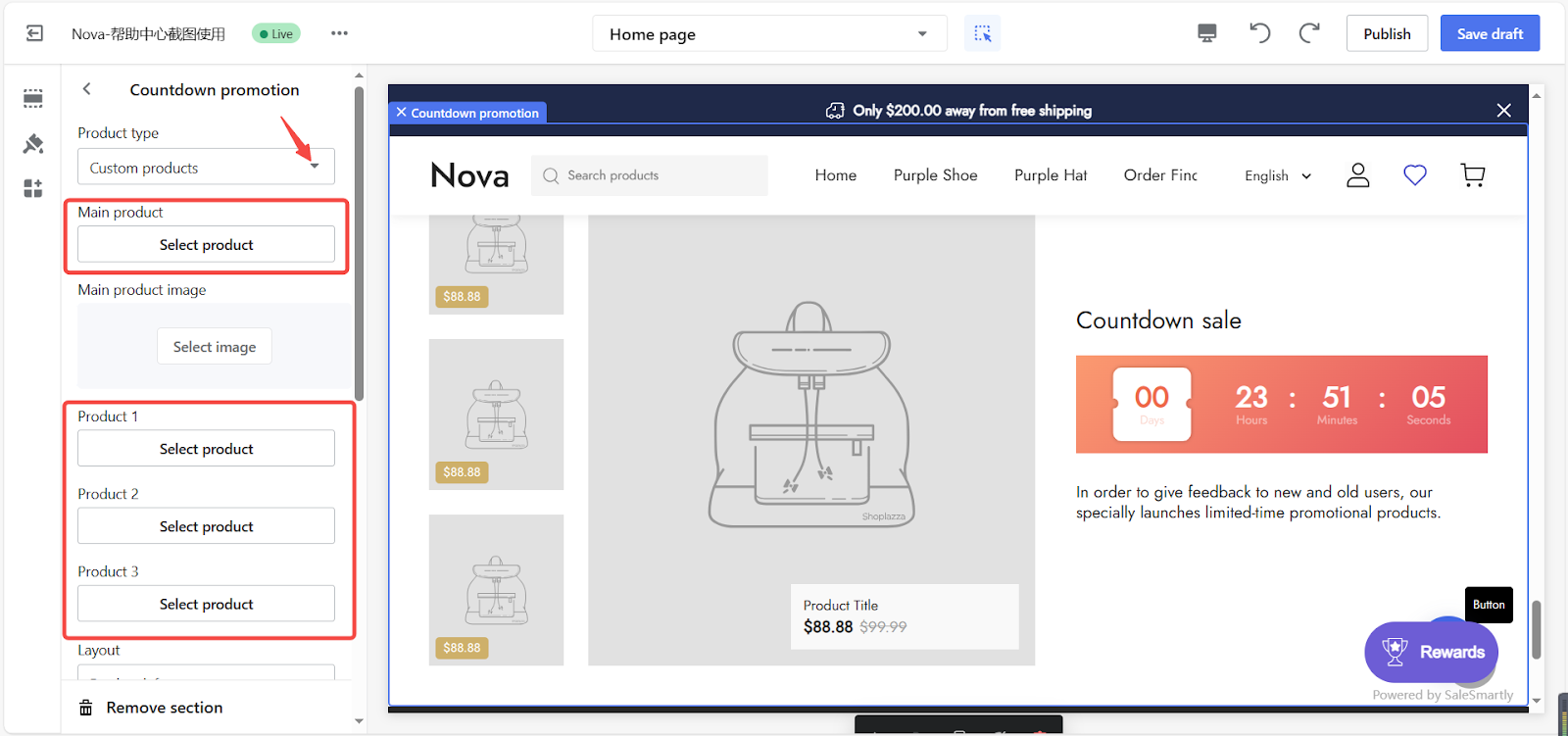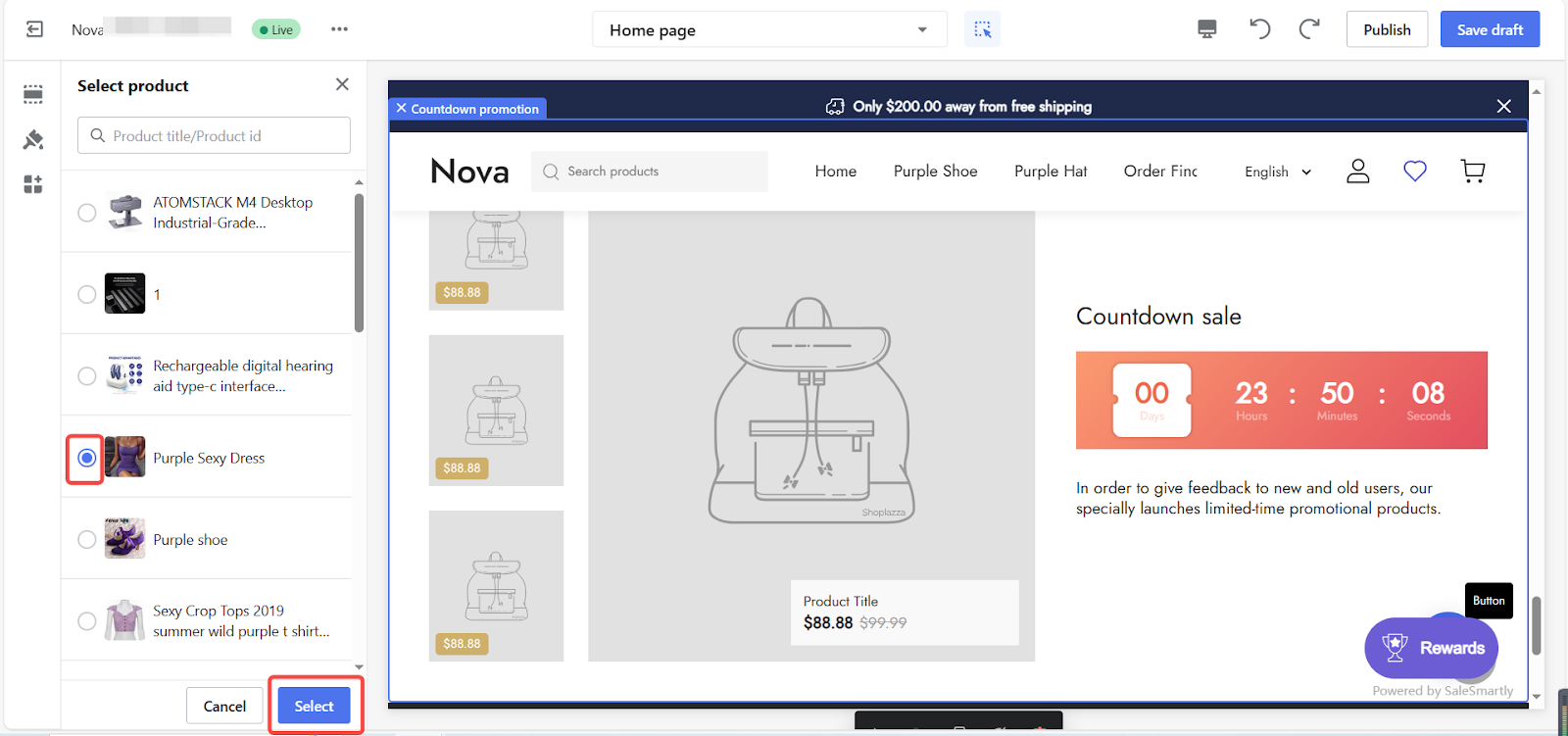 2. Optionally, select an alternative image from your library as the main product cover.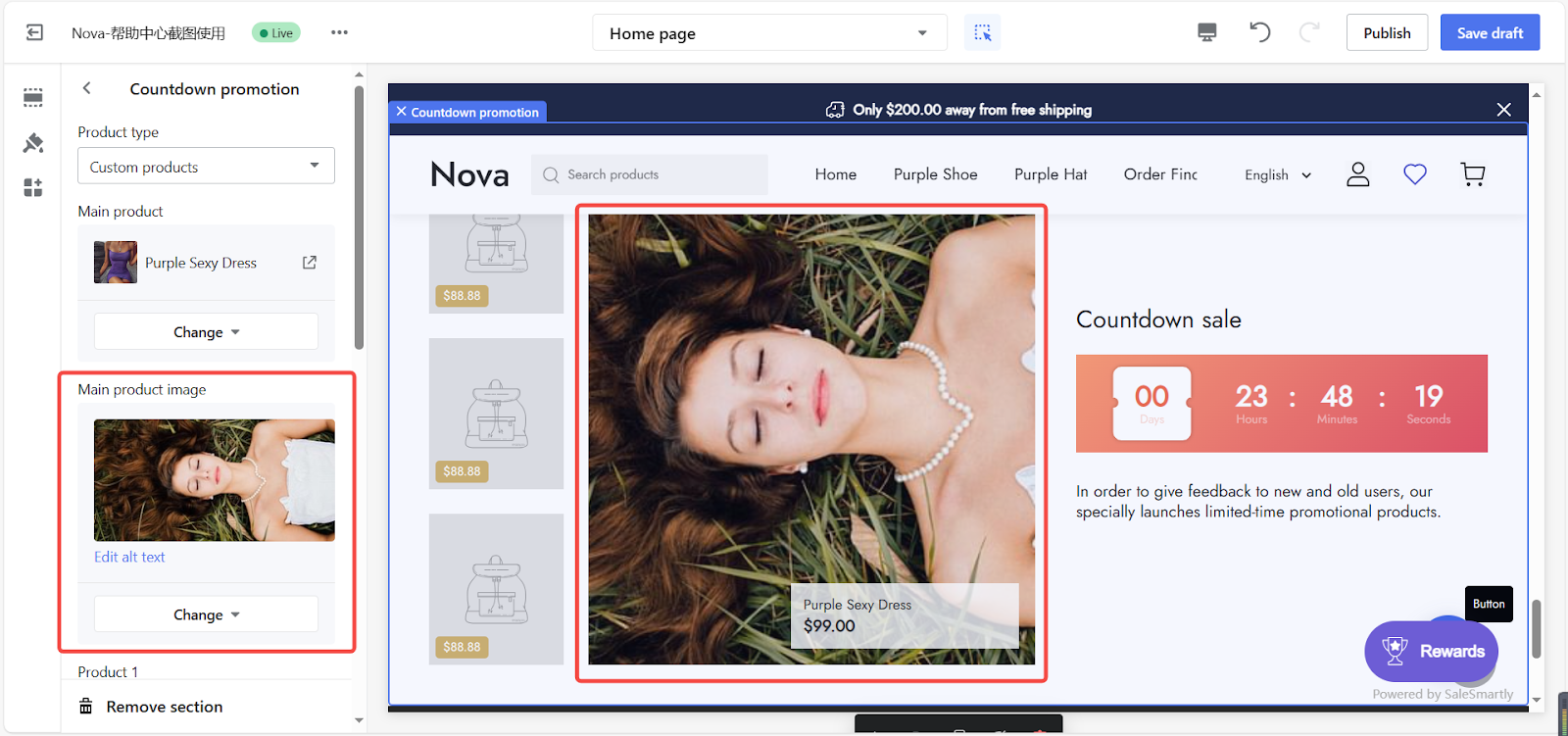 Customizing the style of the section
Layout
Adjust image positions to the left or right.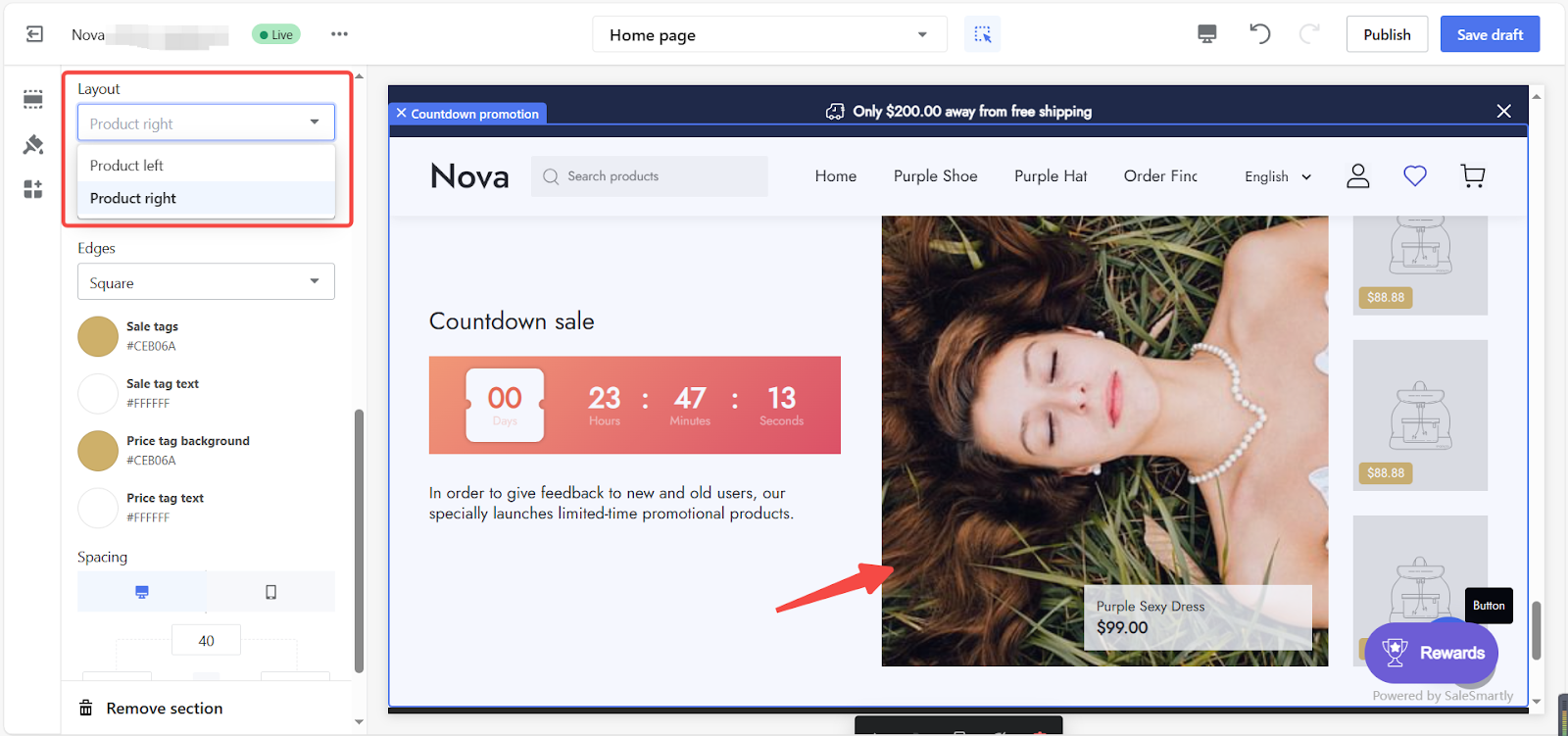 Savings display style
Choose between displaying savings in dollar amounts or percentages.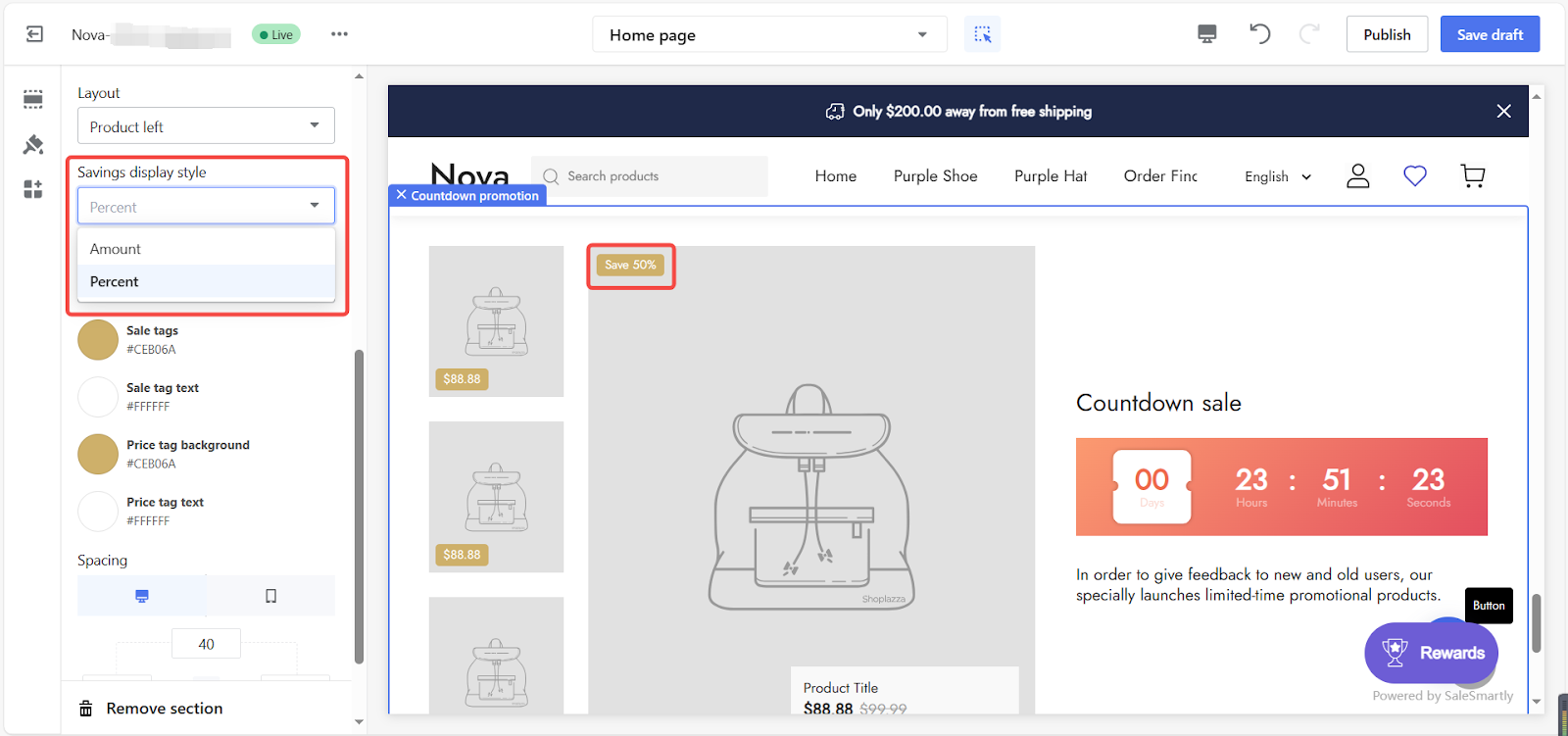 Edges
Customize the countdown timer's appearance.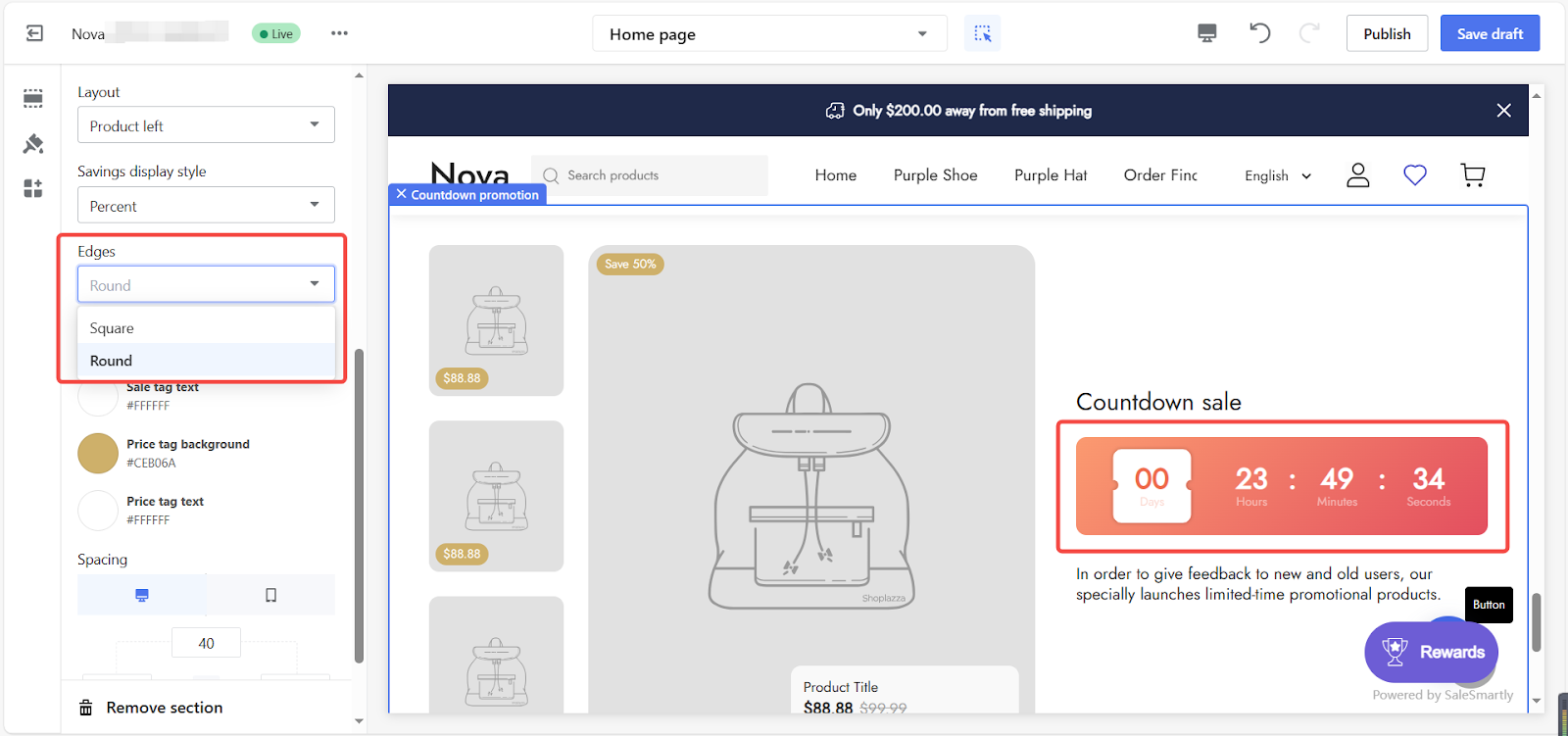 Colors
Utilize the color palette for interface customization.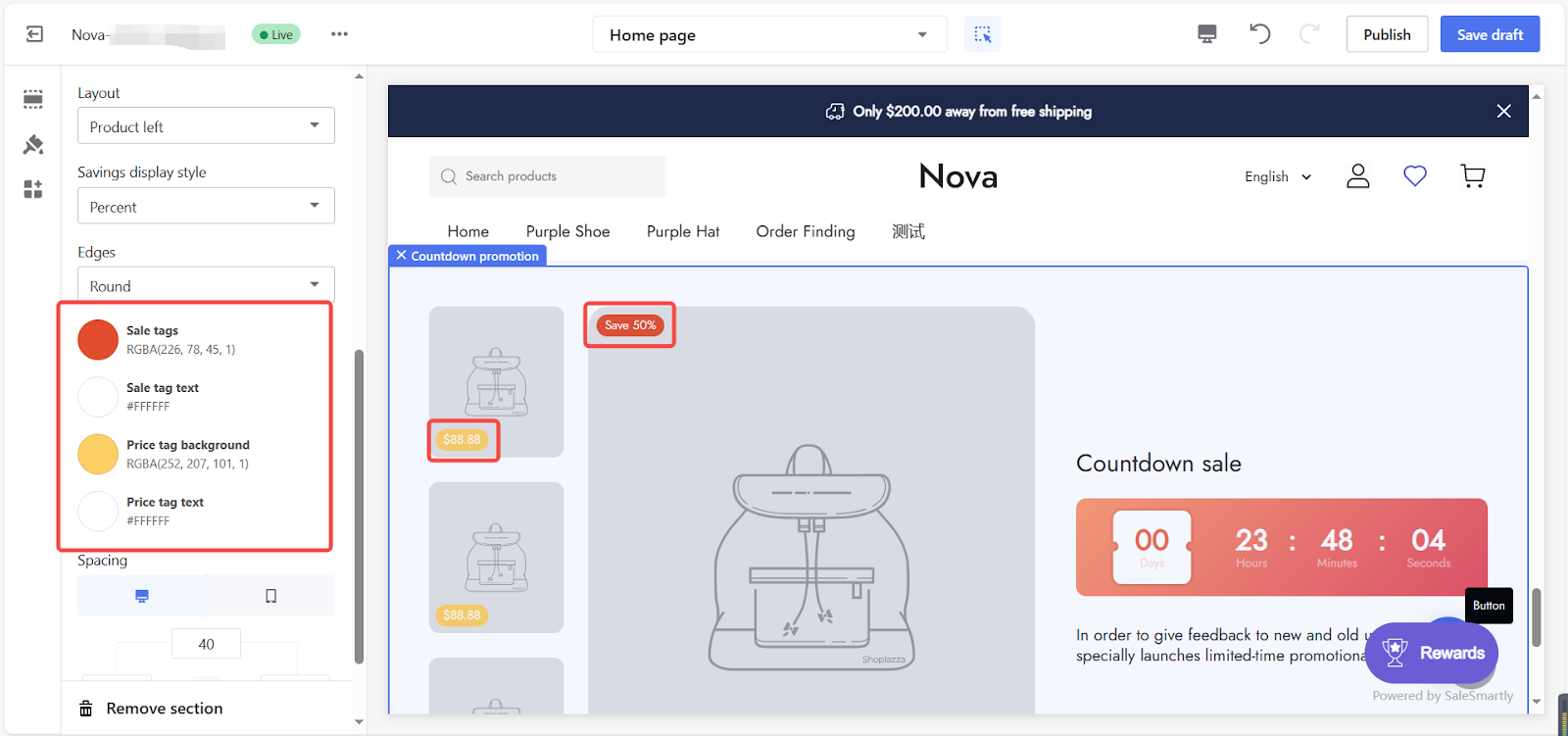 Spacing
1. Use the padding editor to add space around the section, either uniformly with the "linkage icon" or individually in each column.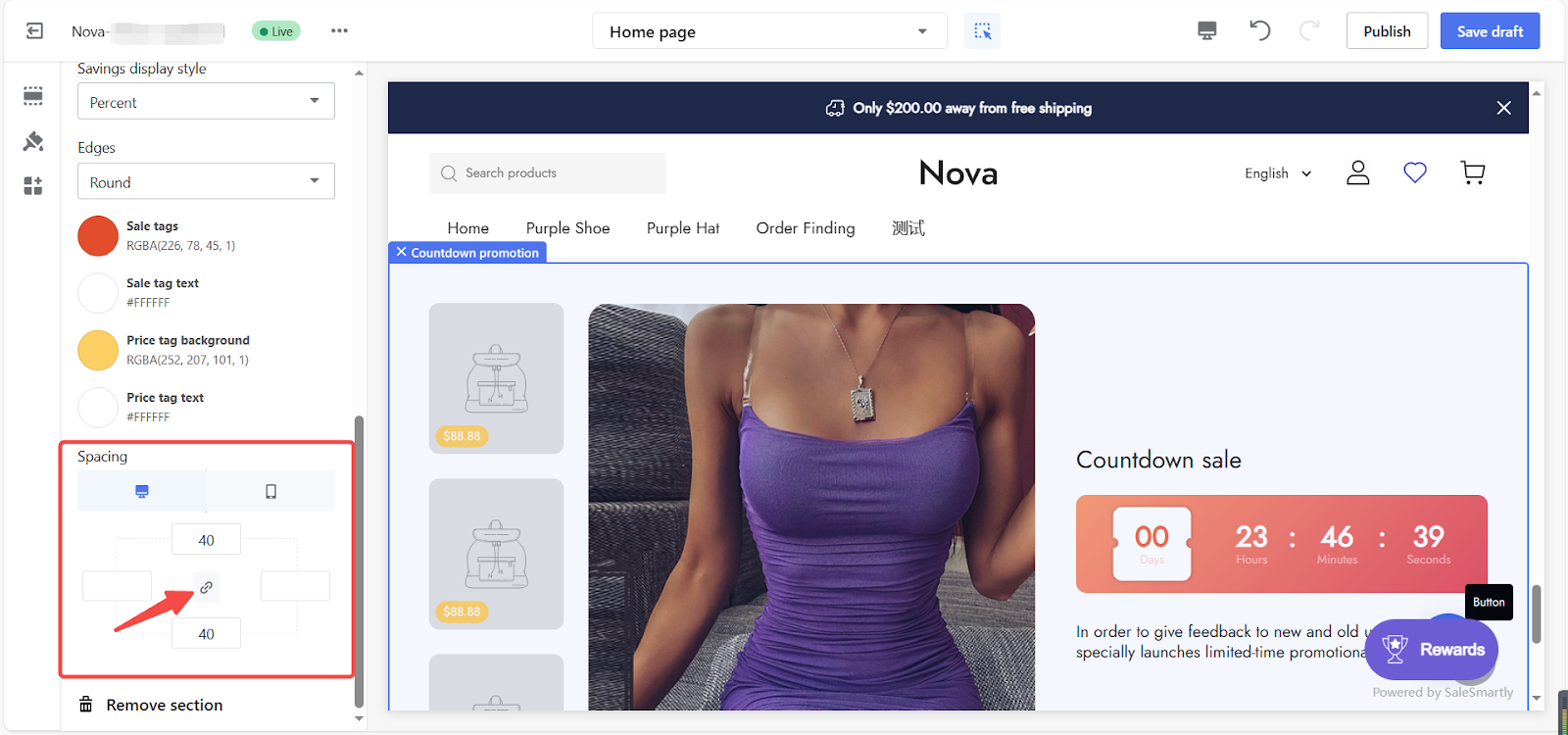 2. Example of extending negative space on each side.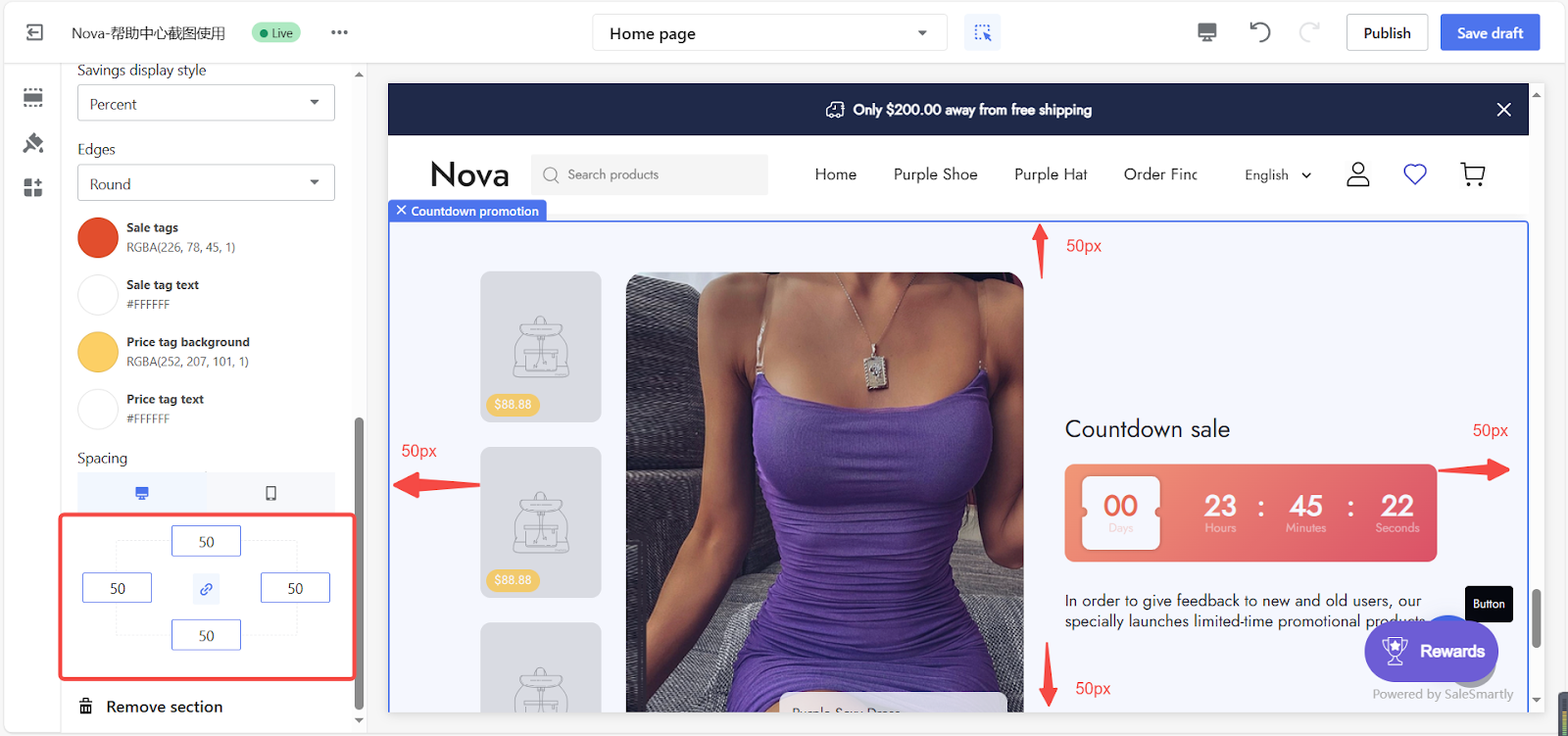 3. Preview your layout on desktop or mobile.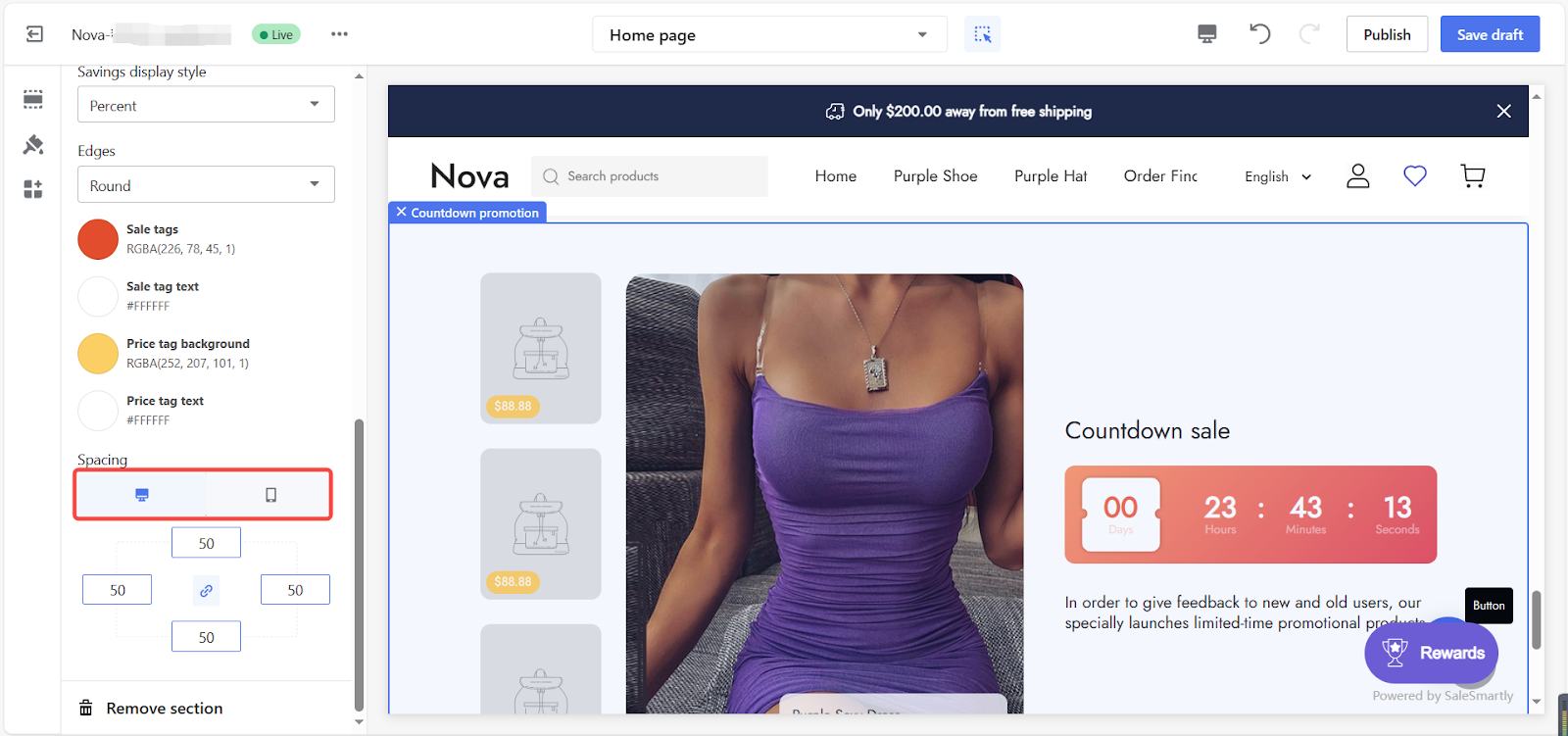 Modifying the countdown promotion properties
Refer back to the main editing page and click each block under the Countdown promotion section to customize your timer details.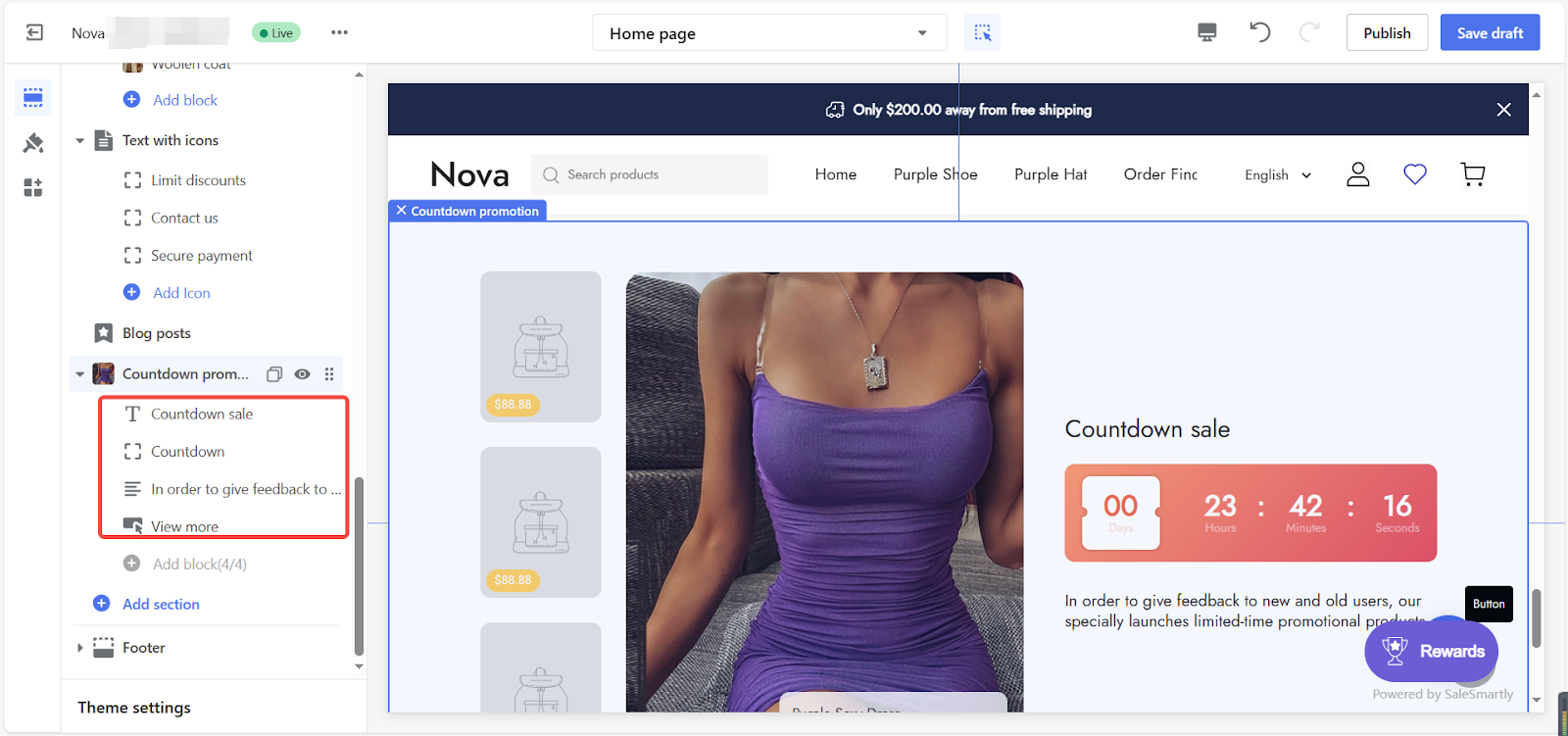 Countdown sale block
Here you are given more options:
Heading: rename the title for your countdown timer
Heading font: change the font style of the text.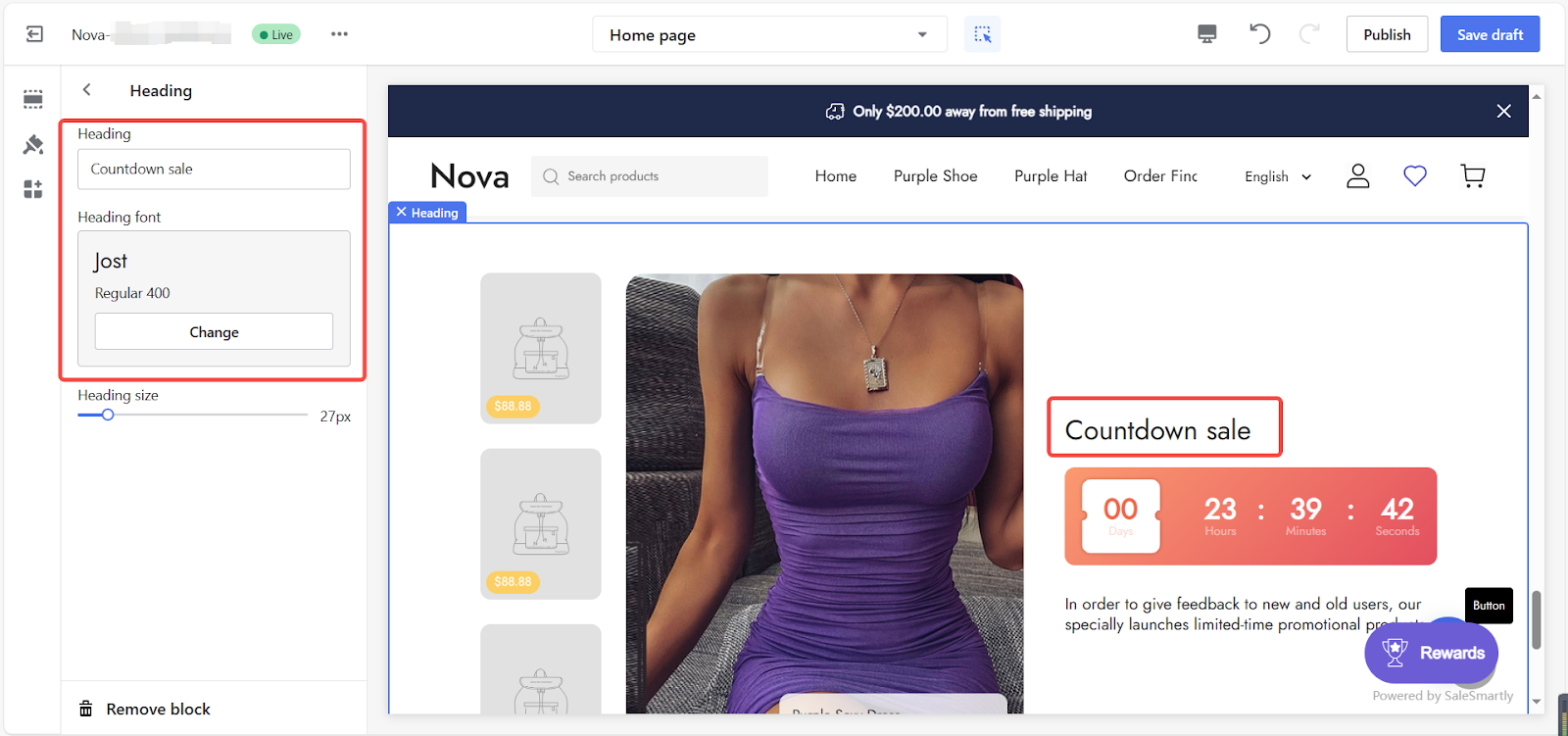 Heading size: drag the slider to enlarge or minimize the size of your heading text.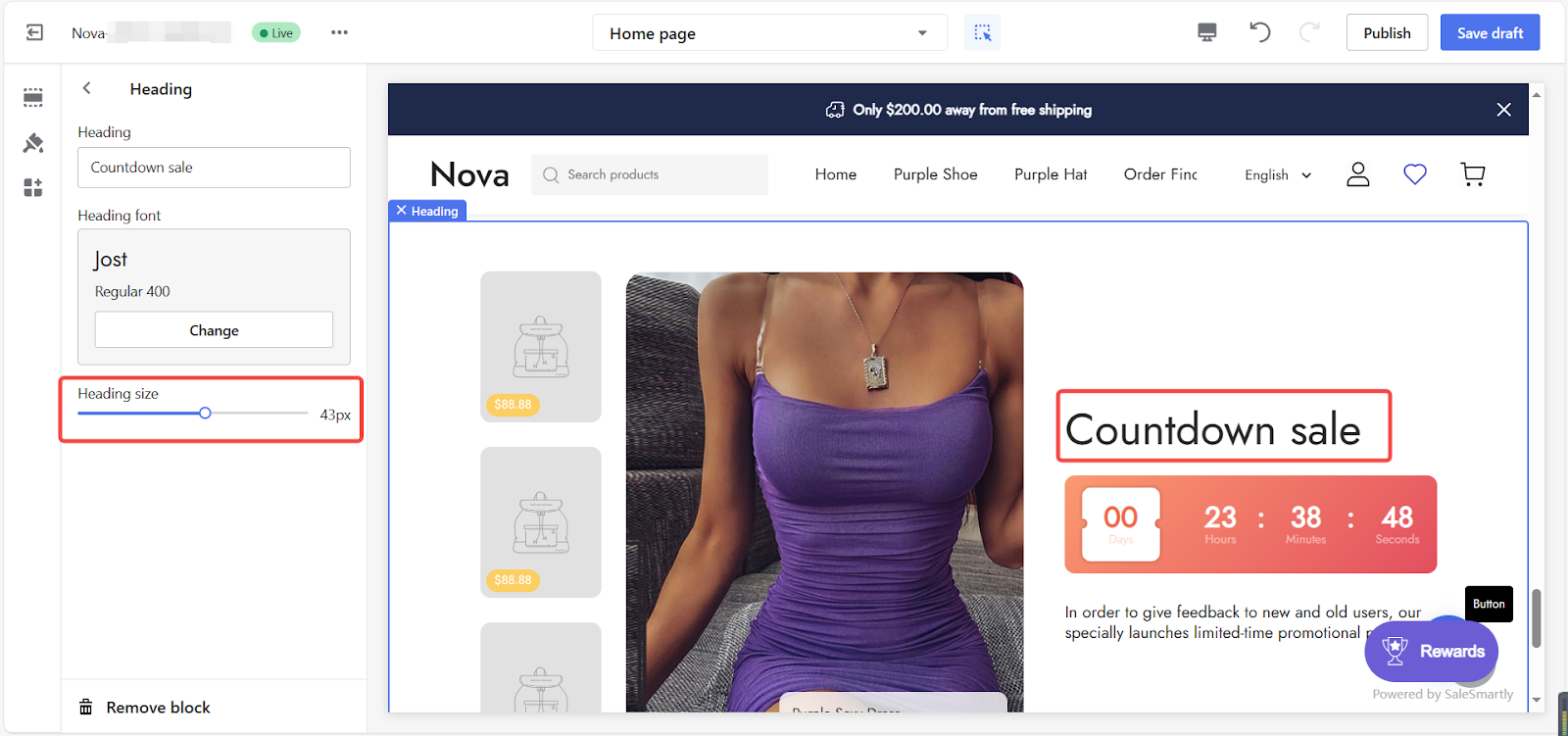 Countdown block
Move the slider to preset your countdown timer.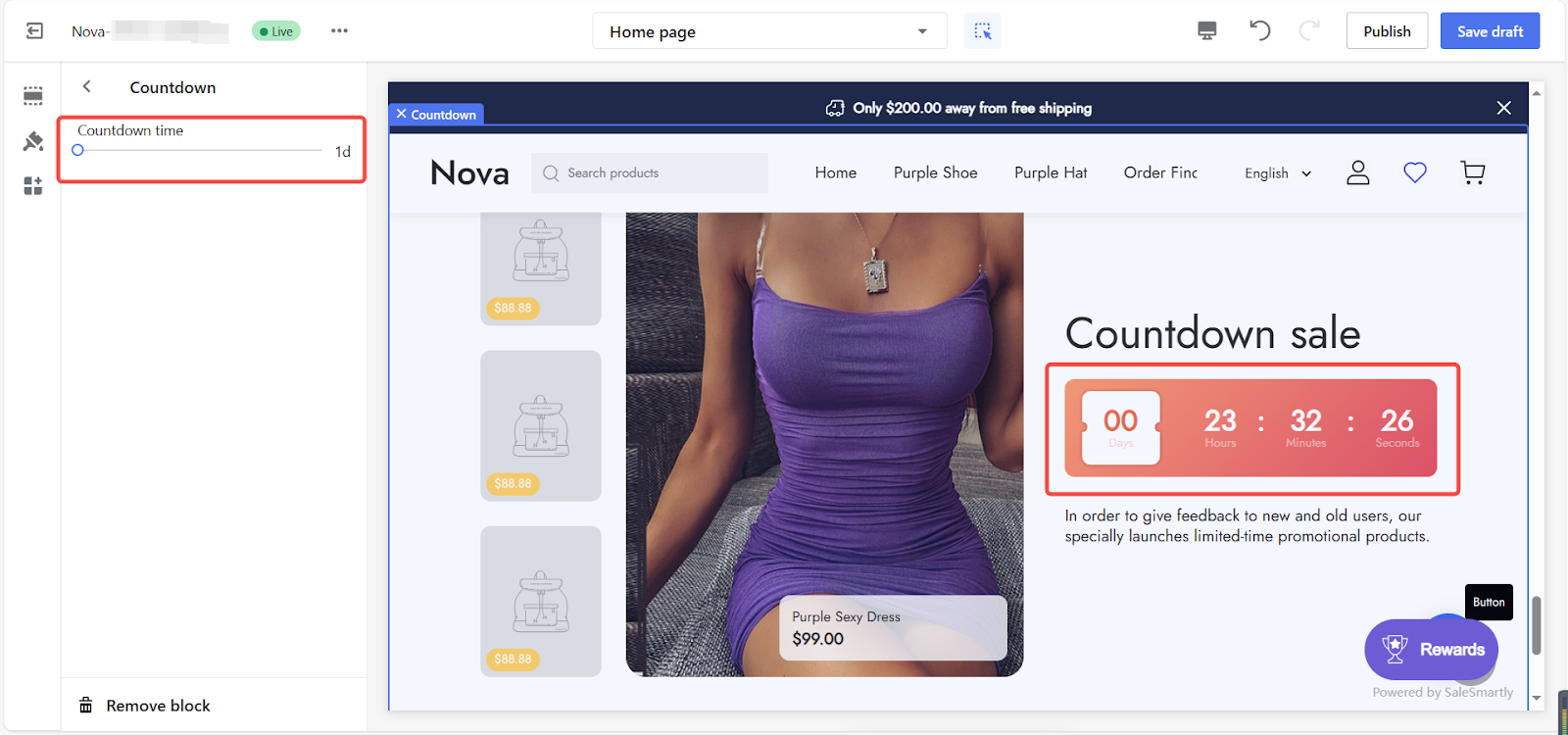 Text block
Modify the main text body displayed under your countdown timer.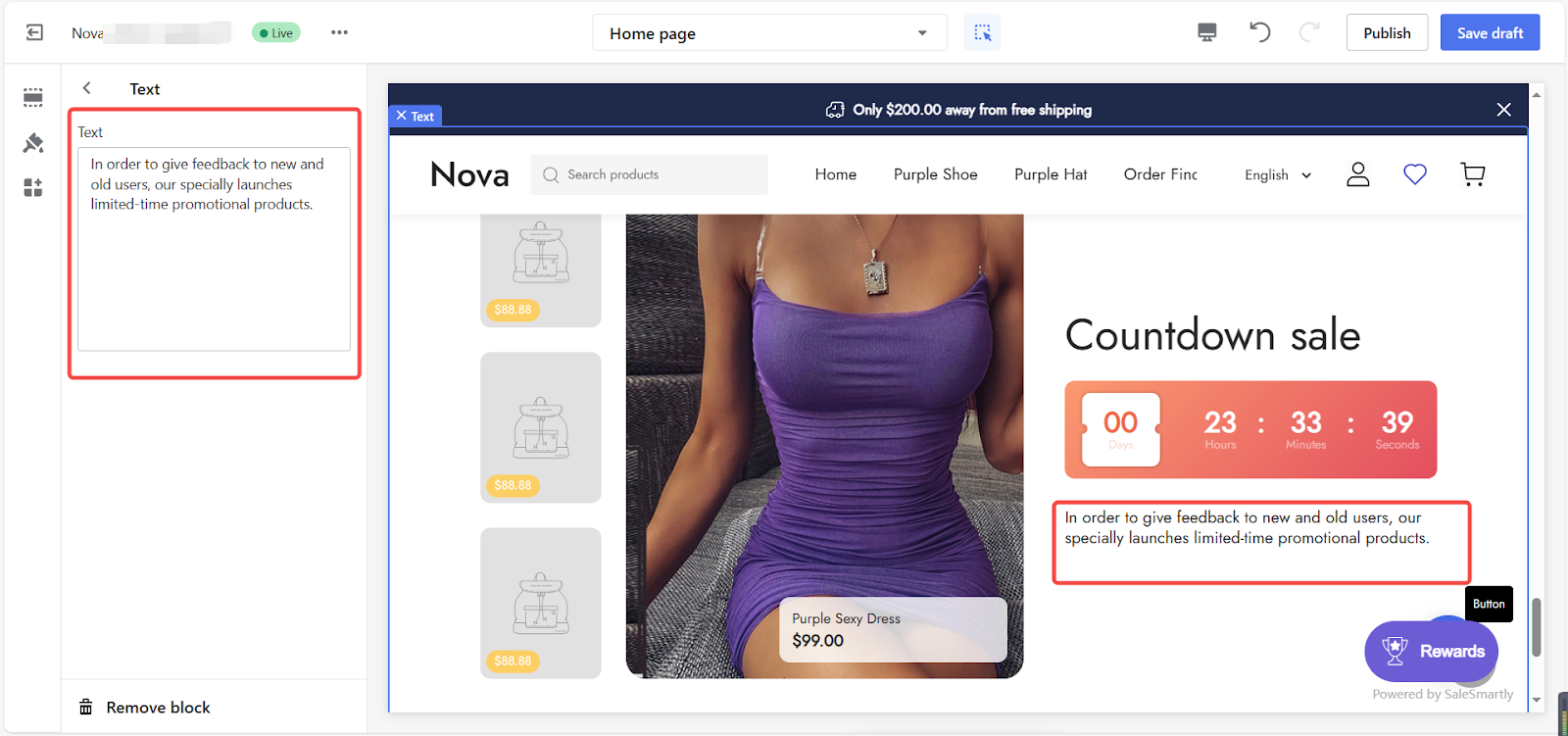 View more block
Click to add a clickable button to redirect traffic to other pages. Here, you are given the options to customize:
Button text: Create a name for this button
Button link: In the drop-down, choose other pages you would like to direct traffic to.
Button edges: Modify the shape of this clickable button, and use the color palettes to customize the appearance.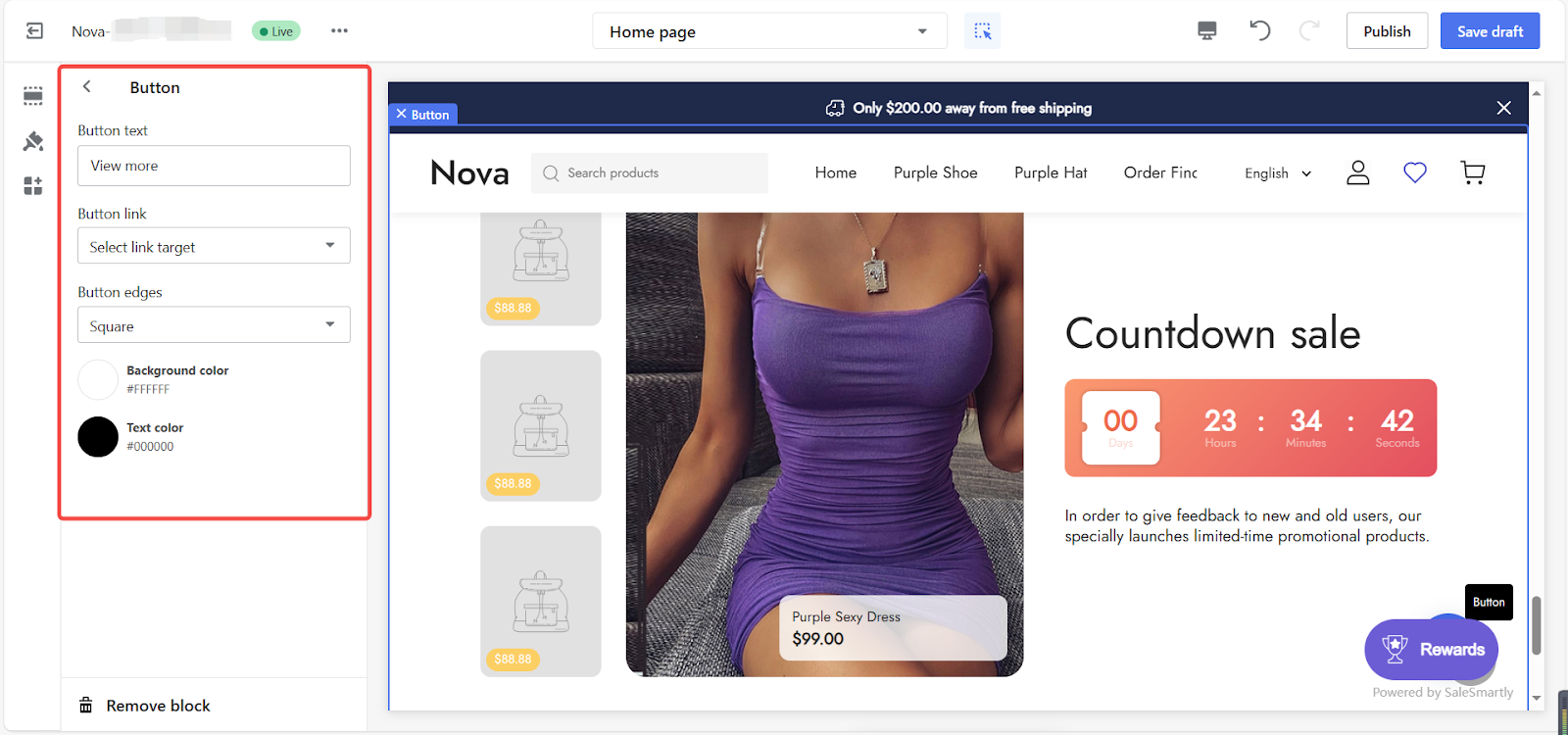 Note
You need to first select a destination in the drop-down menu from Button link to preview the button on the right.
Now that you know how to use countdown features to highlight your products, you can use this feature to create a sense of urgency, so as to spur customers to make purchases more quickly and close more deals.