Shoplazza offers a variety of different subscription plans to suit your business. Sign up with Shoplazza today to get a 7-day free trial. The trial offer provides full access to all of our features. You can always subscribe to our services at any point when you feel confident enough to start your business with us.
Payment methods
1. Head over to your Shoplazza Admin > Settings > Plan and Payment > Manage Payment Methods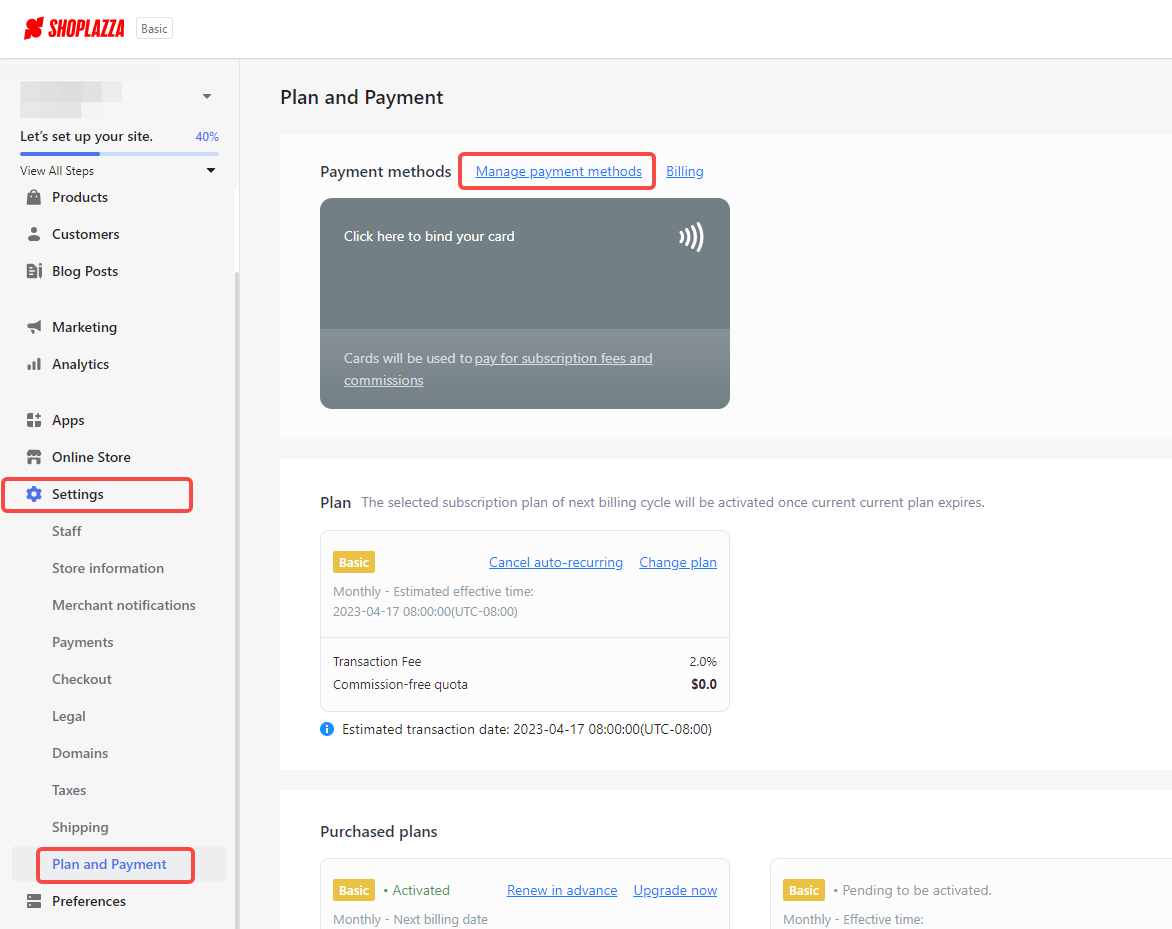 2. Click on Add Payment Method on the top right.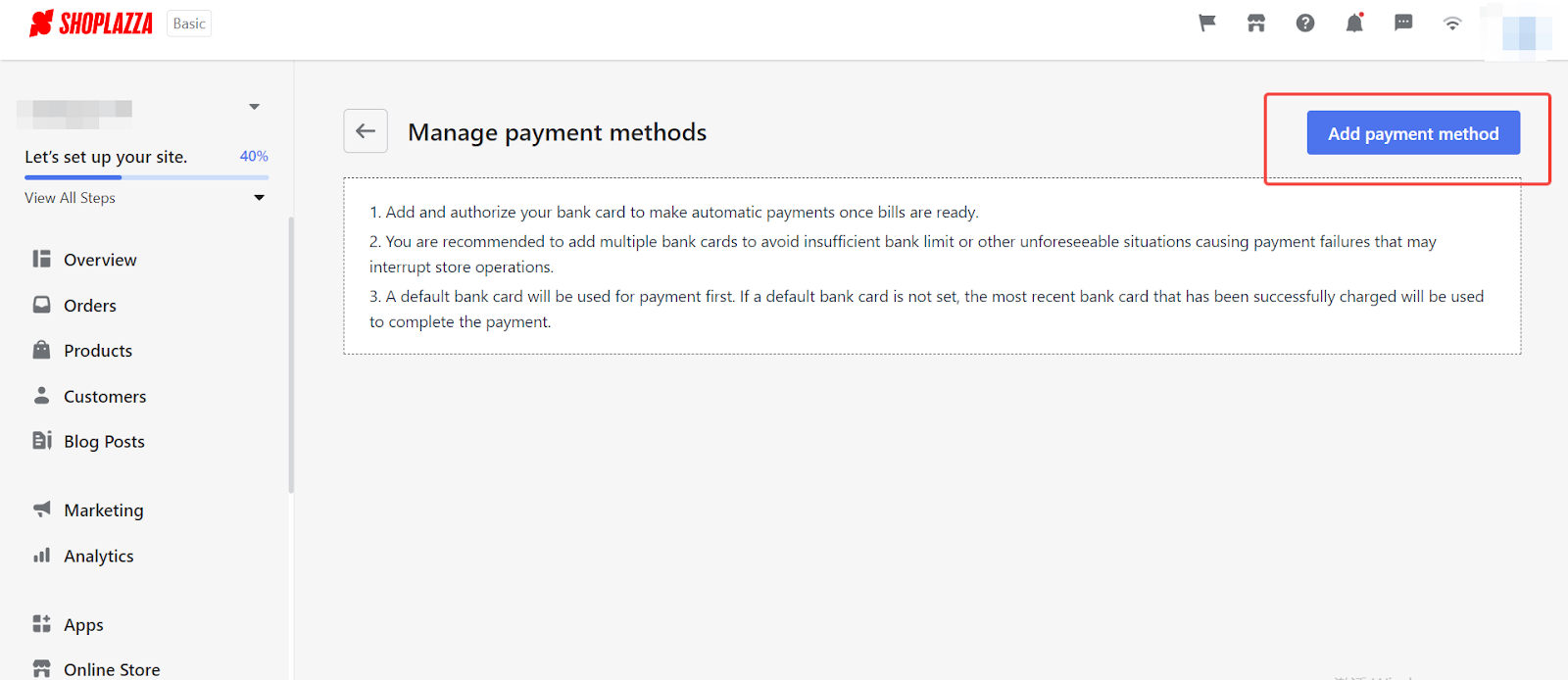 3. In the pop-up window, choose a payment method for a one-time subscription or auto-recurring payments. You have the option of choosing Visa / Mastercard, a UnionPay card or using your established Alipay account.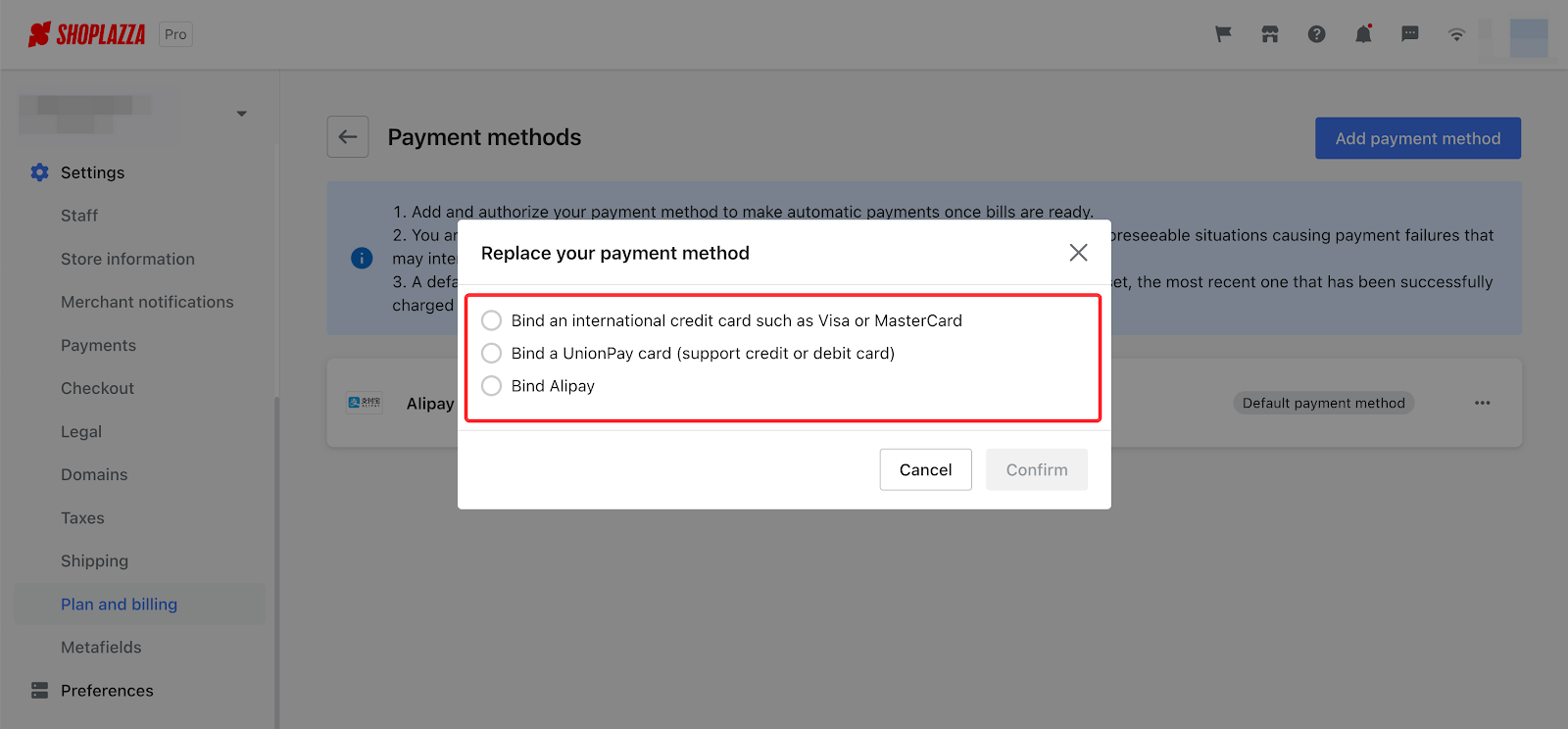 Note
Alipay is only available for mainland China merchants. Please refer to our help doc here to connect your existing Alipay accounts.
Please confirm your credit/debit card used for subscriptions satisfies the following conditions with your issuing bank:
Your credit/debit card accepts recurring payments.
Your credit/debit card accepts US currency.
Your credit/debit card accepts transactions through international websites.
If you are using an Unionpay card as a method of payment, it must satisfy the following conditions:
Your Unionpay card must be eligible to accept foreign currencies.
Your Unionpay card accepts recurring payments.
You may advise your issuing bank if you are uncertain of these features. If you are having difficulties linking a Unionpay card to Shoplazza, please contact our helpdesk with detailed screenshots of errors that occurred.
4. Fill in your credit/debit card credentials or checkout via UnionPay.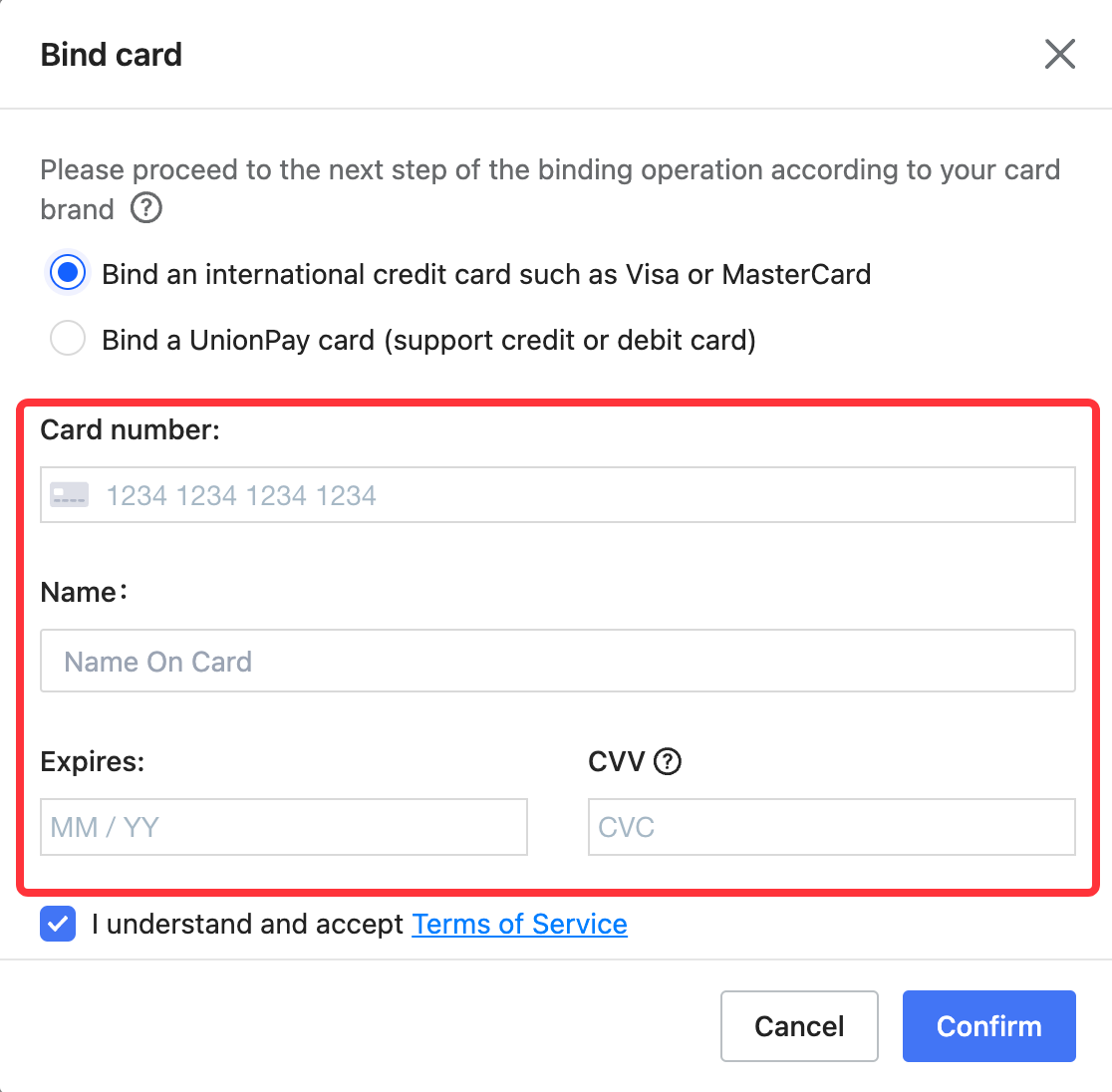 Note
The billing page is where you find and keep track of historical commissions incurred and subscription invoices. Please see Billing information to learn more.
5. Review and check the box to agree with our Term of Service before you press Confirm.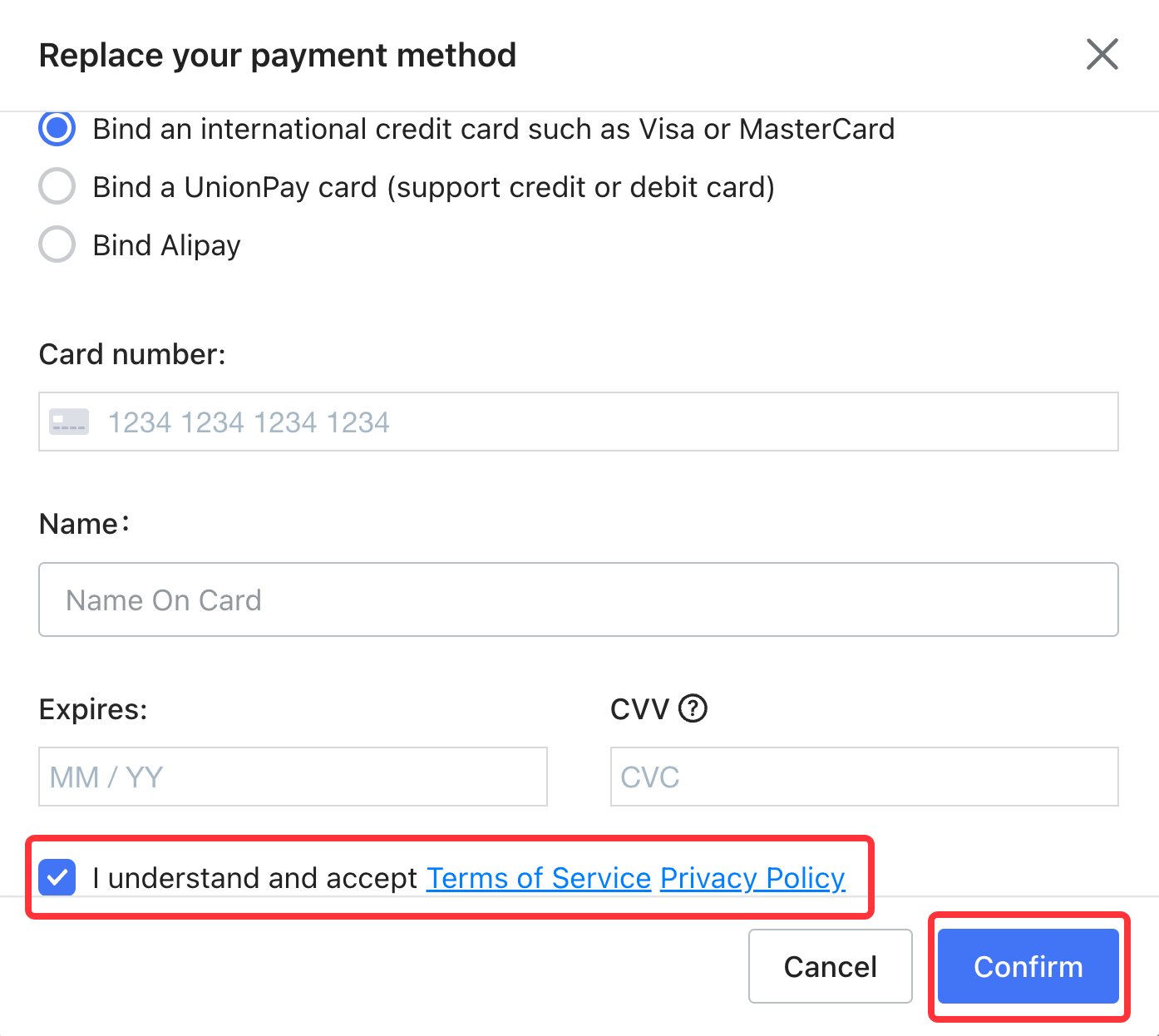 Note
Shoplazza accepts payment via Mastercard/Visa/Unionpay. Unionpay, also known as China UnionPay, is a well-known payment processor and banking services provider based in China. Some UnionPay credit cards are also affiliated with American Express/Mastercard/Visa to be used internationally.
Shoplazza supports both Unionpay credit/debit cards.
You can link up to 10 credit/debit cards as your methods of payment.
Each store is allowed with one Alipay account. The established Alipay account will be replaced if you set up a new connection.
To pre-authorize payments from Alipay, please follow the connecting process and refer to your Alipay mobile app.
Managing your plans
1. You can find your current plan subscription under the Plan section. Subscriptions on Shoplazza are automatically renewed at the beginning of each billing cycle according to your subscription terms (for example, monthly, or annually) If you decide to unsubscribe to your plan, your storefront will be closed and customers will no longer have access to your store
Note
Once unsubscribed, your plan is valid until the end of your original billing period date.
2. Two options are presented here. You can either cancel your auto-recurring plan or you can upgrade your plan by choosing Change plan.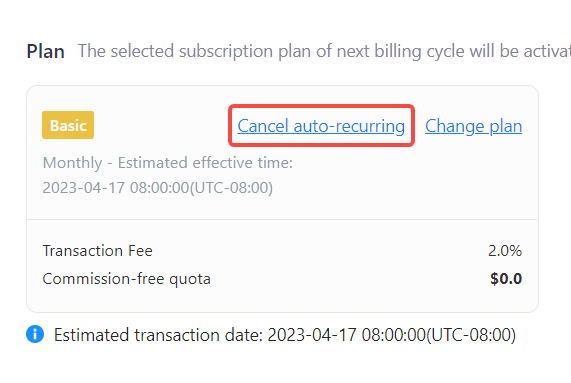 Purchased plans
This section provides you a history of your past plan subscriptions. Two options are available to you here. You can renew your plan in advance to re-subscribe to an active pricing plan before payment is due or you can upgrade your plan to switch to other available pricing plans.