You can add a product or edit product attributes such as Shipping, Tax, and availability of products from the product page in your Shoplazza admin.
Steps
1.Start here: Shoplazza admin > Products > Allproducts > Create product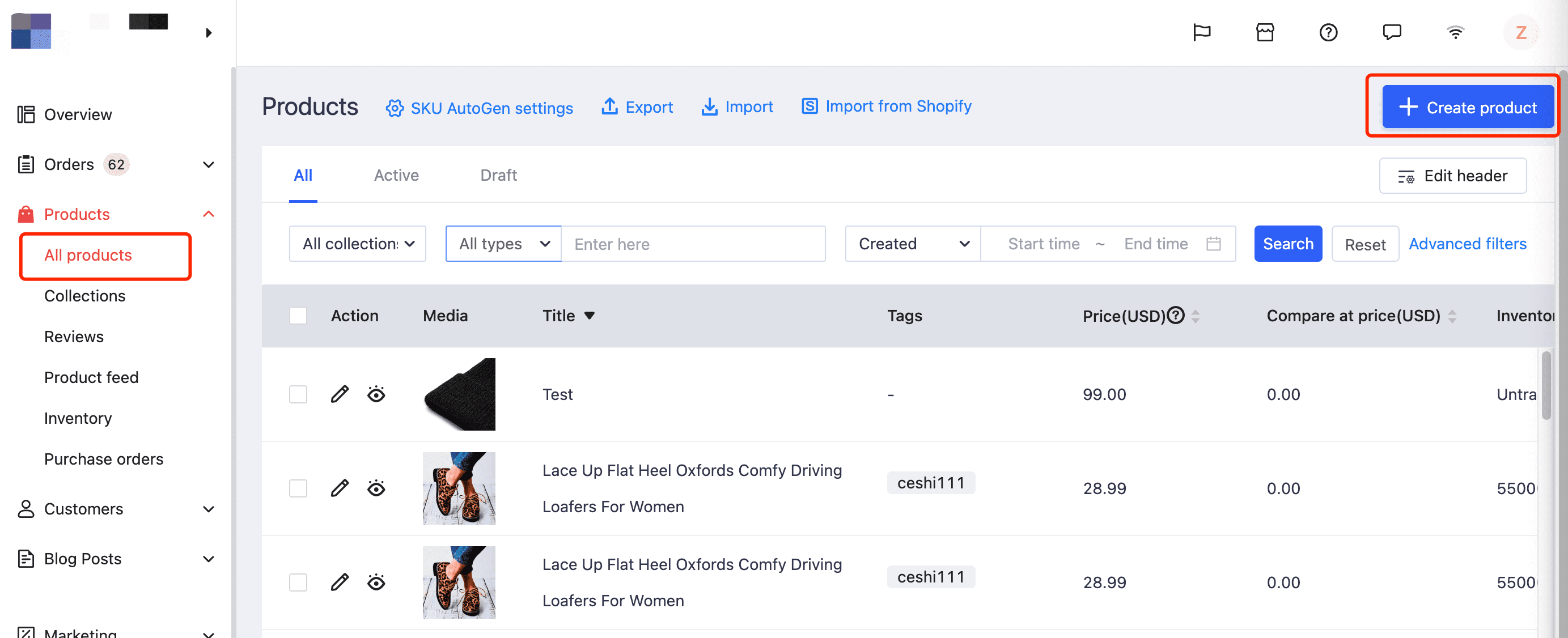 2. Fill in the basic information about your product, including title, subtitle, and product description.
3. Fill in product attributes, including Product Status, Shipping, Tax, Virtual sales, SPU, Collections, Tag, Vendor, and SEO.
Product attributes include:
Published

: When turned on, it changes product status to active.

Requires Shipping

: if you're charging a shipping fee, fill in product weight to calculate shipping fee.

Charge tax on this product

: Apply if the product is taxable.

SPU

: Standard Product Unit i.e. products with same attributes and features.

Virtual sales

: By enabling virtual sales, sales data displayed includes actual sales and virtual sales.

Collections

: Select a collection by clicking

Select collections

- you can then search, select or create a collection.

Tag

: Enter tag and confirm.Use a comma to separate different tags. Click

Save

to make it easier for future reference.

Vendor

: Enter vendor name/URL. You can manually enter the info and click

Save

for future reference.

SEO

(click to view SEO details): click

Edit website SEO

and fill in the homepage title, SEO description, SEO links, and SEO keywords. You can click "

View

" to preview info displayed after you save your modifications.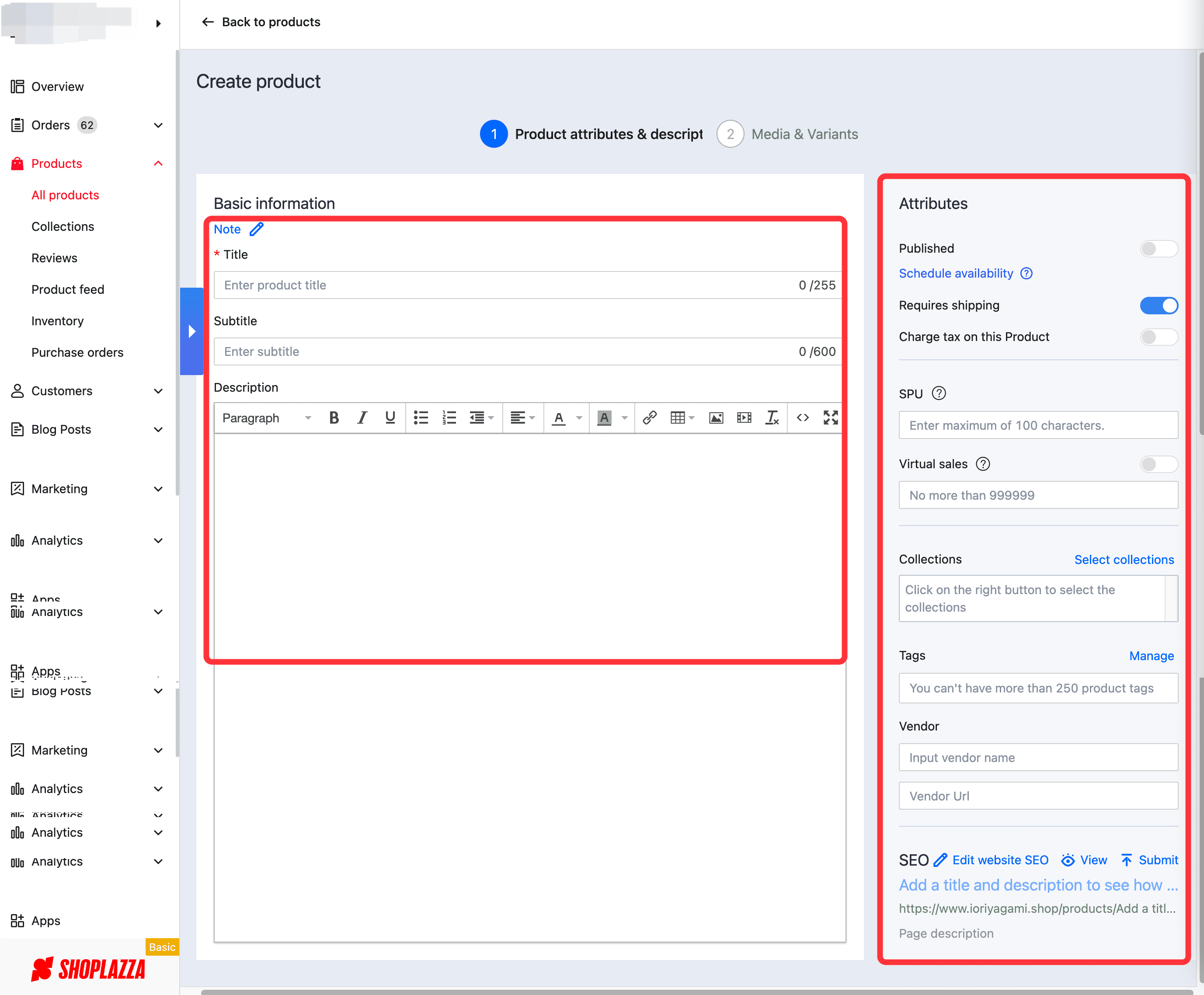 4. Click Next to set up media and variants.
The first image added will be the product cover image.

Click the

Eye icon

to view image.

Click

ALT

to add a short SEO description to image and improve shopping experience for visually impaired customers.

Click the

Trash icon

to delete image.

Drag images to change their display order.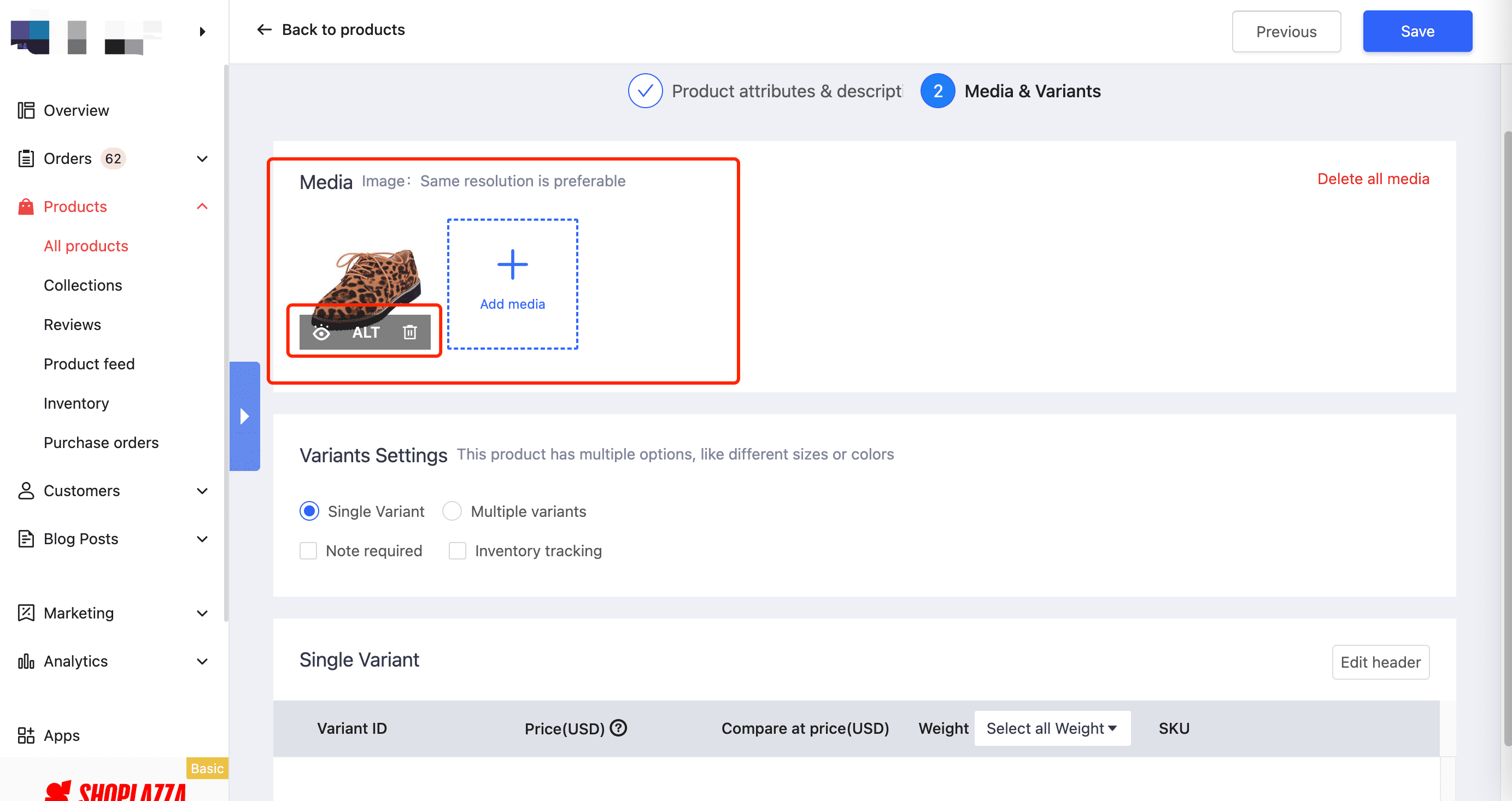 5. Setting up variants.
Single Variant: Select a single variant; you can also empty all variants.

Multiple variants: Add multiple variants and decide whether an image is required.

Inventory tracking: The number of products in stock will automatically change when customers buy and return products. You can set it as

Continue selling when out of stock

.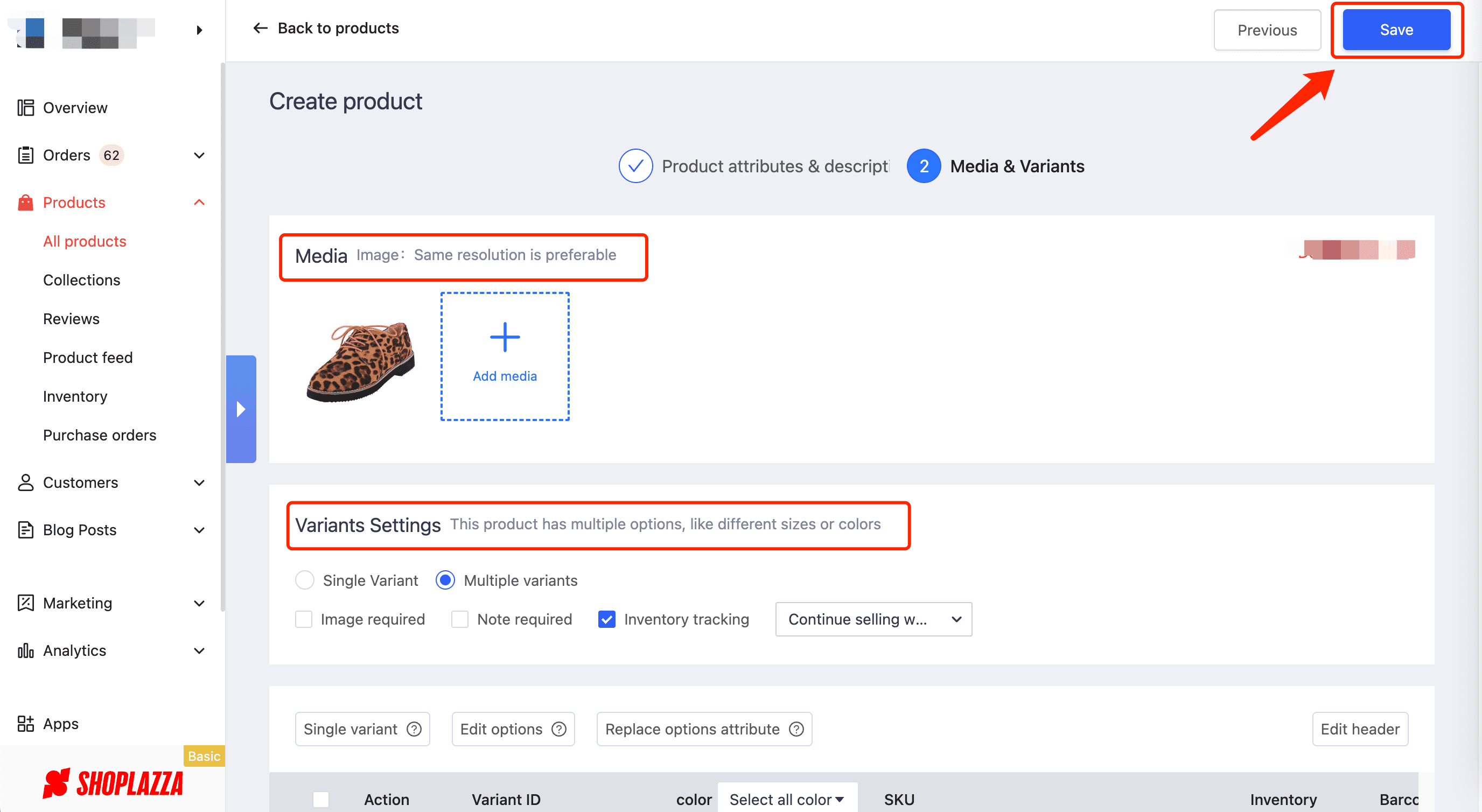 Moving on to the next edit section.
*Content marked with a red highlight is required.
Fill in Size, Color, Price, Comparison price, and Weight for the product (be accurate).

Inventory

: After setting up inventory tracking, inventory data will automatically change when customers buy and return goods.

SKU

: Fill SKU according to product attributes.

Barcode

: Fill according to actual product barcode.

Optional invariant details are available for bulk actions.

You can set different prices for different variants.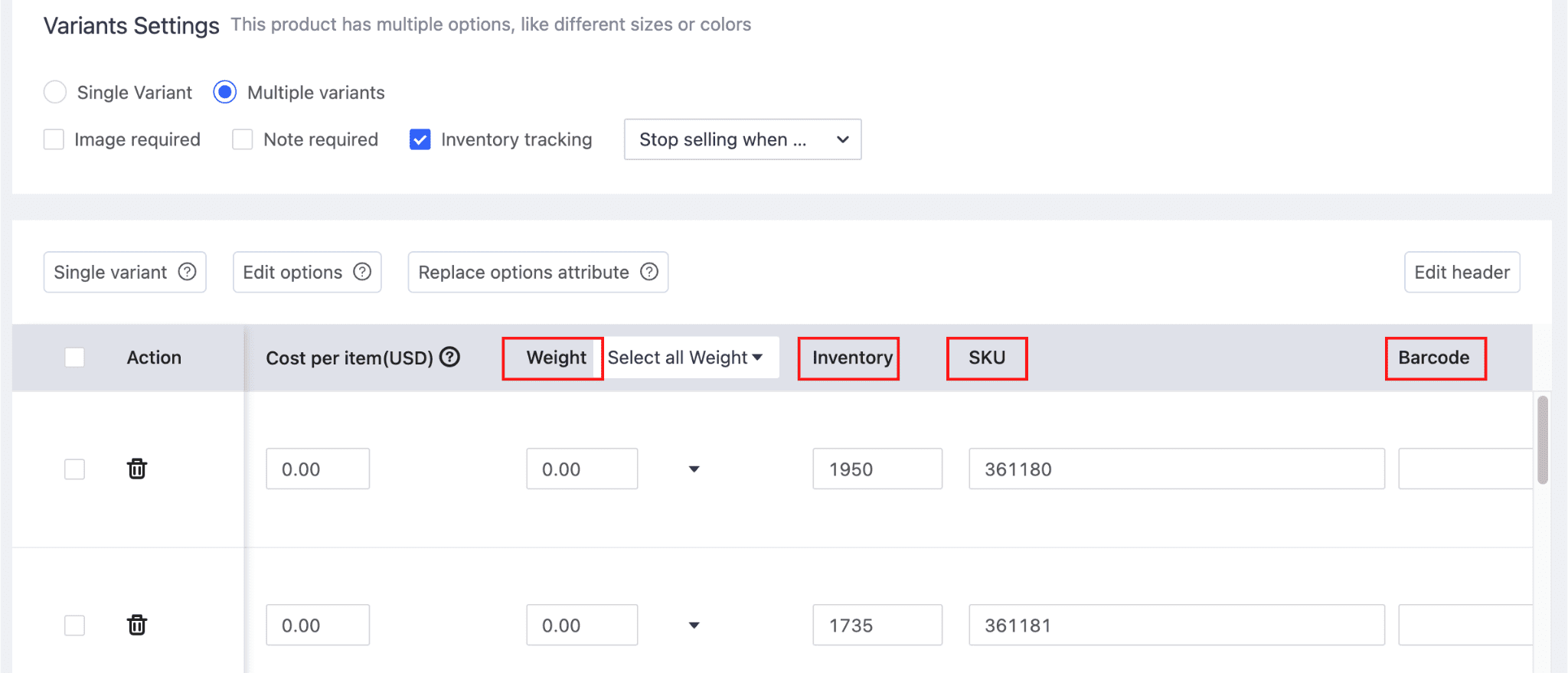 6. After you finish editing click Save to implement changes.
Related Topics