A pop-up is a small window that appears when customers are browsing your store website. Generally, pop-ups are used for advertising and generating sales leads for your product. You can easily create different types of pop-ups in your Shoplazza store by following these easy steps.
Steps
1. From your Shoplazza Admin > Marketing > Pop up > click Create Campaign.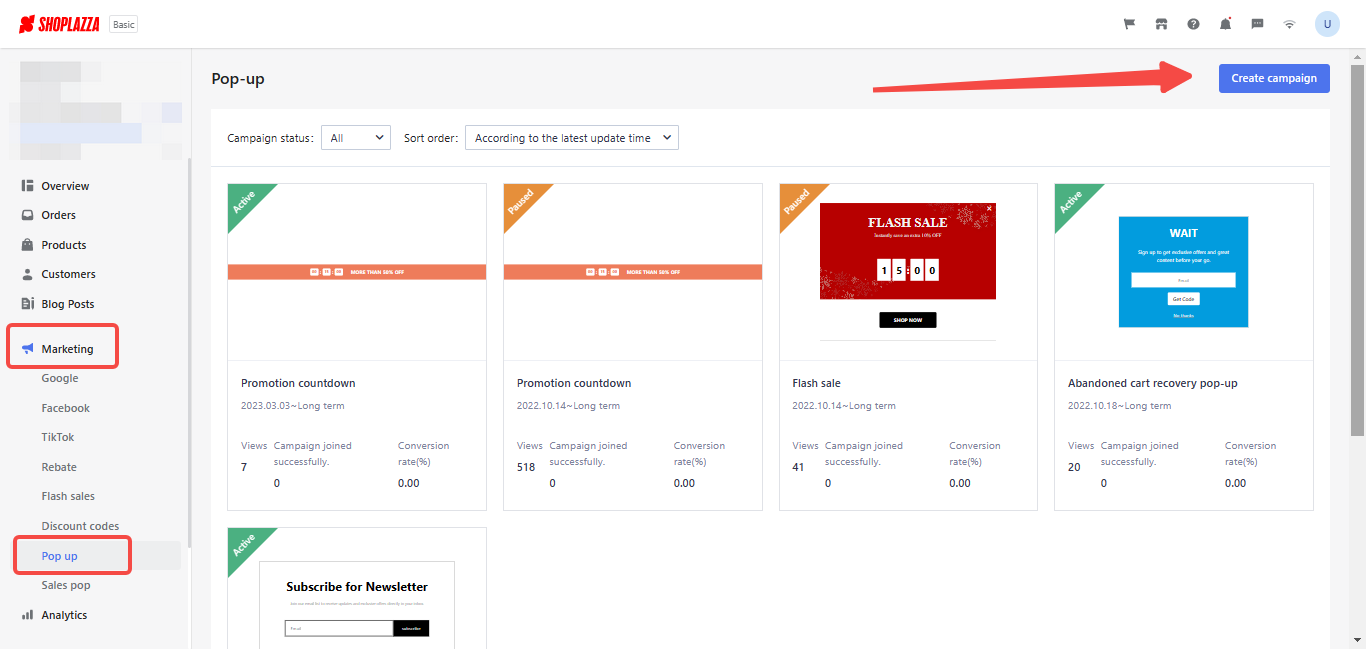 2. You can Preview or Select a template on the Pop-ups tab. The main types of templates are the following.
Rebates  
Subscription
Customer retention
Abandoned cart retention
Flash sales
Holiday discounts and Marketing campaigns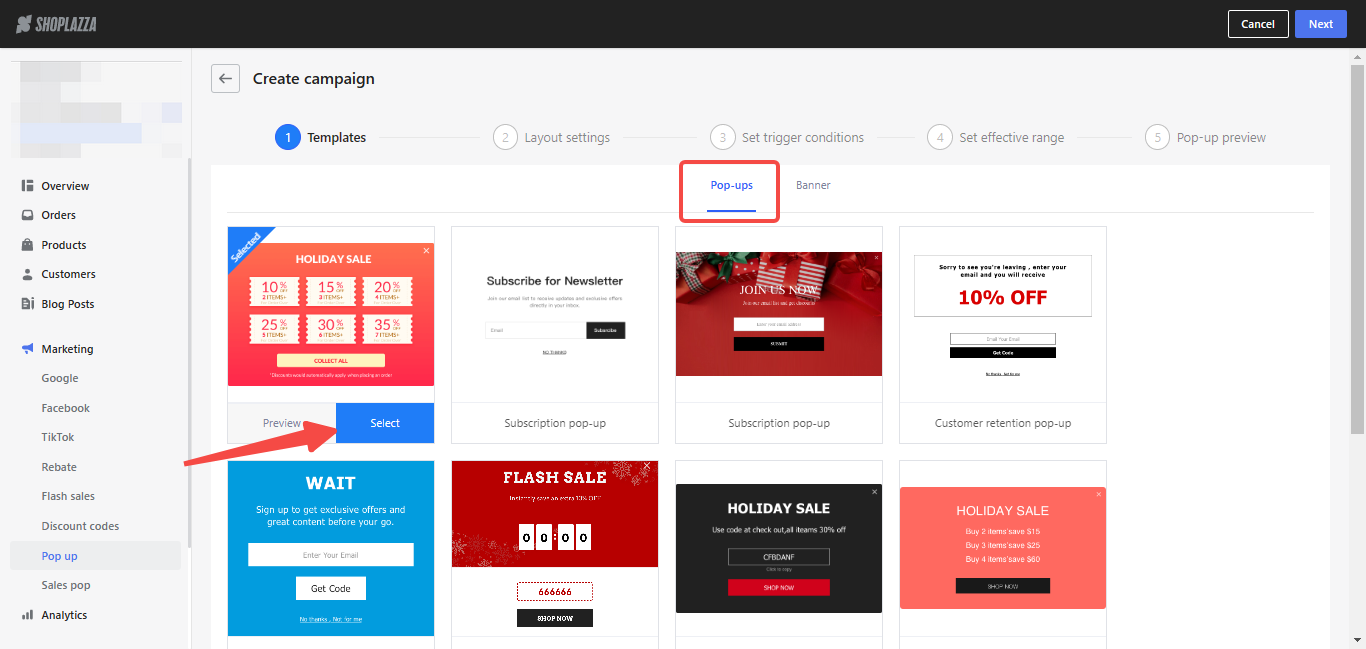 3. When setting up Layout, click to choose a campaign. If the template is Rebates, then you will choose a rebate promotion.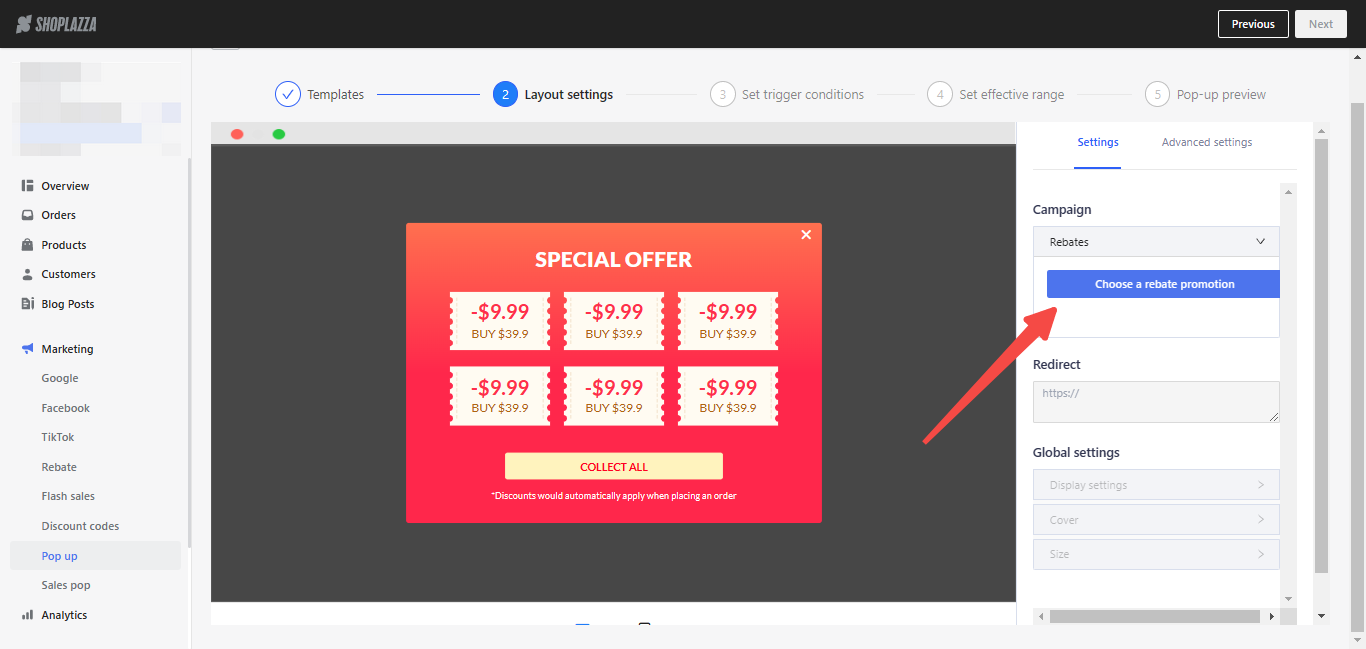 4. You can add a Redirect link and edit the Global settings section to set up display settings, cover, and size.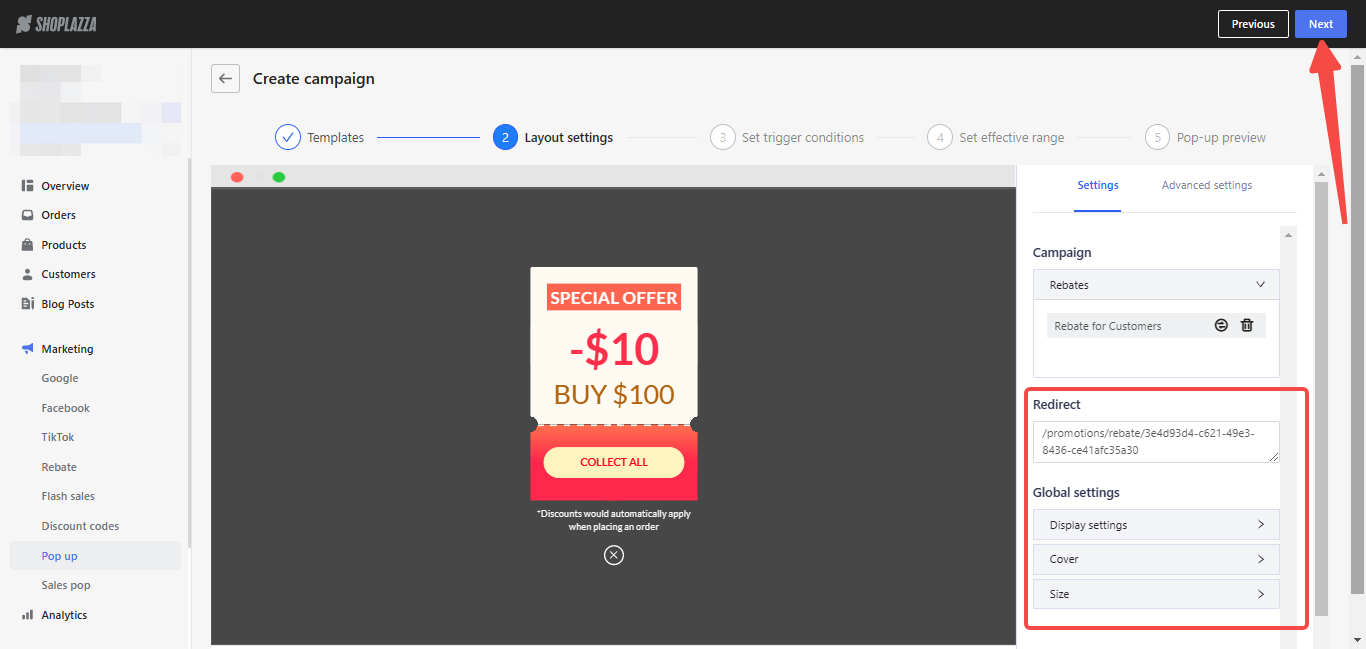 5. Under the Advanced settings tab, you can add or edit Text, Subtitle, Description, Button, and Discount coupon colors. You can also change the Base picture and its color.
Click Next to set trigger conditions.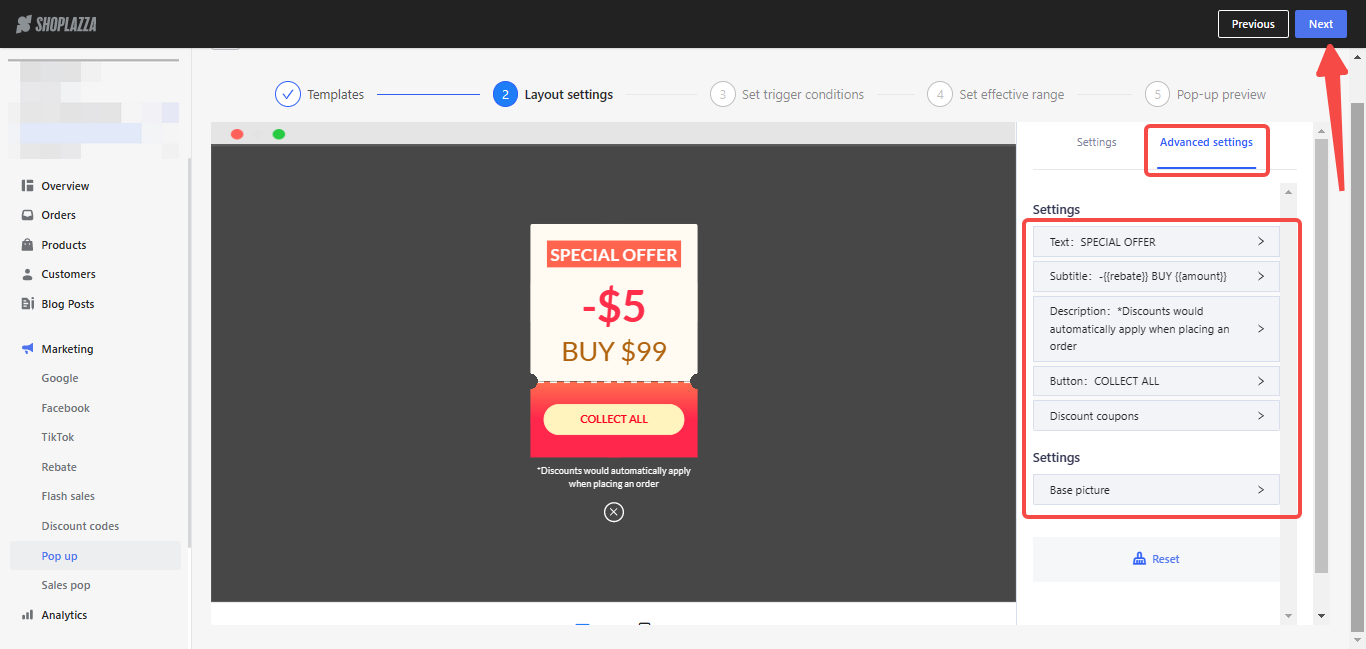 6. Here you can choose the display page as All pages (Payment and registration pages are not included) or Specific page. Specific pages can be set based on page type (Home, Collection details, Product details, Cart, Flash sale promotion, Coupon code activity, and others) or by page URL. You can add a maximum of 10 URLs.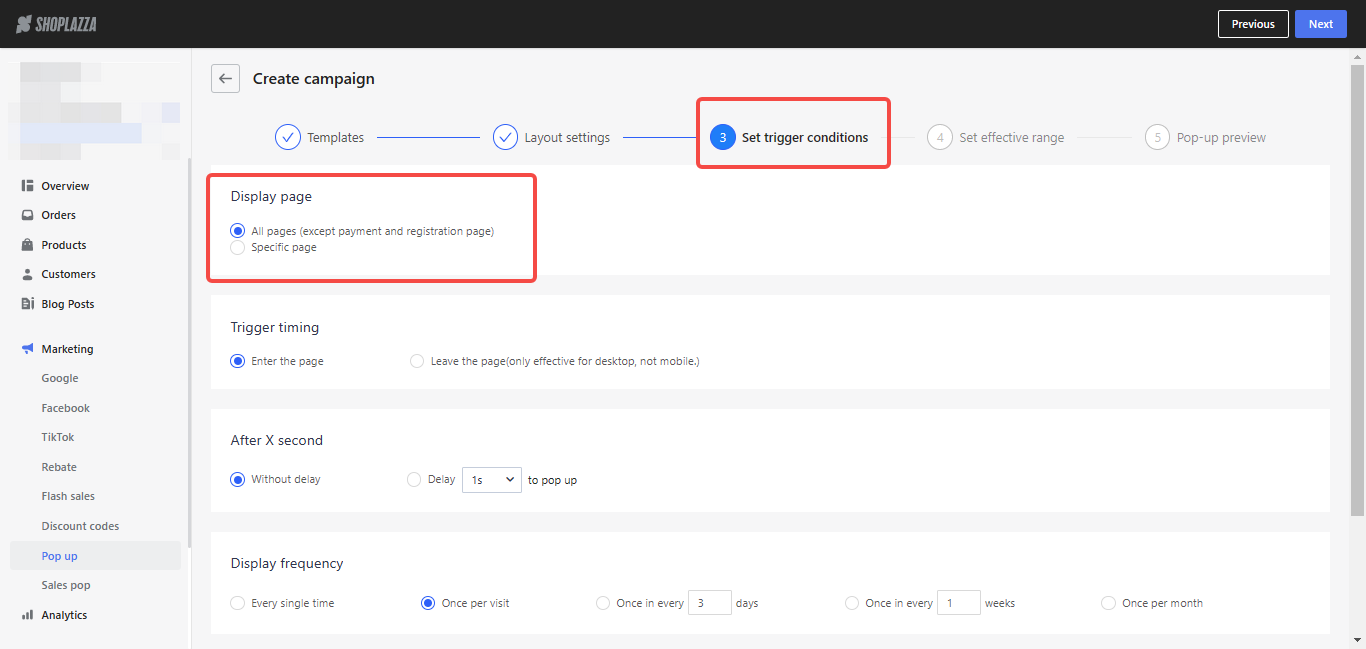 7. Trigger timing can be set up as Enter the page or Leave the page.
Enter the page means that the pop-up window can be triggered when the customer enters the page.
Leave the page is only effective for desktop view.
The delay time can be set up as Without delay or Delay it from (1sec to 10sec) and disabled by default when the trigger timing is Leave the page.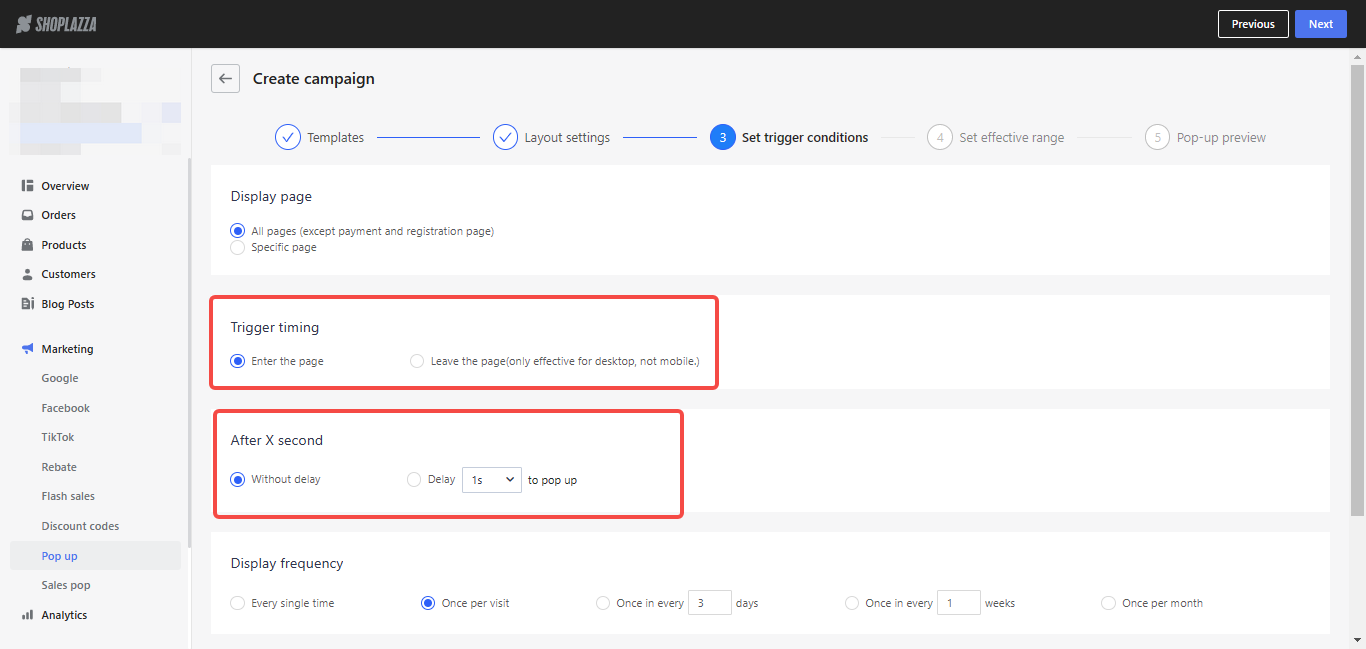 8. Display frequency can be set up as Every single time, Once, Number of times per day, Number of times per week, or Once per month.
Stop condition can be set up as After pop up (number of times), After closing, and After participating in the campaign.
Click Next to set up effective range.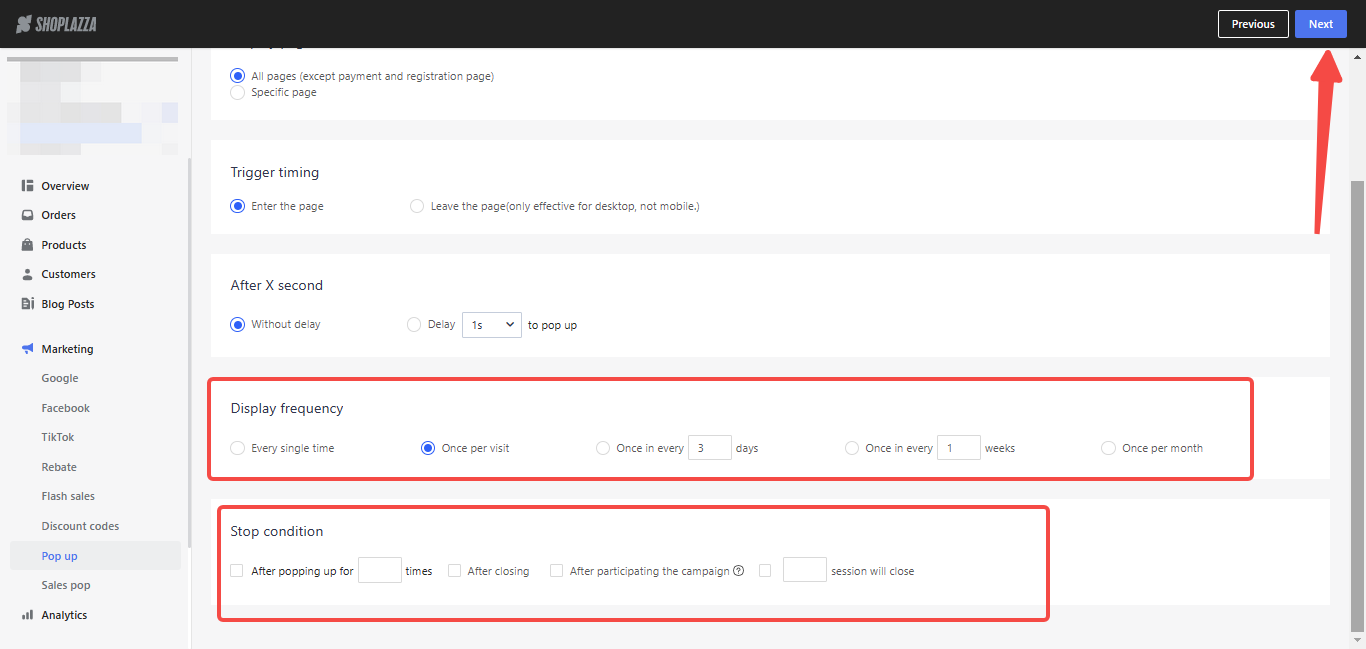 9. Here you can click Edit to set the target customer. 
The time zone when the campaign is active is the same as that of the store.
The campaign title is only used for admin and will not be displayed on the user end.
Click Next to go to the preview page.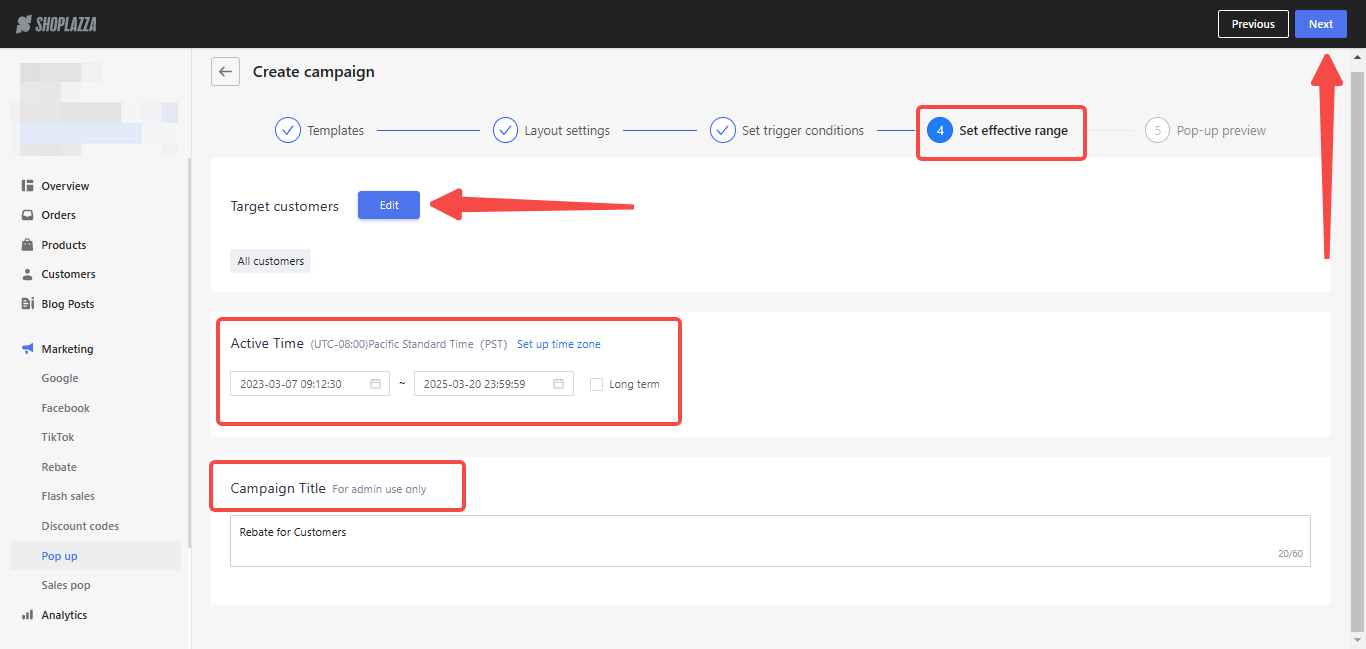 10. At the final step, click Preview to view the effect of the pop up display.
Click Save to complete the pop up creation.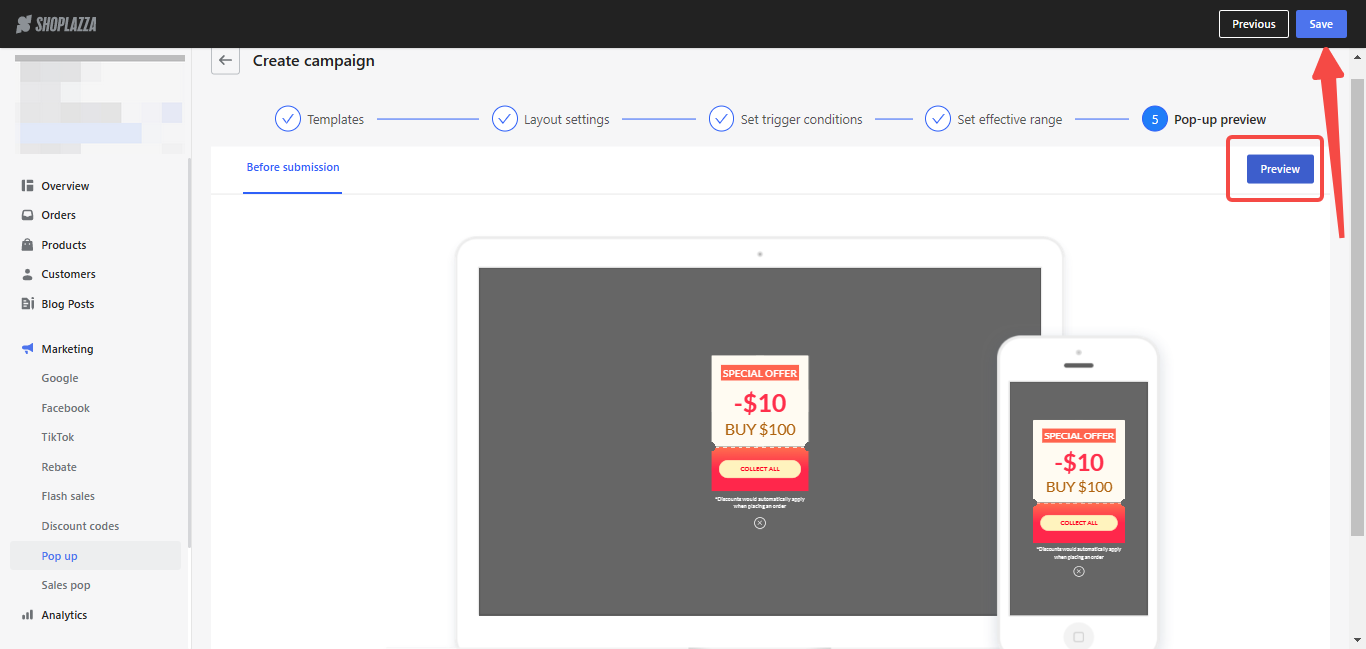 Tips
Pop ups can be a powerful tool for your store to increase sales and conversions, grow customers' email lists, and improve the user experience for visitors.
Note
When setting up your target customers, the customers who had their first visit within 24 hours are counted as new users. The customers who revisit the website within 24 hours after their first visit are counted as existing users. If unlogged users submit an email address through any channel, they are marked as subscribed users. Otherwise, they are marked as unsubscribed users.
Related Topics