1. More scenario-based confirmation email templates
Resending a confirmation email on Shoplazza is a simple process that can be done in just a few steps. This is useful if a customer has not received their confirmation email or if they have accidentally deleted it.
Once an order loads in Your Shoplazza Admin > Orders > Access your order details, scroll all the way to the bottom where you will see a section timeline with Resend buttons: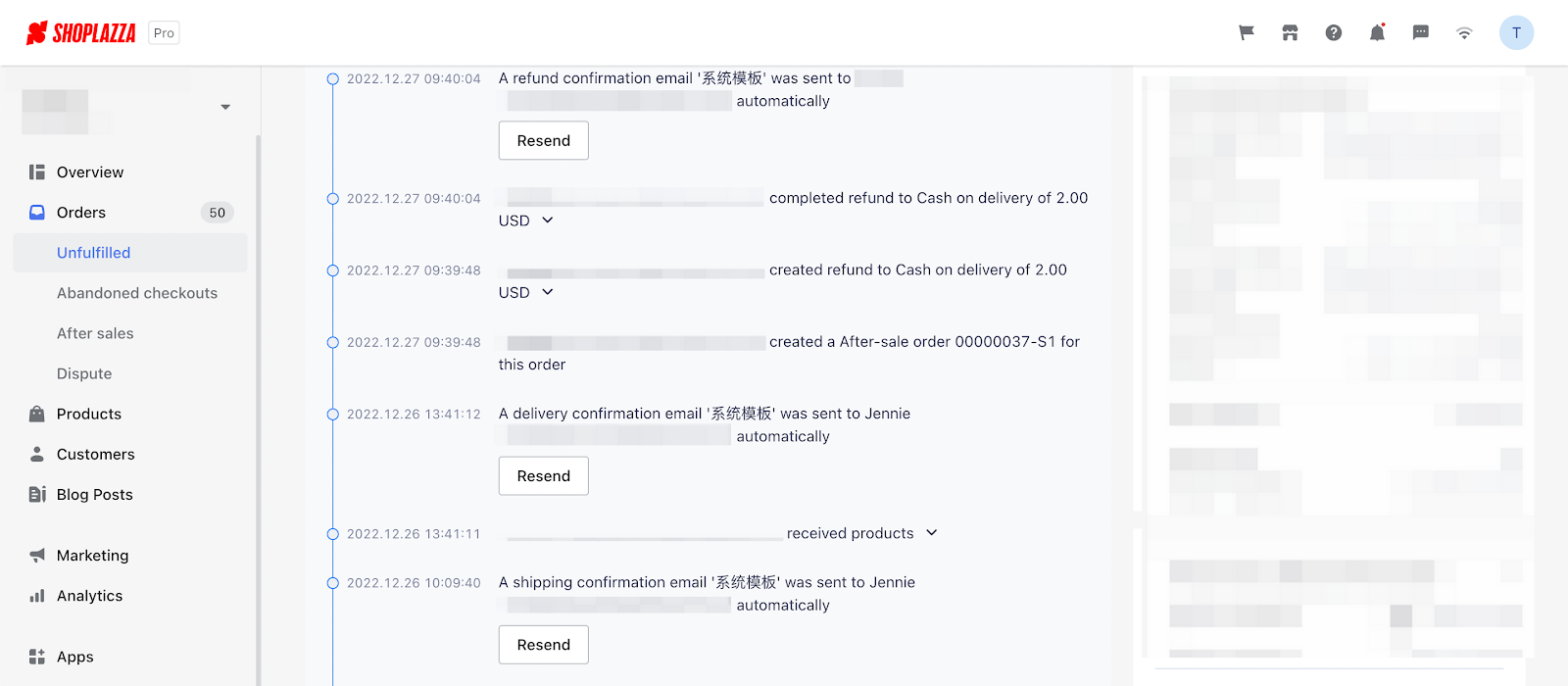 We have added more Scenario-based email emplates at below checkpoints:
Shipment Notification
Order Notification
Refund Notification
2. Measuring growth
Your store's growth rate indicators provide information about the fluctuation or variability of a product's price or demand over a period of time. This data can help e-commerce businesses to understand and predict changes in customer behavior and market trends, and to make better pricing and inventory decisions.
For example, if a product's volatility data shows that its demand tends to spike during certain periods, such as holidays or sales events, a business might adjust its pricing or marketing strategies accordingly to maximize profits.
Shoplazza has now integrated volatility indicators to most of the charts in your Shoplazza Admin > Analytics > Overview dashboard to help merchants measure risks and identify sales trends.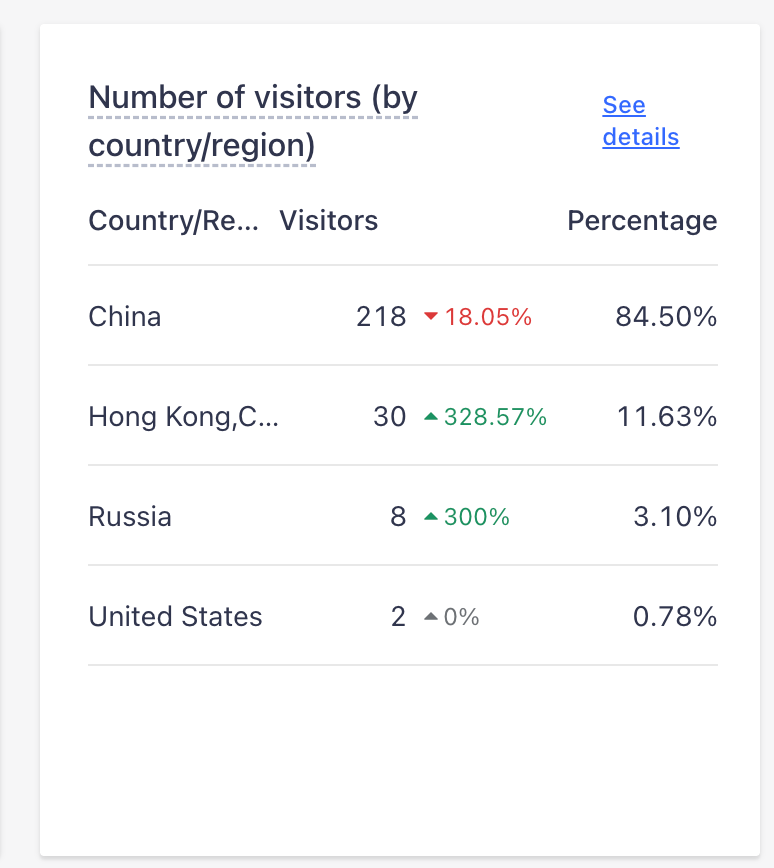 3. Comparatively Analyzing UTM tracking parameters
UTM indicators are used by merchants to gain insight into supply and demand of the products you sell and marketplace psychology. You can now measure the success of your keywords by comparing trends of selected time frames in your Shoplazza Admin > Analytics > UTM reports.
Viewing our help doc here will help you understand the types of UTM parameters.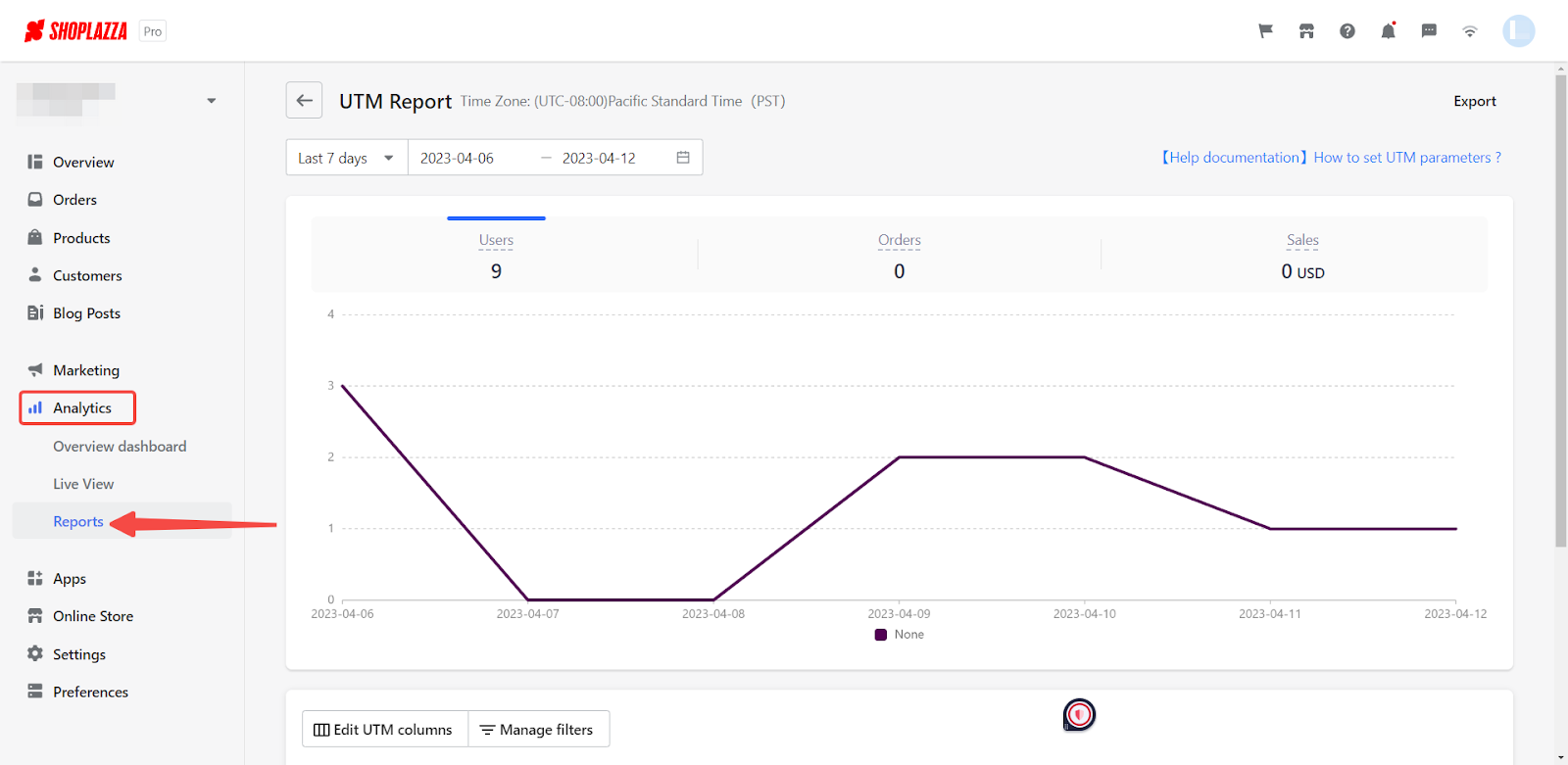 You are now able to track the effectiveness of your set UTM tags in chart view by clicking the "View chart" button.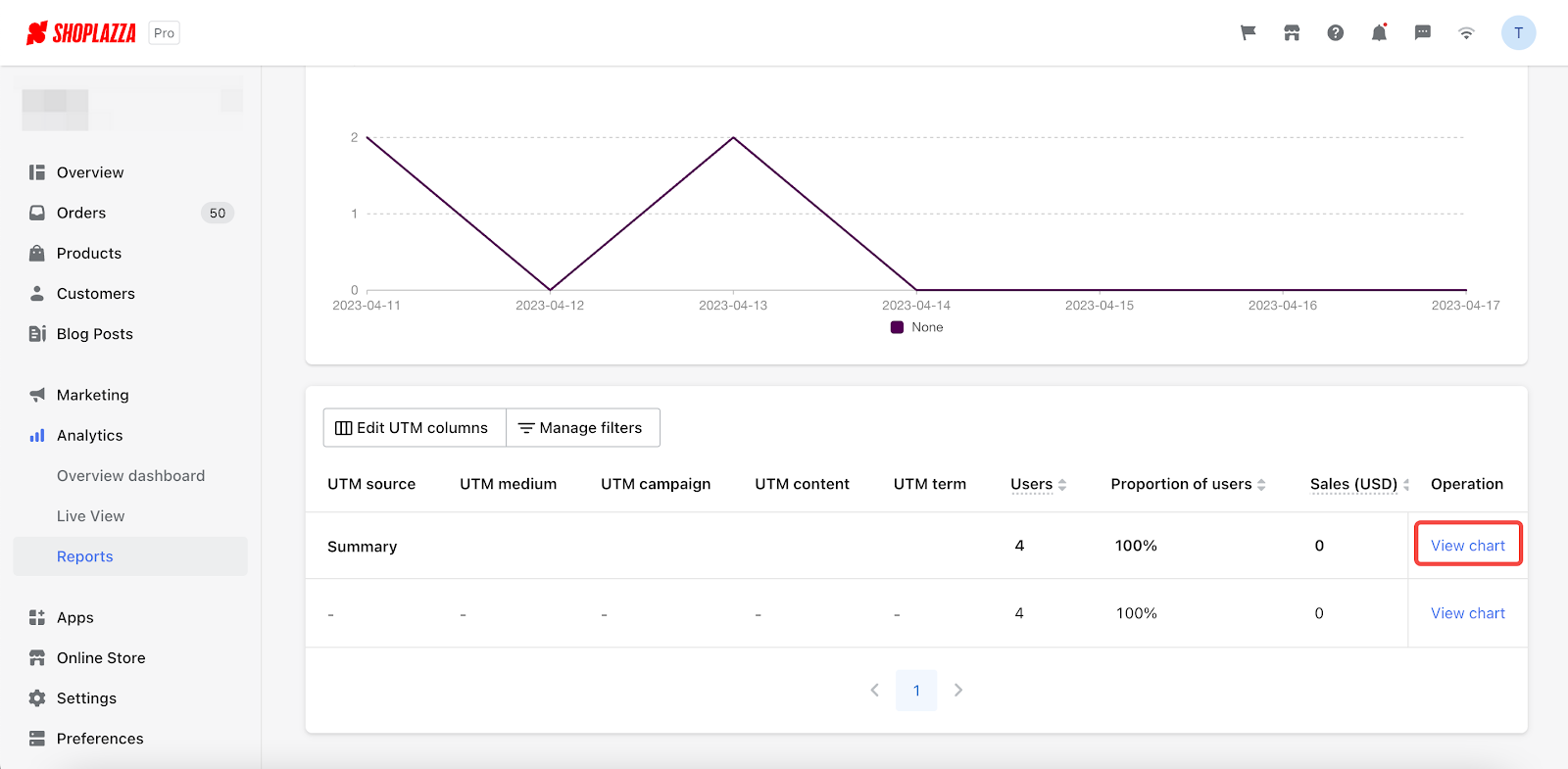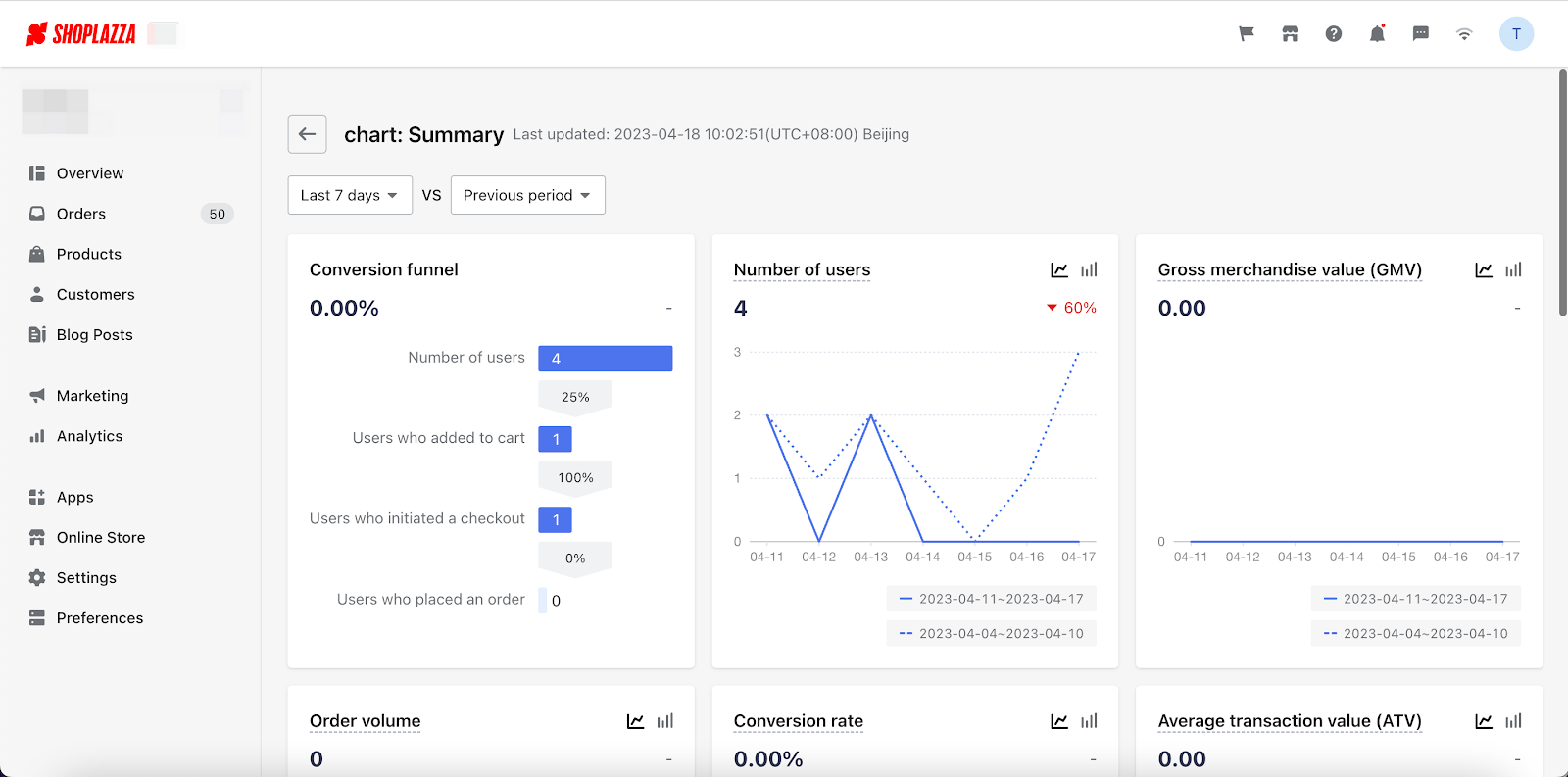 4. Adding time-frame filters by week
The time-frame filter lets you specify time-related options for your analysis. By filtering your analysis by specific time periods, you can identify patterns and trends in consumer behavior, such as changes in demand for certain products or shifts in purchasing habits.
With the newest update, you are now able to filter data by week when you create a custom report with personalized analysis metrics in your Shoplazza Admin > Reports > Custom > Create custom reports.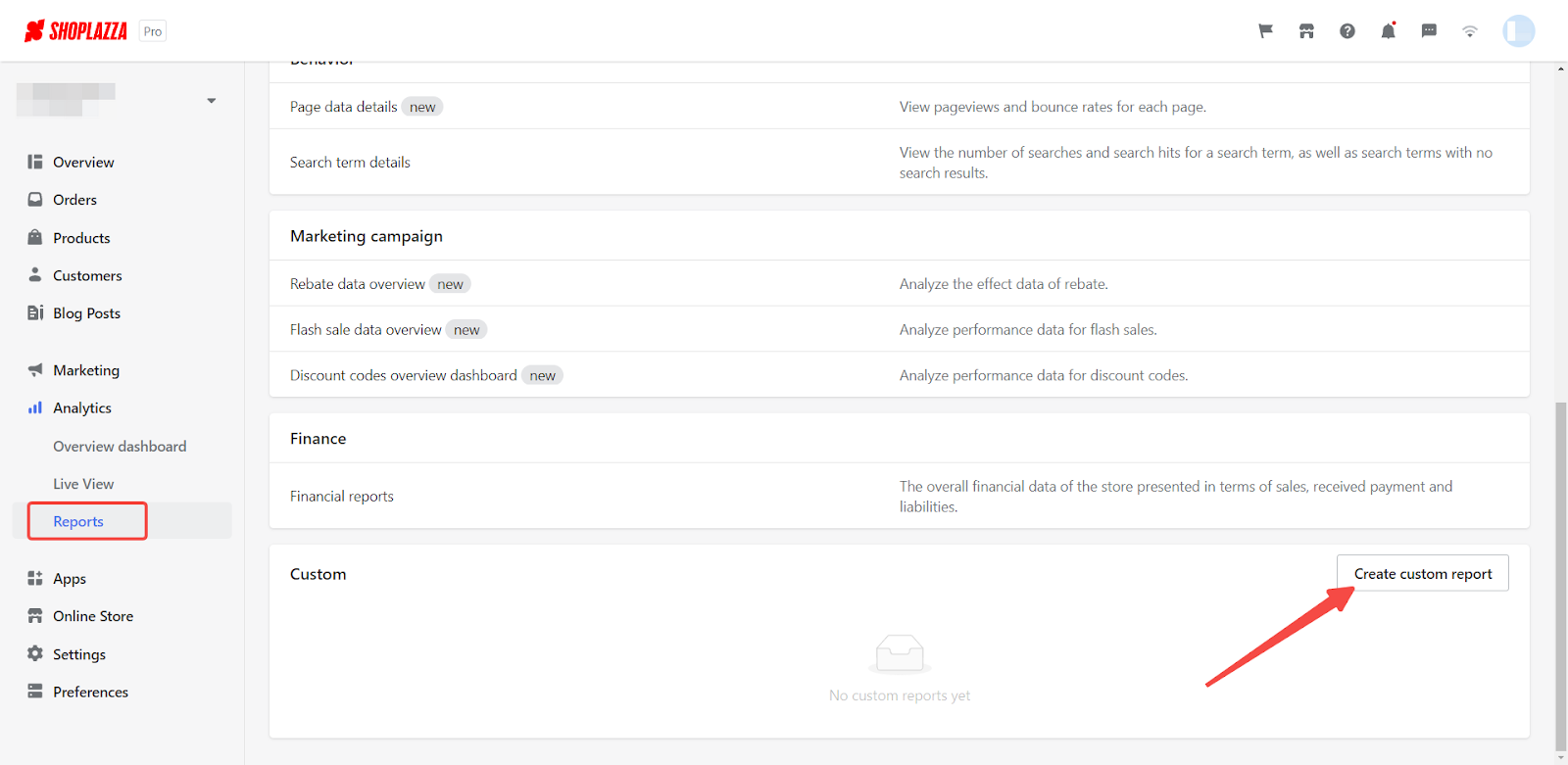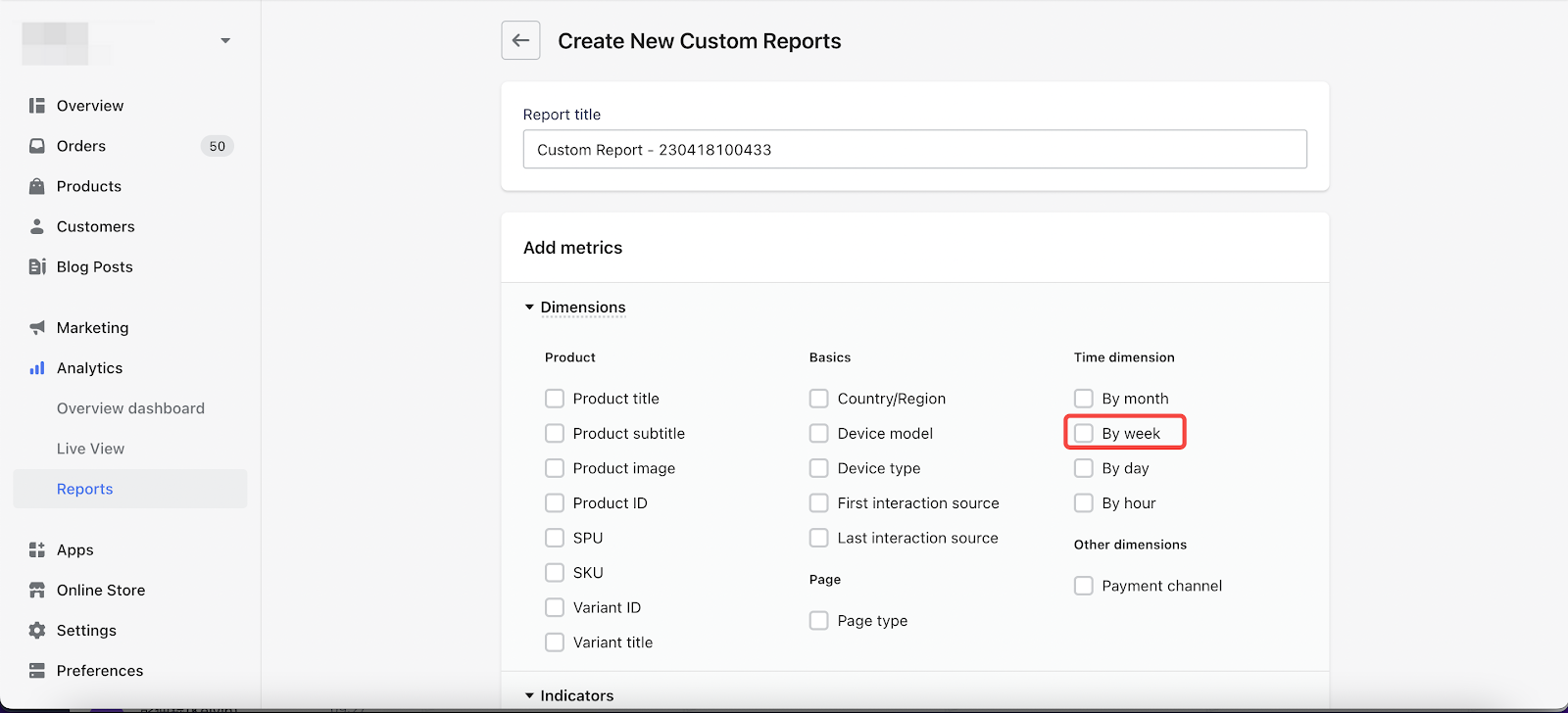 5. Updated address database in the Middle East
We have updated the address database for six Middle Eastern countries (Saudi Arabia, United Arab Emirates, Kuwait, Oman, Qatar, and Bahrain), enabling your customers to select provinces and cities directly to fill in their addresses when checking out from your storefront.
You've been able to keep track of customer checkout information, and with this update we're making it even more seamless and accurate when they place their orders from your store > checkout pages > with options to select Cities/Regions located in the Middle East.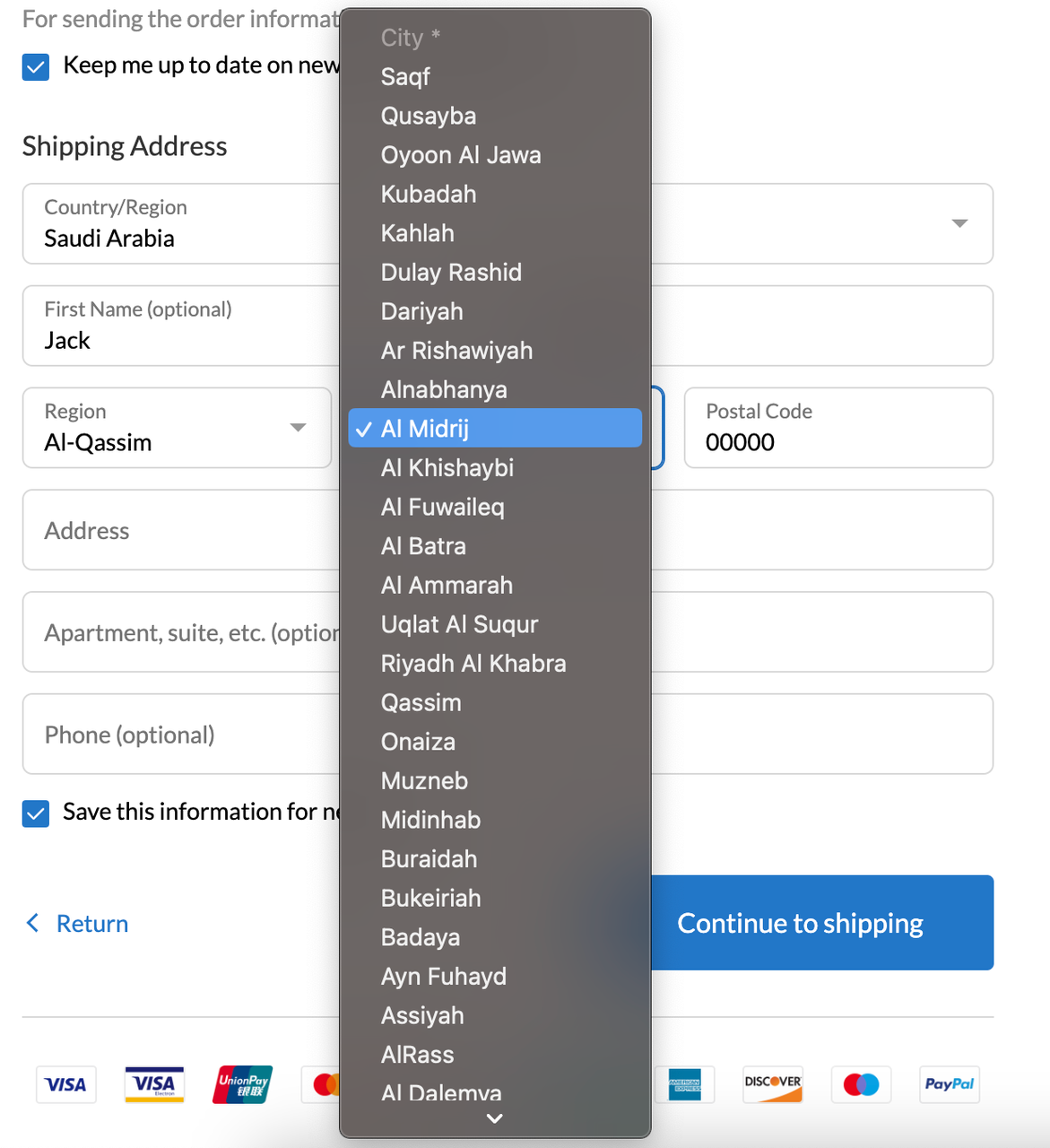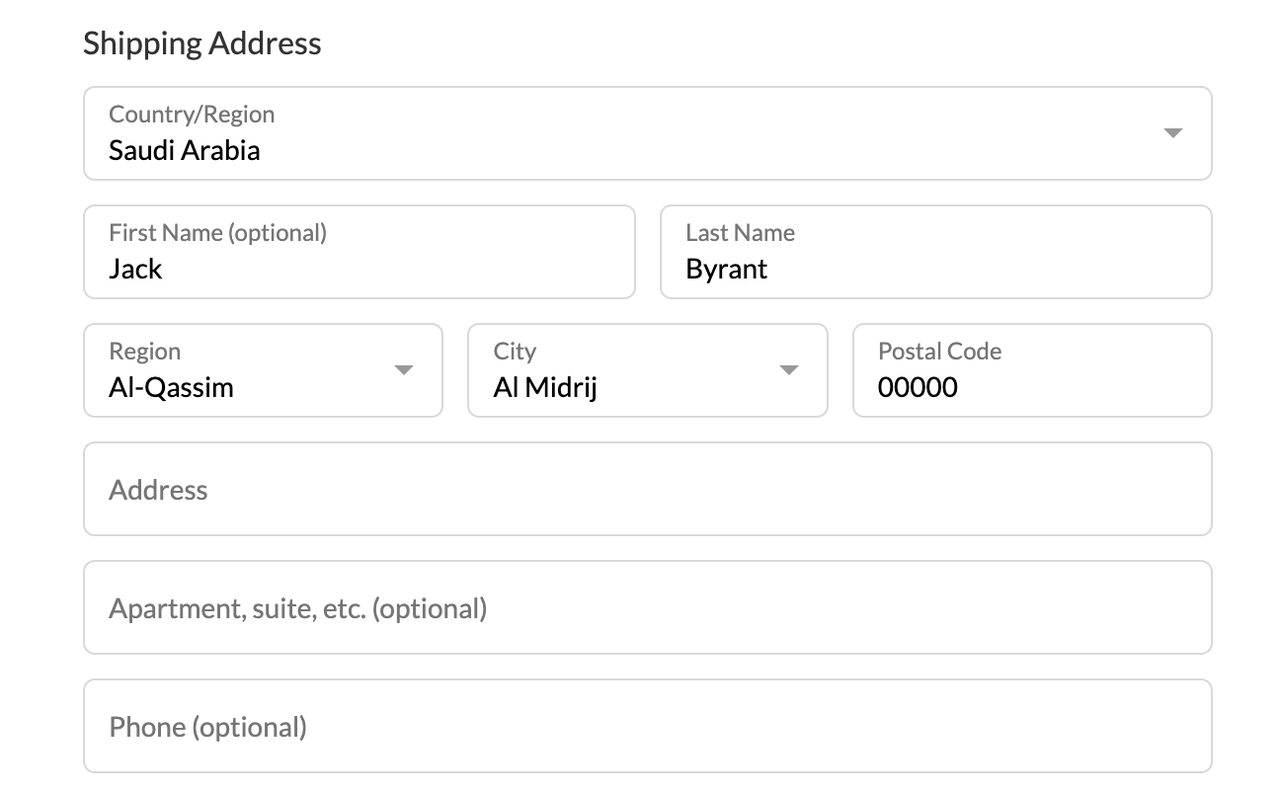 6. Optimization of Pinterest Feed
When merchants advertize on Pinterest, they can generate a Pinterest feed file in Products > Product Feed. Our latest optimization automatically populates the Google Category that has been configured for each product into Pinterest Feeds, enhancing advertising effectiveness.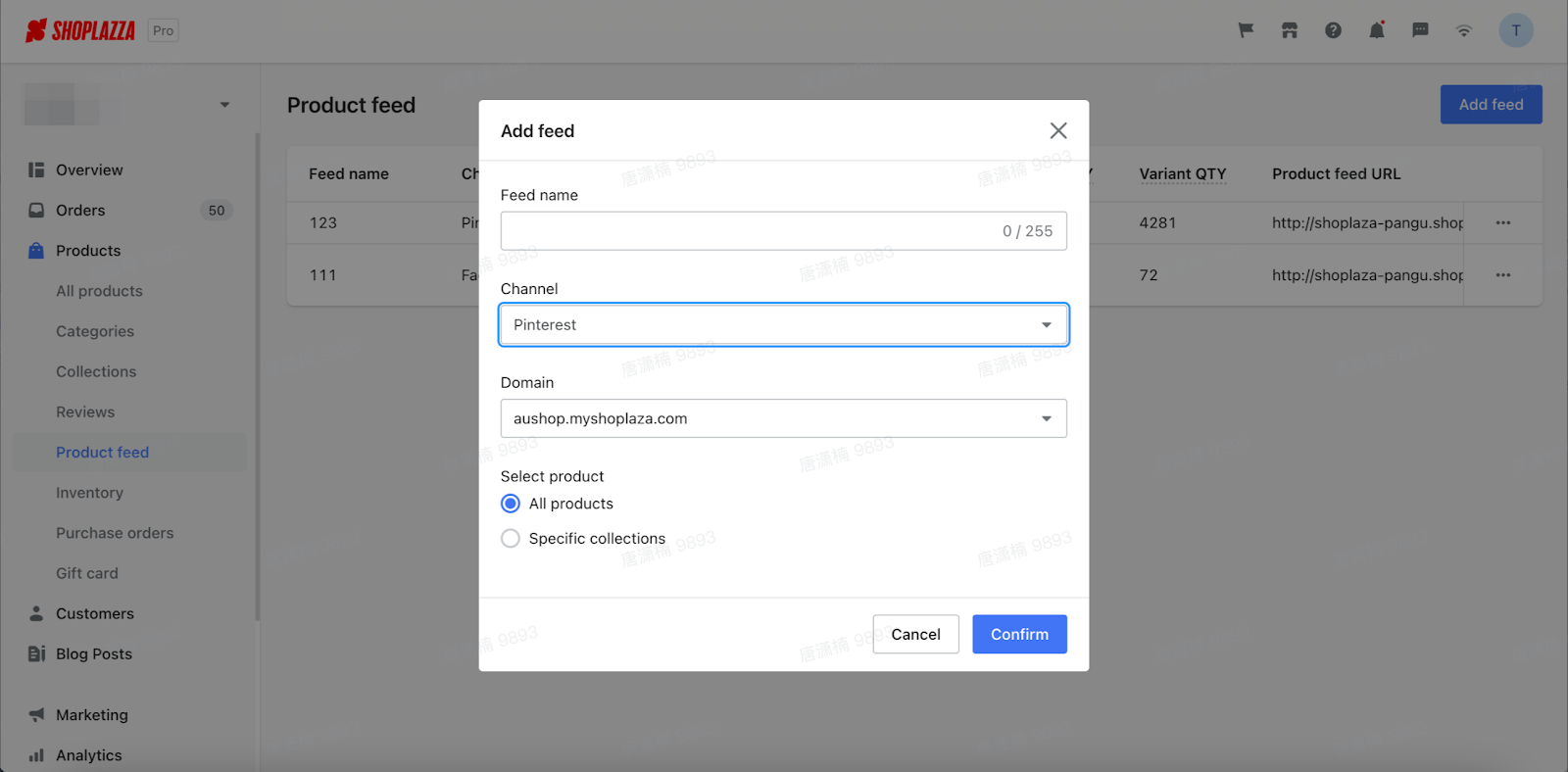 7. More local payment solutions for the Middle Eastern region
We have upgraded Payssion with checkout options covering more than 60 currencies from all over the world. This update offers increased flexibility and convenience when your customers check out with their local payment solutions, therefore enabling a higher checkout rate.
Payssion now supports 8 additional local payment methods in the Middle East region:
Saudi Arabia: Mada, STC Pay, Saudi Arabia Apple Pay
Kuwait: Kuwait KNET
United Arab Emirates: UAE Credit Card
Oman: Oman Credit Card
Qatar: Qatar Credit Card
Bahrain: Bahrain Credit Card"
These payment methods are available in your Shoplazza Admin > Payments > Settings > Checkout > Configure your Payssion payment settings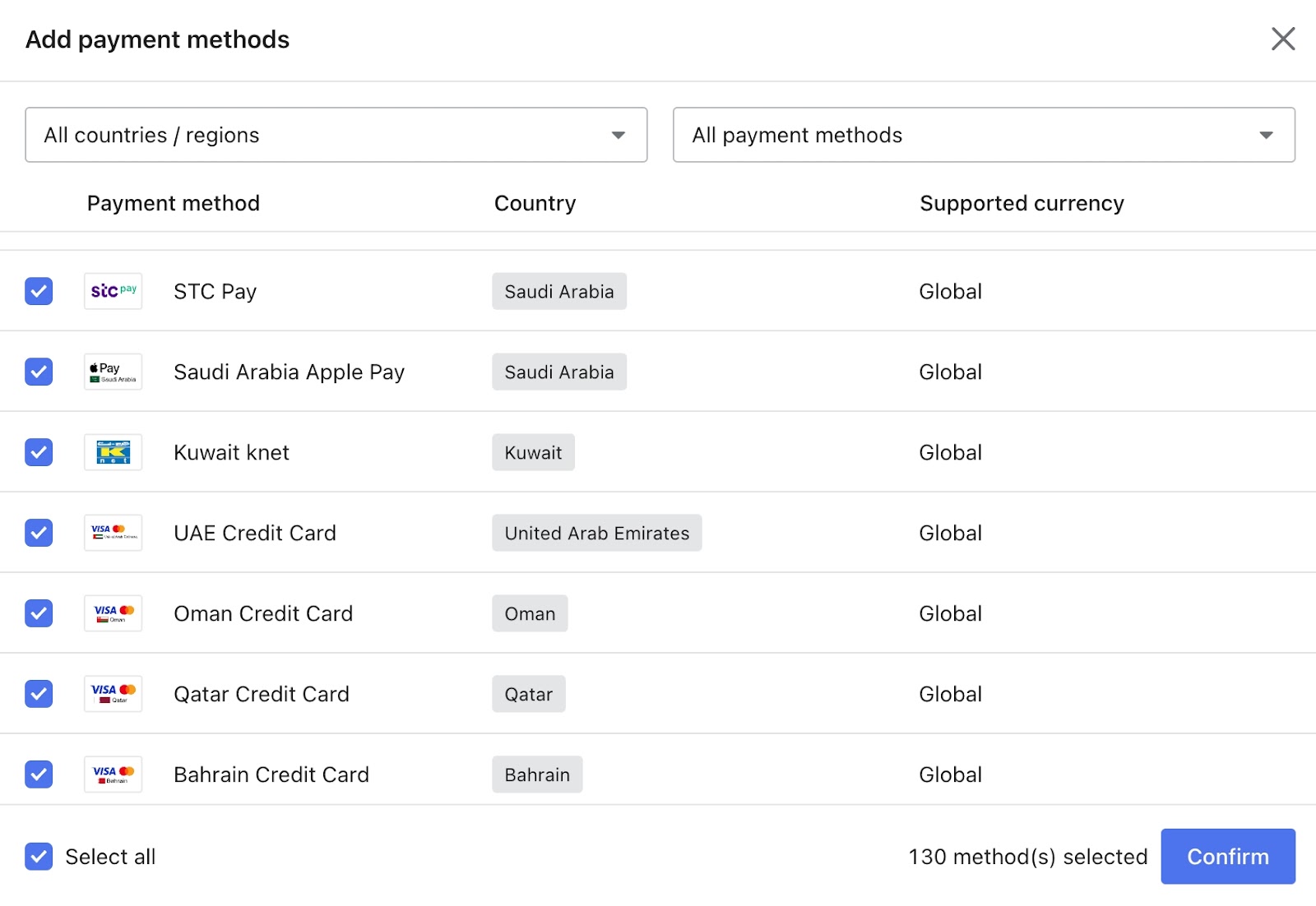 8. Introducing the new Product Option App
With more options available in the Product Option App, you are now capable of customizing your product options more effectively than ever.
Before the update: The Image design attribute of the Product Option App was directly modified on the existing Image upload attribute, which affected merchants who did not require Image design.
After the update: The image design feature has been separated as an individual attribute. Merchants who only require image upload can now add the Image upload option directly from the list of product options when editing templates, while those who need image design can add the Image design option separately.
Use case: Suitable for stores that require customers to upload custom images or need to edit and preview images.
Usage guidelines:

You can now add Image upload options to the product detail pages displaying customized image file options. Selected options, as well as any personalized photos uploaded by customers, will be recorded and included in the order details.
You can add Image Design options separately. An addtional【PHOTO】&【DESIGN】section will be added to your configured product image set.
Clicking on PHOTO displays the original image set, and clicking on DESIGN displays a preview of the customer's uploaded image.
Customers can edit the image in the preview window from a real-time perspective. The final preview image (the image shown in the preview box when the customer places an order) and the original image (the image uploaded by the customer) will be recorded and included in the order details.