A checkout page refers to the pages shown to your customers during the step-by-step checkout process. The checkout tab on the main Shoplazza dashboard is where you can manage and make adjustments to your store's checkout settings and reduce checkout friction.
Steps
Please refer to your Shoplazza Admin > Settings > Checkout to find your checkout settings.
Login request
1. The Login request limits the eligibility to make purchases in your store.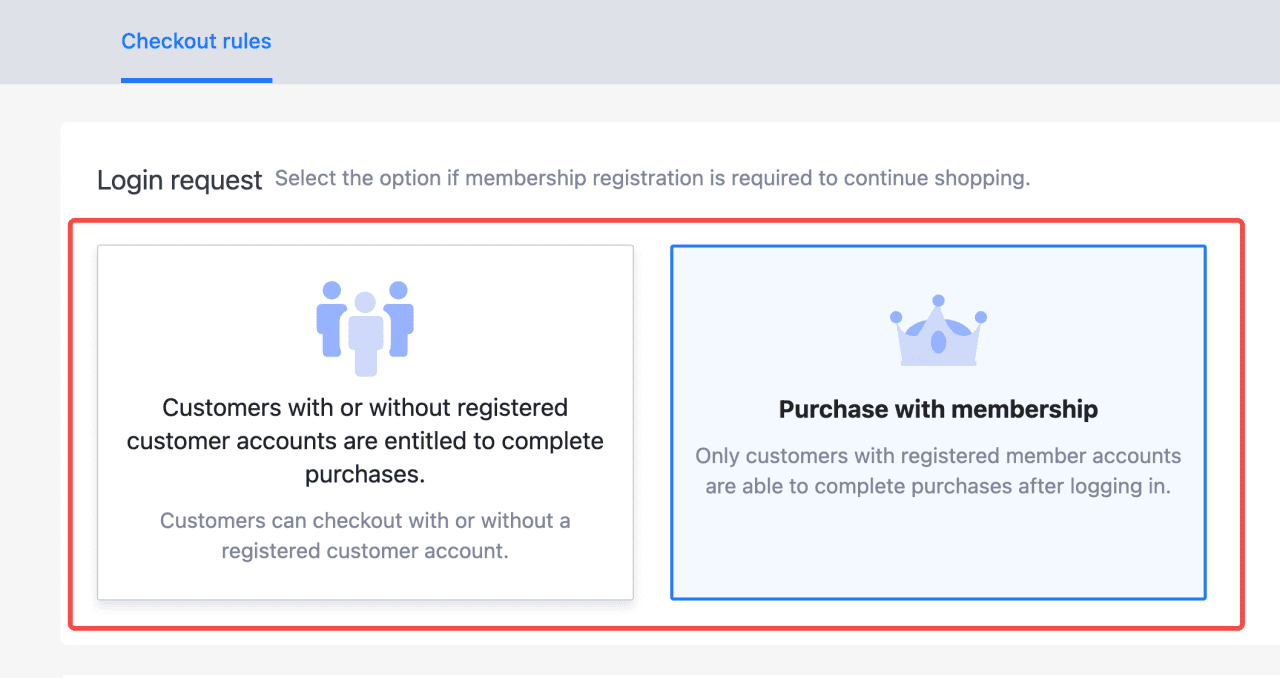 Customers with or without registered customer accounts are entitled to complete purchases:
By enabling this feature, you are allowing any customer to checkout in your store and complete their purchases.
Purchase with membership:
By enabling Purchase with membership, checkout will only be made available for customers with registered accounts in your store. Customers without an account in your store cannot access the checkout portal and will not be able to make a purchase.
Inventory deduction
The inventory deduction feature helps you manage your inventory properly by ensuring adequate stocks and keeping accurate records of your inventory. Below are two types of methods you can choose from to avoid negative inventory.

When creating an order

: The system will deduct the inventory as soon as an order is created. This mechanism effectively prevents a product from being oversold.
Note
Errors may occur when you decide to choose this option if a customer decides to abandon their checkout.
When placing an order

: The system will deduct the inventory when an order is completed. This mechanism prevents your inventory from being occupied by incompleted checkouts.
This will reflect your actual inventory.
Inventory verification
When some of your products sell faster than your other products, managing your inventory may present its challenges. Inventory verification ensures your products are legitimate and in stock as they appear to your customers.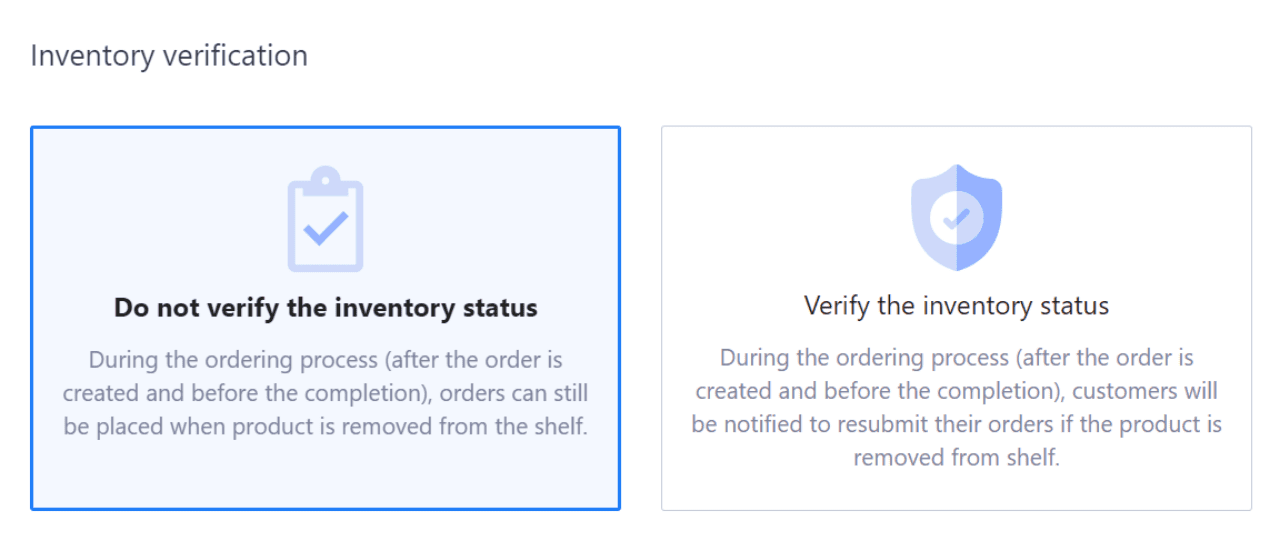 Do not verify the inventory status

:
During the checkout process, customers can complete their orders even if a product has been removed, or is not available within your store.
Verify the inventory status

:
Customers can't complete an order if items have been removed, or are not available in your store.
Checkout page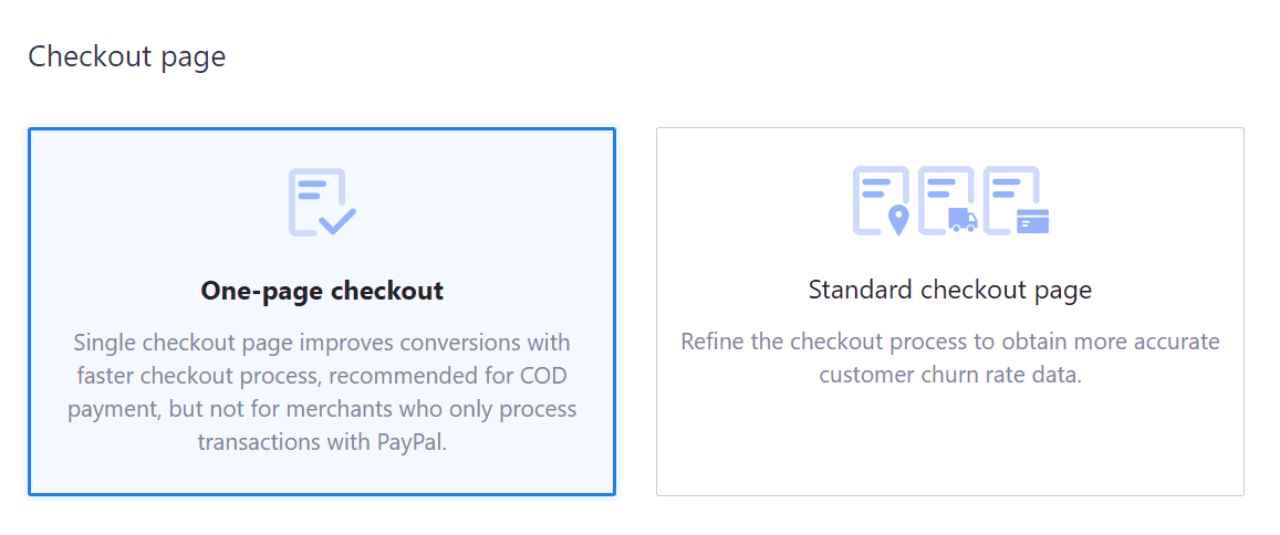 One-page checkout: One-page checkout is the fastest and most straightforward checkout solution for your customers. It asks for all the necessary information to prepare an order on a single page.
This layout works well with:
Standard checkout page: The Standard checkout process values attention to detail and reliability. Required information will be separated into 3 sections and filled out on different pages.
This layout works well with:
Coupon fields
Manage how you would like to display your coupon information.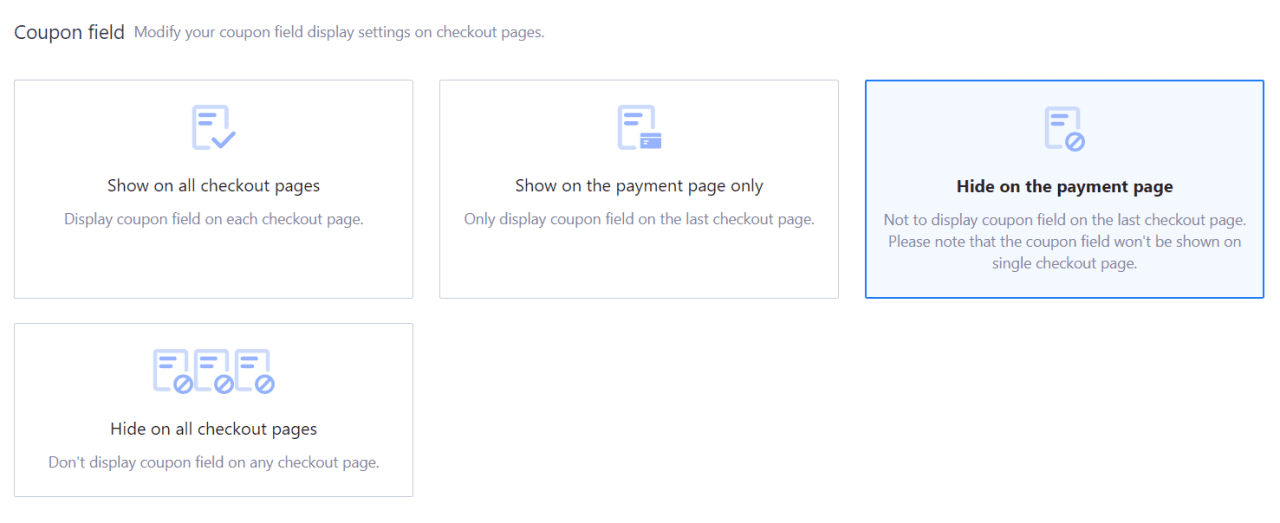 Show on all of the checkout pages:
This option displays the coupon information on all of the checkout pages.
Show on the payment page only:
This option displays the coupon information only on the payment page
Hide in the payment page:
Coupon information will not be displayed on the last page of the checkout process, where customers finalize their payments and proceed by placing their orders.
Hide in all of the checkout pages:
This option will not show any coupon information during the checkout process
Post code/Zip validation
Post code/Zip validation is the process of checking a postal address to make sure the ZIP is valid and matches the location of the address. Toggle on/off to validate zip code from the selected countries/regions before an order is submitted.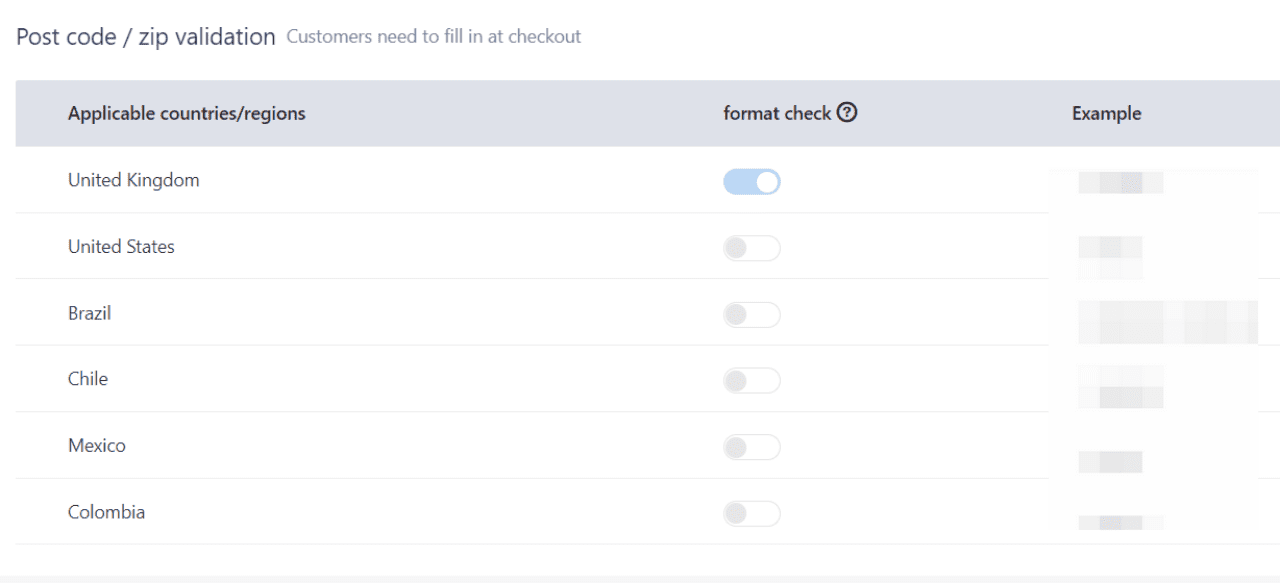 Automatic order cancellation
Automatic order cancellation automatically cancels all the pending orders and spam orders after a set amount of time.

Form options
Manage the way you collect customer information at checkout.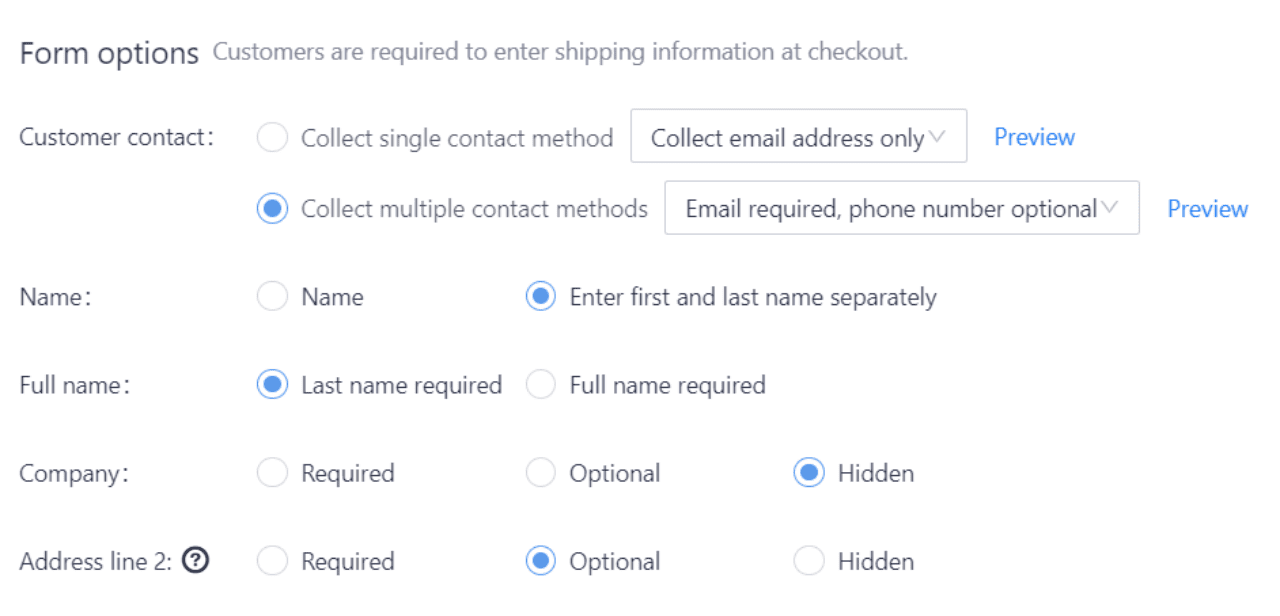 Taxpayer Identification Number
A Taxpayer Identification Number is an identifying number used for tax purposes in the United States and other countries under the Common Reporting Standard. In the United States, it is also known as a Tax Identification Number or Federal Taxpayer Identification Number. A TIN may be assigned by the Social Security Administration or by the Internal Revenue Service (IRS).
Some countries do not issue a TIN in any situation; such countries include Bahrain, Bermuda, and the United Arab Emirates (UAE). Other countries issue TINs only to entities, but not to individuals; such countries include Sri Lanka, Oman, and Qatar. In other countries, whilst TINs may be issued to both individuals and entities, individuals or entities in particular situations may not be issued with a TIN.
You may need to enable this feature to collect Tax ID information at customer checkout for tax-paying purposes depending on the countries you live in.

Special instructions
Add a note section to the payment pages and collect any special instructions from your customers.
Expanded: This will display the Special instructions section.
Minimized: This will minimize the Special instructions section. Customers would have to click the expand icon (+) to show the text box.
Hidden: This will disable the Special instructions section.
Additional scripts
Conversion tracking is a free tool that shows you what happens after a customer interacts with your ads via your Google Ads account. Copy and paste code snippets in the additional scripts section to set up conversion tracking for your website.

Note
Only completed orders are considered as successful conversions. If you are using Google Ads, please refer to here on Google to set up your Google tag for tracking.