Search campaigns allow you to place ads across Google's vast network of search results. You can show ads to people actively searching online for your products and services. It can also help you get more sales, leads, and traffic to your online store.
Steps
1. From your Shoplazza Admin > head over to Marketing > Google. Switch over to the Function tab and under Campaign Creation, click on Search Campaign.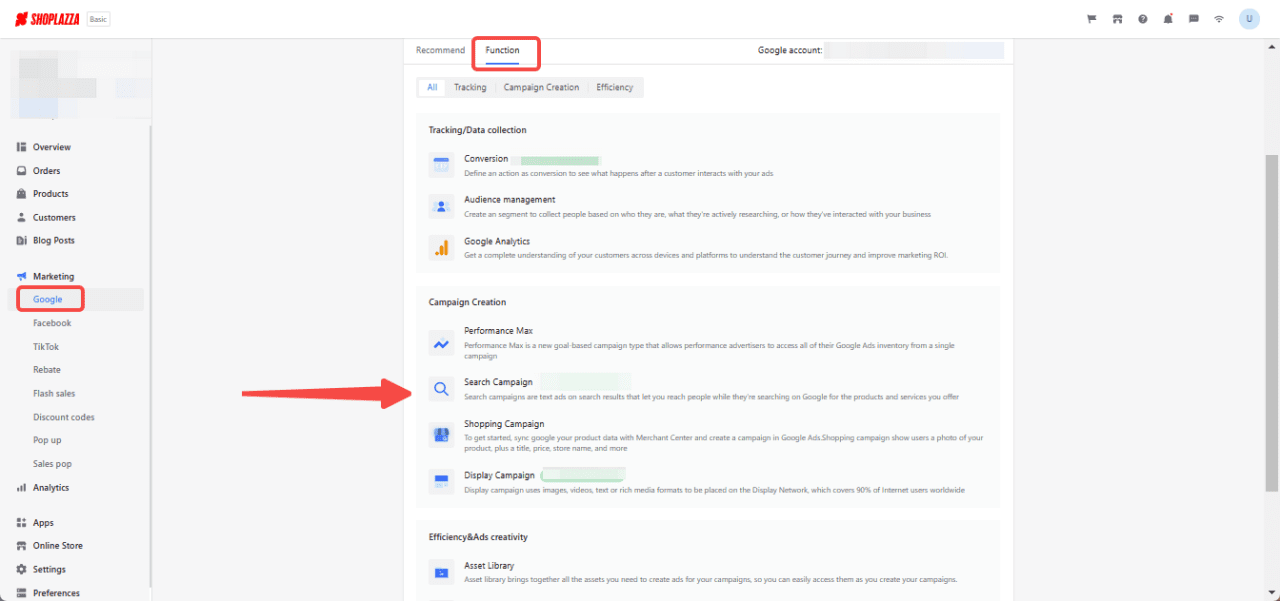 2. Here you will link your Google Ads account. If you don't have an existing ad account click on Create new.
Tips
Once the account is activated, come back to the same page and you can link your account through drop-down options.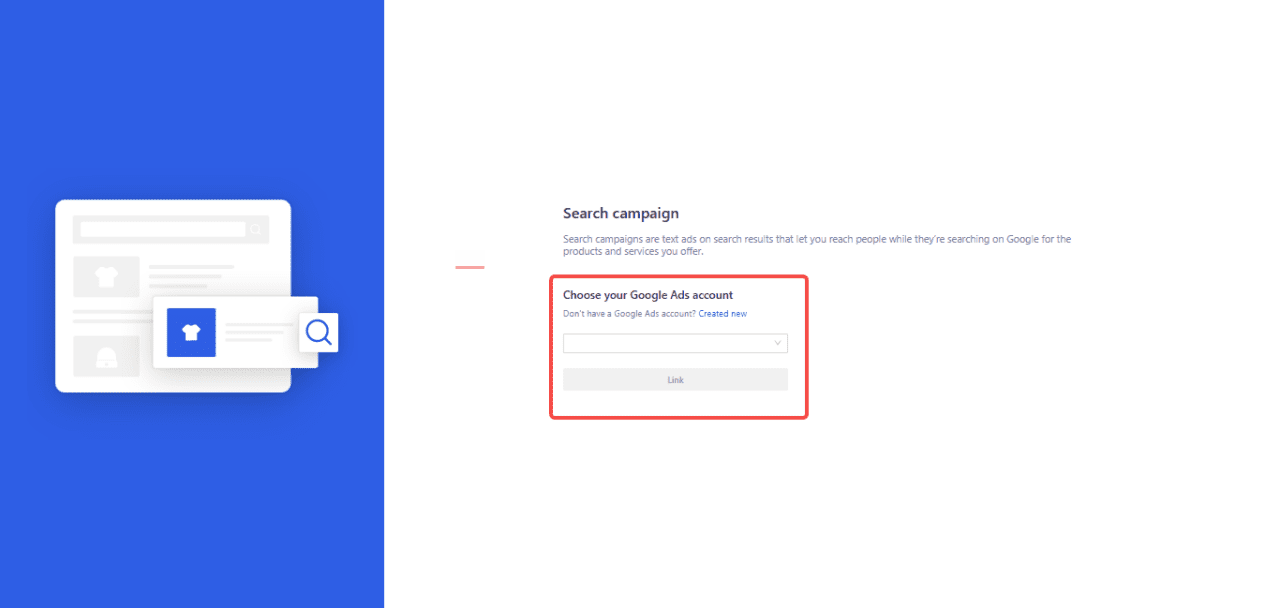 3. After linking the Ads account, you will be redirected to the Search campaign page and click New campaign.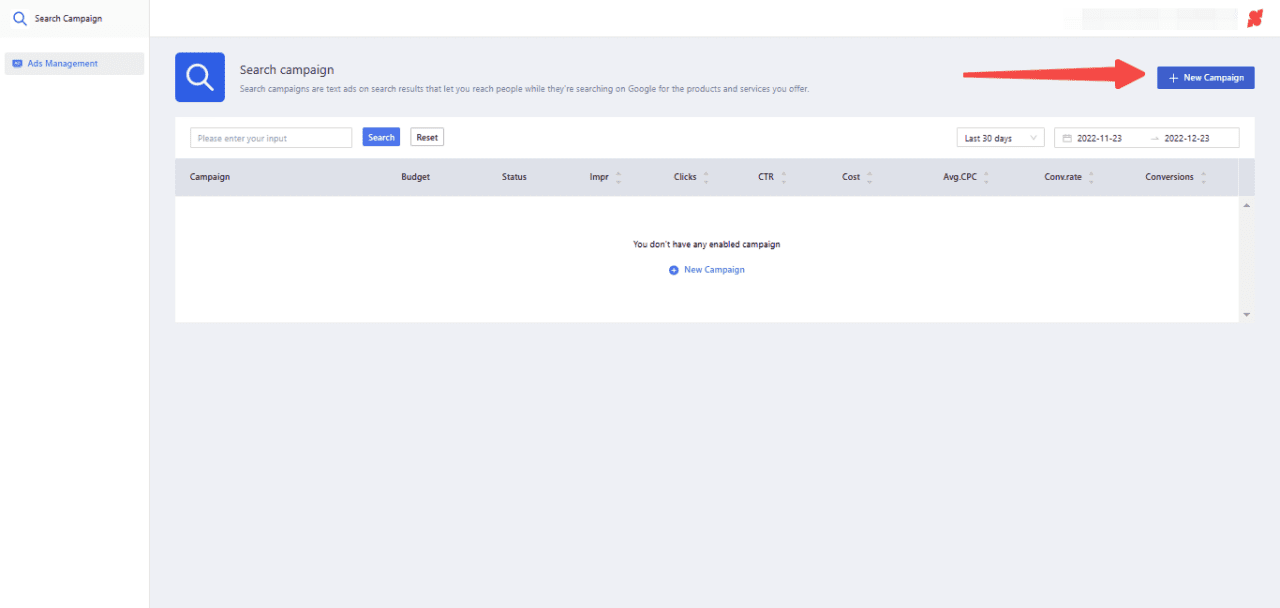 4. In your campaign settings, fill out the details such as campaign ame, the location of where you want the campaign to be and which languages you'd like the campaign to be in. Once done, click Next.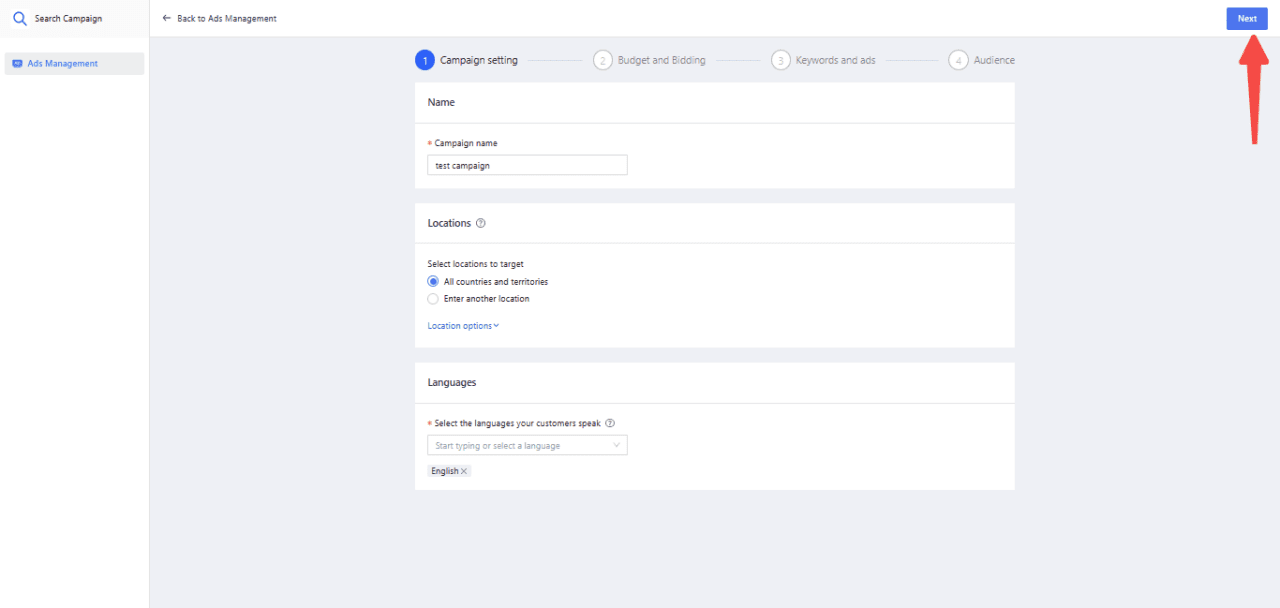 5. Here you will add a daily budget and bidding for your campaign.
Budget:

Budget is the average amount you want to spend each day.

Bidding:

Bidding is what you want your audience to do.
Under the bidding drop down, you have three options to select:
Clicks:

If you want website traffic, then you might focus on Clicks

Conversions

: If you want sales or leads, then you might focus on Conversions.

Conversion value:

If you've set up conversions and gave them a specific value, you might put your money towards Conversion value. With this option, you can target a specific return on ad spend.
Tips
Bidding determines what you want your targeted audience to do and your budget determines how many people view your ad.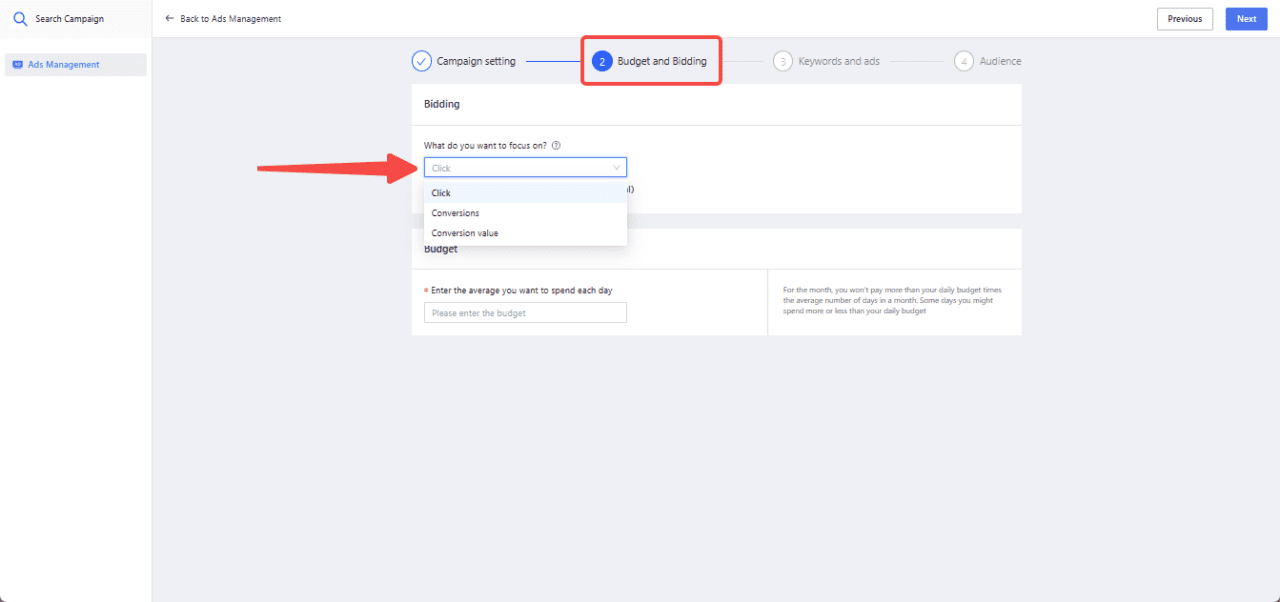 6. Add Keywords, the URL of your product page, and a description of the product. For example, if you sell frisbees, you can add "buy frisbee" as a keyword in your campaign. When people type "buy frisbee" on Google search, your ad might appear on the search results page.
Choose your keywords carefully. Include terms or phrases that your customers would use to describe your products. Keywords of two or three words tend to work most effectively.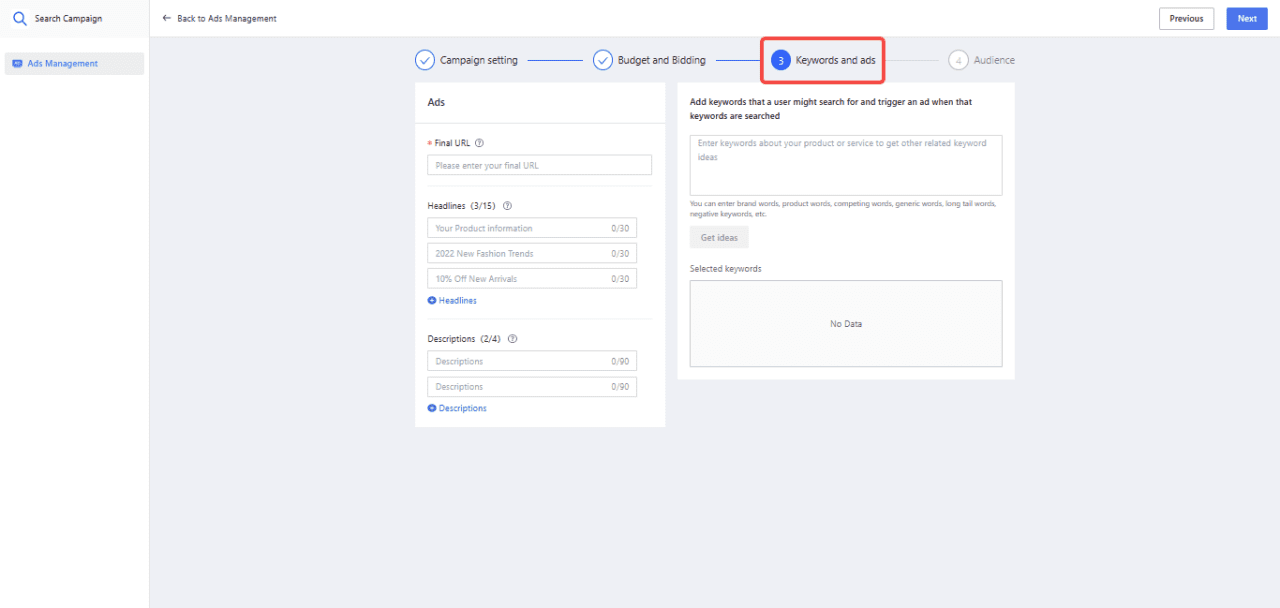 Here is an example of what your ad should look like on Google Search: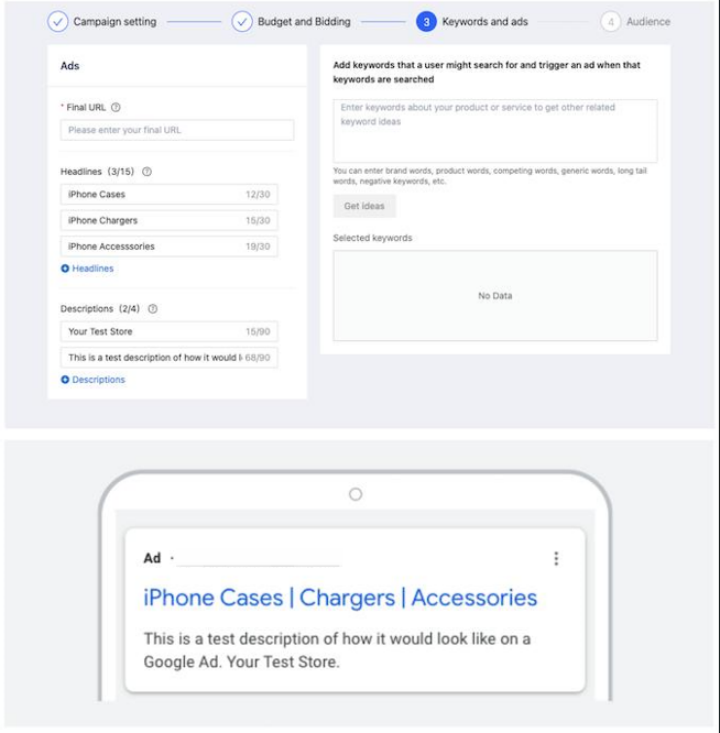 7. You can add a targeted audience by clicking Add and then Save after you're done editing.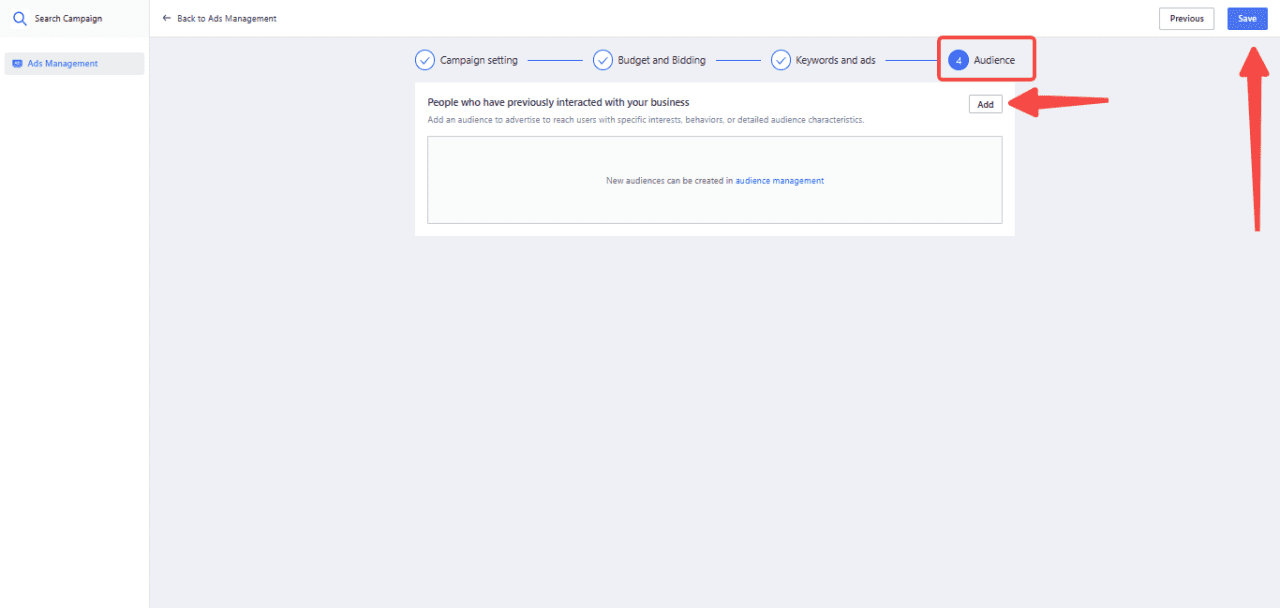 8. Once the settings are saved, you will be able to monitor your campaigns with the option to pause or remove them.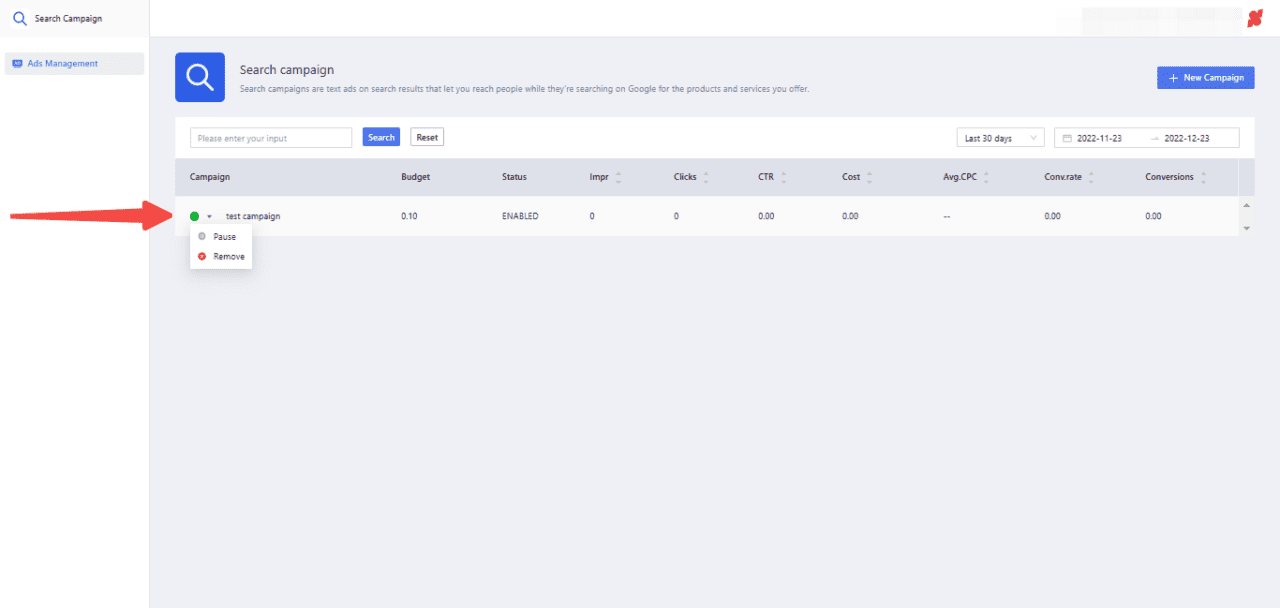 Congratulations! Now you can show your ads to people actively searching online for your products.