What is a chargeback?
A chargeback (also known as a customer dispute) is an action that is processed by their issuing bank. Chargebacks typically happen when your customer decides to dispute a transaction when they have an issue with their order and have tried to contact you without a response.
Chargebacks or reversals usually occur if your customer decides to dispute a transaction through the help of their issuing bank to claim a full refund.
When a cardholder disputes a charge, the issuing bank typically investigates the claim and refunds the cardholder if fraud activities were detected.
Card networks usually allow cardholders to file a chargeback within 180 days of the original transaction day or date of delivery. In some cases, the timeframe can be extended.
Consequences of chargebacks
The chargeback process generally begins with merchants choosing to either accept the chargeback claim or they may choose to challenge it by providing evidence to the issuing bank proving that it was a valid charge.
Failing to deliver persuasive evidence to support your side of the story will most likely result in a lost case of dispute and could dramatically damage your store's performance.
If a chargeback dispute is won in your favour, the payment will be returned to your business account or vice versa. If a case is lost favouring the consumer, the amount will be fully refunded.
Process of handling chargebacks
Customer issues a chargeback dispute to their issuing back in question of a payment.
A chargeback works its way from the issuing bank through the card network and to the merchant's acquiring bank. A chargeback fee will also be applied at this stage.
As merchant, you present relevant evidence to support your claim and validate the payment.
The issuing bank then makes judgement on validity of the chargeback.
Regardless of the outcome, the issuing bank reports back to the customer with a decision on their chargeback request.
If a chargeback request has been granted in favour of the customer, the issuing bank will claim money from the merchant's bank and refund it to the customer. Chargeback-related fees will be posted to merchant's bank account.
Note
A chargeback fee is assessed by the card-issuing bank to cover chargeback-related costs. The amount varies between 10-30 US dollars, depending on where your bank account is located.
If a chargeback request is denied by the acquirer's bank in favour of the merchant, the issusing bank will return the payment in full amount as well as chargeback fees involved to dispute a transaction.
Handling chargebacks
Before chargebacks
You should respond to a chargeback as soon as it is received since delayed action can directly affect the outcomes of a chargeback. If a chargeback is filed against you, the best plan of action is always to act proactively and gather as much information as possible to respond to the customer.
Note
Failure to respond to the pre-requests may affect the chargeback decision in favour of your customer.
During chargebacks
It is vital to understand that the best way to resolve a case is still to communicate proactively with your customers.
Contacting the customer may help you better understand their concerns. It is important to leave a record of your conversations, as this may serve as useful evidence in defending your statement against the complaint in later stages.
In the end, it's always optimal to resolve a case amicably with your customers. They may be influenced by your decency in handling a situation and decide to withdraw from disputing the case.
Decision making
Once you have gathered enough information to understand the circumstances of a dispute, you may carefully consider the following questions before deciding whether to accept the chargeback or fight it by sending compelling evidence to the acquirer:
Is the cardholder's claim valid?
If not, is there relevant evidence to refute their claims?
Can I convince the cardholder to withdraw the dispute if the complaint is resolved amicably, for example, by offering a refund or products in replacement of their purchases?
Ultimately, once the dispute process gets to this stage in the chargeback, it's the card issuer's decision on whether the merchant should refund the money.
Note
Please note that withdrawing a dispute does not necessarily mean that you have won the dispute and you may still lose the dispute depending on the validity of your supporting evidence. You may need to provide further proof for speculations.
Chargeback example cases
Fraud
Fraud is the most common reason for chargeback disputes. It happens when someone gets charged for something from your store but never actually purchased the item, suggesting the cardholder has not authorized the transaction.
Note
Some customers may report fraud because they are unable to recognize billing information posted on their banking statement.
To help dispute the chargeback:
Help customers identify the charges posted to their bankings and cancel the dispute case.
Confirm that the charges are legitimate and authorized by the cardholder.
You have issued a full refund to the cardholder.
Technical issues
Definition:
Your customer may also file a chargeback against your shop if an order was mistakenly placed. For those reasons, your customer reserves the right to file a chargeback if they feel they are incorrectly charged.
Non delivery
Definition:
If a merchant fails to deliver purchased goods or services as per the delivery timeline stated in the sales agreement between the customer and the merchant, the merchant is held accountable for rescheduling for a second delivery or issuing a full refund to the customer.
To help dispute the chargeback:
Show proof that you have issued a full refund to the cardholder.
The purchased goods are in fact on their way to the customer, or the agreed-upon delivery date has not been reached.
Chargebacks are cancelled by the cardholder.
For example, you may request tracking information from your distributor and show proof of delivery. If the package is being held in customs, you may also provide paperwork and clearance instructions.
Defective goods or services
Definition:
The customer claims to have received goods or services that were damaged, misrepresented, defective, or otherwise unacceptably faulty.
To help dispute the chargeback:
Show proof that your descriptions are accurate prior to customer places an order.
Provide evidence that the product is in fact not damaged.
Show proof that you have issued a full refund to the cardholder.
Explain that chargebacks have been canceled by the cardholder.
For example, you can show photos as supporting evidence to prove the product you sell is legitimate. This includes but is not limited to conversation between you and the customer, your refund policies, descriptions/photos of your products.
Duplicate transactions
Definition:
Customers claim they have been charged multiple times for the same product or service.
To help dispute the chargeback:
Show proof that you have issued a full refund to the cardholder.
You can explain the recurring charges by telling customers they are paying for your service or subscription.
Explain that chargebacks have been canceled by the cardholder.
Failure to cancel subscriptions
Definition:
Customers claim there are recurring charges posted to their bank account after canceling a subscription.
To help dispute the chargeback:
Explain to customers that the subscription has never been canceled correctly, and demonstrate how they are able to cancel a subscription at your store.
Show proof that you have issued a full refund to the cardholder.
For example, you may explain in terms of how your cancellation policy will be displayed to customers prior to purchase, and present a track record to testify that customers have been using your product & service before they are being charged. In some cases, customers misunderstand the actual cancellation date of the plan they are subscribed to and you may also address those concerns to the acquirer's bank.
Refunds not issued in a timely manner or not refunded
Definition:
Customers claim they are entitled to a full or partial refund by returning the items they purchased, or the product is unused, or transactions have been canceled or not entirely fulfilled.
To help dispute the chargeback:
Explain to the customers that they are eligible to receive a partial refund and the refund has been issued in that manner.
In some cases, a business does not provide compensation for purchased products or services, and it has been stated clearly in your store policies.
Chargebacks are cancelled by the cardholder.
For example, you may provide your store policies where you declare publicly that you don't accept returns or issue refunds.
Increase your chances of winning a chargeback
Winning a chargeback dispute can be difficult, but not impossible. To turn a chargeback in your favour, you must present evidence that is compelling enough to persuade the cardholder's bank to reevaluate the case.
You can improve your chargeback winning rate by providing the following documents:
A record of conversation with the customers, indicating your attempt to mitigate the situation.
Proof of shipment, such as digital tracking information, and signature confirmation from the recipient upon delivery.
Presenting your product description and photos as evidence to show legitimacy.
Photos of proof that a refund has been made to the customer.
Photos of proof that you have exchanged the product for the customer.
Any digital form of confirmation and feedback from the customer.
Photos of proof that your business does not provide compensation for purchased products or services and it has been stated clearly before they make purchases.
Reduce chargebacks for your business
Fair disclosure: Describe the item you are selling in as much detail and as accurately as possible. Include photos, specifications (if available), and other information that can reassure your customers before they make purchases.
Contact information: establishing reachable customer service and being ready to address their concerns when issues arise gives you a better chance of being able to fix more issues without a reversal of funds.
Be accessible: Don't leave your customers hanging, or feeling desperate because their issues are not resolved. Make it easy for customers to reach your team.
Keep a record: find a way to keep a track record of emails and conversations between you and your customers, having them ready when you are facing unexpected chargebacks.
Manage shipping expectations: Consumers will often initiate a chargeback if they think a product they ordered is lost in the shipping process or otherwise unlikely to arrive. You can help neutralize this risk by providing customers with clear shipping details that include tracking information, expected delivery date.
Be clear with store policies: You should also have your return & exchange policies displayed in a prominent position at your storefront. You may also attach a copy in emails sent to your customers.
Viewing chargebacks disputes via Shoplazza
For any orders that have chargebacks, they will be displayed here along with the rest of your disputed orders/ disputes.
You can view chargeback information by referring to your Shoplazza Admin > Orders > Dispute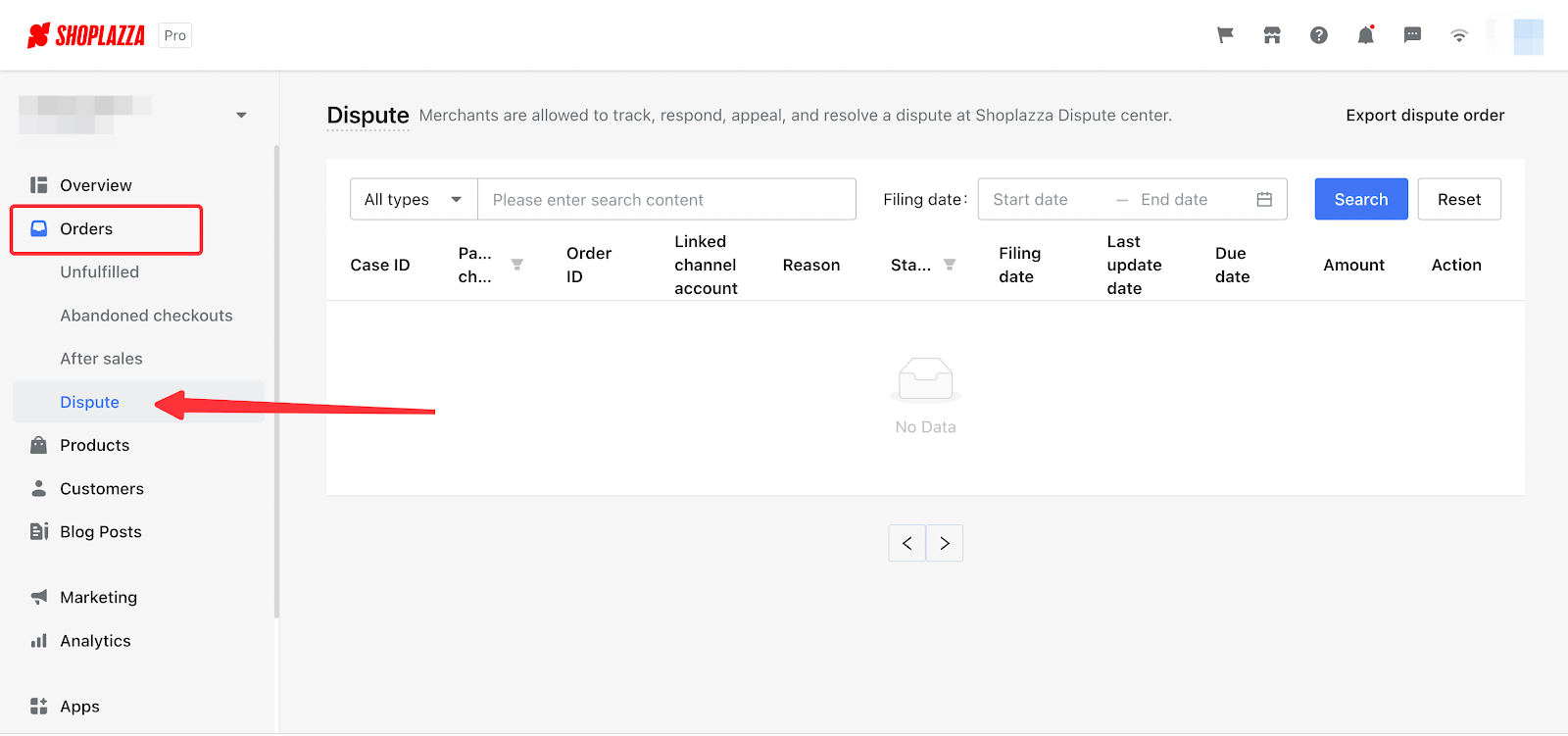 The table below outlines the statuses you may find after a chargeback has been received:
| | |
| --- | --- |
| Chargeback_received | This indicates a chargeback has been filed on an order. |
| Chargeback_update_won | Chargeback is won against the consumer. |
| Chargeback_update_lost | Chargeback is lost against the consumer. |
Order disputes
The Dispute tab provides quick access to view disputes from PayPal and Stripe via your Shoplazza storefont.
Note
To learn more details about Order Disputes, you may refer to our help doc here.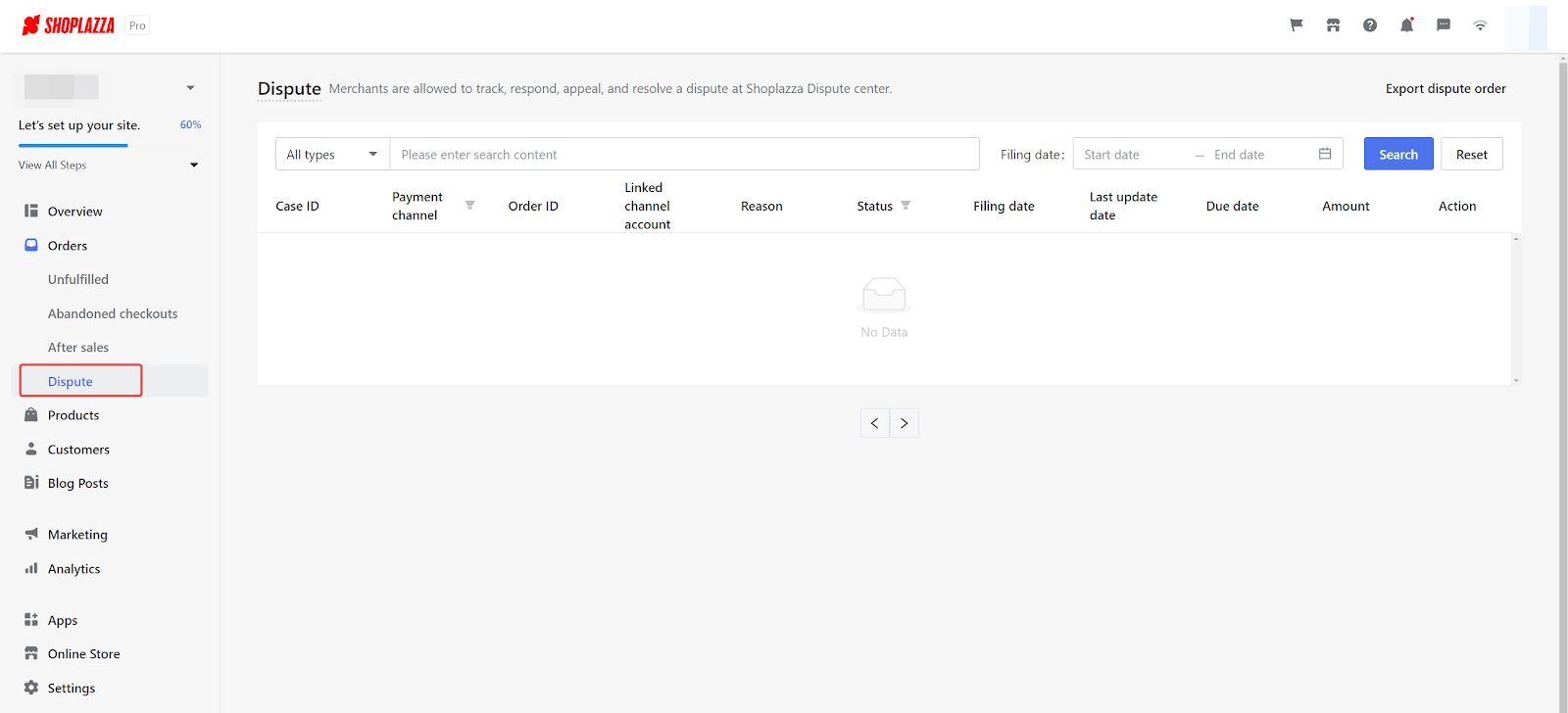 Now you know how to manage your chargebacks via your Shoplazza storefront. To improve the chances of winning chargebacks, you need to build a case with as much evidence as possible. Try to collect all your interactions with the customer to help disprove the chargeback claim.
Related Topics