Trustpilot is a world leading consumer review website that genuinely aims to connect customers and businesses in the most transparent way possible. Integrating Trustpilot with your Shoplazza Admin enables you to actively encourage customers to write reviews and promptly respond to their feedback. By installing Trustpilot from your Shoplazza App store, you can display reviews and scores to build trust in your marketplace.
Installing and authorizing Trustpilot
1. From your Shoplazza Admin, go to App > Visit App store.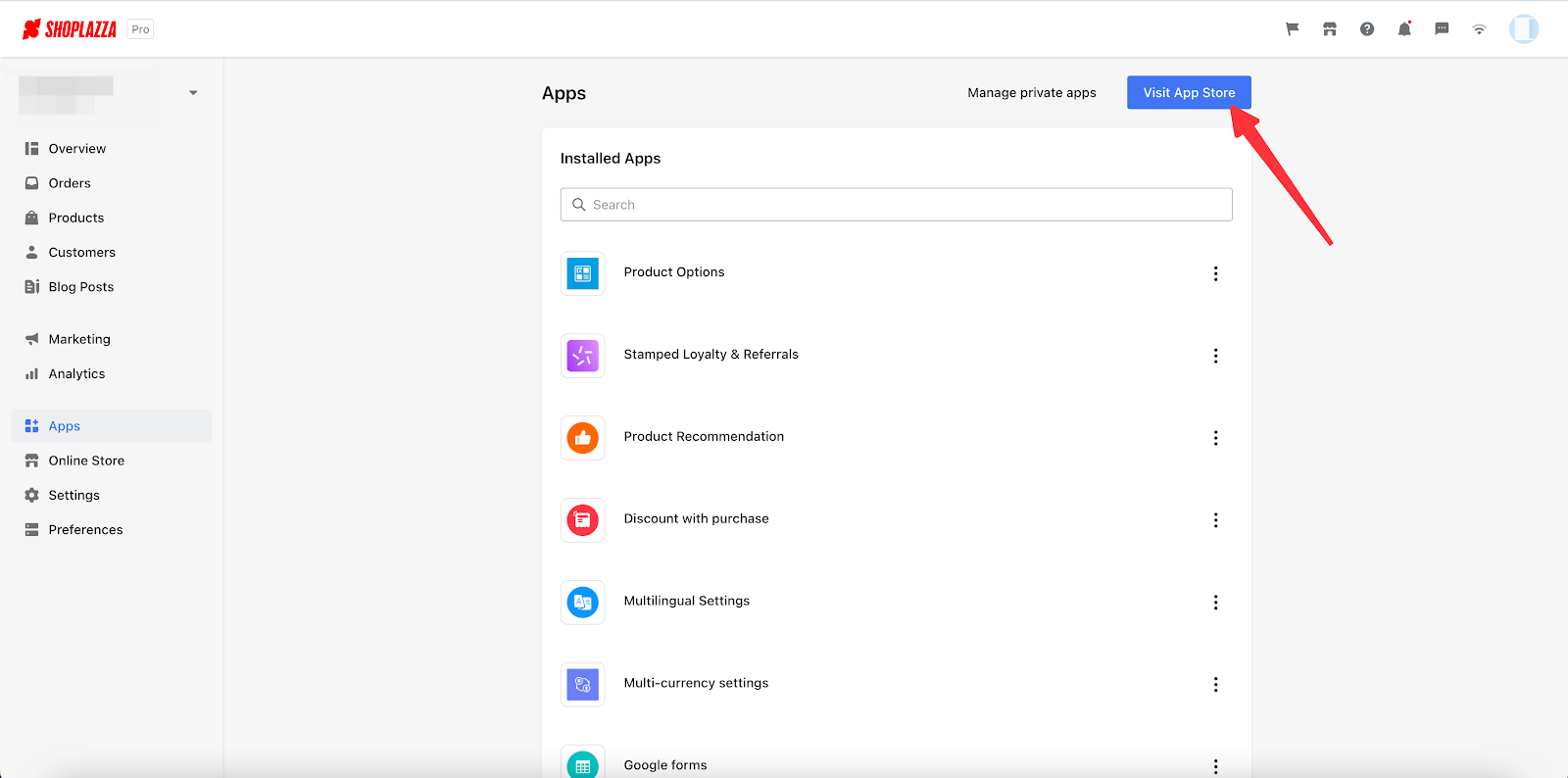 2. Add Trustpilot to your Apps.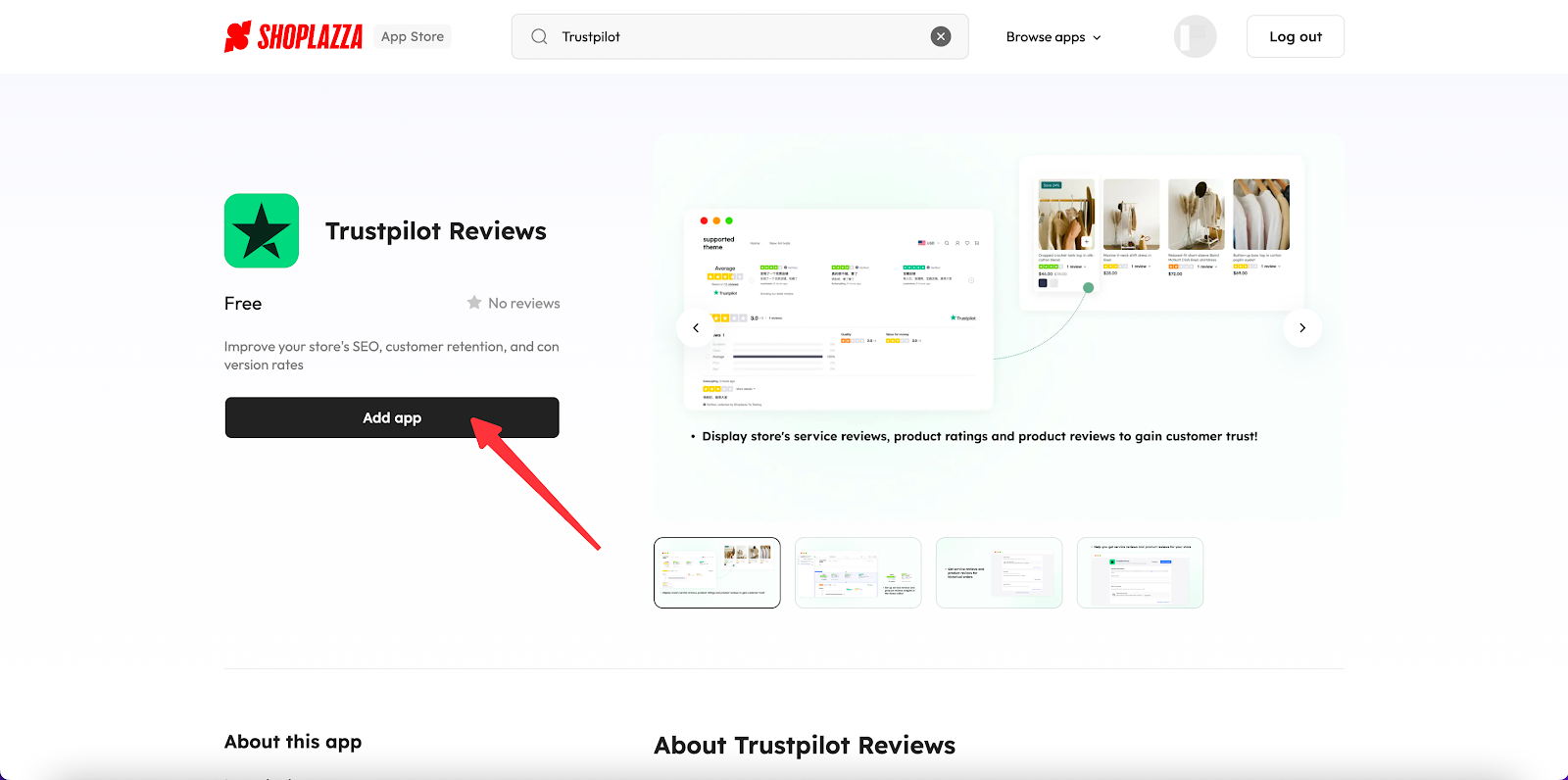 3. You will then be greeted with the next prompt to install by authorizing this app to access your information. Read the privacy details and click Install when you are ready.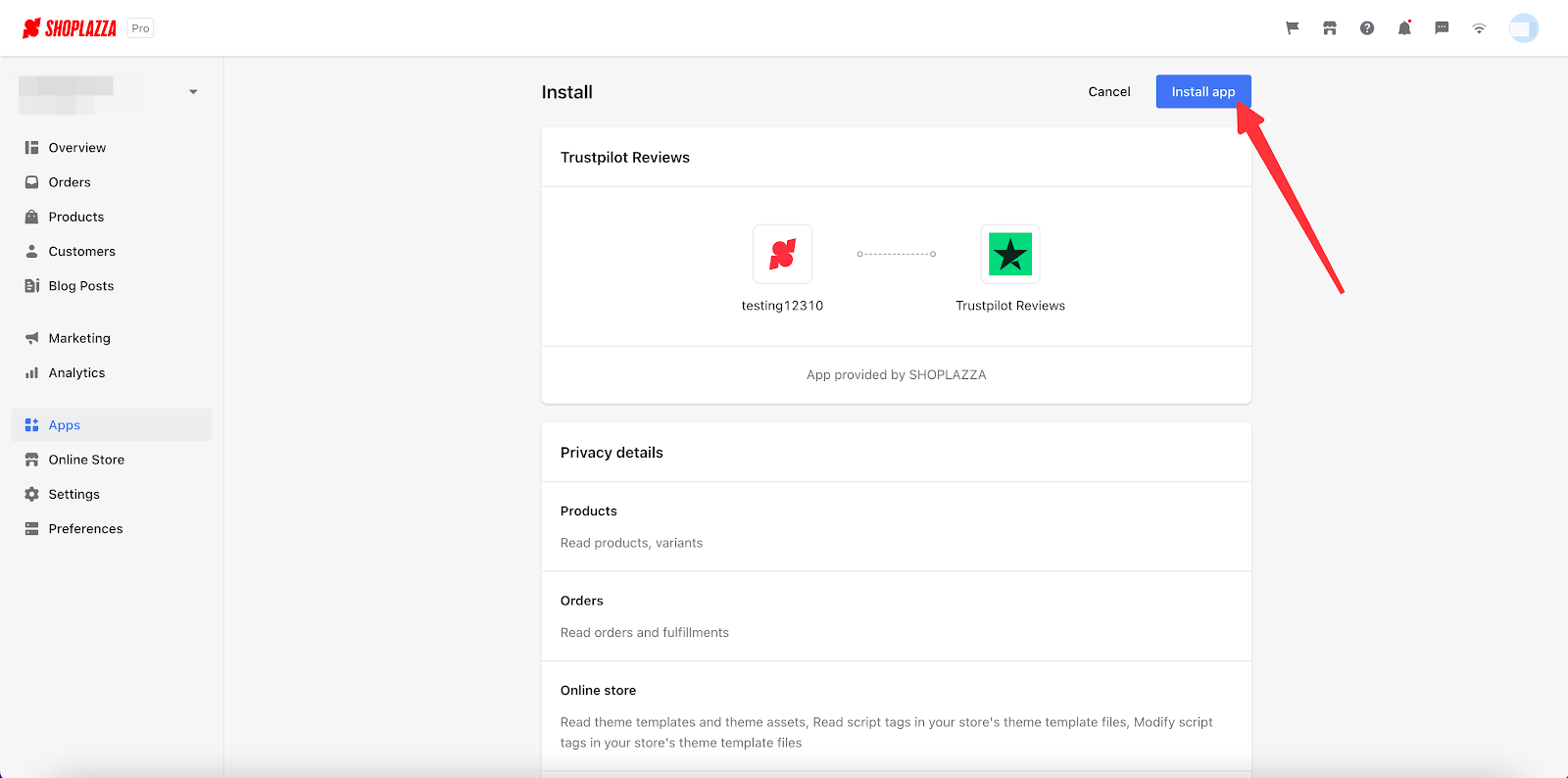 4. Review and authorize permissions you are giving to Trustpilot Reviews and click Authorize Trustpilot to confirm.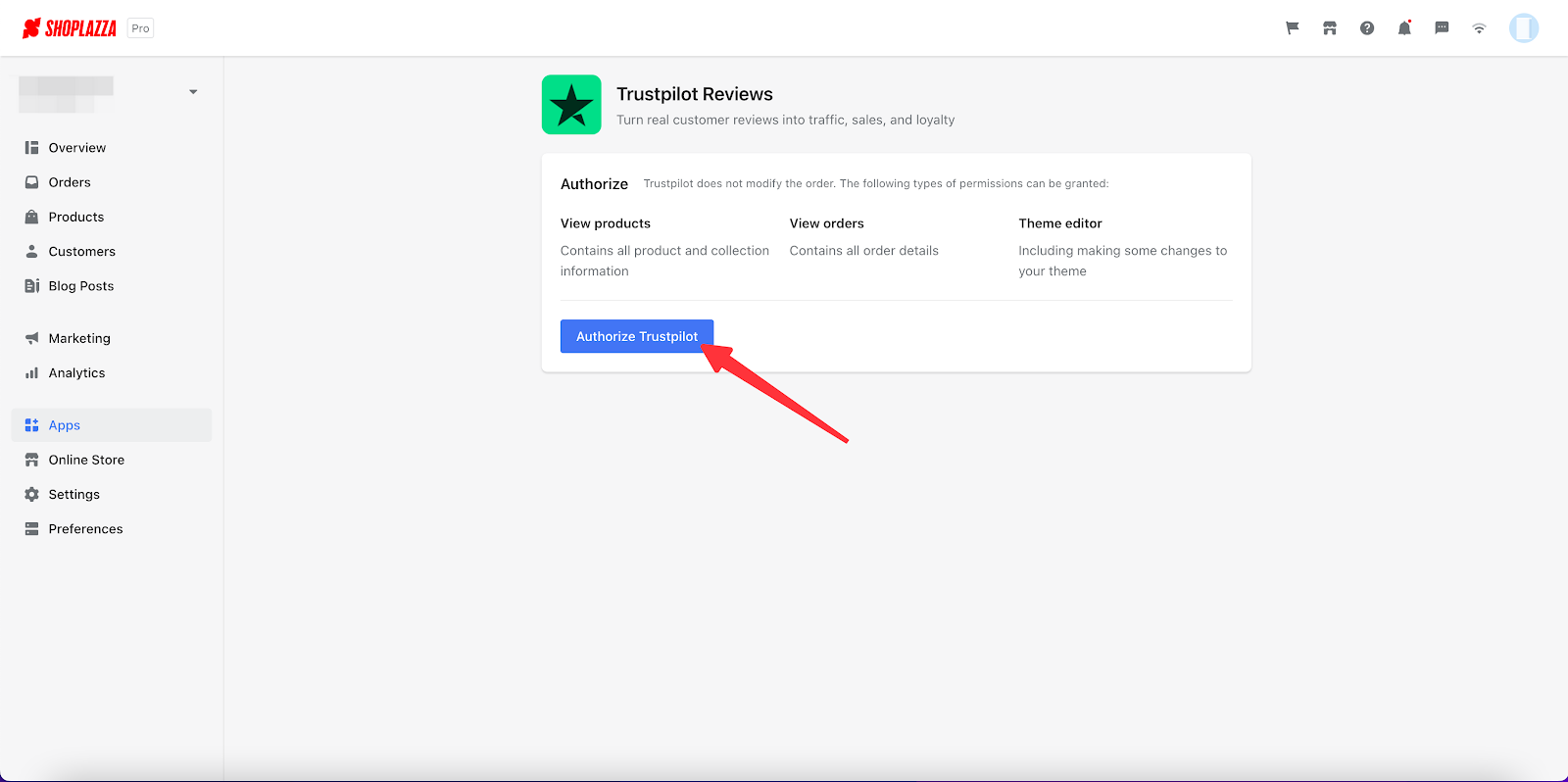 5. A login page to Trustpilot business account will pop up in a new tab. You may log in with your registered credentials or sign up for a new account via the Sign up for free now portal below.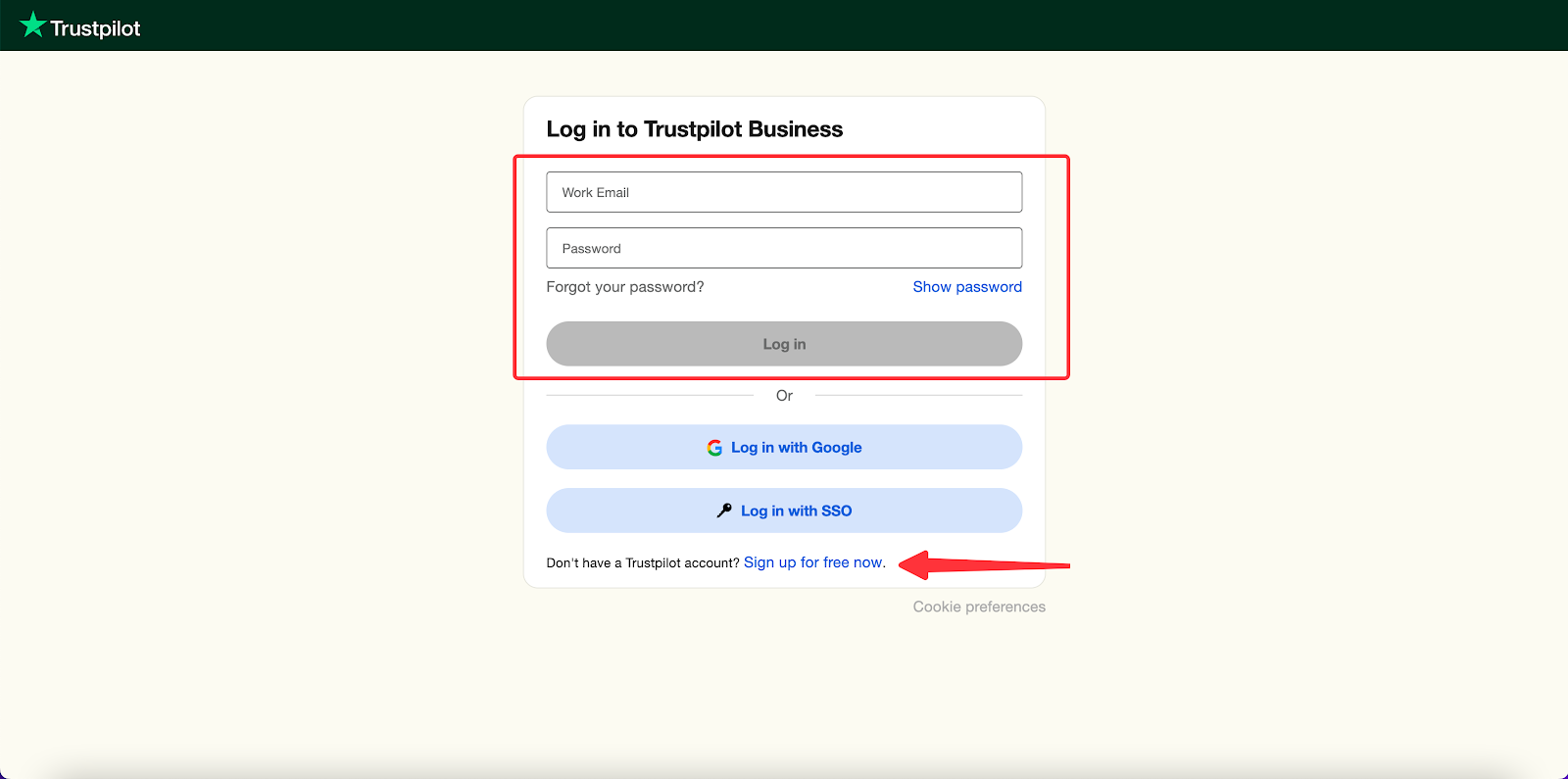 Establishing connections
1. Once you've logged in to Trustpilot, copy the domain name from the top left and paste that information to your Shoplazza Admin.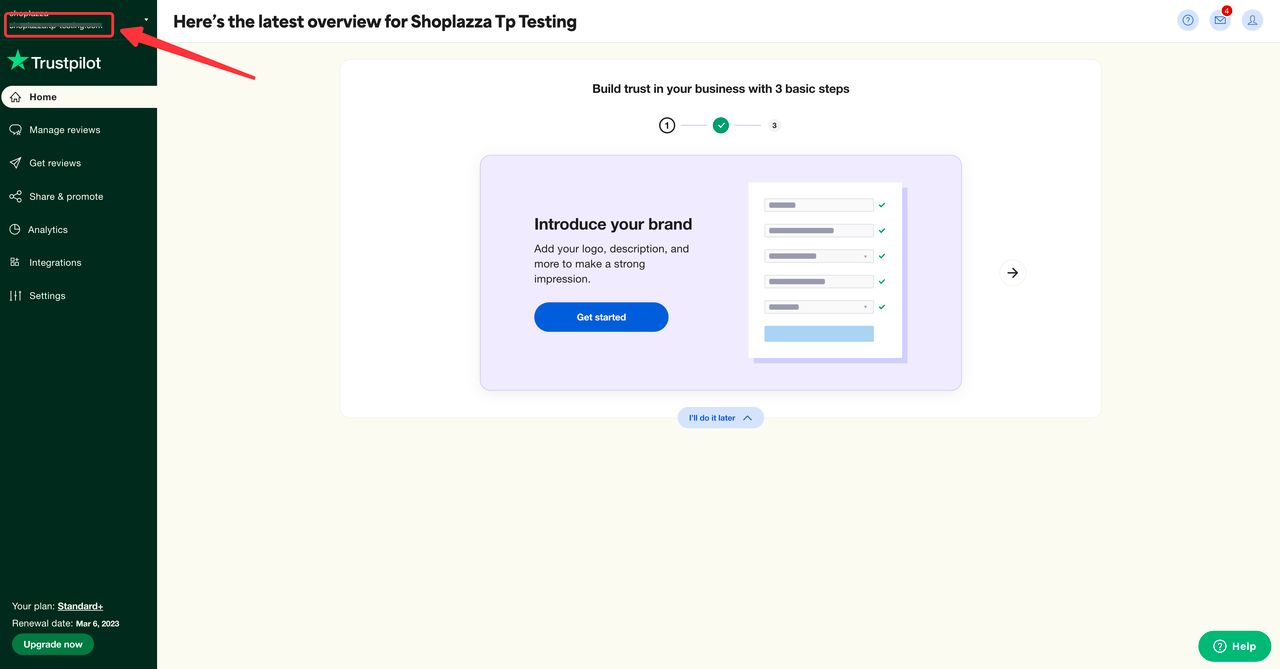 2. Here, make sure the domain name you copied matches exactly in both Shoplazza and Trustpilot.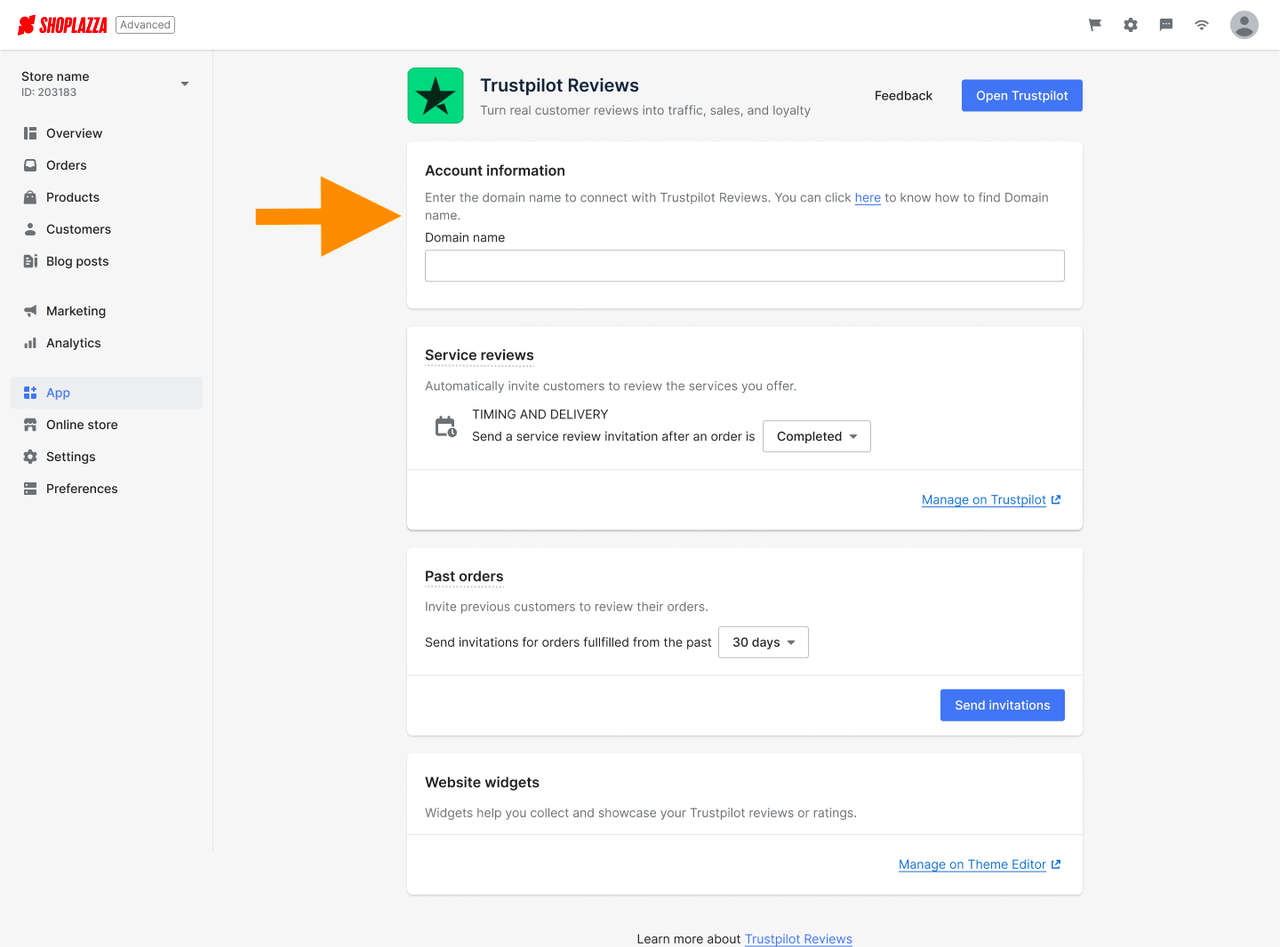 Gaining quick access to Trustpilot via your Shoplazza Admin
1. Once you have established a successful connection between your Shoplazza account and Trustpilot App, you are enabled to access Trustpilot pages through Open Trustpilot in your Shoplazza Trustpilot Reviews settings.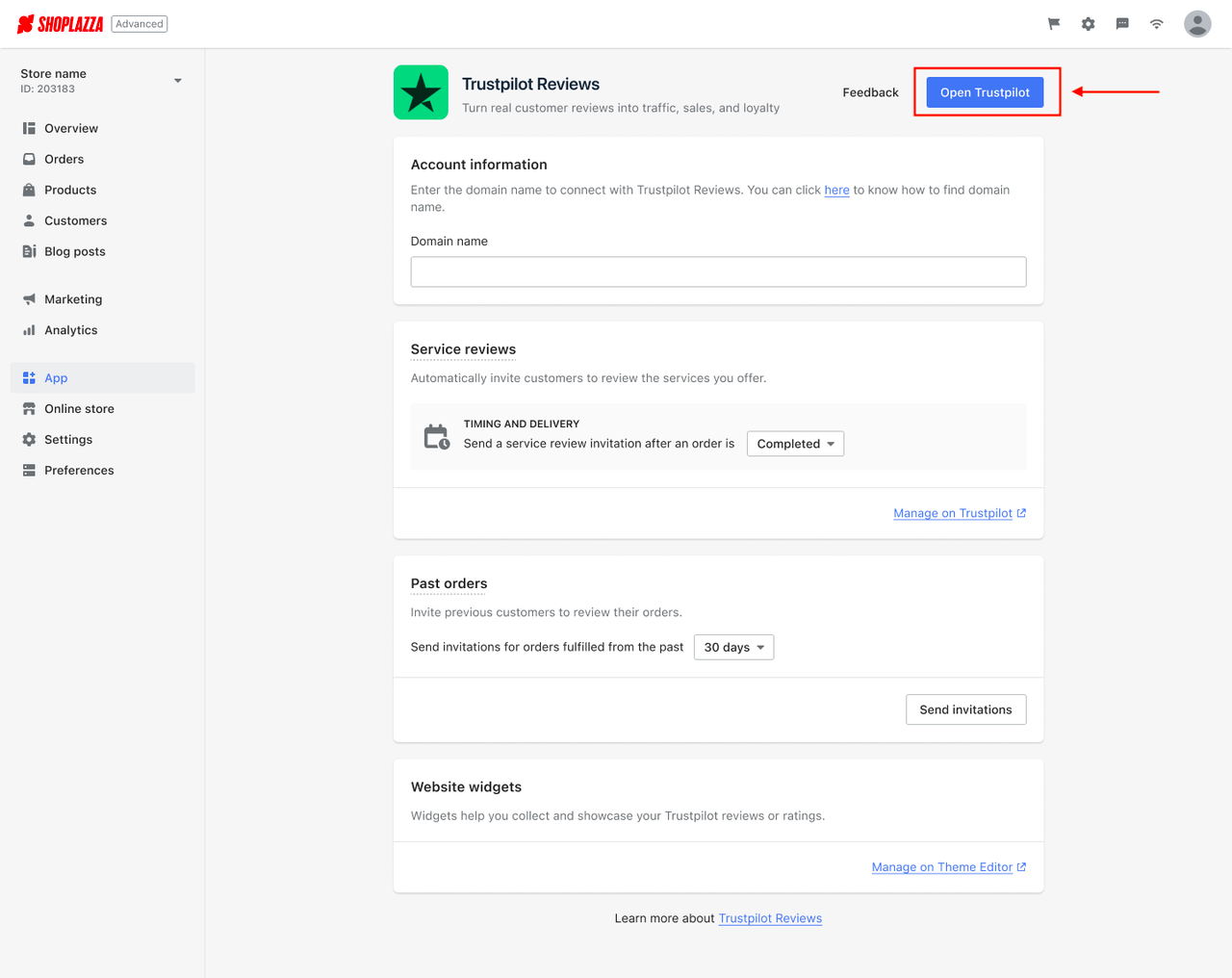 Setting up automated invitation emails
With the Service review settings, you are given options to send a review invitation at below checkpoints when delivering an order:
When orders are confirmed
When orders are completed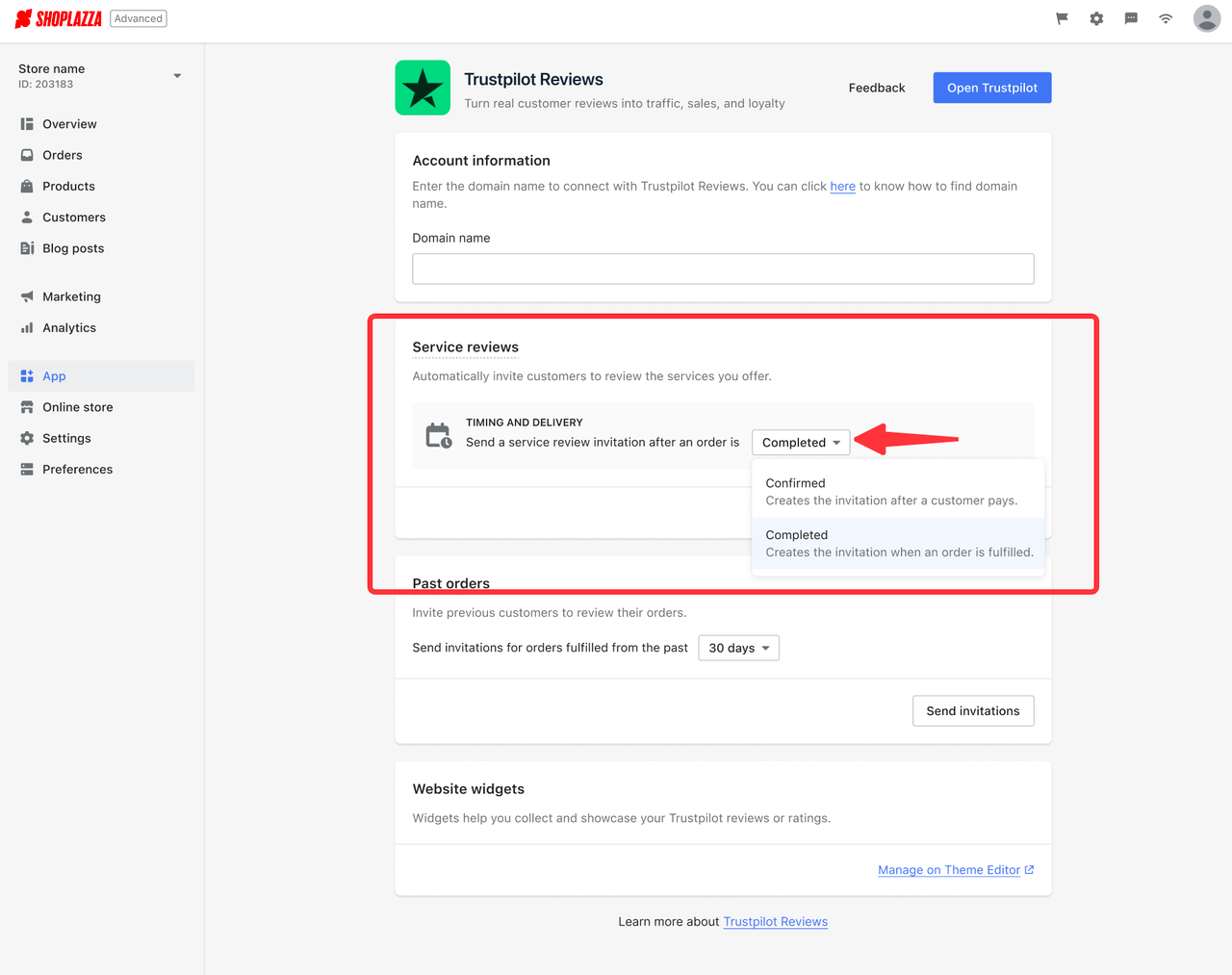 Note
Your Trustpilot account offers extensive functionalities to help you schedule invitation delivery dates. Please refer to your Trustpilot Business, go to Settings > Invitation settings > Time & delivery  .
Inviting customers to leave reviews
1. Trustpilot offers a convenient feature that allows you to easily send out review invitations to customers who have recently completed an order. This is done in bulk, so you can Send invitations to a large number of customers all at once. You simply select a time frame, such as 7 or 30 days, and Trustpilot will automatically send out invitations to all customers who completed an order within that period.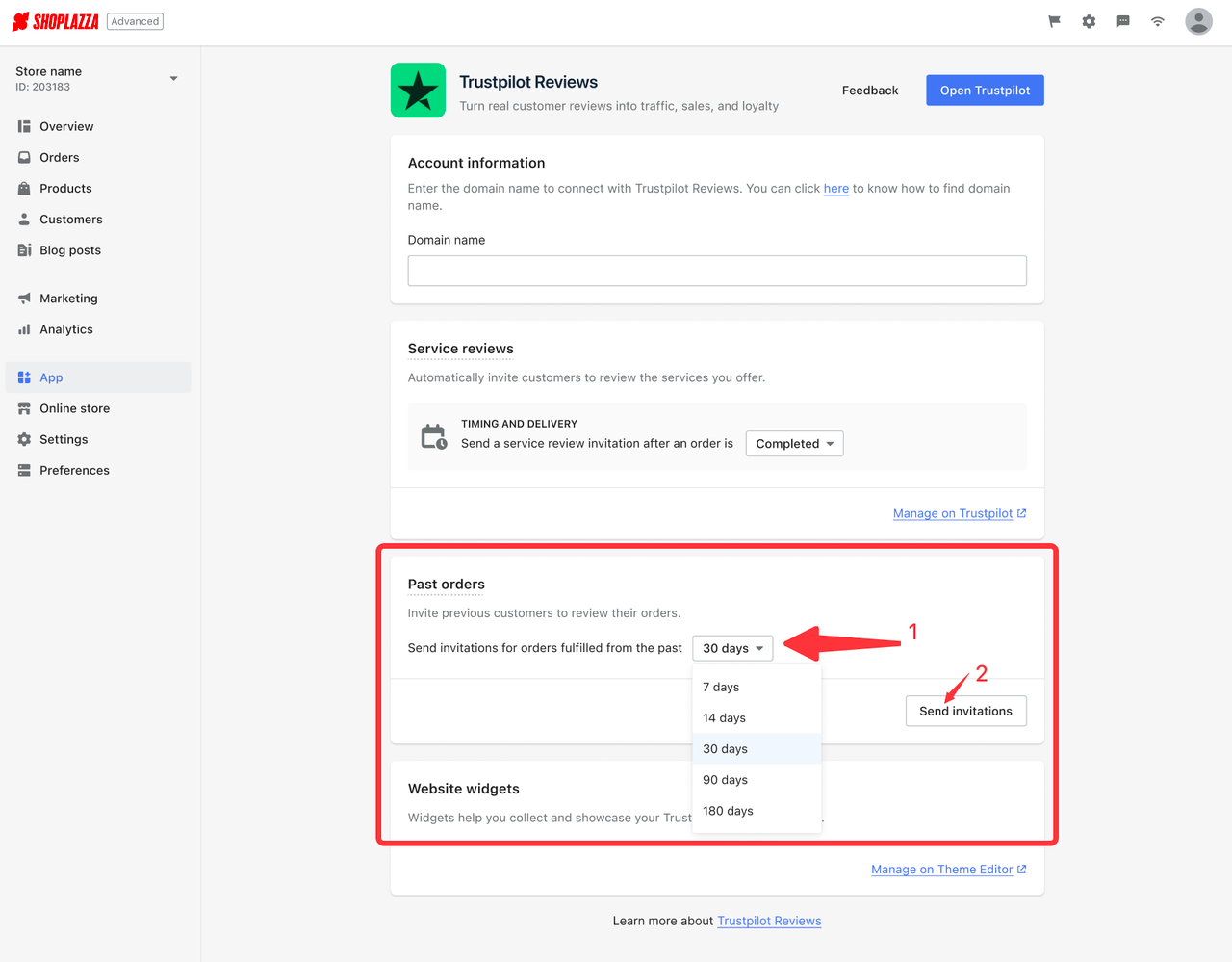 Configuring your App extension in the theme editor
1. The Trustpilot API review widget is a tool that allows you to display your Trustpilot reviews directly on your website via the Shoplazza theme editor.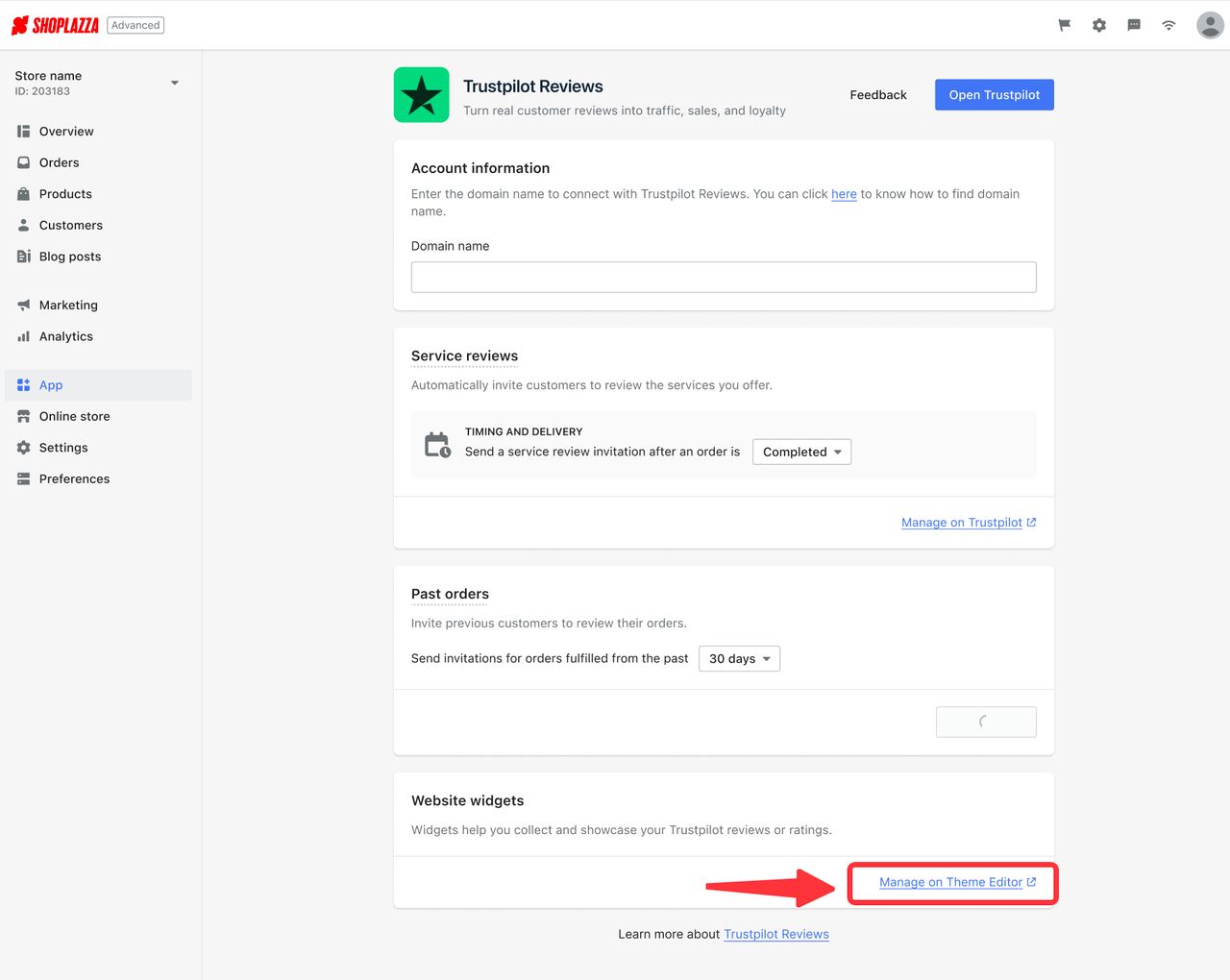 There are 3 types of Trustpilot review sections you can add to your theme templates when you enable this app extension in your Shoplazza Admin. Some of these features are only applicable to certain pages of your store. Below is a table explaining their applicability:
| | |
| --- | --- |
| Store reviews | Home page, Product detail page, Collection page, Search page. |
| Product mini reviews | Home page, Product detail page, Collection page, Search page. |
| Product reviews | Product detail page ( with layout customization options) |
Customizing Trustpilot product reviews
1. Select a page from the centered dropdown menu to add Trustpilot sections.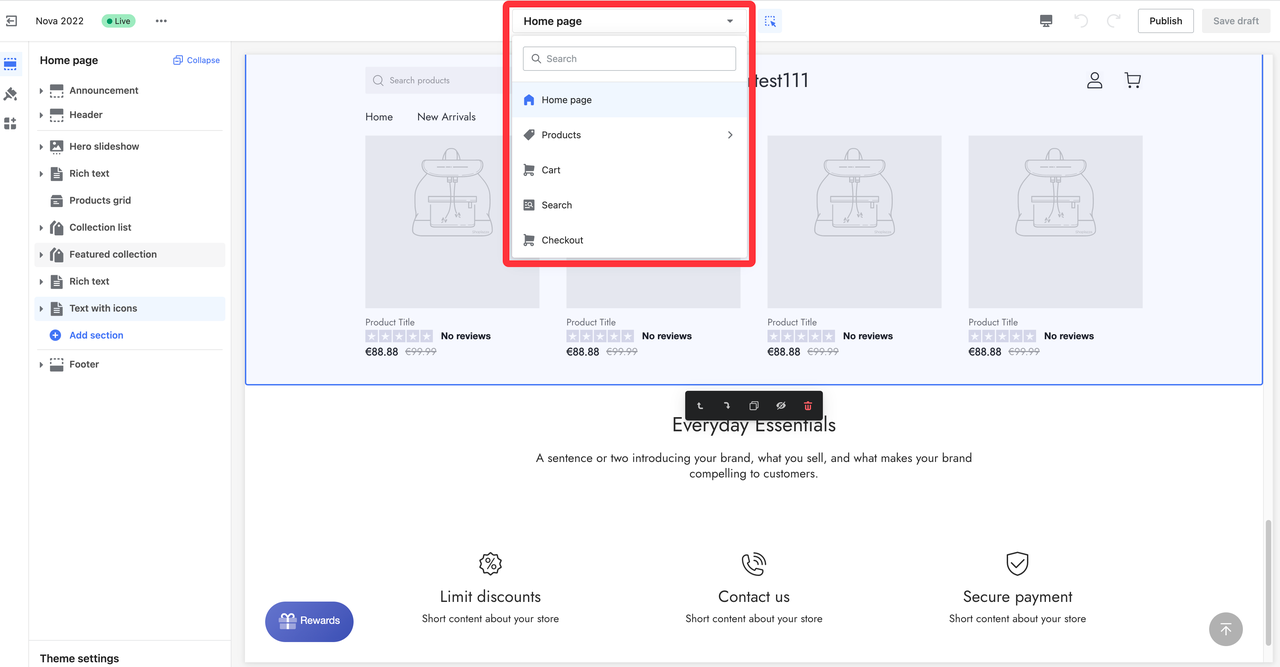 2. Click Add section from the left side of your screen.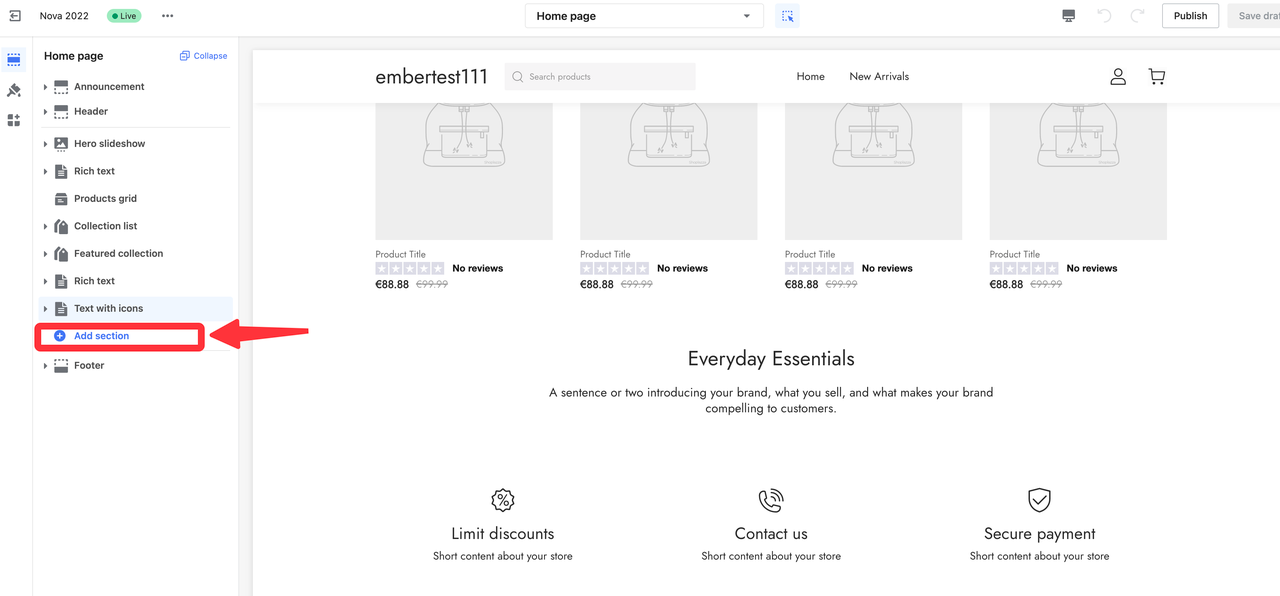 3. Find Trustpilot - Store Reviews under APPs extensions and add it to your theme template.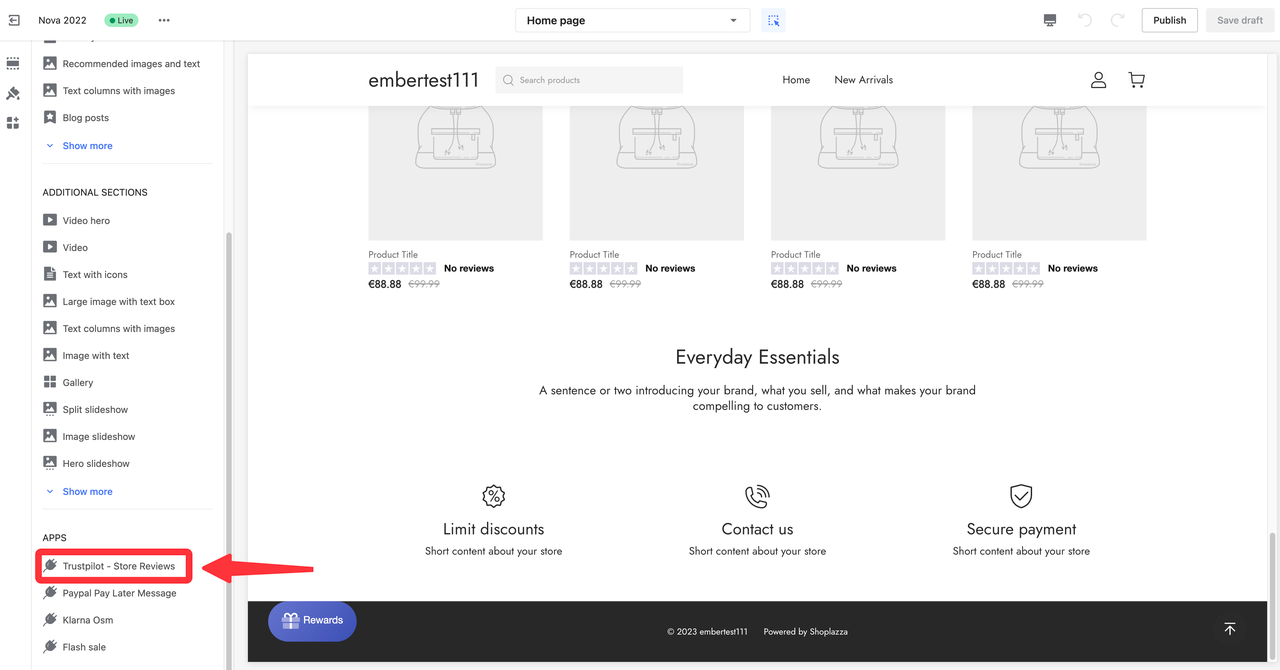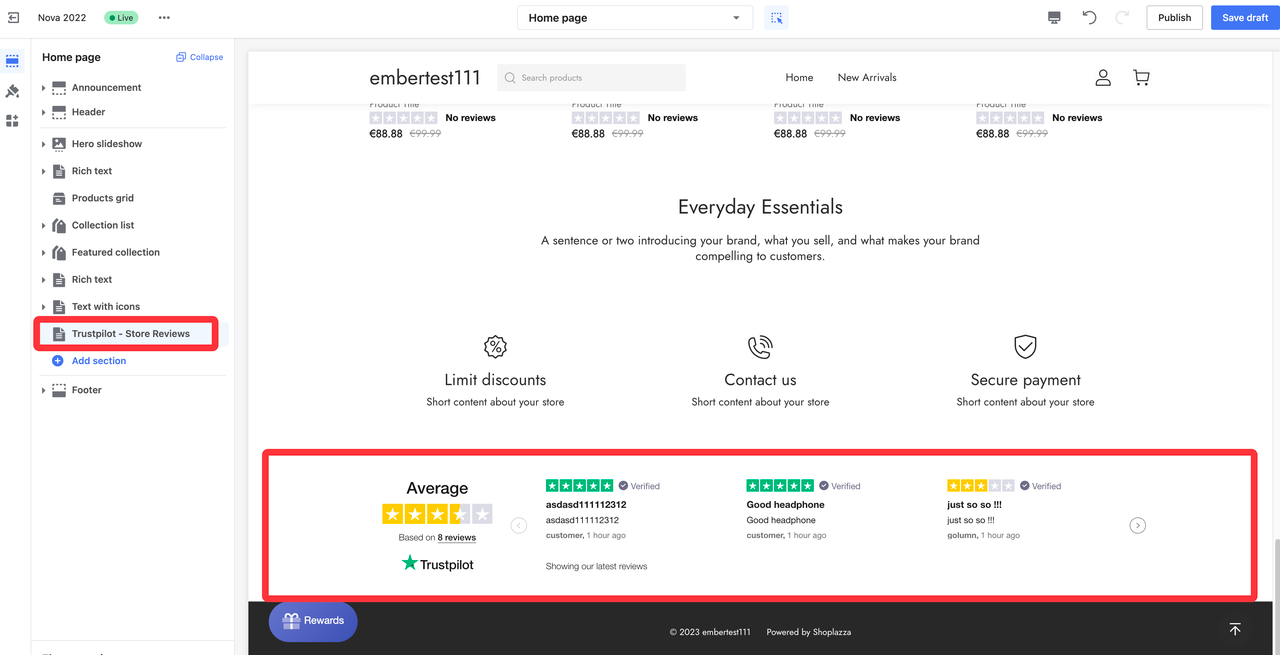 4. Once you've added it to your template, clicking on the title will allow you to configure your section settings.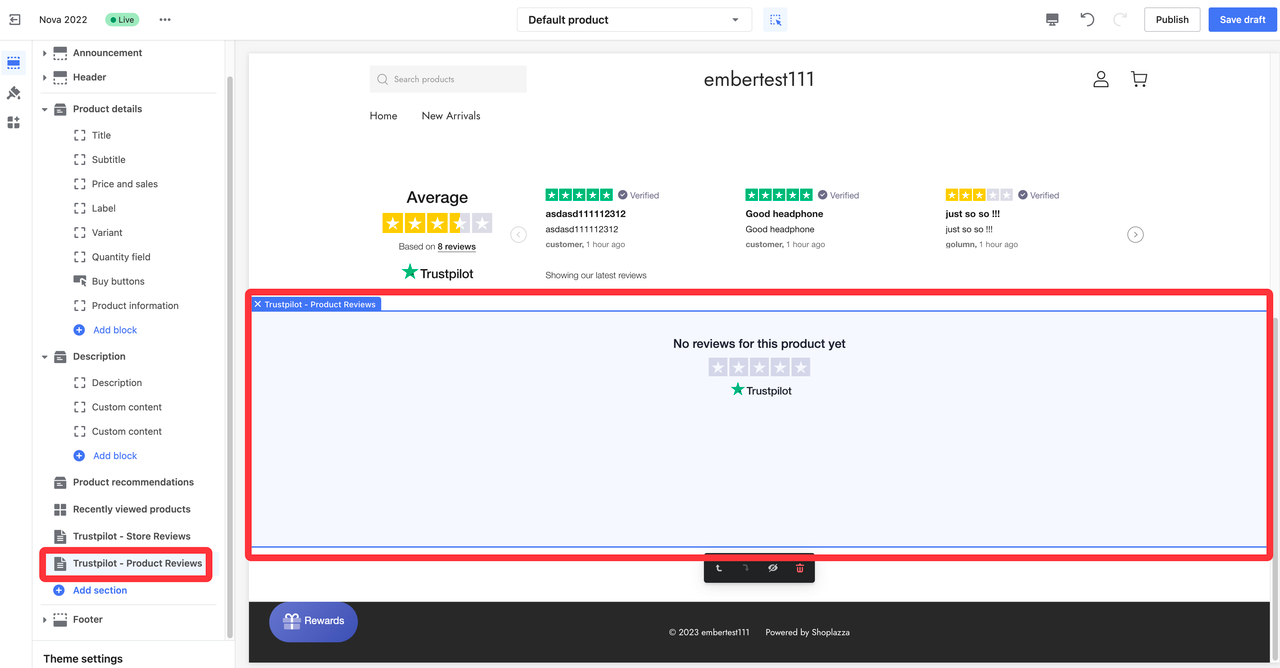 5. Here you have 2 layout options to set up the size of this section separately on desktop and mobile.