Shopping Ads title optimization is the process of optimizing the product titles in your Google Shopping Ads to improve their visibility and performance. When potential customers search for products on Google, they are shown relevant Shopping Ads that include product images, titles, prices, and other information. The title is one of the most important elements of the ad as it provides a quick summary of the product and helps customers decide whether to click on the ad or not.
Title optimization involves selecting relevant keywords and phrases that describe your product and incorporating them into the product title in a concise and compelling way. By doing so, you can increase the likelihood of your ads being shown to customers who are actively searching for products like yours, resulting in more clicks and potentially more sales.
Note
Before you start customizing product title optimization, product precheck must be completed. Click here to follow the steps to complete your product precheck.
Steps
1. From your Shoplazza admin > Marketing > Google > switch to the Function tab, and under Campaign Creation, click on Shopping Campaign.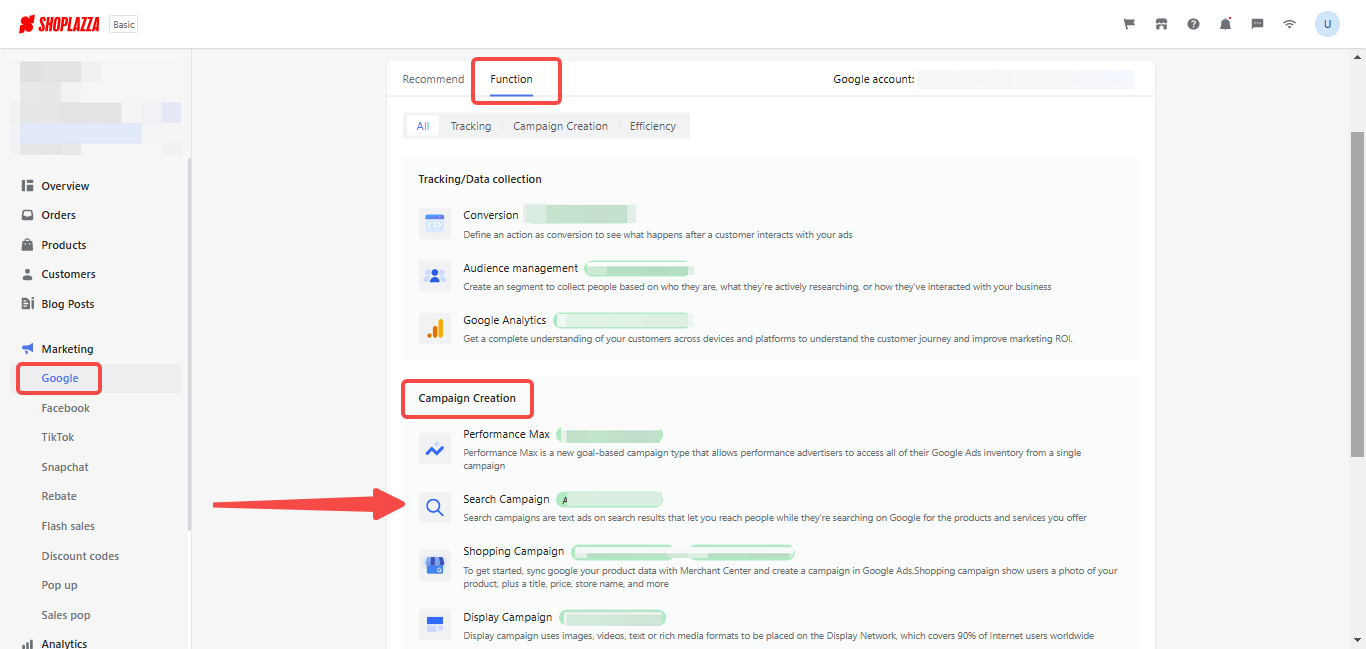 2. From Products > Title Optimization, click Edit, and Select Customized title optimization to edit.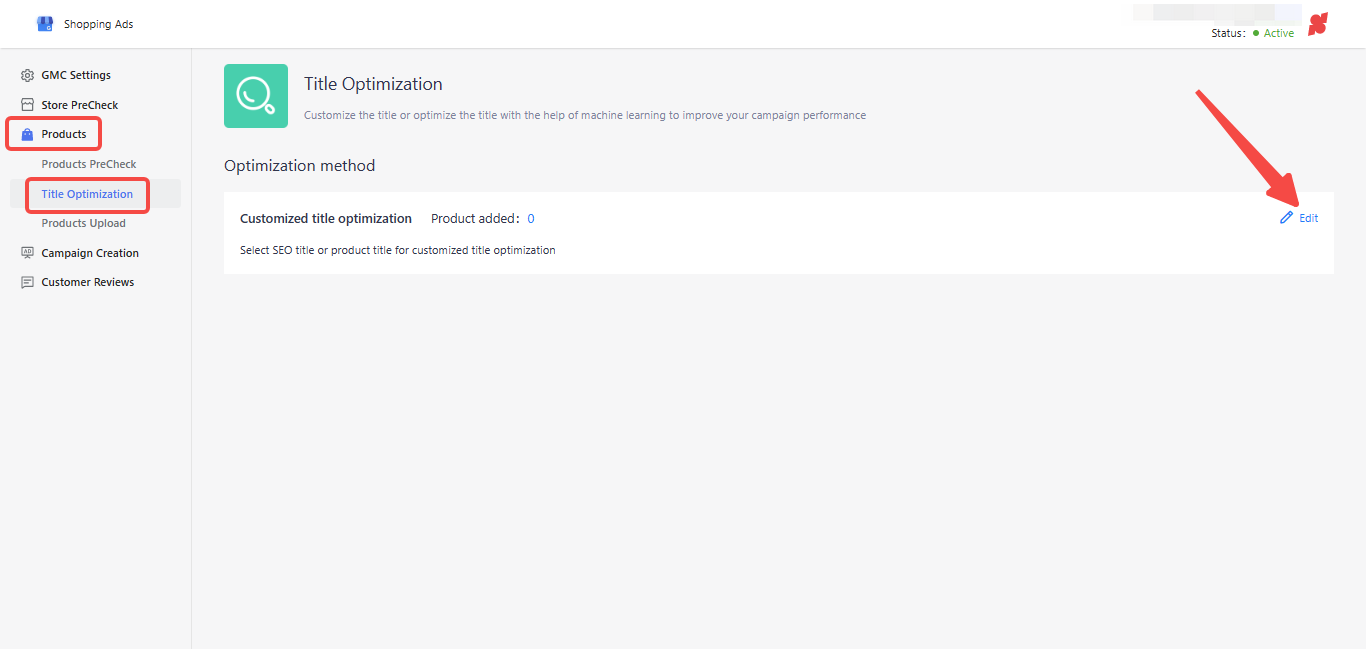 3. You can select Specific collections or Specific products to add products. If you choose the specific products, all the variants under the product will be added too.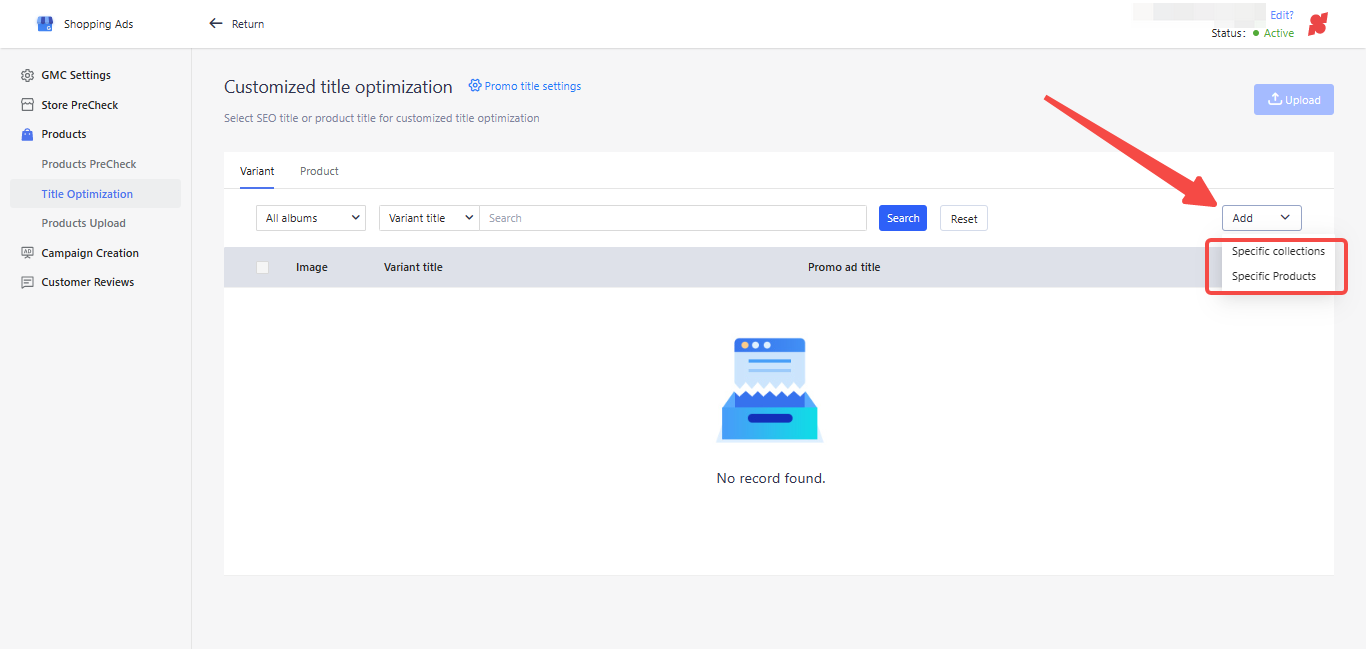 4. Here you can select products and modify the title and variant title separately.
For variant title optimization, you can modify the title and variant attributes, and the modified title will be reused for other variants under the same product.
For product title optimization, modifying product attributes are not supported.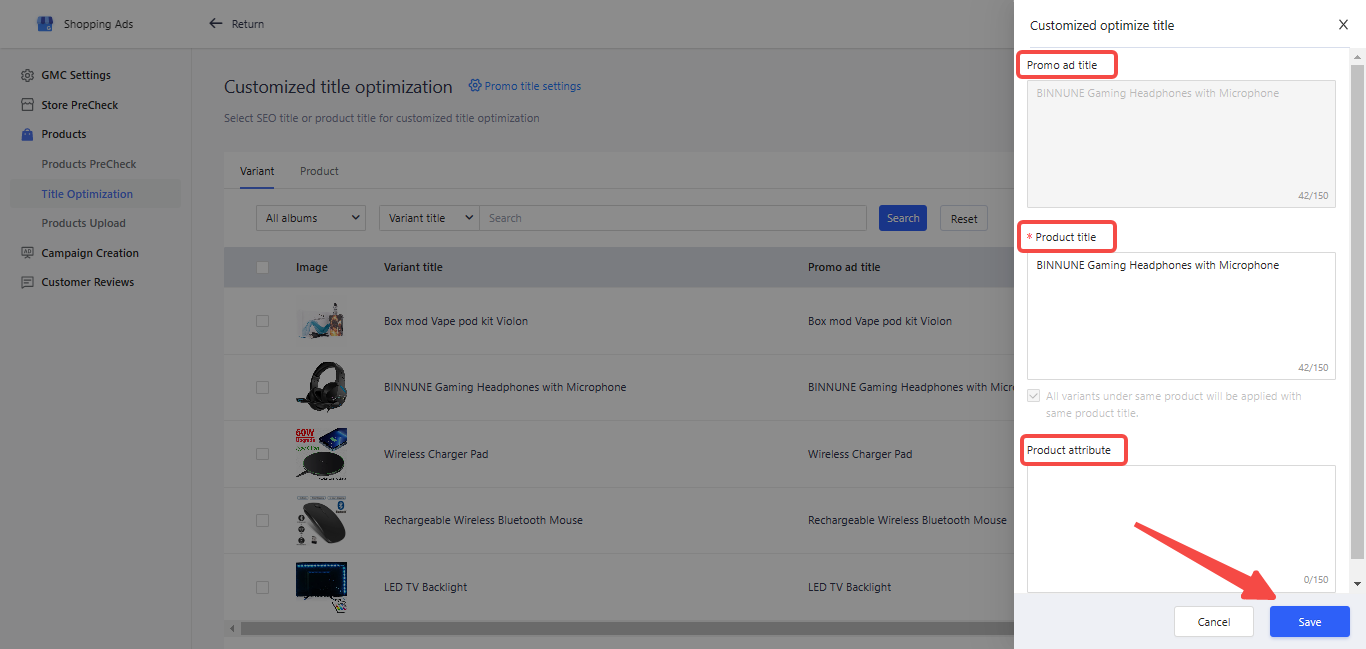 5. After optimizing the title, click Upload, and the product will be re-uploaded to GMC with the new title. Customized titles will also be shown under the Promo ad title.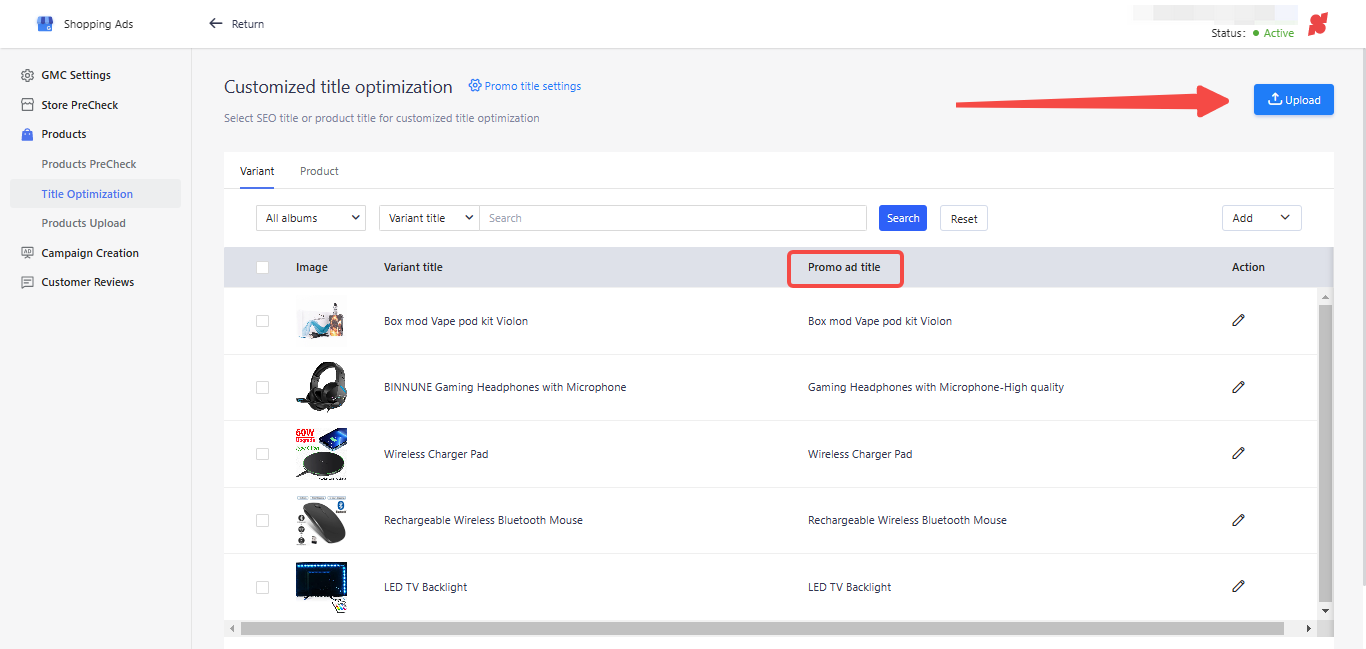 6. Under the Promo title settings, you have an option to choose a title for ad promotion. You can click to use customized product title or SEO title for ads promotion. The customized product title is selected by default.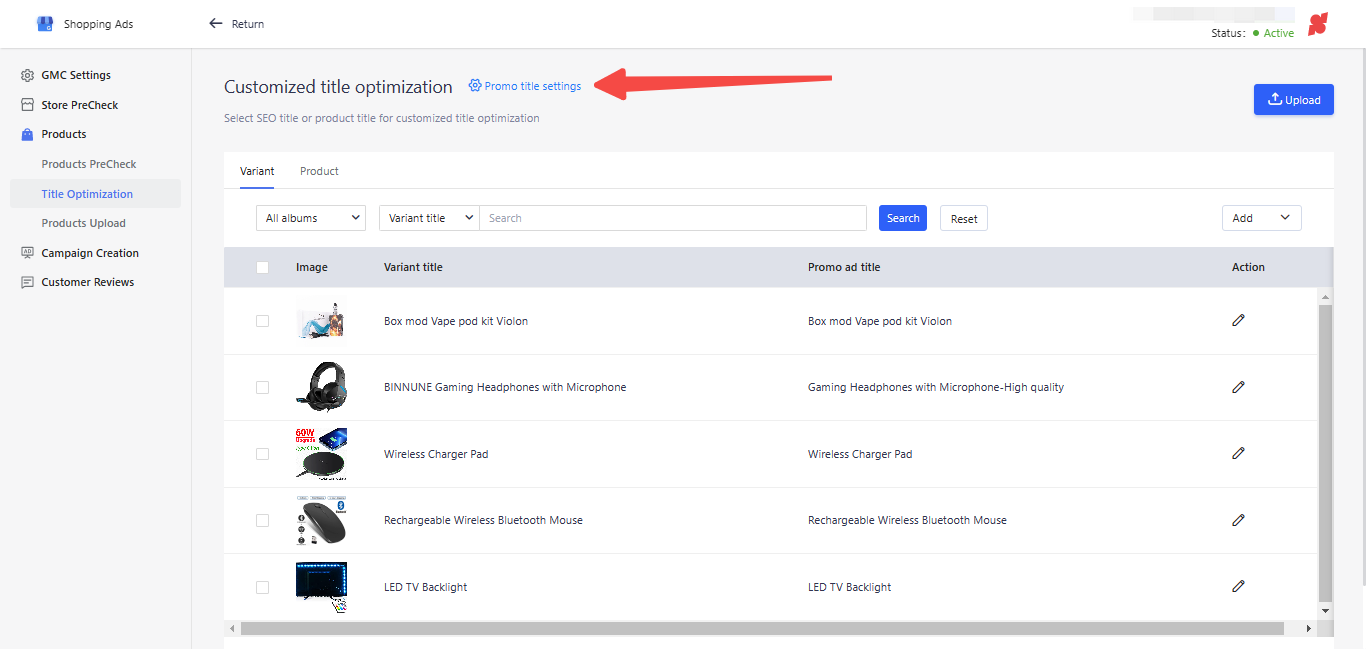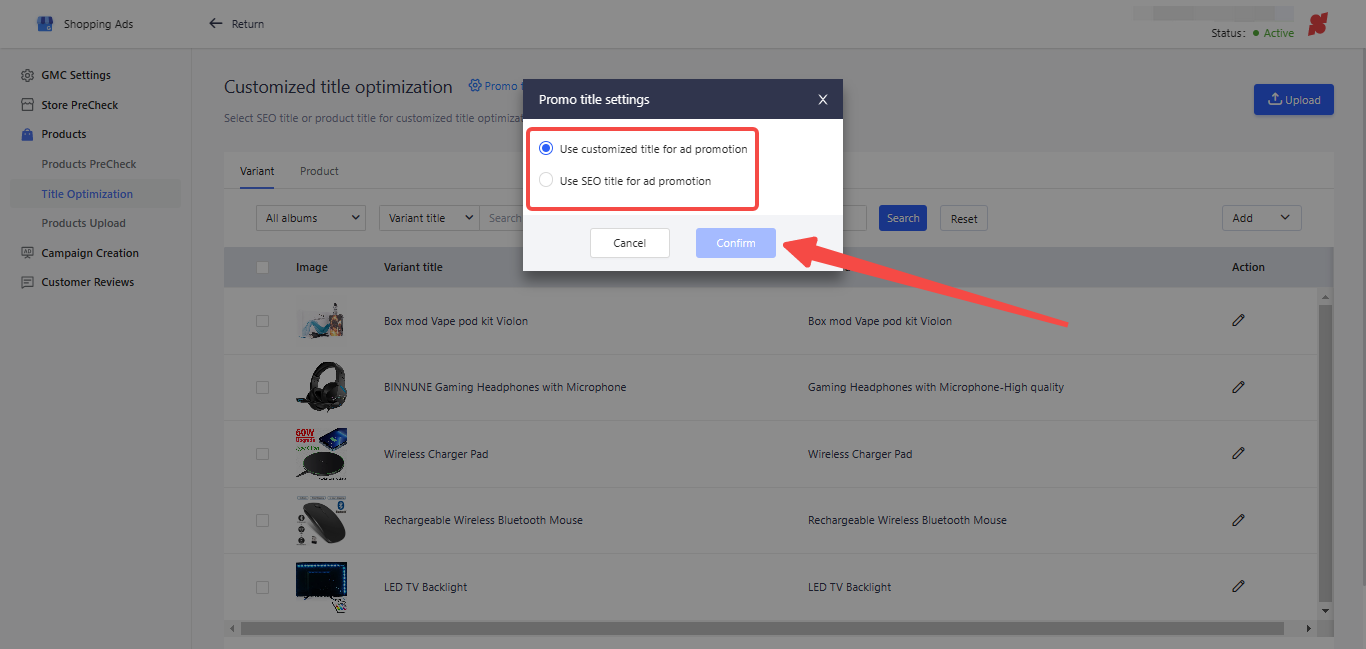 Shopping Ads title optimization is an important aspect of any Google Ads campaign and can help increase the visibility and performance of your product listings, ultimately driving more sales and revenue for your business.
Related Topics