Your signed-up Shoplazza account has a handful of features you can have access to from the main dashboard panel. In this guide, we will go through the important details of these features to help you jump-start with the Shoplazza admin. Knowing how to operate the Shoplazza admin gives you more confidence as a merchant before launching a store officially.
You will be redirected to the Shoplazza Admin dashboard once you've logged in. Here, Shoplazza provides a variety of tools to help you set up your business for success.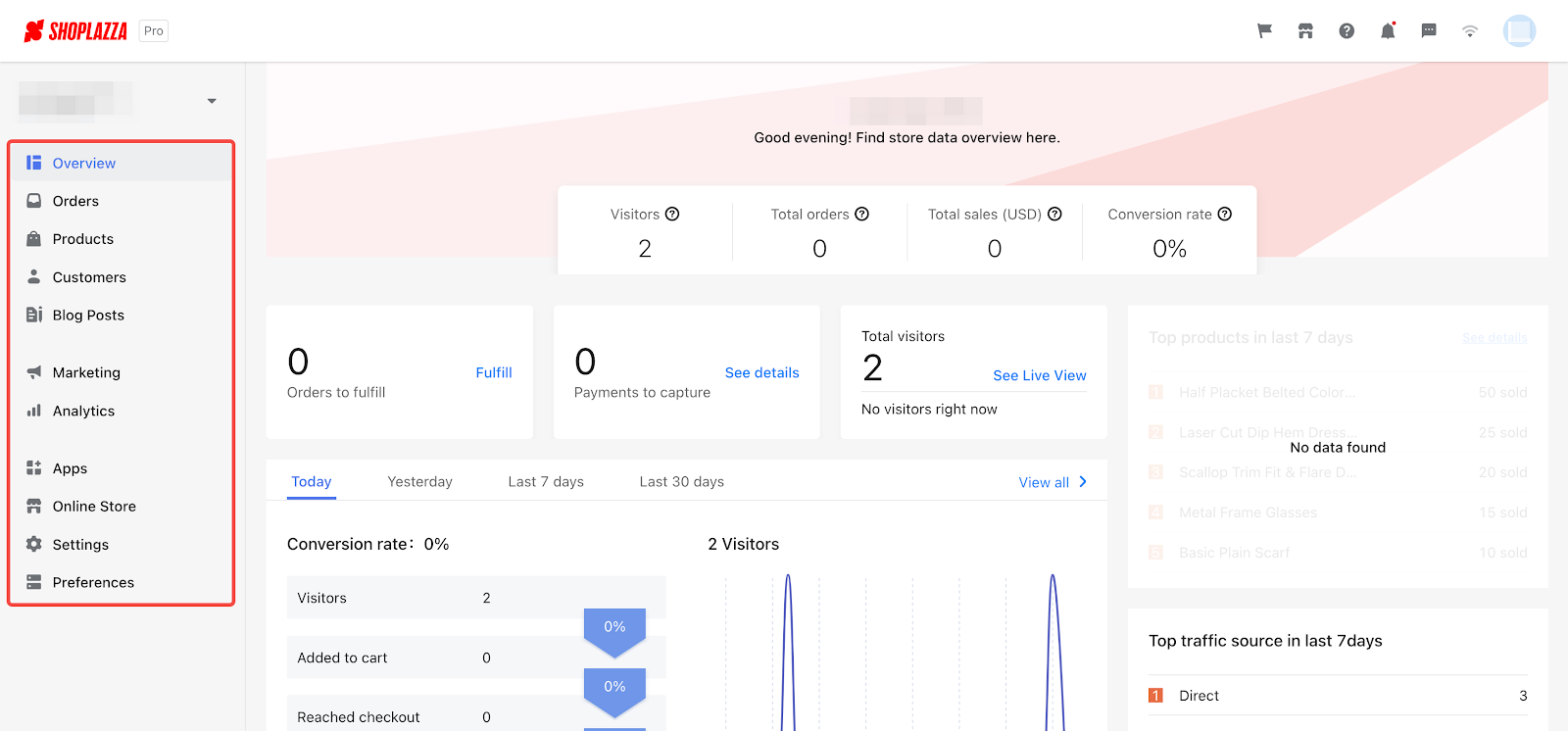 Overview
The Overview page is the default home screen page once you've logged into your admin. It is also your landing page where your store's most recent activities are displayed. The Overview feature visualizes the most important metrics you will need to measure the success of your business. In addition, you will also have quick access to fulfill incomplete orders as well as settle a payment to complete a credit or debit card purchase.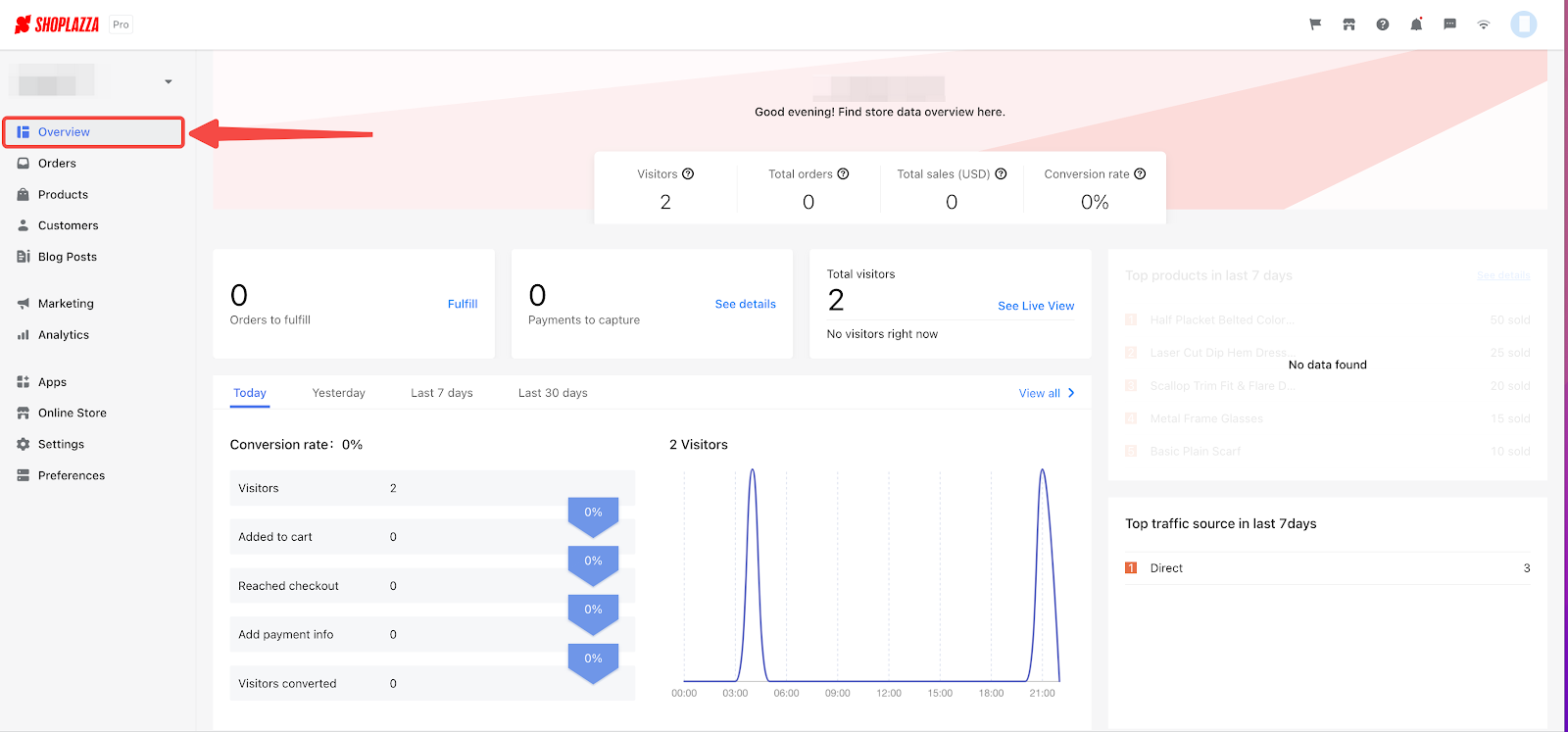 Orders
After a customer places an order at your online store, it will appear in the Order tab. You can also create orders manually for orders that are created outside of Shoplazza as invoices to send to your customers. All your order information is under the Order tab. To learn more about managing different types of orders, click here.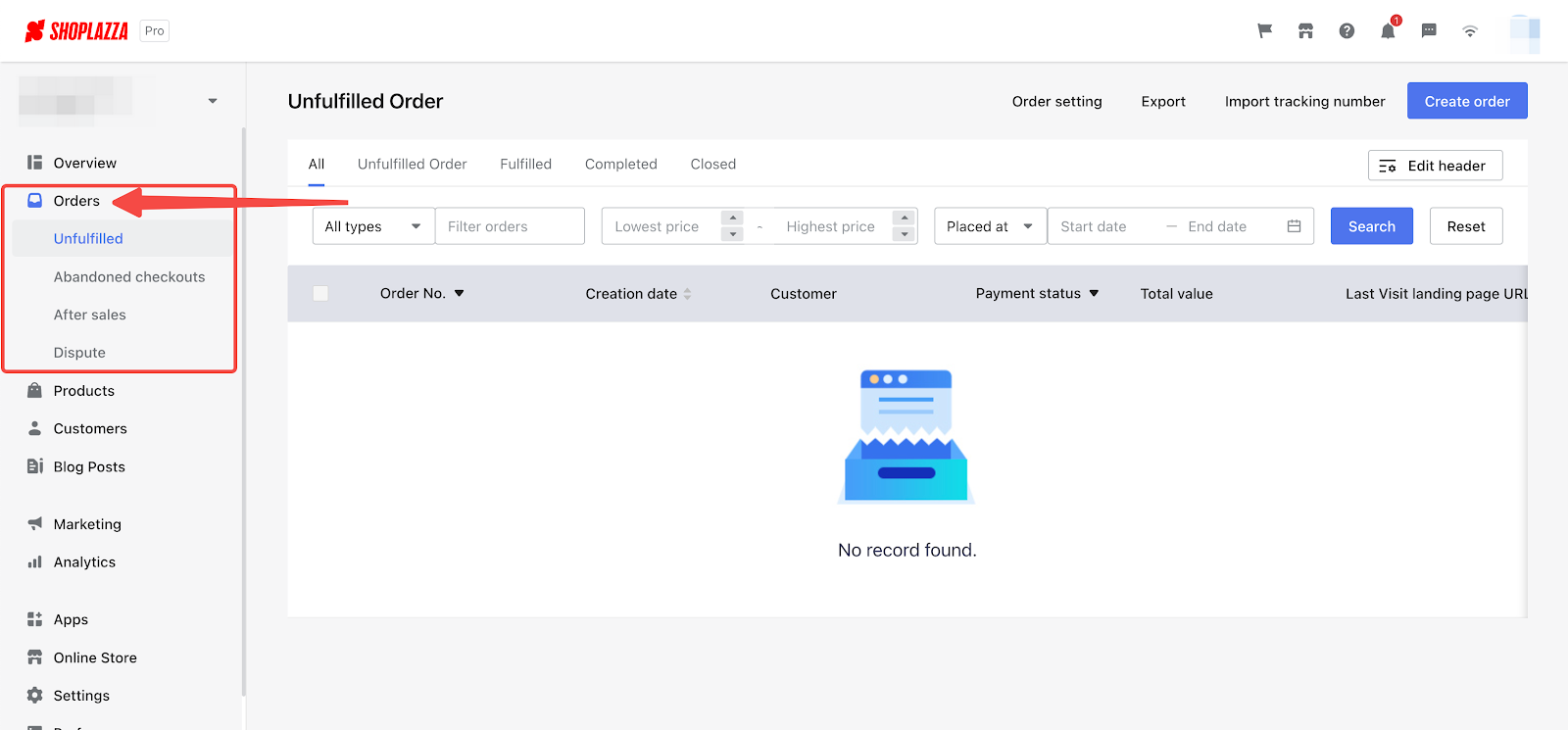 The Orders tab includes the following 4 parts:
Products
Your products are goods and services you sell to your customers. Your product can be both virtual and physical. Some of the most common retail goods are cloth, electronics, furniture and etc. Some businesses mainly focus on selling virtual goods. Some of the main types include but are not limited to digital copies of software and digital albums.
At Shoplazza, all your products are created, updated, and organized in the Product tab. You also have the option to save unpublished products as drafts before you officially release an item on your website.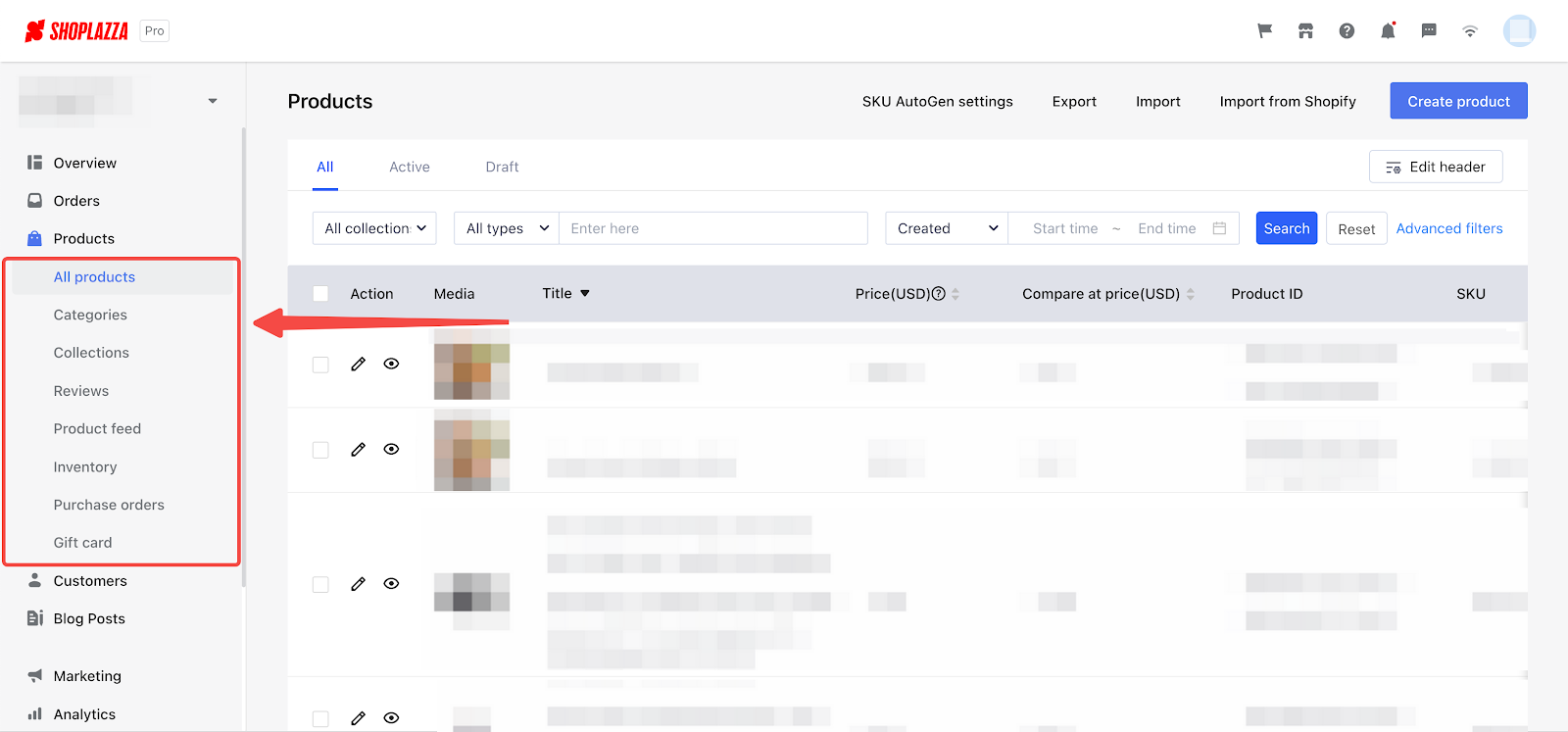 The products tab consists of the following 8 parts:
Customers
Understanding your customers and interact with your audience is an important part of levitating your business to the next level. Whether your online store has been up and running or it is brand new, you are going to need attention to develop a consistent customer base. The Shoplazza admin features all the useful tools that help you to implement your strategies and ideas into practice.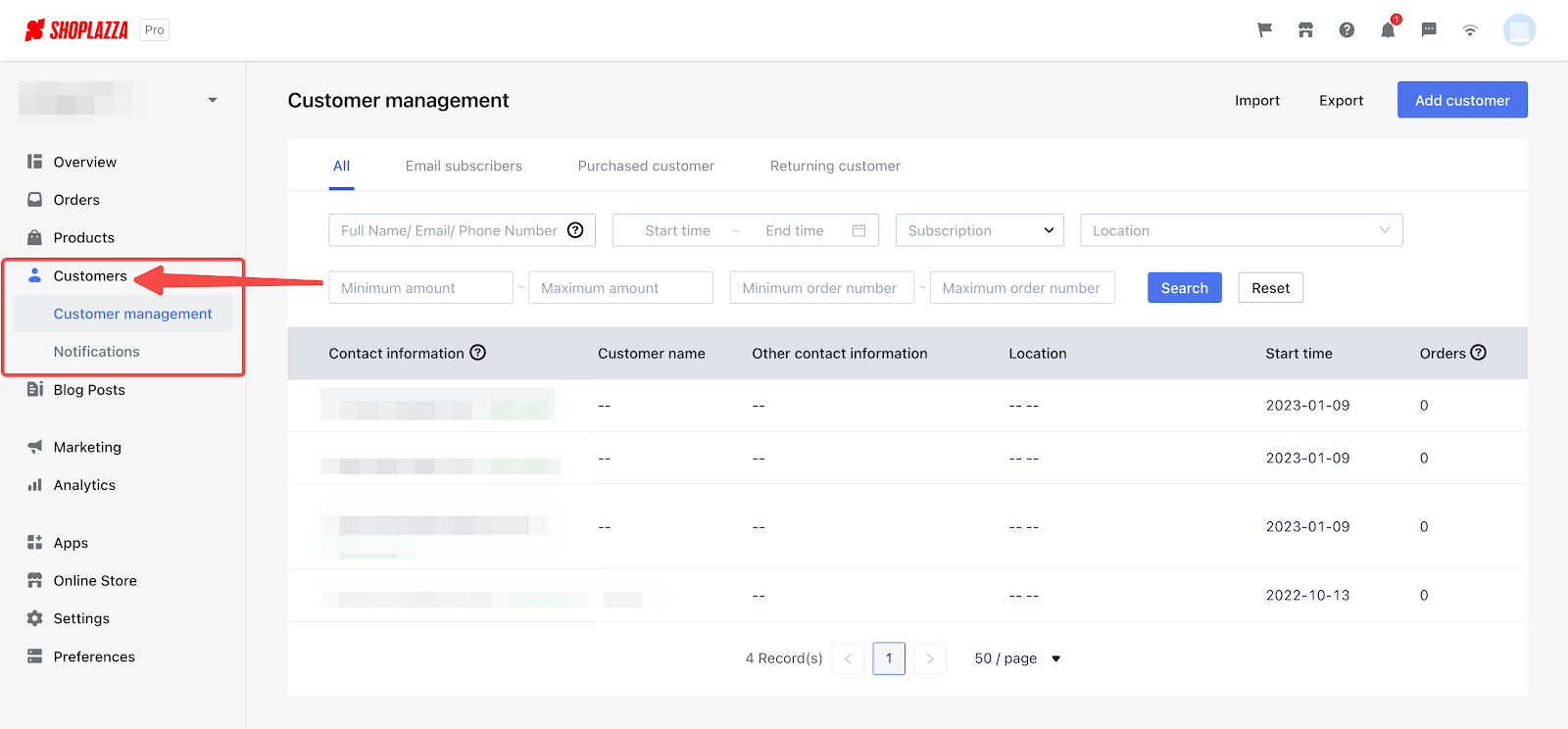 The Customers tab includes the following two parts:
Blog posts
A new customer may not be ready to make their purchase before getting to know more about what you have to offer. Having great blog content is one of the pillar strategies you can implement in your online store to attract more audiences and give your customers more confidence to shop through your collections.
The Shoplazza admin has provided a medium for you to create and organize your blog posts that can be later assigned to your online store.
You can use the Blog Posts tab as your personal writer's block to edit and publish unreleased content according to your own timeline.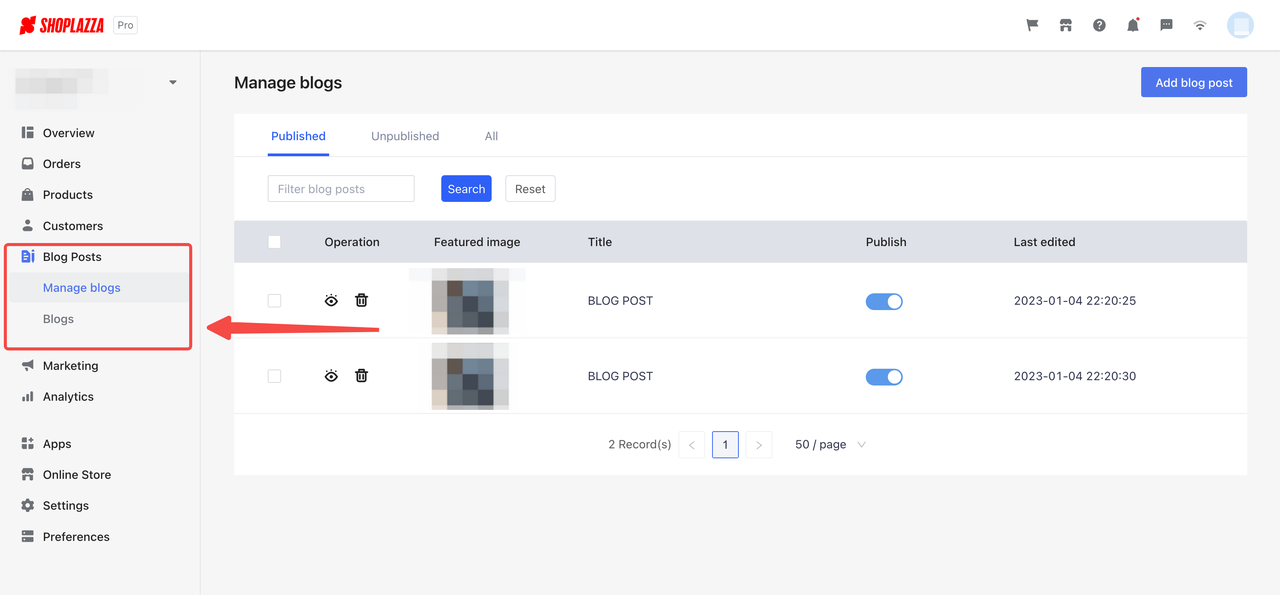 The Blog Posts tab includes the following two parts:
Marketing
You may need to consider the options of utilizing marketing tools that Shoplazza offers to expand the size of your business after you have officially launched your store. The right marketing strategy can help you convert visitors into customers and increase your store's turnover.
At Shoplazza, you will have the option to market your store with digitized marketing tools such as social media, marketing campaigns, and search engine optimization. Shoplazza is also connected with other built-in APIs to attract visitors and facilitate purchases in your store.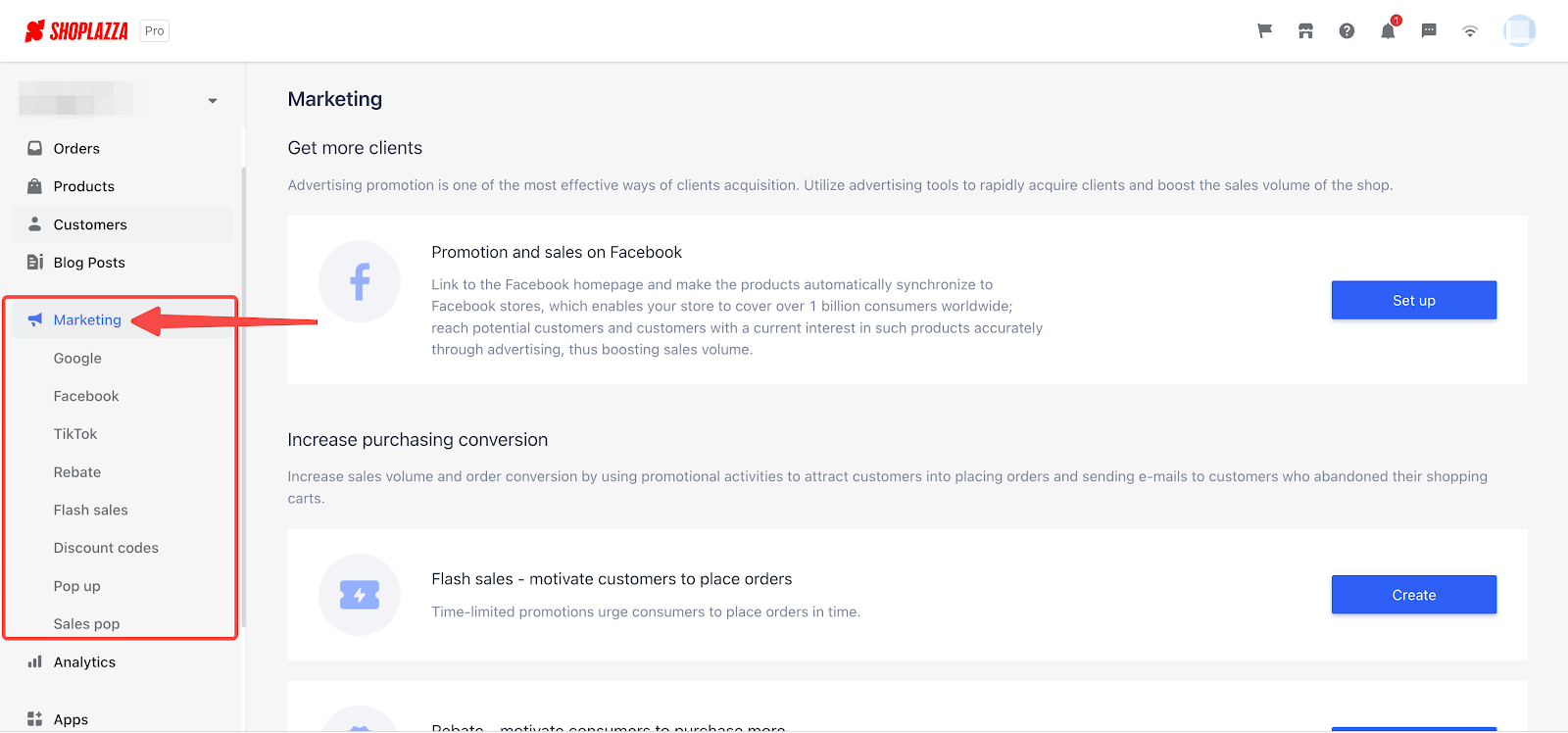 The Marketing tab includes the following 8 parts:
Analytics
Analytics and reports offer detailed insights into customers and sales conversion. Shoplazza's overview dashboard visualizes your store's performance with various popular graphs and charts. Switch to the live view mode to discover and monitor real-time sales conversions, shop trends, and checkout regions.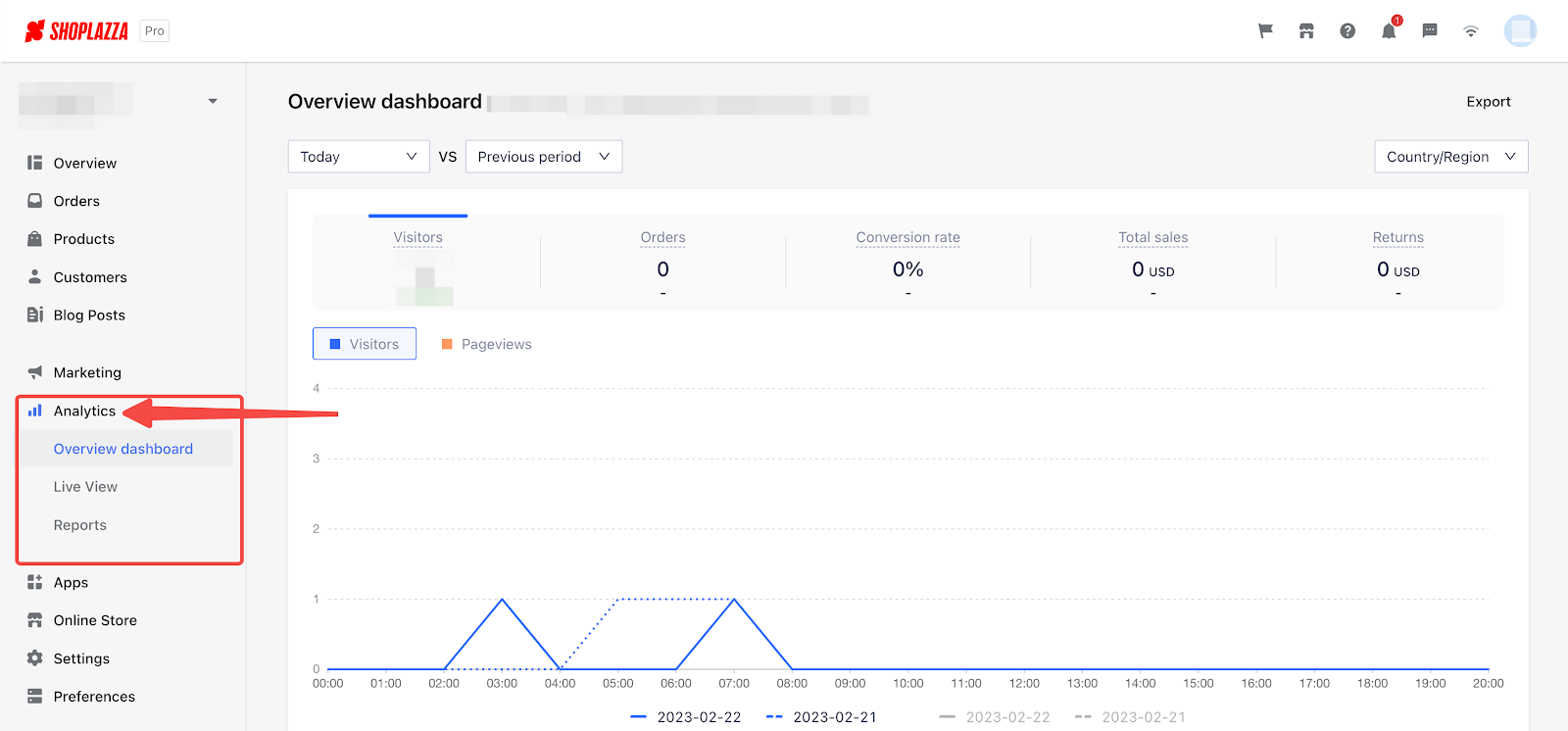 This Analytics tab includes the following 3 parts:
Apps
Adding Apps to your online store enables integrations that you can use to automate and expand the functionality of your store. The Shoplazza App store has a variety of e-commerce plugins available, each with their own unique features and benefits. Refer to this tab to find apps that have been installed and visit the Shoplazza App store to explore more tools to help you create a successful and thriving e-commerce business.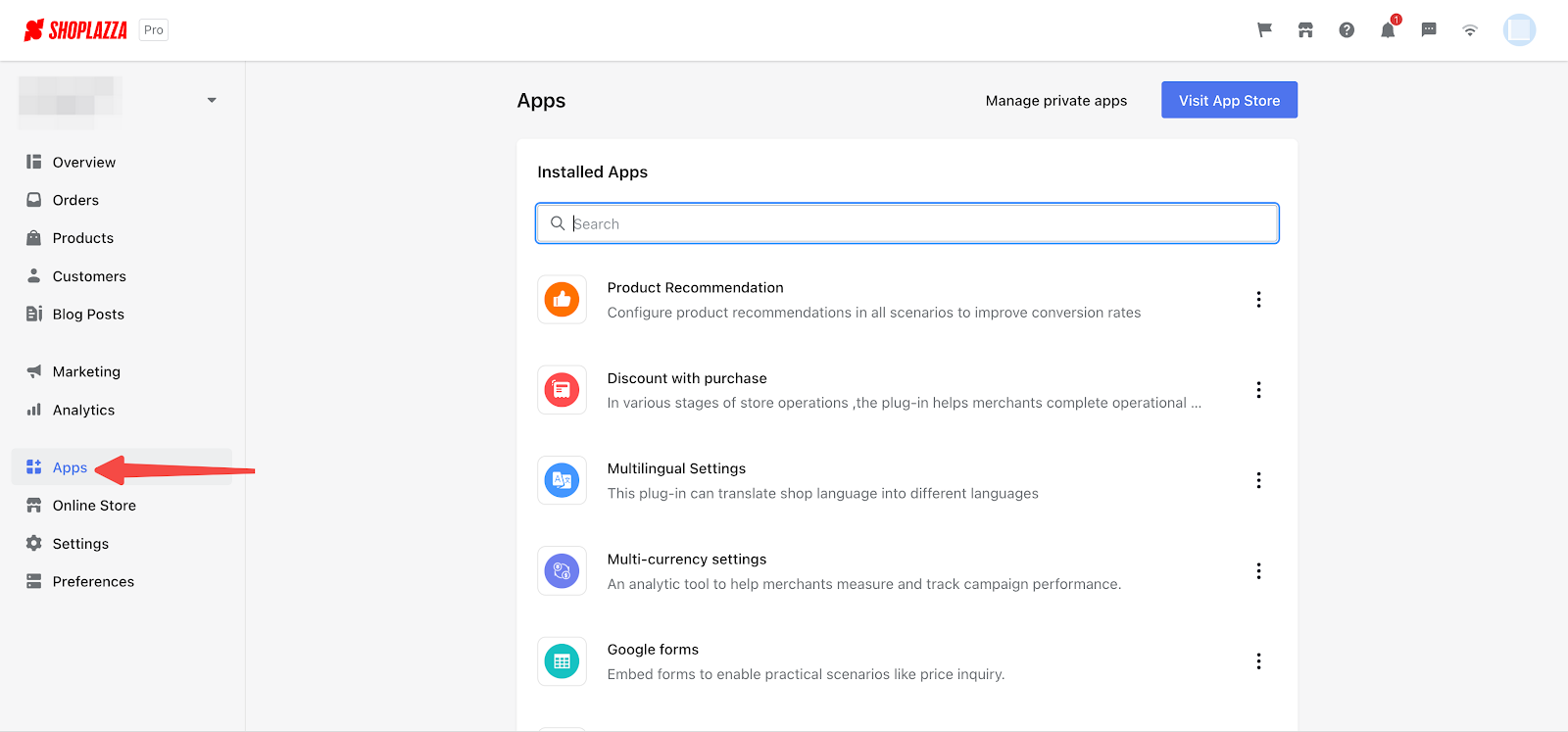 Online store
The Online Store section is your key editing tool for your business. Explore our theme library and choose over 30 stylish templates to help you tailor the look of your store. You can use the online store to create webpages, assign created blogs, and sell your products.
You can customize your online business with these features such as:
Extending the functionality of your store by connecting your online store with installed Apps.
Creating customized menus that help your customers navigate through your store and collections.
Adding product filters to optimize your customer's search results.
Setting up your webpages with 50 and more unique theme sections to create engaging content.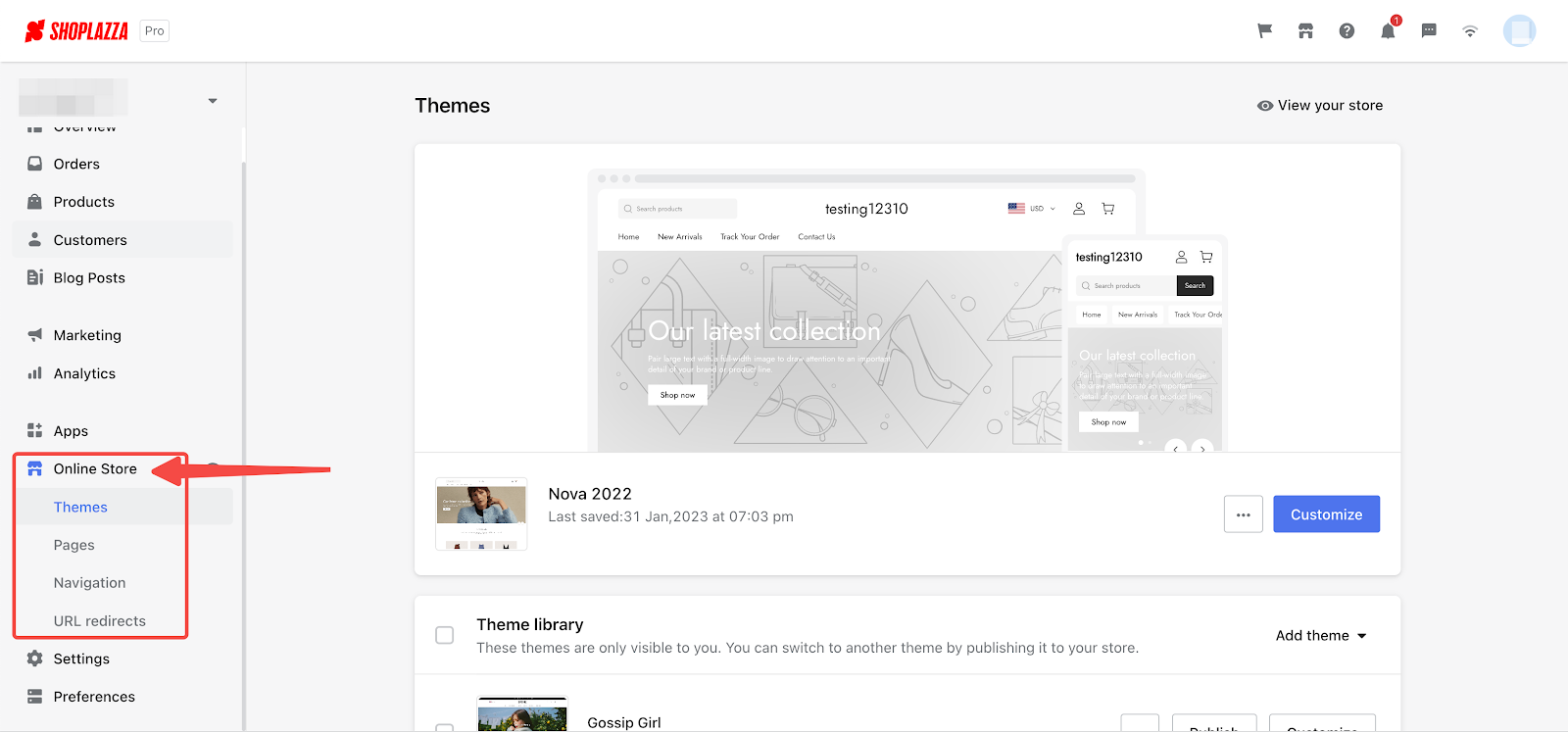 The Online Store tab includes the following 4 parts:
Settings
The settings page groups various types of features in your Shoplazza admin. Accessing this page gives you the ability to make modifications to parts of your store that will help meet the needs of your business.
There are several important tasks you need to complete before launching your store for your customers such as:
Setting up payment options for customer checkout.
Adding a shipping profile to manage shipping rates, taxes, and delivery zones.
Managing your store policies that outline what customers can expect when making a purchase from you.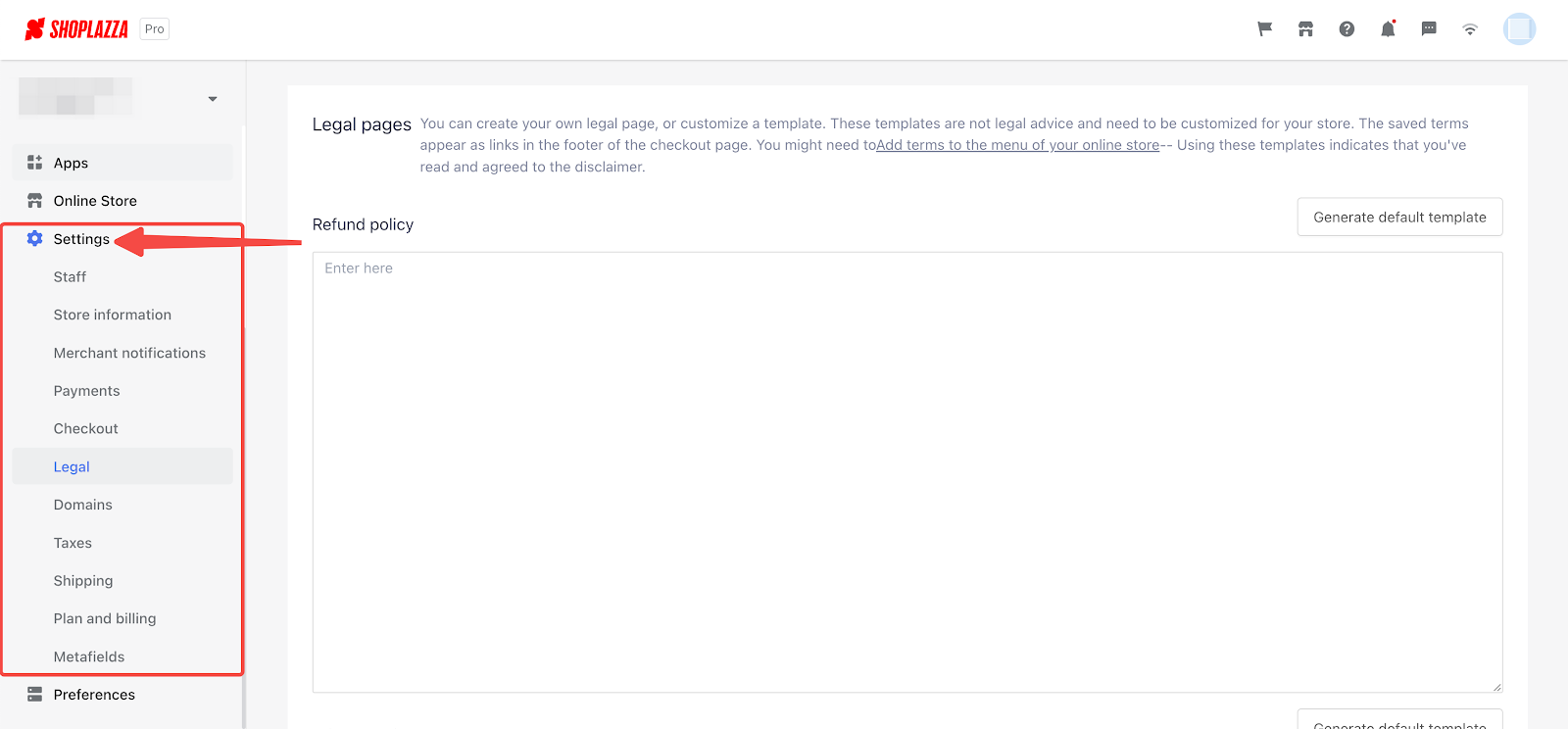 The Settings tab includes the following 11 parts:
Preferences
Your preferences tab is where you can retrieve stored data resources uploaded to your Admin. The image library is a great way to keep all of your product photos organized and accessible in one place. It also makes it easy to add new product photos to your store as you need them. A complete track record of Shoplazza operating system events can also be found here in the activity log.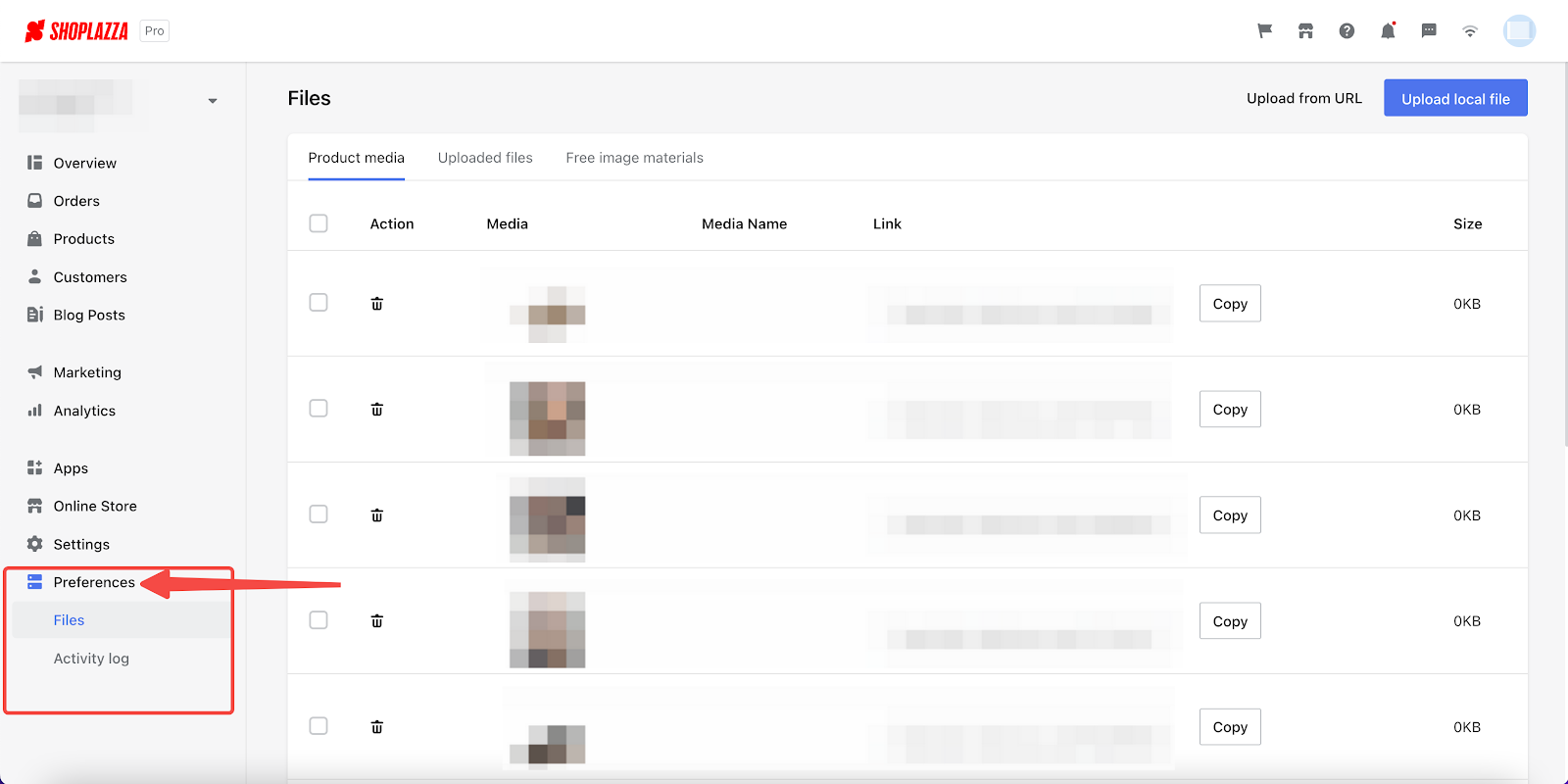 The Preferences tab includes the following 2 parts:
Related Topics