Product collections are an essential feature for you to organize and improve the performance of your online store.
By creating collections sections, customers can easily find what they are looking for, without having to browse through your other published content. This can be effectively achieved by using collection related sections in the Shoplazza theme editor.
With better experience. Not only does this save time for customers, but it also increases the chances of them making a purchase. Additionally, collections features can help you analyze the sales performance of certain product groups, which can be used to make business decisions like forecasting sales and determining the right product offerings for marketing. Hence, adding product collections to your online store not only makes it more organized but also boosts performance in many significant ways.
Below are some sample collections we've managed to come up with to help you understand collection sections in the Shoplazza theme editor.
Featured collections is an iconic Shoplazza collection section that has been made available in additional sections via the theme editor. This section explains your product collection with an intuitively designed to help customers process the information on their browser interface. This modular component highlights your essential products and provides quick access to your individual collections with the optional redirect button.
This is created with the Featured collection from Nova's additional sections.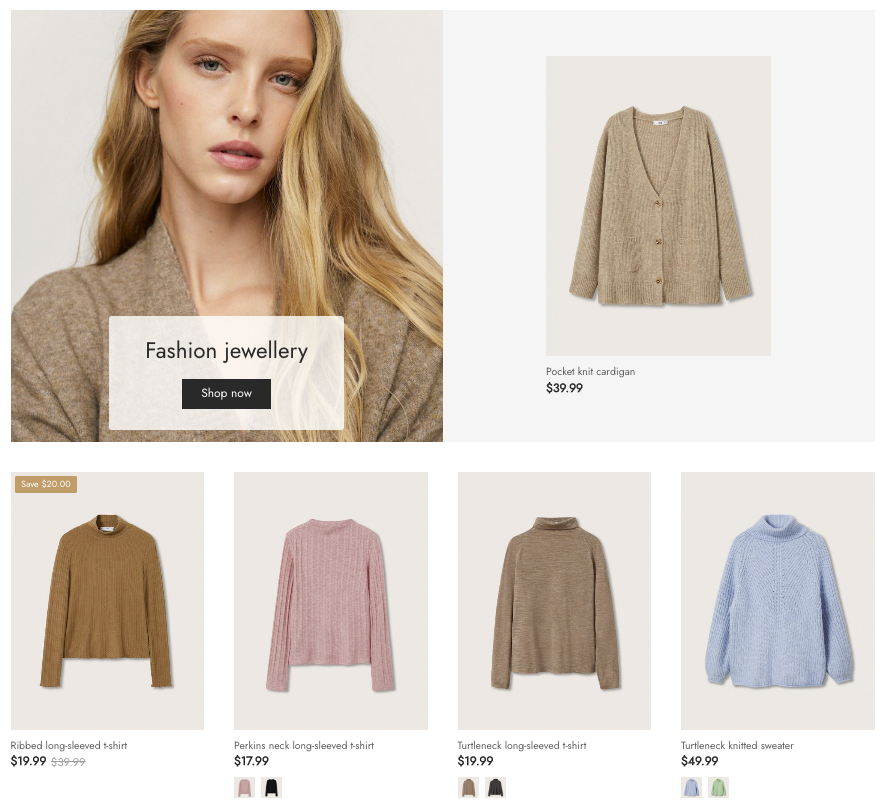 Note
To understand the difference between Shoplazza's theme sections and additional sections, please refer to our help doc here.
Your customer may effortlessly browse through your setup collections with this feature added to your store's landing page. Adding a complete list of collections helps them to get an idea of what you are trying to promote on your website.
Below is a sample created with the Collection list section in the Modern theme:

Designing your store and organizing your product listings with collections helps your customer to find what they need more intuitively. Reinventing your webpages with Collection sections also increases opportunities for more sales conversion.
Related Topics