The shoplazza footer section is located at the bottom of your store pages and displayed on all pages of your storefront. An effective footer section may contain links to other parts of your website. For example, you may set up a custom page menu in the footer section and redirect customers to find important information about your store. The footer section is a great place to build trust and enhances the user experience by making it easier and faster for people to access the information they need.
This section is useful when:
You want to build trust by including key contact information so customers can reach you easily.

You want to grow your social media audience by linking the footer section to other websites.
In this guide, we will demonstrate how to create aFootersection in Nova 2022.
Editing your footer section
1. From your Shoplazza Admin, go to > Settings > Themes > and click on the Customize button.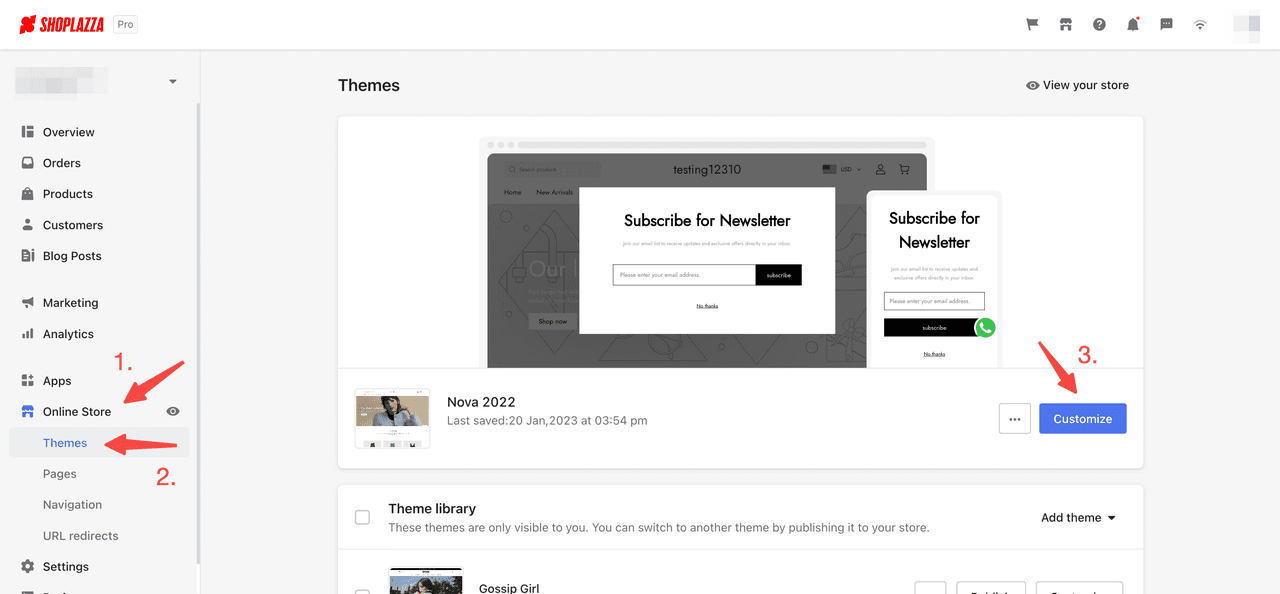 2. Click the default Footer section to edit the properties.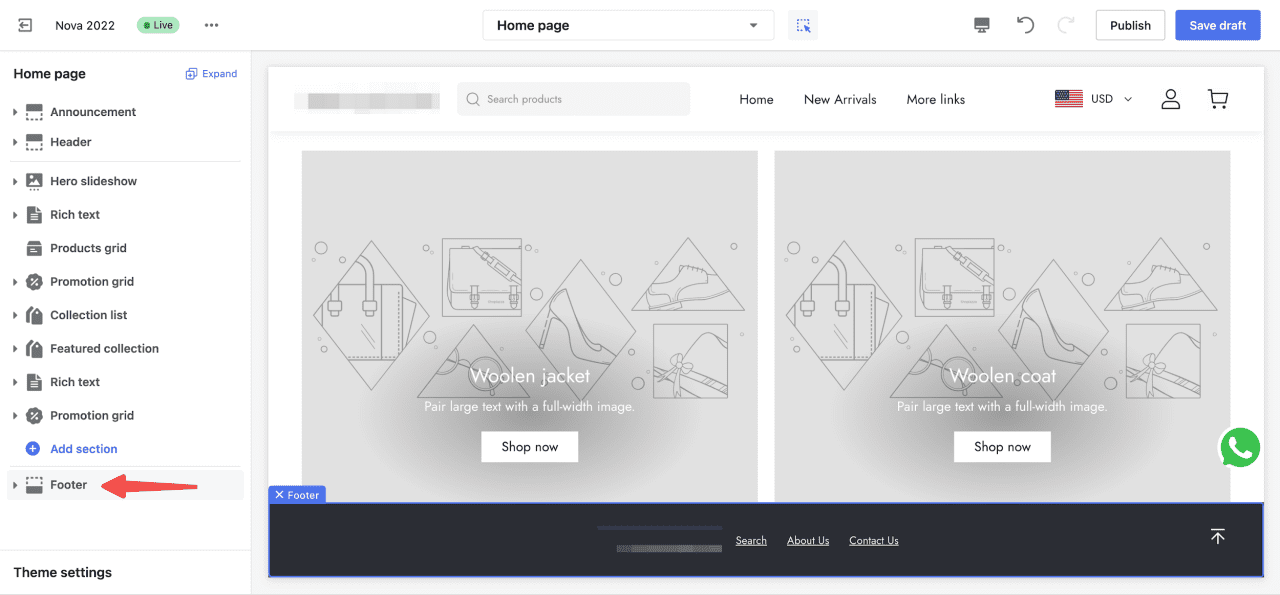 3. Enable this feature to display available payment methods on shopping cart pages.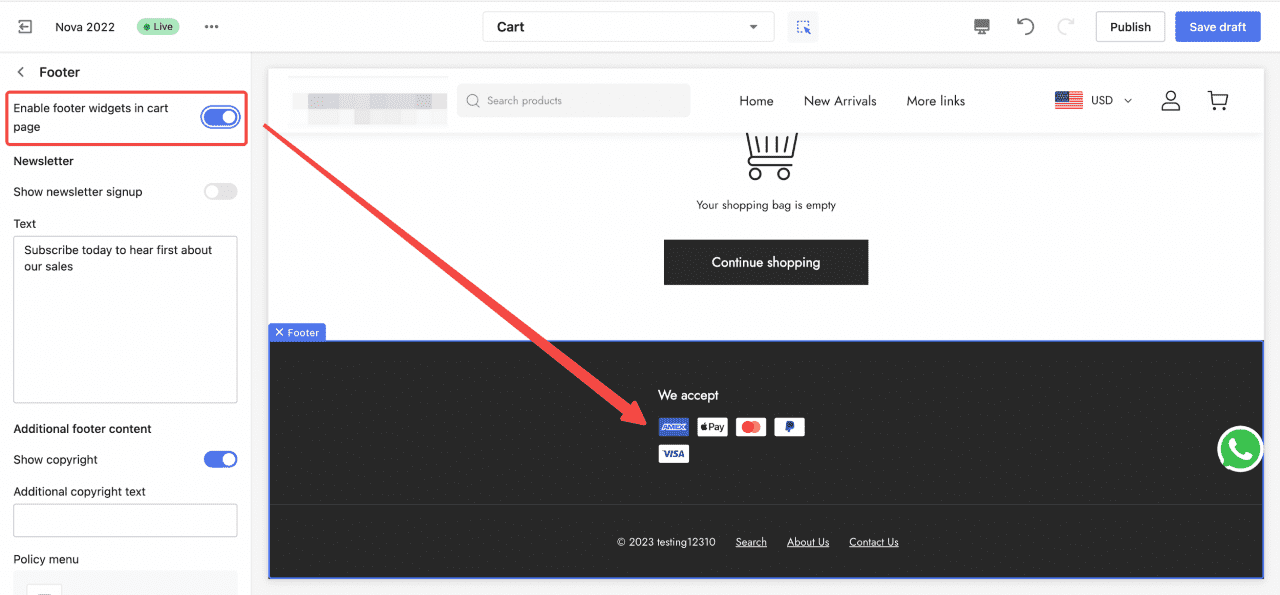 Newsletter subscriptions
1. Here, you are also able to insert a newsletter signup module to your footer menu.
Note
Please refer to this help document if you would like to learn more about the newsletter section and features.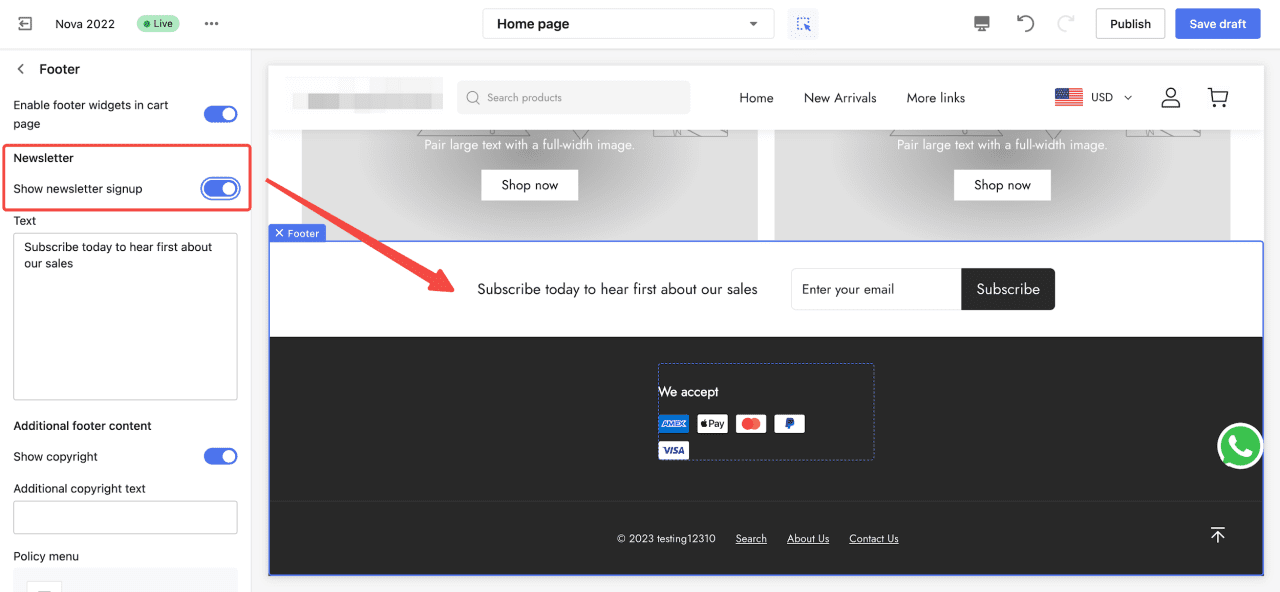 2. Use the text box to edit your signup message.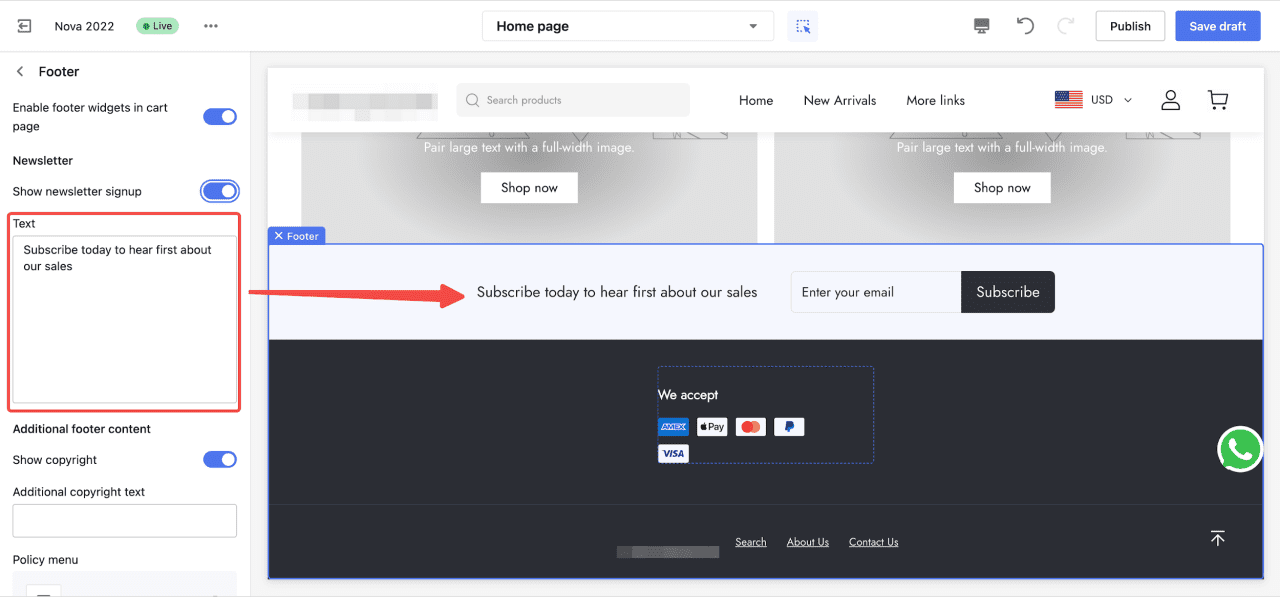 Copyrights
1. Here, you are provided with more options to edit your copyright content.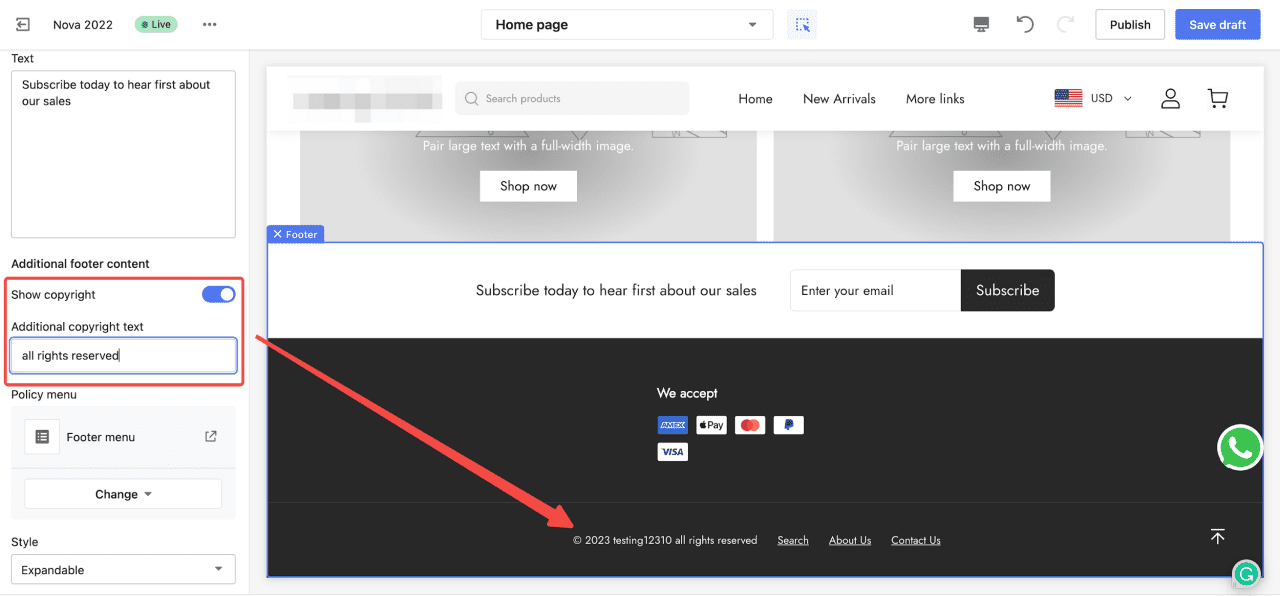 Navigation
1. Click the footer menu icon to further manage your footer navigation.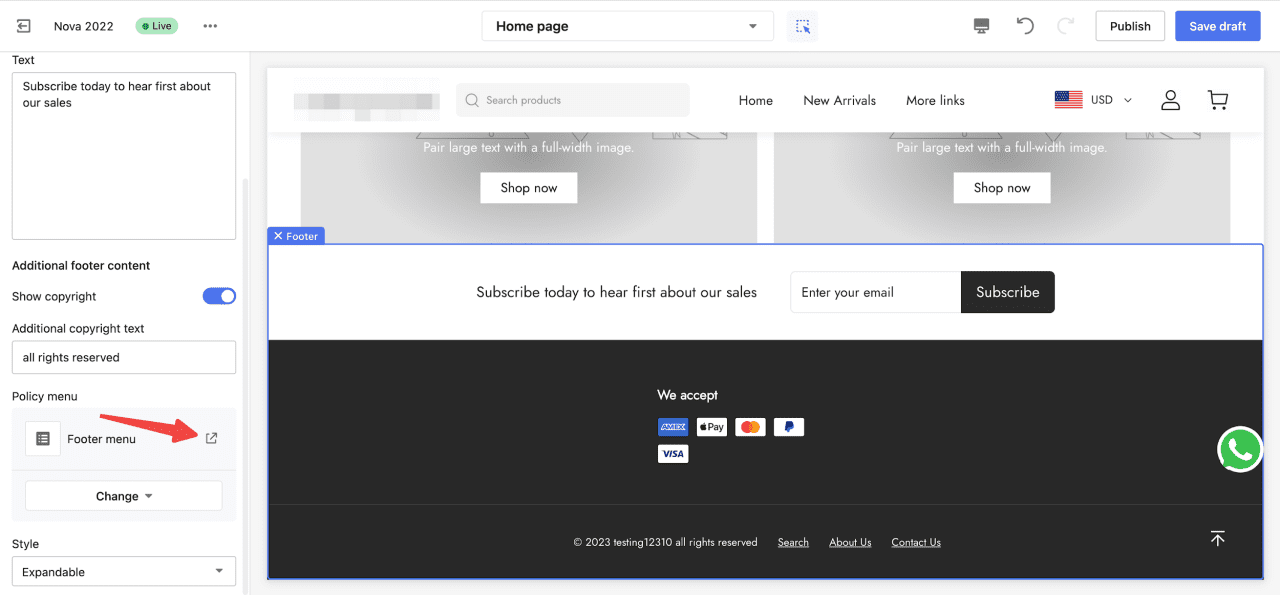 2. By clicking the icon, you will be redirected to the main dashboard. You can always refer back to this page from Shoplazza Admin > Online store > Navigation to make adjustments to your footer menu.
Note
Please refer to this help document if you need help managing your navigation.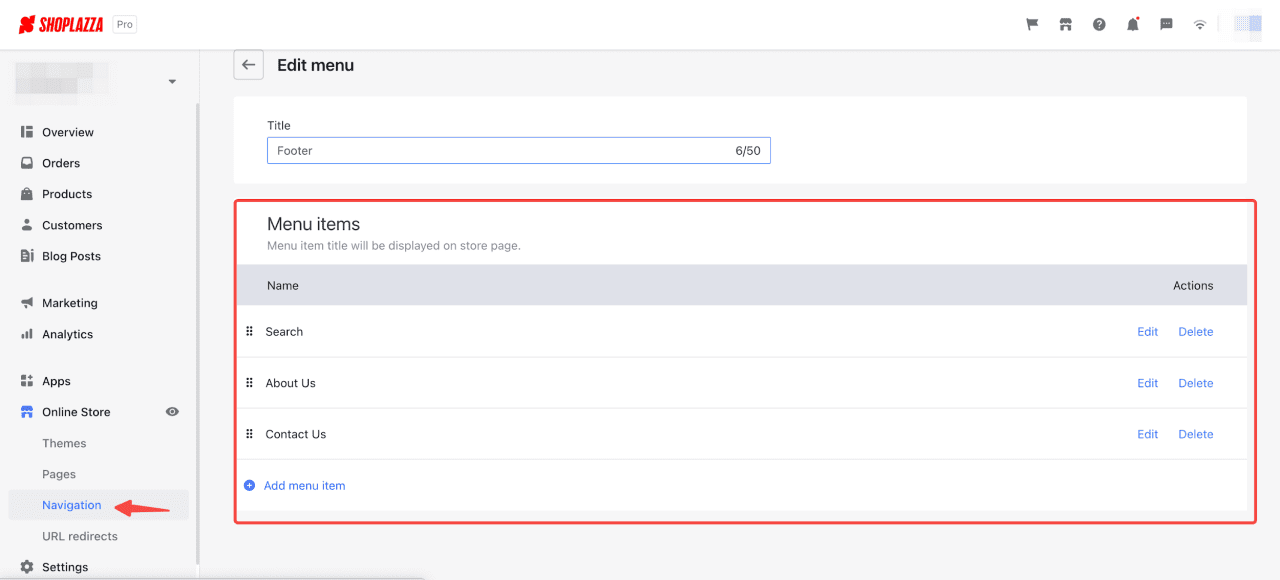 3. Here, the menu editor enables you to switch between existing menus or you may also delete the current menu assigned.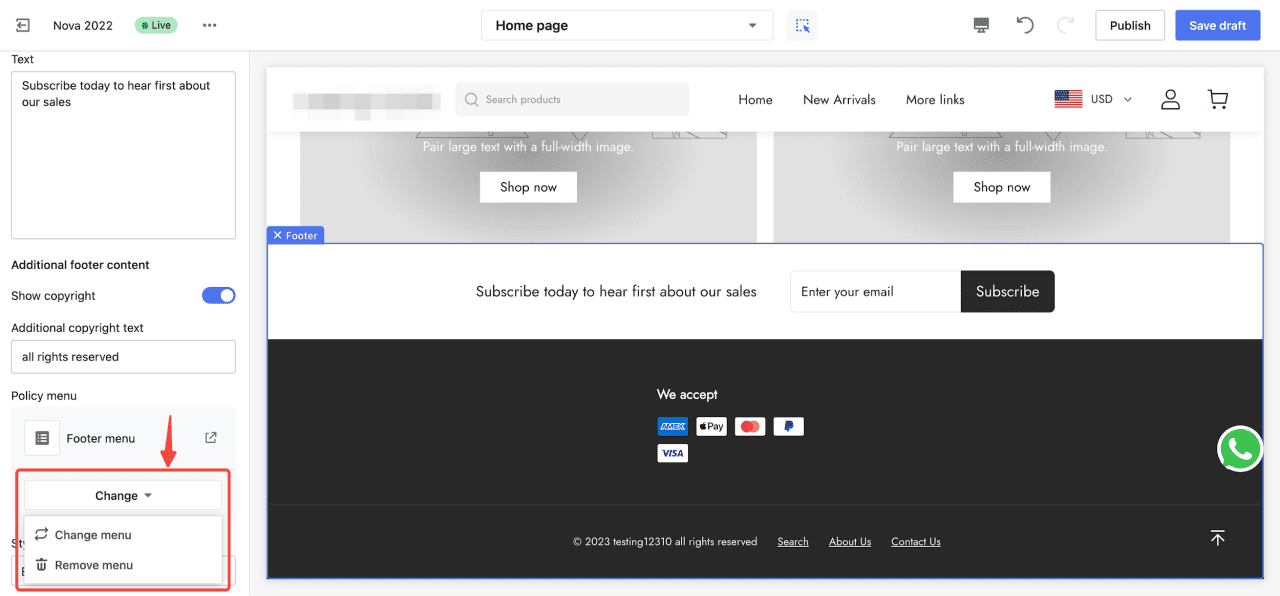 Layout
1. If your customers are viewing your store pages on mobile devices or using window sizes from desktops, the footer menu will be compressed into vertical layers for shortening long pages of content into broad, easy-to-scan topics. Here, you can choose to have your footer navigation either expandable or always visible by default.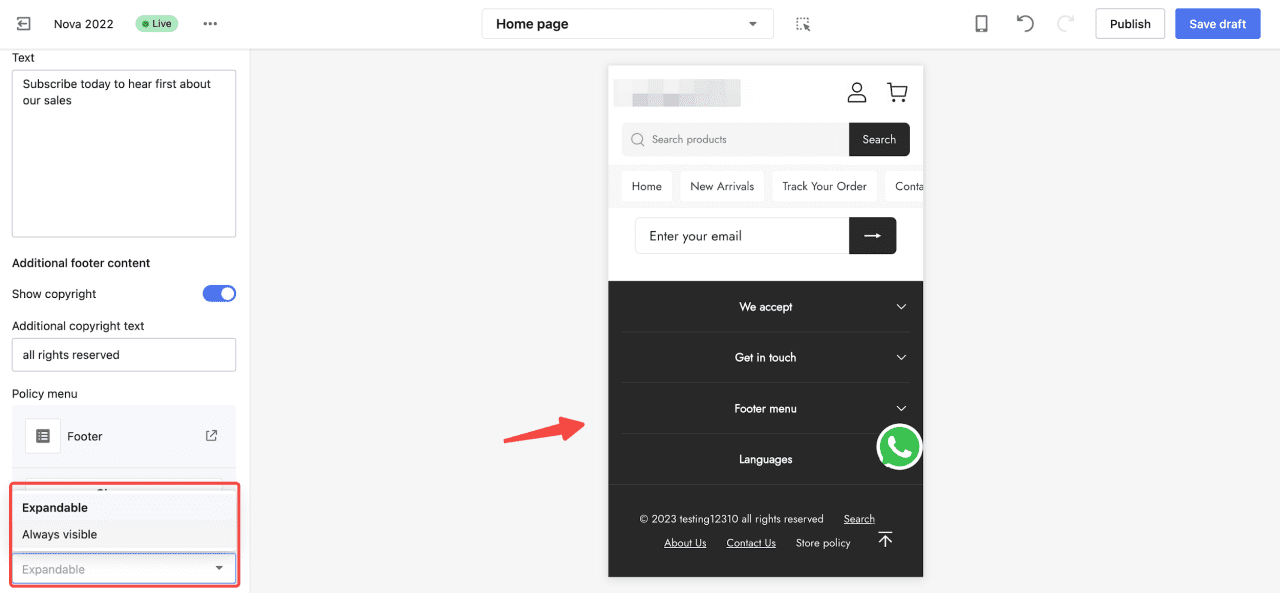 Editing your footer content
1. Add more blocks to display different information about your store.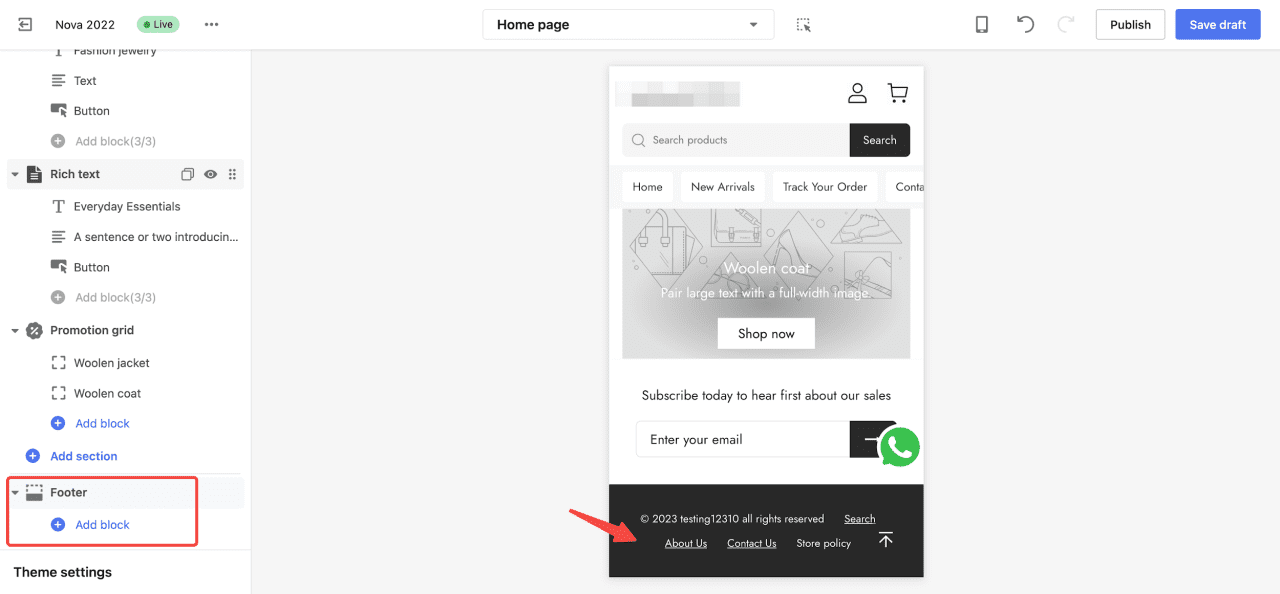 Navigation
1. In Navigation, Assign a menu and edit the menu title.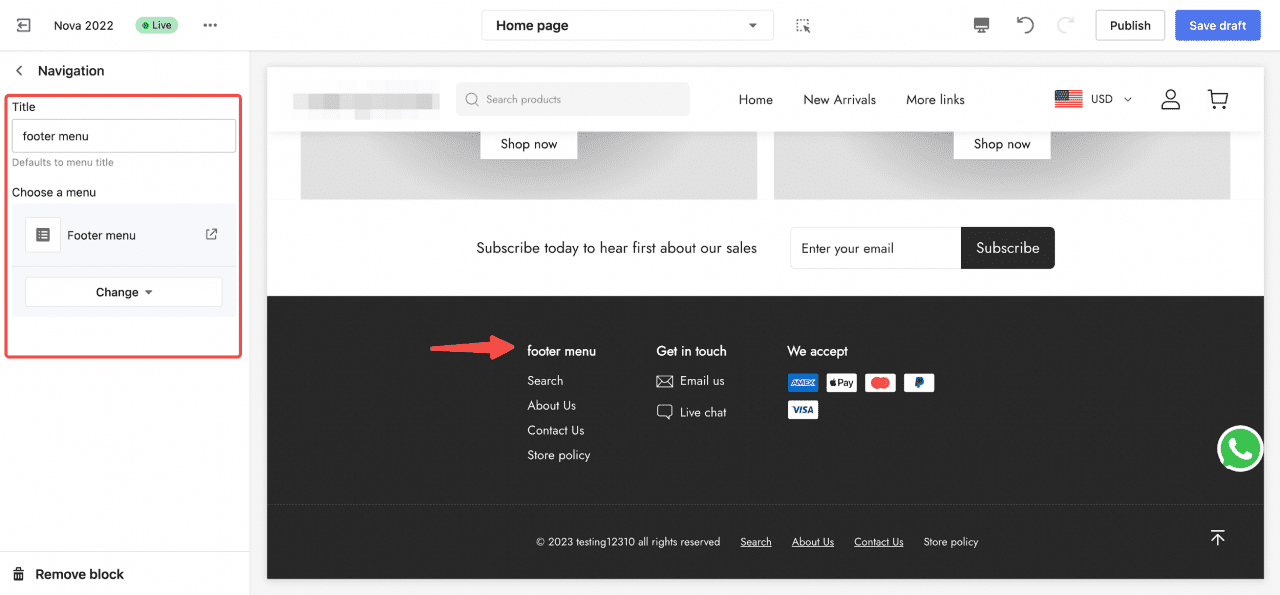 Contact information
1. To add contact information, click on Contact and Social block.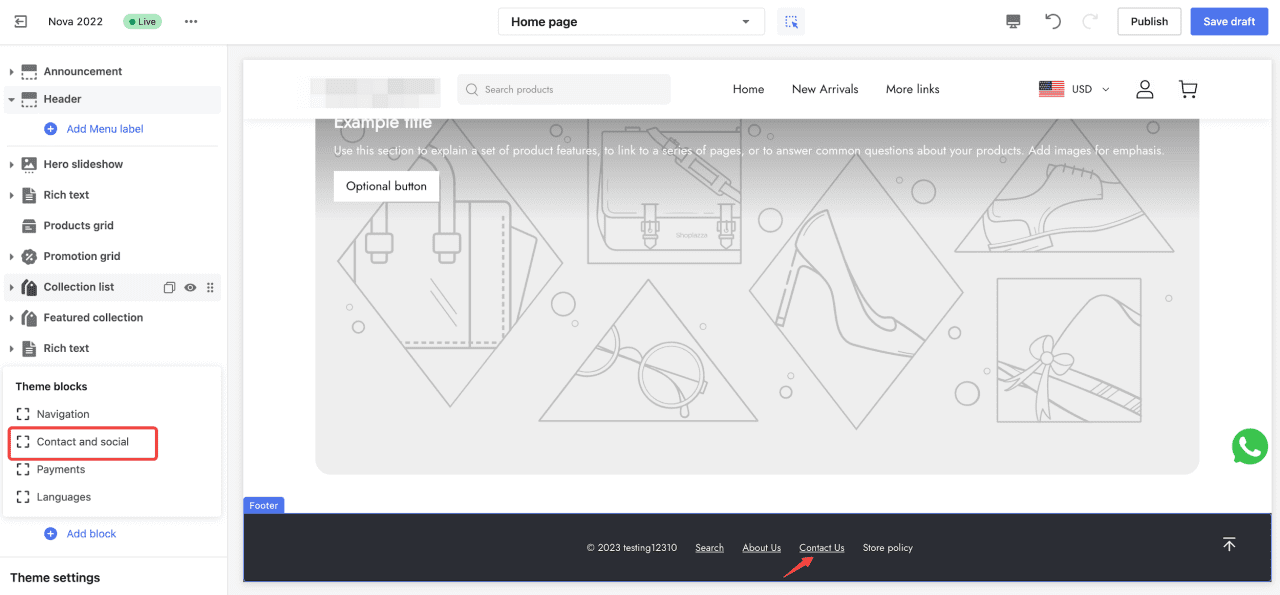 2. Here, you can manage the Title and add your Phone number.
Tips
Adding your phone number in the footer section is not mandatory, but having multiple types of contact enhances the reliability of your store and makes your business trustworthy.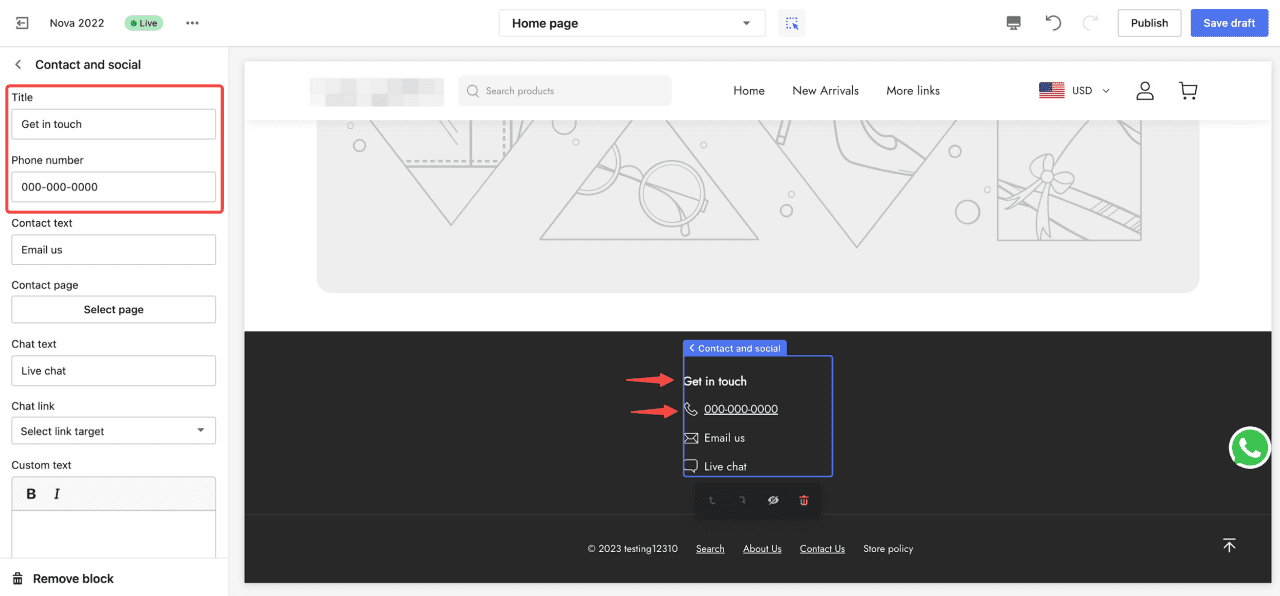 3. Select Page to link other pages of your store to the text displayed.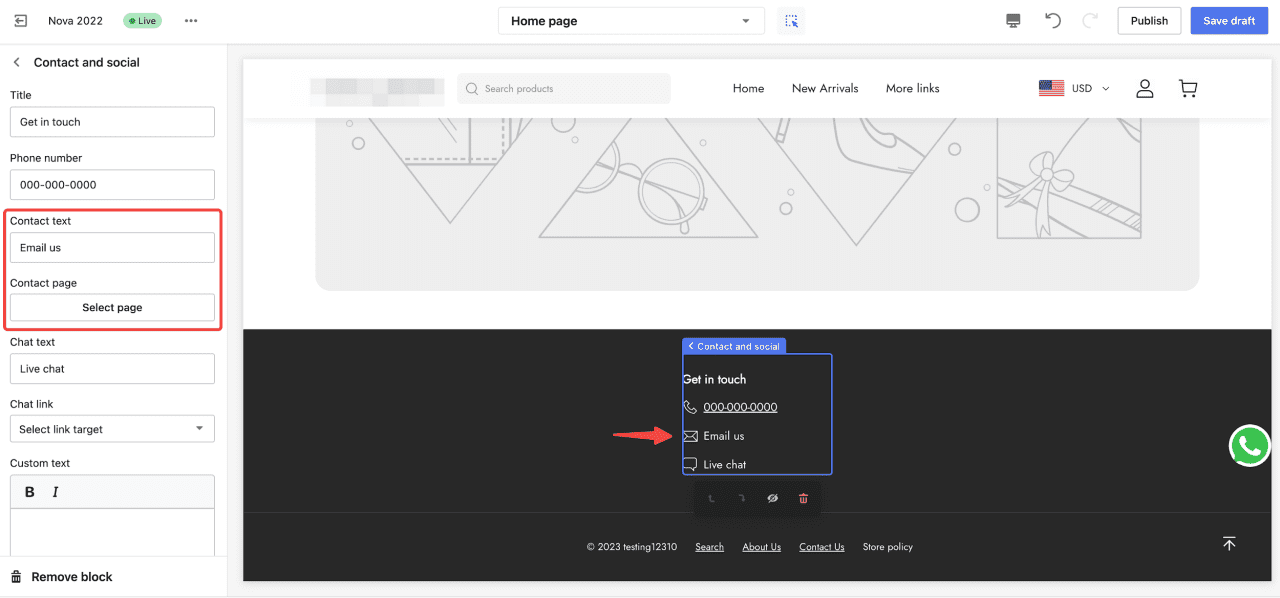 4. Here, you can assign to redirect customers to other pages of your store. If your store offers live chat services, you can redirect customers to contact you from a Custom URL webpage.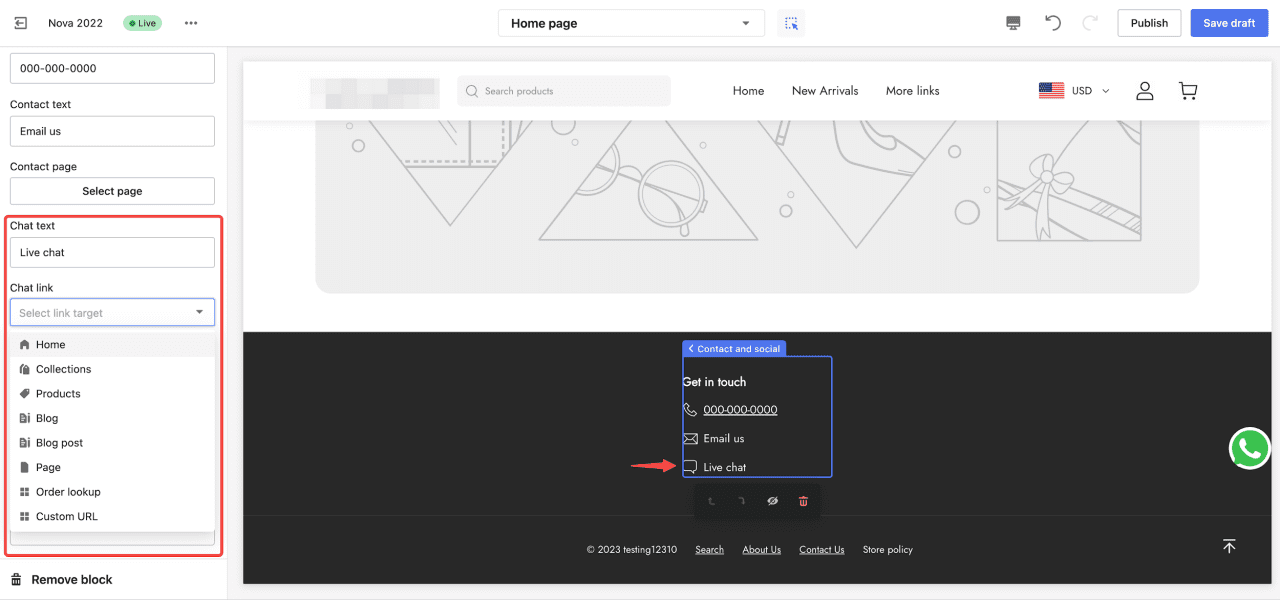 5. To add any additional information regarding your store, use this text box.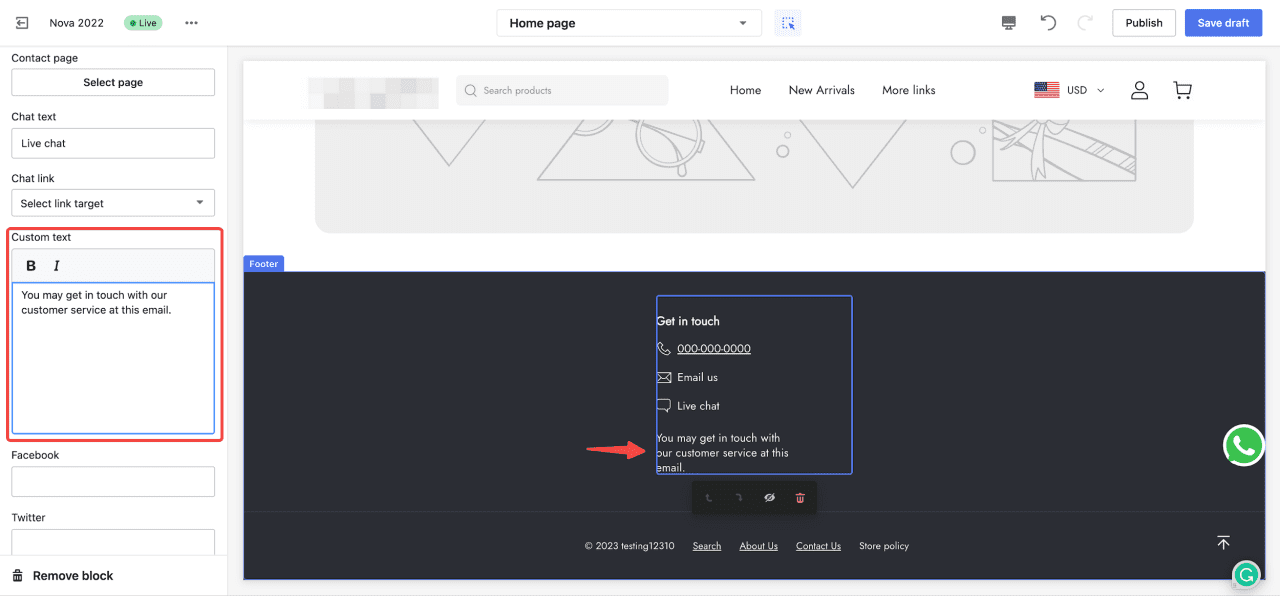 6. Scrolling down, you are given more options to link your social media pages.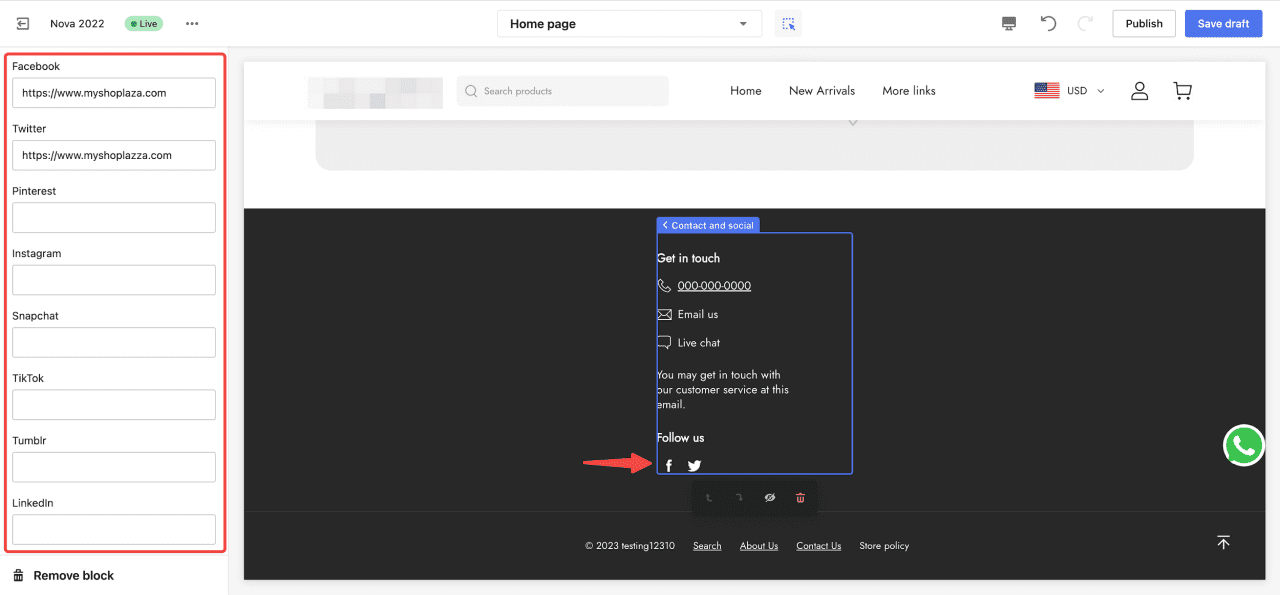 Payment methods
1. Add a payment block to display available payment methods in your store.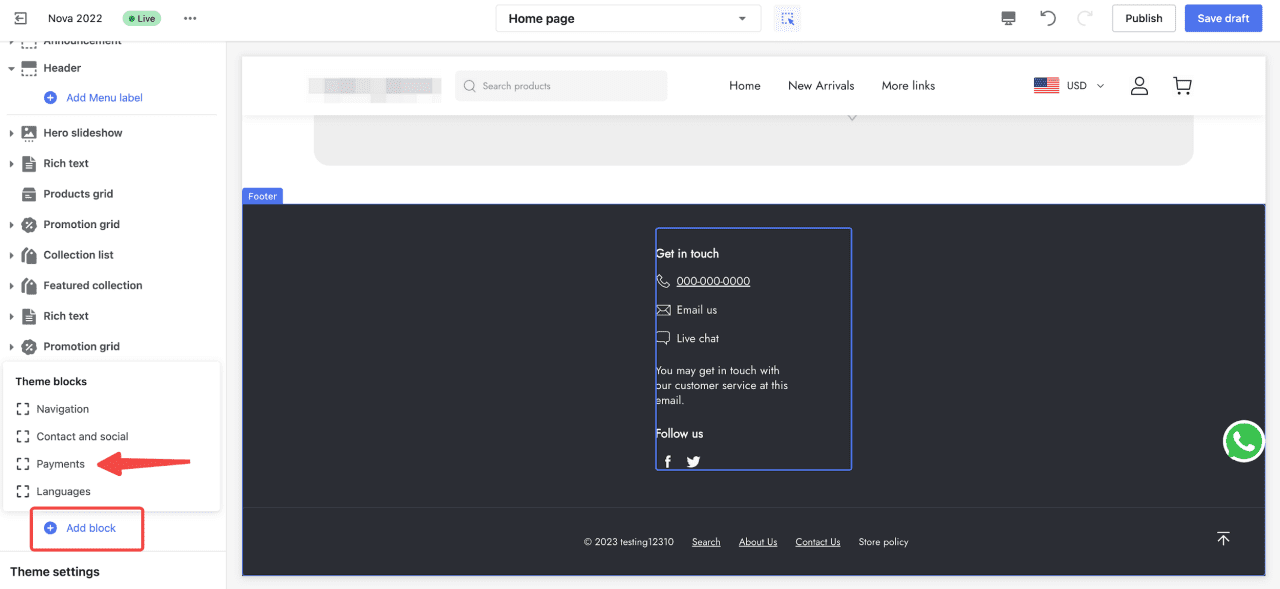 2. Edit the title of this menu. In Icons, we have prepared a list of checkout payment options examples by default. You may edit the list to display payment methods that are available in your store. For example, you may display the PayPal icon by inputting "Paypal" and pressing the "Enter" key.
Note
Icons must be written in the correct format to be displayed.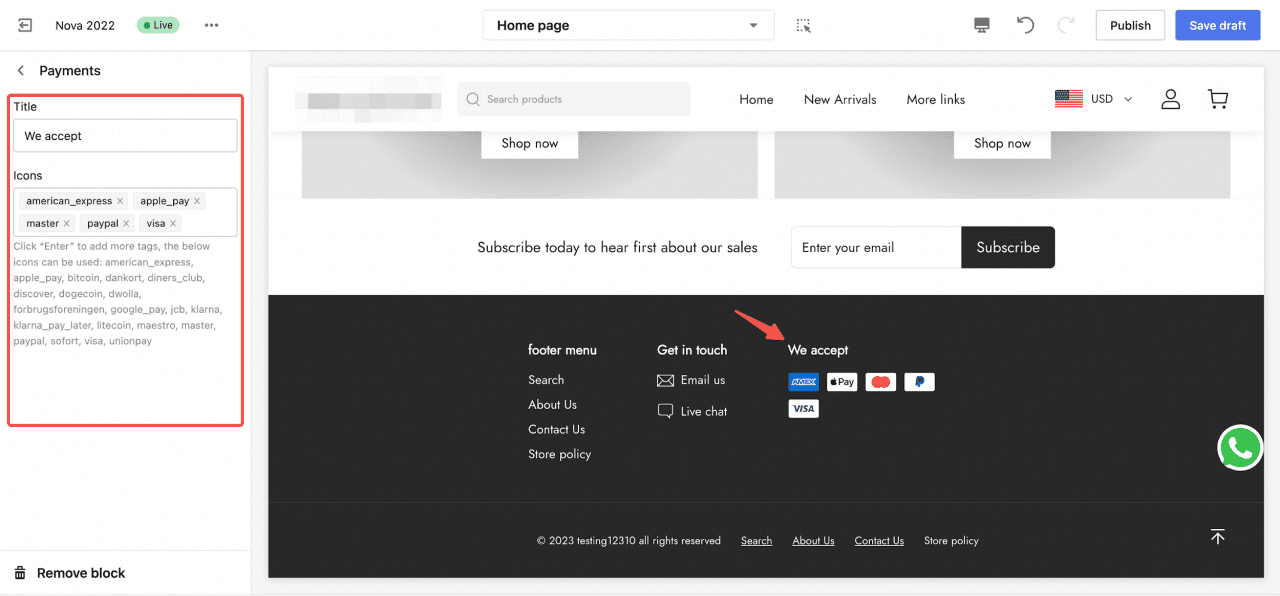 An effective footer section improves a store's overall usability. Potential customers turn to the footer section to find more options that are not available in global navigations. A refined footer section can also remind your customers about other offerings from your store.
Related Topics